Glove It Women's Print Golf Glove
The price of the product might be updated based on your selection
{ "warrantyData" : [ { "ProductSKU" : "19023897", "ProductUniqueId" : "3853197", "warrantySKUS" : [ ] }, { "ProductSKU" : "19023899", "ProductUniqueId" : "3853198", "warrantySKUS" : [ ] }, { "ProductSKU" : "19023900", "ProductUniqueId" : "3853199", "warrantySKUS" : [ ] }, { "ProductSKU" : "19023902", "ProductUniqueId" : "3853200", "warrantySKUS" : [ ] }, { "ProductSKU" : "19023898", "ProductUniqueId" : "3853201", "warrantySKUS" : [ ] }, { "ProductSKU" : "19023903", "ProductUniqueId" : "3853203", "warrantySKUS" : [ ] }, { "ProductSKU" : "19023905", "ProductUniqueId" : "3853204", "warrantySKUS" : [ ] }, { "ProductSKU" : "19023906", "ProductUniqueId" : "3853205", "warrantySKUS" : [ ] }, { "ProductSKU" : "19023907", "ProductUniqueId" : "3853206", "warrantySKUS" : [ ] }, { "ProductSKU" : "19023909", "ProductUniqueId" : "3853207", "warrantySKUS" : [ ] }, { "ProductSKU" : "19023910", "ProductUniqueId" : "3853208", "warrantySKUS" : [ ] }, { "ProductSKU" : "19023911", "ProductUniqueId" : "3853209", "warrantySKUS" : [ ] }, { "ProductSKU" : "19023912", "ProductUniqueId" : "3853210", "warrantySKUS" : [ ] }, { "ProductSKU" : "19023923", "ProductUniqueId" : "3853211", "warrantySKUS" : [ ] }, { "ProductSKU" : "19023924", "ProductUniqueId" : "3853212", "warrantySKUS" : [ ] }, { "ProductSKU" : "19023926", "ProductUniqueId" : "3853213", "warrantySKUS" : [ ] }, { "ProductSKU" : "19023927", "ProductUniqueId" : "3853215", "warrantySKUS" : [ ] }, { "ProductSKU" : "19023929", "ProductUniqueId" : "3853216", "warrantySKUS" : [ ] }, { "ProductSKU" : "19023930", "ProductUniqueId" : "3853217", "warrantySKUS" : [ ] }, { "ProductSKU" : "19023932", "ProductUniqueId" : "3853218", "warrantySKUS" : [ ] }, { "ProductSKU" : "19023933", "ProductUniqueId" : "3853219", "warrantySKUS" : [ ] }, { "ProductSKU" : "19023934", "ProductUniqueId" : "3853220", "warrantySKUS" : [ ] }, { "ProductSKU" : "19023936", "ProductUniqueId" : "3853221", "warrantySKUS" : [ ] }, { "ProductSKU" : "19023937", "ProductUniqueId" : "3853222", "warrantySKUS" : [ ] }, { "ProductSKU" : "19023938", "ProductUniqueId" : "3853223", "warrantySKUS" : [ ] }, { "ProductSKU" : "19023939", "ProductUniqueId" : "3853224", "warrantySKUS" : [ ] }, { "ProductSKU" : "19023950", "ProductUniqueId" : "3853225", "warrantySKUS" : [ ] }, { "ProductSKU" : "19023951", "ProductUniqueId" : "3853226", "warrantySKUS" : [ ] }, { "ProductSKU" : "19023952", "ProductUniqueId" : "3853227", "warrantySKUS" : [ ] }, { "ProductSKU" : "19023955", "ProductUniqueId" : "3853229", "warrantySKUS" : [ ] }, { "ProductSKU" : "19023956", "ProductUniqueId" : "3853230", "warrantySKUS" : [ ] }, { "ProductSKU" : "19023957", "ProductUniqueId" : "3853231", "warrantySKUS" : [ ] }, { "ProductSKU" : "19023959", "ProductUniqueId" : "3853232", "warrantySKUS" : [ ] }, { "ProductSKU" : "19023960", "ProductUniqueId" : "3853233", "warrantySKUS" : [ ] }, { "ProductSKU" : "19023961", "ProductUniqueId" : "3853234", "warrantySKUS" : [ ] }, { "ProductSKU" : "19023963", "ProductUniqueId" : "3853235", "warrantySKUS" : [ ] }, { "ProductSKU" : "19023964", "ProductUniqueId" : "3853236", "warrantySKUS" : [ ] }, { "ProductSKU" : "19023965", "ProductUniqueId" : "3853237", "warrantySKUS" : [ ] }, { "ProductSKU" : "19023966", "ProductUniqueId" : "3853238", "warrantySKUS" : [ ] }, { "ProductSKU" : "19023968", "ProductUniqueId" : "3853239", "warrantySKUS" : [ ] }, { "ProductSKU" : "19023969", "ProductUniqueId" : "3853240", "warrantySKUS" : [ ] }, { "ProductSKU" : "19023970", "ProductUniqueId" : "3853241", "warrantySKUS" : [ ] }, { "ProductSKU" : "19023972", "ProductUniqueId" : "3853242", "warrantySKUS" : [ ] }, { "ProductSKU" : "19023973", "ProductUniqueId" : "3853243", "warrantySKUS" : [ ] }, { "ProductSKU" : "19023974", "ProductUniqueId" : "3853244", "warrantySKUS" : [ ] }, { "ProductSKU" : "19023975", "ProductUniqueId" : "3853245", "warrantySKUS" : [ ] }, { "ProductSKU" : "19023977", "ProductUniqueId" : "3853246", "warrantySKUS" : [ ] }, { "ProductSKU" : "19023978", "ProductUniqueId" : "3853247", "warrantySKUS" : [ ] }, { "ProductSKU" : "19023979", "ProductUniqueId" : "3853248", "warrantySKUS" : [ ] }, { "ProductSKU" : "19023980", "ProductUniqueId" : "3853249", "warrantySKUS" : [ ] }, { "ProductSKU" : "19023982", "ProductUniqueId" : "3853250", "warrantySKUS" : [ ] }, { "ProductSKU" : "19023983", "ProductUniqueId" : "3853251", "warrantySKUS" : [ ] }, { "ProductSKU" : "19023984", "ProductUniqueId" : "3853252", "warrantySKUS" : [ ] } ] }
PROTECTION PLAN
(optional)
Info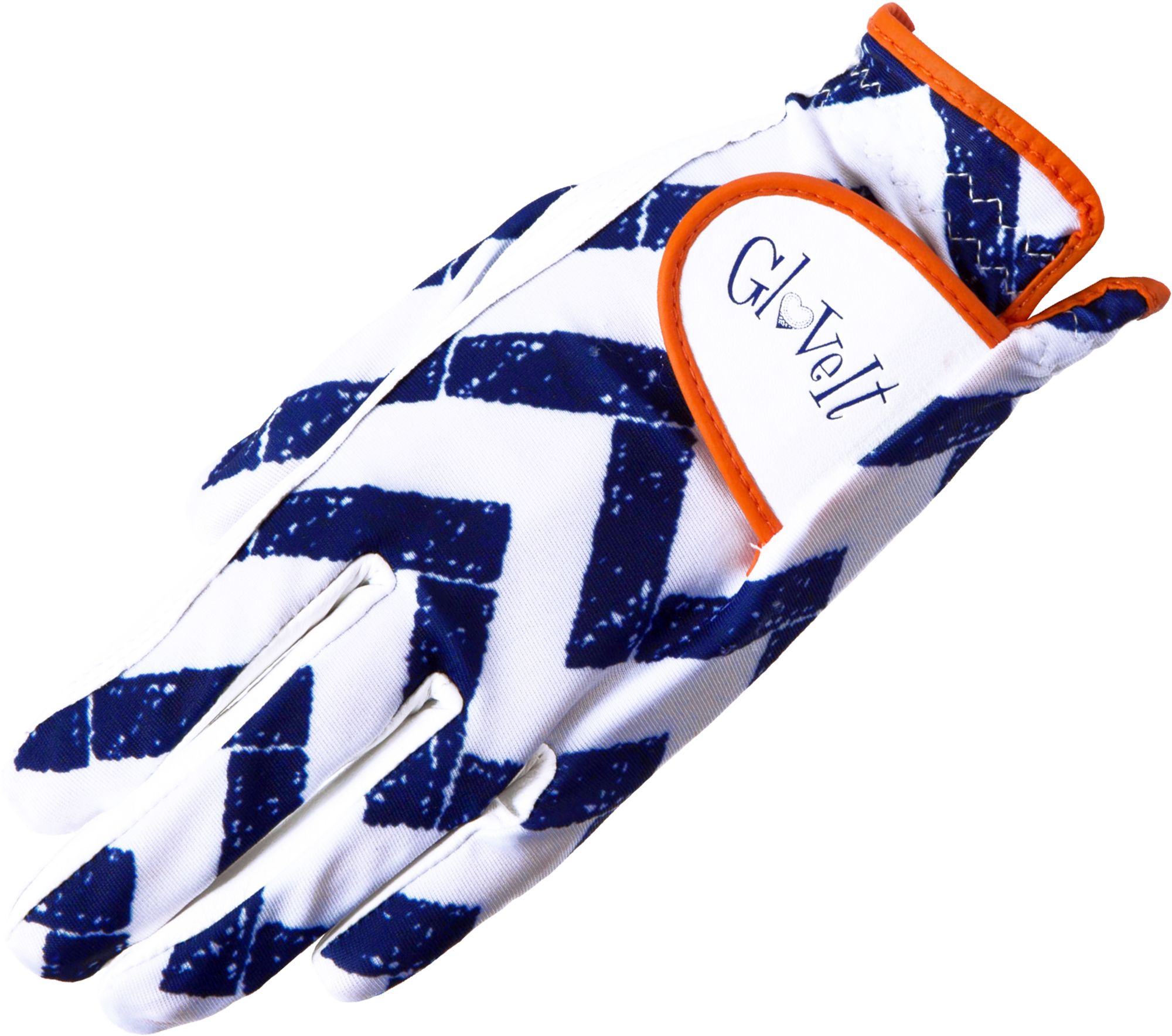 Glove It Women's Print Golf Glove
Selected Option Not Available to Ship
Selected Option Not Available For Pickup
PDP Sticky bottom AddToCart Section - active and hide position
This product is currently out of stock.
Please choose product options above
Please choose product options above
Product Information:
Effortlessly combine fashion and function with the Glove It Print Golf Glove. Decorated with bold, eye-catching designs, the Print Golf Glove features stretch lycra backing for complete range of motion and a cabretta leather palm for a reliable grip in all conditions. UV50 sun protection keeps your skin safe as you enjoy the beautiful weather. An adjustable hook-and-loop closure and elastic cuff construction pair to enable a snug, comfortable fit.
FEATURES:
Stretch lycra backing enables range of motion for an adaptable fit
Cabretta leather palm creates maximum grip in any conditions
UV50 sun protection keeps your skin safe from the sun's rays
Adjustable hook-and-loop closure for a snug, secure fit
Elastic cuff design helps keep glove in place
Brand: Glove It
Style: G2321LH,G2321RH,G2351LH,G2351RH,G2361LH,G2361RH,G2381LH,G2381RH,G2391LH,G2391RH,G2401LH,G2401RH,G2421LH,G2421RH,G2431LH,G2431RH
Web ID: 18GITWGTTGLVTSTRPGLV