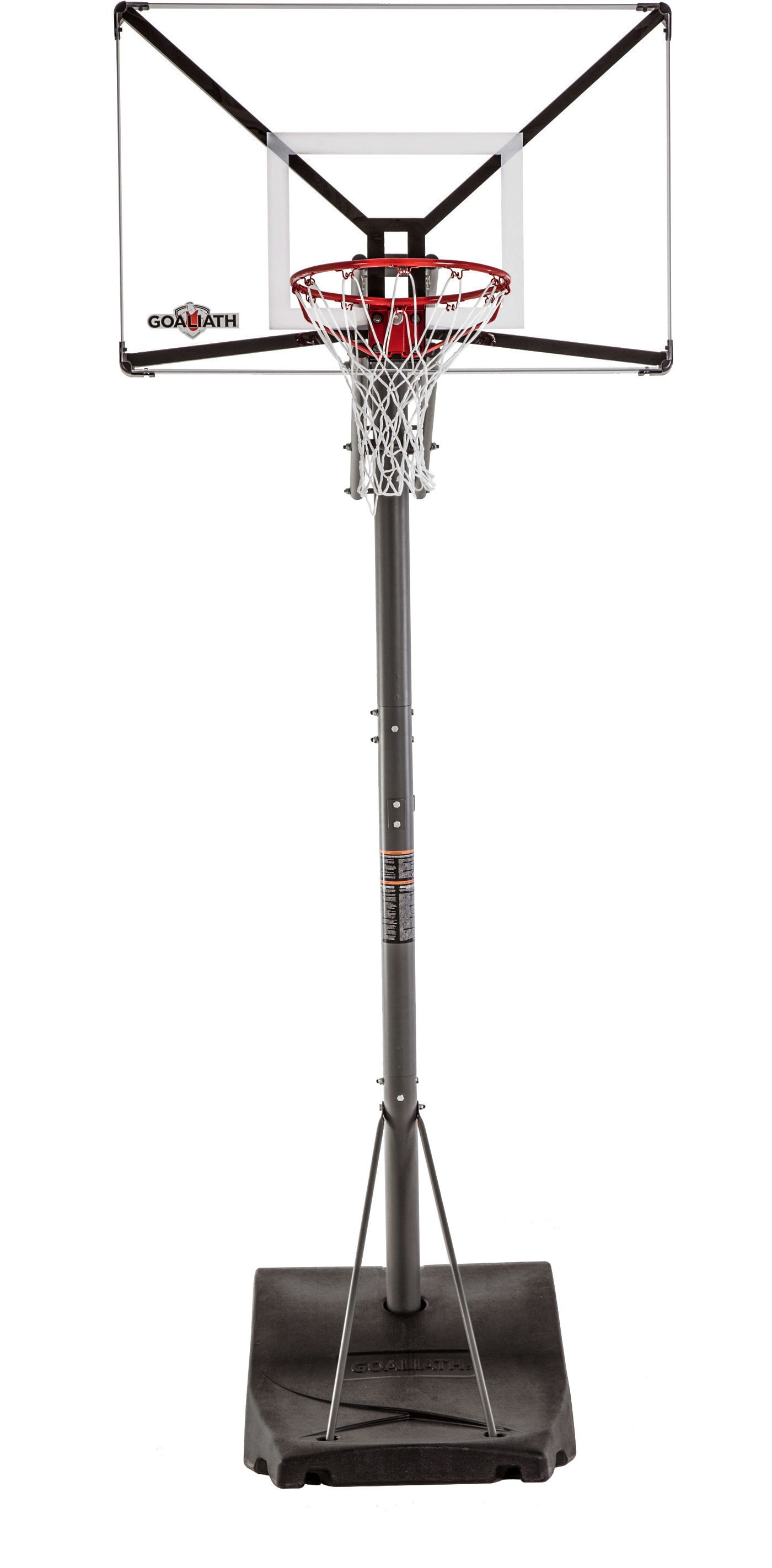 Goaliath 50'' GoTek Portable Basketball Hoop
check_circle Added to Cart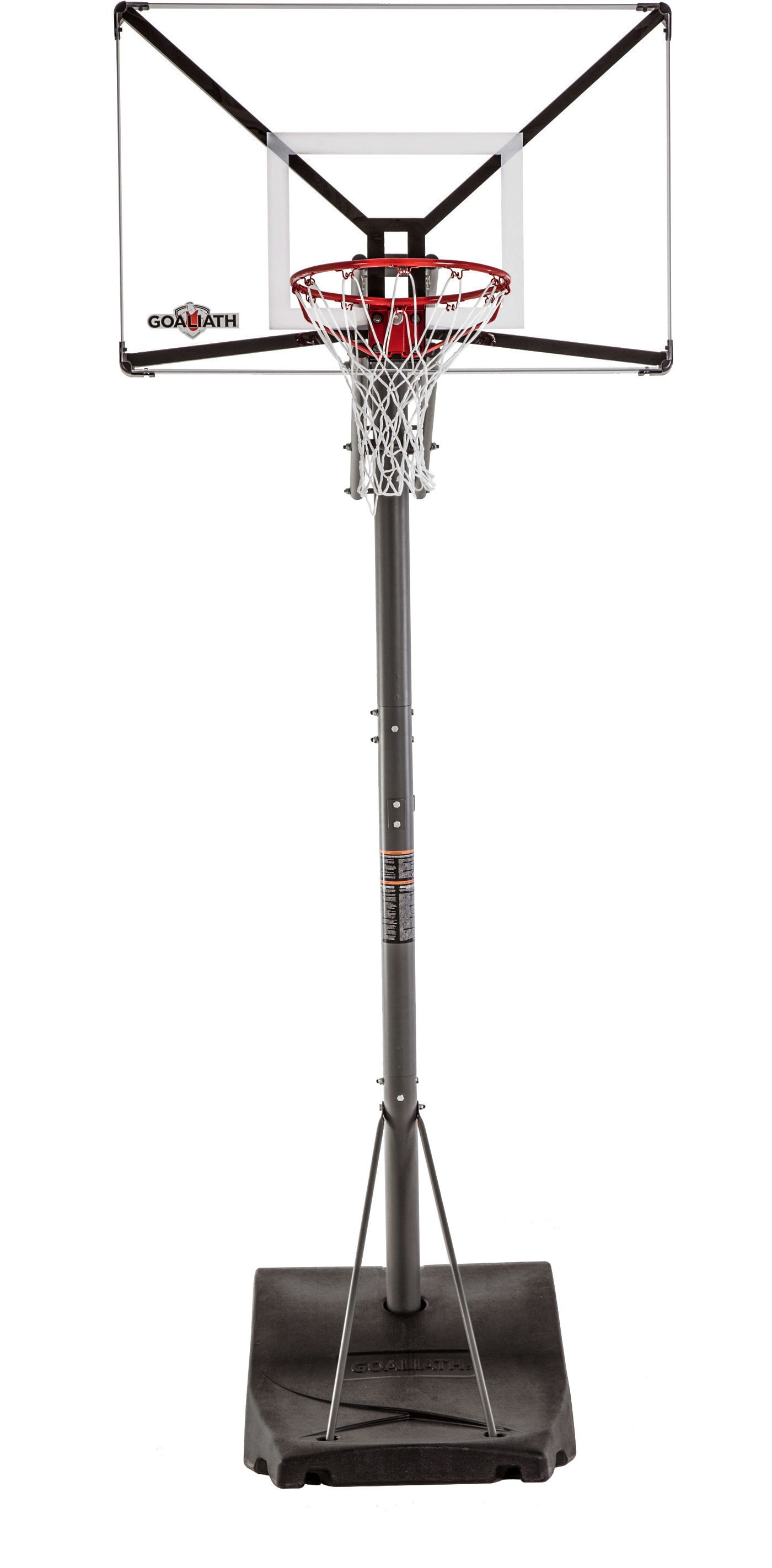 Goaliath 50'' GoTek Portable Basketball Hoop
Requires scheduled delivery. Assembly options may be available
Shipping Restrictions May Apply
Product Information
Advanced stability and easier portability ensures the Goaliath® 50'' GoTek Portable Basketball Hoop will take the game wherever it needs to go.
Unique Design, Advanced Technology:
Stabili-Frame™: Pole connects directly into steel frame support, with weighted wheels and a specially engineered deep-set center of gravity for elite stability
ErgoMove™: Wheelbarrow action front lift and push with a back pivot life and roll and larger wheels glide over any terrain
Infinity Edge Backboard: Lightweight, perimeter stiffened design with X-Frame steel structure provides optimal support
Quick Play: Designed with simplified assembly, pre-attached hardware and minimal tools required
Specs:
Backboard: 50'' x 33'' Infinity Edge
Actuator: Easy Slide Actuator
Overhang: 26''
Pole Diameter: 3.5''
Height Range: 7.5' to 10' in 6'' increments
Rim: Standard
Net Included: Yes
Additional Details:
Model: B8300F
Goaliath
Assembly Info
Fill Base with 25 gallons of water
Fill wheels to 75% with water
Base gel available to prevent freezing (sold separately)
Sand can also be used

Turn your water into gel to protect against freezing during the winter with Base Hold Gel
Brand :

Goaliath

Country of Origin : Imported

Style : B8300f
---
Web ID:

16GLTUGLTHGTK50XXBKE

SKU:

16433186
Goaliath 50'' GoTek Portable Basketball Hoop
is rated out of
5
by
52
.
Rated

5

out of

5
by
momuv3boyz
from
Love it:)
We just got it, it took about 1 1/2 hrs or so to set up, no big deal, it was super organized with how to assemble it and all the holes and bolts went in freely and fit like a glove. We have 3 young boys (6,4&1) and live in the country. Our oldest LOVES it!! He wakes up in the morning wanting to play and comes home from school excited to play. We bought it b/c of the many different settings for height and it appears to move VERY freely and quickly! Our youngest, it is still just a little to high for but great for him to aspire to be able to make it.
Date published: 2017-03-23
Rated

4

out of

5
by
RFW
from
Great design
Having owned a number of portables over the years produced by different vendors, I was extremely impressed with the design of this product. The base and assembly materials are solid and well designed, although I would have preferred a thicker glass for the backboard especially with anticipated use in colder weather (which led to the demise of the most recently owned portable). Assembly definitely took longer than advertised, however, the instructions were unbelievably thorough and precise. It is a great product for the cost and overall, I am very pleased with the product so far.
Date published: 2016-11-08
Rated

5

out of

5
by
Mike77
from
well built
Portable hoop was assembled 2 weeks ago. I was impressed with the instructions and parts labeling, definitely made assembly easier. I assembled 95% on my own, needed a second set of hands for 5 minutes. Parts seem to be robust, hopefully will last for a long time. Part fit up was excellent. All the painting and coatings are quality. Good quality fasteners too. I bought a bag of the base gel so it won't crack in the winter. Hoop goes up and down for height change easily for an adult - the kids won't be able to do it until they are taller.
Date published: 2017-10-16
Rated

5

out of

5
by
Hoops
from
50 gotek
Excellent hoop took about 1 1/2 - 2 hours to put together by myself only help that was needed was with the backboard. Bought on sale for 299 dont think i would have bought for 499. Was well worth paying the 299 solid hoop and easy to put together. Everything in the box is all labeled. Be sure to not take plastic or cardboard off parts until ready to use because they have numbers on them. I also like that the base connects to a metal frame under the plastic holder for the water. Rather then the lifetime brands that are just connected to the plastic of the base that holds the water. Also worth paying 299 for the fact it only took about an hour and a half to put together and directions were very easy to follow. Also like that the backboard has metal supports behind it. Also very easy to change heights. Did also watch a install video before putting together. Would recommend
Date published: 2016-11-09
Rated

4

out of

5
by
Bob
from
Fun and sturdy
My son and I put this together in about 3 hours. It's sturdy and looks great. The fact that it has so many height position makes it great for any level. I didn't fill the base with water and it seems pretty stable, but there hasn't been a windy night yet. The only problem I can see(and it is t really a problem) is that the adjustment arm to raise and lower the backboard could be difficult for smaller kids. Overall, this hoop is very good and we will use it for years.
Date published: 2016-03-19
Rated

5

out of

5
by
Mesasmiles
from
Sturdy, well-engineered basketball goal
I've had a cheaper Lifetime portable basketball goal about 7 years. It tended to blow over, the post and rim have gotten bent. This one is much sturdier. Assembly instructions were the clearest of any I've seen--every bolt, nut, washer, etc. is clearly labeled. Some have colored stickers to help you know which end matches up with which hole. You'll need two people and a couple of hours to put it together, and a variety of tools. Height adjustment is easy.
Date published: 2017-06-21
Rated

5

out of

5
by
FirstTimeHoopBuyer
from
Easy to set up / thoughts on moving / sand vs water
I had a permanent hoop growing up and this is the first portable basketball hoop I've purchased.Why I chose this one: I decided on portable most notably on price, features, and the ability to re-position it occasionally if it turned out the original placement was not ideal after some use. I chose this over the other hoops because it seemed to balance form and function, with a raise-lower system that is easy and does not appear to be prone to long term failure. This also appeared easier to move than traditional portable hoops.Setup: This took about 2.5 hours going at a reasonable pace. Be sure you have all the tools because you will need them. Lay out a carpet or cardboard in your garage so the metal pieces don't get scratched. Don't peel the plastic from the pieces until you use them, they have the part ID on the plastic. Some people will need an assistant towards the end of the process to stand the hoop back up (I did not, but I'm a 6'2" man in reasonably good shape). Overall this was pretty painless setup.The base, sand vs. water: Why I chose sand instead of water. [1] I wanted it to be heavier to reduce the chance of tipping (dry sand weighs about 80-100 pounds per cubic foot while water weighs 62 pounds per cubic foot). [2] I didn't want to have to worry about it freezing or cracking in the winter. I live in NY. Cost: Sand is really cheap at about $3.00 per 50 pound bag. I used about 8-9 total bags which included some spillage and filling the wheels.The downside: Getting the sand into the base is a real pain, and getting it out will be impossible. It was a little damp coming out of the bag and as a result piled up at the fill hole vs distributing in the base like water would. I used paver sand as opposed to play sand because it is less sticky and easier to work with. I scooped from the bag and then used a funnel and a metal stick (old curtain rod) to push the sand down into the base. For the first few bags I actually tipped the hoop all the way forward (while I still could) to get the sand distributed into the front of the base. In hindsight, I might have laid out all the sand on a plastic sheet to dry it in the garage first, but then that's work too. Now that it's in I'm glad I did it.Moving it around: It is really heavy, especially with sand so I would recommend getting it into position before filling it if you can. If not though, I can still move it myself though it is a struggle. This works better with 2 people of course, and you will need at least one of them to be quite agile and strong. That said, I find it easier to move than the traditional style by comparison with my neighbors' hoops.Conclusion: All in all I'm happy with the hoop. It looks great, feels very stable (I lower it to the lowest setting when no in use to reduce the chance of tipping over in wind), and it appears to be designed to last. Recommend if you're looking to purchase a higher end portable hoop. One note, this will not fit in and out of a standard garage. Be aware of the height of your garage door opening if you plan to do this, as the way this hoop is designed it stays fairly upright when you move it with its wheel barrel base design.
Date published: 2016-08-09
Rated

4

out of

5
by
grnacewill
from
Quality Product worth owning
This item was delivered in a large box with each item wrapped and protected. The directions were detailed step by step and easy to follow. However, it would have been helpful to have had parts labeled like the hardware was and as they are in the directions. We had never assembled a basketball hoop before and this product took us 2 1/2 hours to assemble. It definitely is at least a 2 person job. All parts were included in the box and everything joined together without a problem. Several metric sized sockets and wrenches are required for assembly which would be helpful to know ahead of time if you do not have a full tool bench of your own. The Basketball Hoop is sturdy and stable. Even prior to weighting the base with water we were able to take shots without any structural compromise.The Rim is tighter than other goals I have used, there is no wiggle or vibration. It has wheels in order to move around therefore very portable. The height adjusts easily, however it does not fold down in order to store away. The system is nice looking. The family enjoys playing basketball with it..
Date published: 2016-03-03
We're testing out a new product page experience, and we'd love your feedback.
SHARE YOUR THOUGHTS