Goaliath 54" In-Ground Basketball Hoop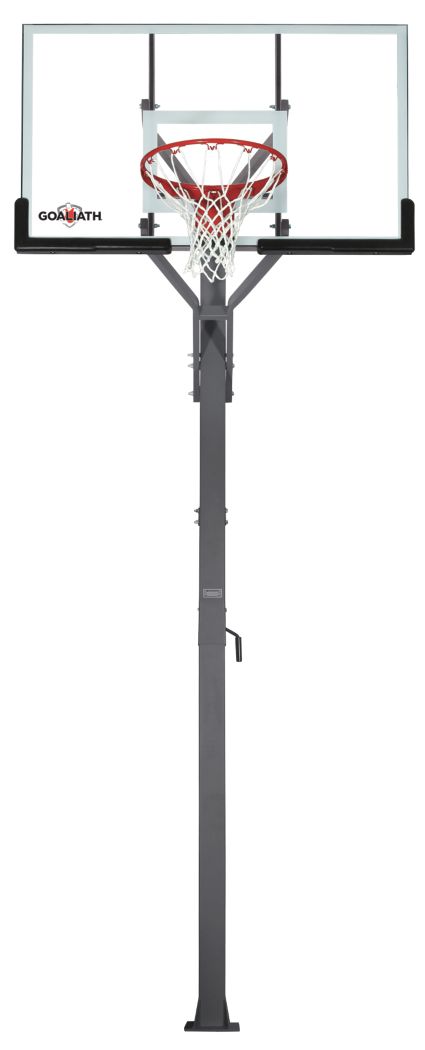 Goaliath 54" In-Ground Basketball Hoop
is rated out of
5
by
93
.
This product is currently out of stock.
Please choose product options above
Please choose product options above
PDP Sticky bottom AddToCart Section - active and hide position
Product Information:
Step up your game with the Goaliath® 54" Basketball Hoop. This in-ground hoop features a 54" tempered glass backboard with a full-perimeter all steel frame for maximum rim support. A 4" x 4" swedged two-piece pole acts as a one-piece pole for a combination of strength and flexibility. Precise height adjustment easily adjusts hoop height from 7-1/2' to 10' to accommodate players of varying sizes. Goaliath basketball hoops are made by the same company that manufactures Goalrilla basketball hoops/systems.
Click here to learn more about purchasing a basketball hoop.FEATURES:
54" tempered glass backboard
Full-perimeter all steel frame for maximum rim support
Pre-Assembled Pro-Style Flex Rim - UV and Corrosion Resistant, Net Included
4" x 4" swedged two-piece steel pole simulates the performance of a one-piece pole
Dupont® Powder Coated - Ultimate UV and Corrosion Resistance
All-steel, precise height adjustment easily adjusts goal height from 7-1/2' to 10'
Rock-solid, anchor bolt mounting system allows for easy leveling
Includes backboard pads
5 year limited manufacturer's warranty
Model: B2251, GB54cs2.0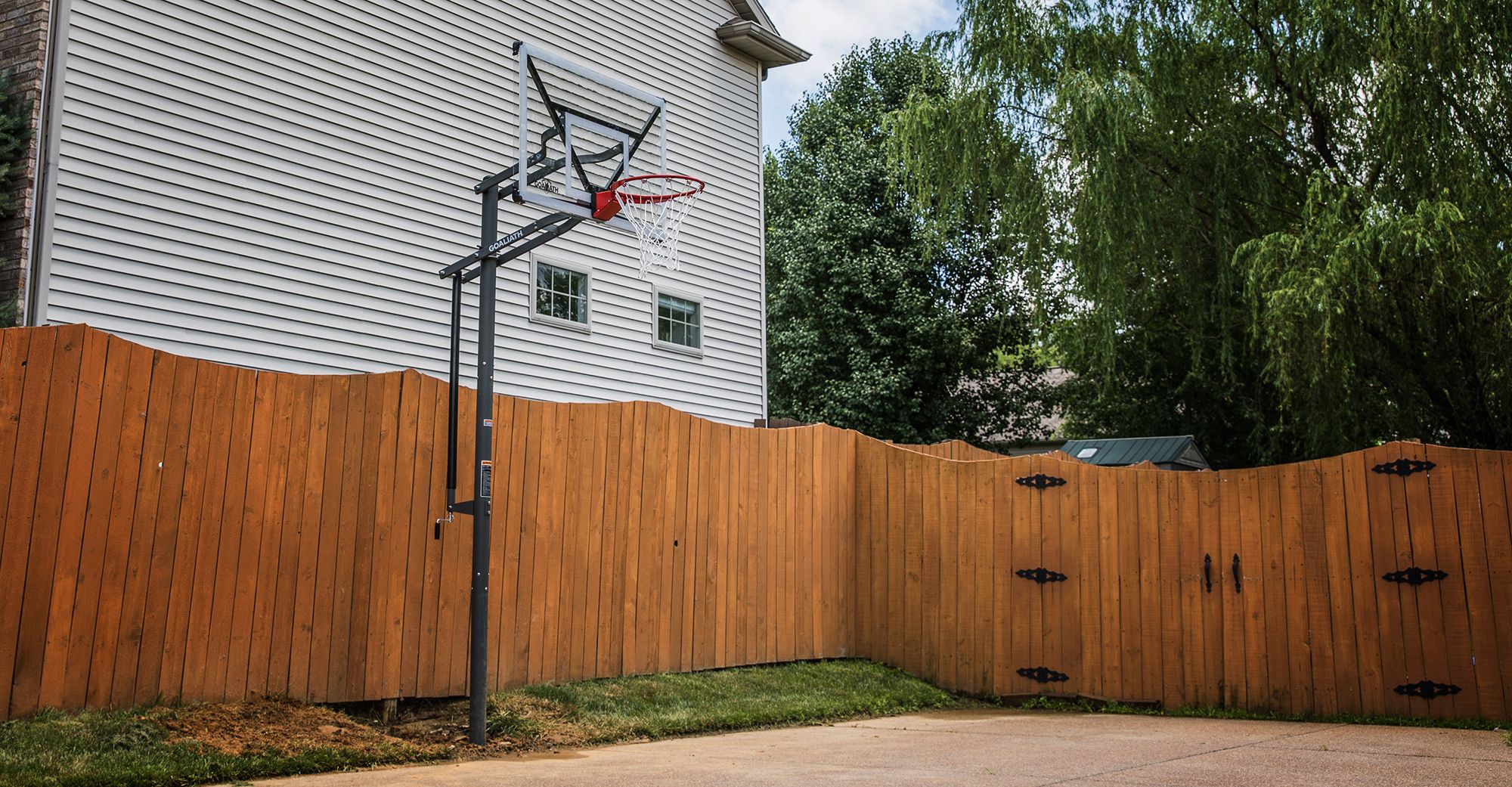 Click here for additional information relating to the Manufacturer's Warranty.
Brand: Goaliath
Country of Origin: Imported
Style: B2251
Web ID: 16GLTUGLTH54CS20XBKE
Tech Specs:
Backboard Size
54"
Backboard Type
Tempered Glass
Backboard Construction
Full-perimeter all steel frame
Rim
Pro-Style Flex
Height Adjustment
7 ½' to 10'
Pole Type
Swedged two-piece
Pole Size
4" x 4"
Mounting
Anchor bolt mounting system
Model
B2251, GB54cs2.0
Rated 1 out of 5
by
Shoots & Wobbles
from
A nice looking hoop that wobbles excessivley
I was excited to get this hoop for my kids. Aesthetically it is a nice hoop. The glass backboard and rim are high quality. It looks great in the driveway. The problem is the pole. It is thin and flimsy. The result is it wobbles modestly even with "swish" shots. Anything banked off glass and it wobbles on borderline violently. I had the Dicks Sporting Goods professionals install, so I am certain it was not something I did. For a hoop this expensive ($1,000 total for the hoop and install) the quality is actually quite poor. Overall I am disappointed and regret this purchase. I'm certain for the same price could have gotten much better quality.
Date published: 2014-05-15
Rated 3 out of 5
by
miles66000
from
good but ...
glass board is great but wobbles at slightest touch. The 4 arms holding the heavy glass board are not well designed to hold it properly in place. Although all 4 bolts are tight, the attachment surface to the pole is to small. Engineers need to do better static calculation here. There is room for serious improvents. This was my first buy at Dick's and I must say I was not happy . I had asked also for 367 $ installation but they refused to provide a time frame. They insisted on payment first so I had find someone else to do the installation. Half a job, not sure if I come again.
Date published: 2017-04-26
Rated 4 out of 5
by
B Lopp
from
So Far So Good.
Bought and installed this hoop three weeks ago. Kids love it. Looks great in the driveway. Seems very sturdy, having already sustained some pretty windy days. Had my handyman install the hoop. He knocked it out no problem. Poured concrete one day, then spent about two hours finishing the job three days later. Only complaint is that within days of purchasing and installing this hoop another similar, but higher-end Goaliath hoop was included in a flash sale on the store's website. It was an even nicer hoop for nearly half the price I paid. Free shipping was even included! Noooooooooo!
Date published: 2017-04-26
Rated 4 out of 5
by
Wirehead
from
Follow the directions/ Wobbles
I purchased the basketball hoop after reading all the reviews about how the system wobbles when a shot is taken and it hits the rim or backboard. I am an engineer and I figured folks were not following the instructions to a tee. I verified the unit does wobble a bit (1/4 to 1/2 inch) at the basket. To fix this issue where there is no wobble anymore is, after two or three days after the pole is standing, simply take the black lid off the top of the main pole and add one more bag of properly mixed concrete to attach the base of the unit firmly to the pole. Make sure you place a seal (RTV) between the base (Poured concrete with bolts) and the pole so the concrete your adding does not come in contact with bolts or leaks out. That way if you decide remove the basket ball hoop you can. No more wobble. :)
Date published: 2017-08-07
Rated 5 out of 5
by
rperk
from
easy to install
My husband HATES concrete work, but decided to give it a try since the directions were so easy to follow. He was able to dig the hole, and set the base very easily. He and I were able to erect the goal and backboard. We used a ladder to help support the weigh of the backboard while we inserted and tightened the bolts. Our boys were able start playing and love it. Once the concrete cured, it took us less than 30 minutes to set up the goal and backboard. It does have a little more sway than we would like, but overall it is sturdy. We have a LOT wind where we live but haven't had any issues with it.
Date published: 2018-06-29
Rated 5 out of 5
by
Anonymous
from
USE EXCESS REBAR - Concrete is most important part!!!
Unit raises and lowers with extreme ease, and is exactly what I wanted in a tempered glass unit. Unit has NO wobble under normal play (see my installation method below to understand why). Backboard is perfect size. I would definitely buy this goal over the more expensive tempered glass units. I'm 29 years old, and bought this goal as a Christmas present for my 6 year old, and 2 year old for future use (and myself to be honest). I grew up playing travel ball year round as well as playing in college and always wanting a unit like this. I had friends in my teenage years whose parents bought them the expensive tempered glass units when they first hit the market for outdoor use, and I knew "wobble" could be a problem. I believed the problem to be caused from poor concrete installation. So upon installing the unit, here was my solution and it worked perfectly. 1) Dig the hole as directed in the installation guidelines. You can make the hole bigger but definitely NOT smaller. I only went 28" deep. 2) Take the 1/4" or 3/8" rebar that comes with your unit and trash it. Better yet, recycle it and use the money to help you buy a heavier gauge rebar. I bought 6 pieces of 4' long x 5/8" rebar from Lowes. Cut them in half (Lowes will probably do this for you), and use all 12 pieces in the concrete to strengthen it. 3) Place 4 of the pieces as directed in the installation guidelines, and place the other 8 pieces randomly throughout the concrete (see picture for reference). 4) Follow the rest of the installation guidelines making sure you allow the concrete to cure properly. I live in NC and the day I poured the concrete it was in the mid 30s and stayed that way 3 days. Then cold rain followed the next 2 days. Therefore, I allowed the concrete to cure for 2 weeks. The unit has NO wobble under normal play. Even when shooting bank shot 3 pointers, the unit holds strong. The only time it wobbles is when I dunk. Even then the unit will only wobble for 10-15 seconds before equalizing. (Note: Dunking is fine on the unit as long as you don't hang on the rim, or dunk with extreme force. In other words, just slam the ball home without causing your weight and force to break-away the rim. Do so at your own risk).
Date published: 2017-02-27
Rated 5 out of 5
by
Basketball is fun
from
Five kids and plenty of basketball games later...
We have gotten our moneys worth out of this basketball system. We installed it ten years ago and have played numerous games on it in Ohio weather and it has stood the test of time and the great games we have played! We did not want to pay the high price of the other brand and we are glad we did not pay it. We followed the directions to install it and did not encounter any problems at all. We have a light on the top so we can play when it gets dark. We have recommended this brand to our neighbors.
Date published: 2017-11-15
Rated 4 out of 5
by
Hdn88fan
from
Good Product
I purchased this for my teenage son and friends. The directions are fairly straightforward and I had no issues putting this together. I added a step to the "manufacturer's" instructions and filled the bottom pole with concrete to help with stabilization. I don't know how well it would have performed without adding concrete, but after reading the other reviews, I didn't take the chance and eliminated any "wobble". It's not a $2000 system, but definitely worth the price.
Date published: 2016-10-11