Goaliath 54" Warrior In-Ground Basketball Hoop with Pole Pad

Goaliath 54" Warrior In-Ground Basketball Hoop with Pole Pad
is rated out of
5
by
45
.
This product is currently out of stock.
Please choose product options above
Please choose product options above
PDP Sticky bottom AddToCart Section - active and hide position
This item requires specialized installation which, if selected, may require a separate appointment from the delivery date shown during checkout.  The assembly date and time of appointment will be scheduled once delivery is in process. The delivery date shown at checkout is an estimate of the initial delivery date only
Product Information:
Bring the game to your backyard with the Goaliath® 54" Warrior In-Ground Basketball Hoop. A 54" tempered glass backboard is supported by a heavy duty and durable swedged two-piece steel pole. The entire system is Dupont® powder coated for ultimate UV and corrosion resistance so this hoop will withstand the weather and intense games. Includes backboard pads, and pole pad for greater player protection. Goaliath basketball hoops are made by the same company that manufactures Goalrilla basketball hoops/systems.
Click here to learn more about purchasing a basketball hoop.FEATURES:
54" tempered glass backboard
Pre-assembled pro-style flex rim
Swedged two-piece steel pole
Dupont® powder coated for ultimate UV and corrosion resistance
All hardware is zinc coated to resist corrosion
All-steel precise height adjustment easily adjusts goal height from 7-1/2' to 10'
Wide-span board arms offer added support
Includes backboard pads and pole pad
5 year limited manufacturer's warranty
Goaliath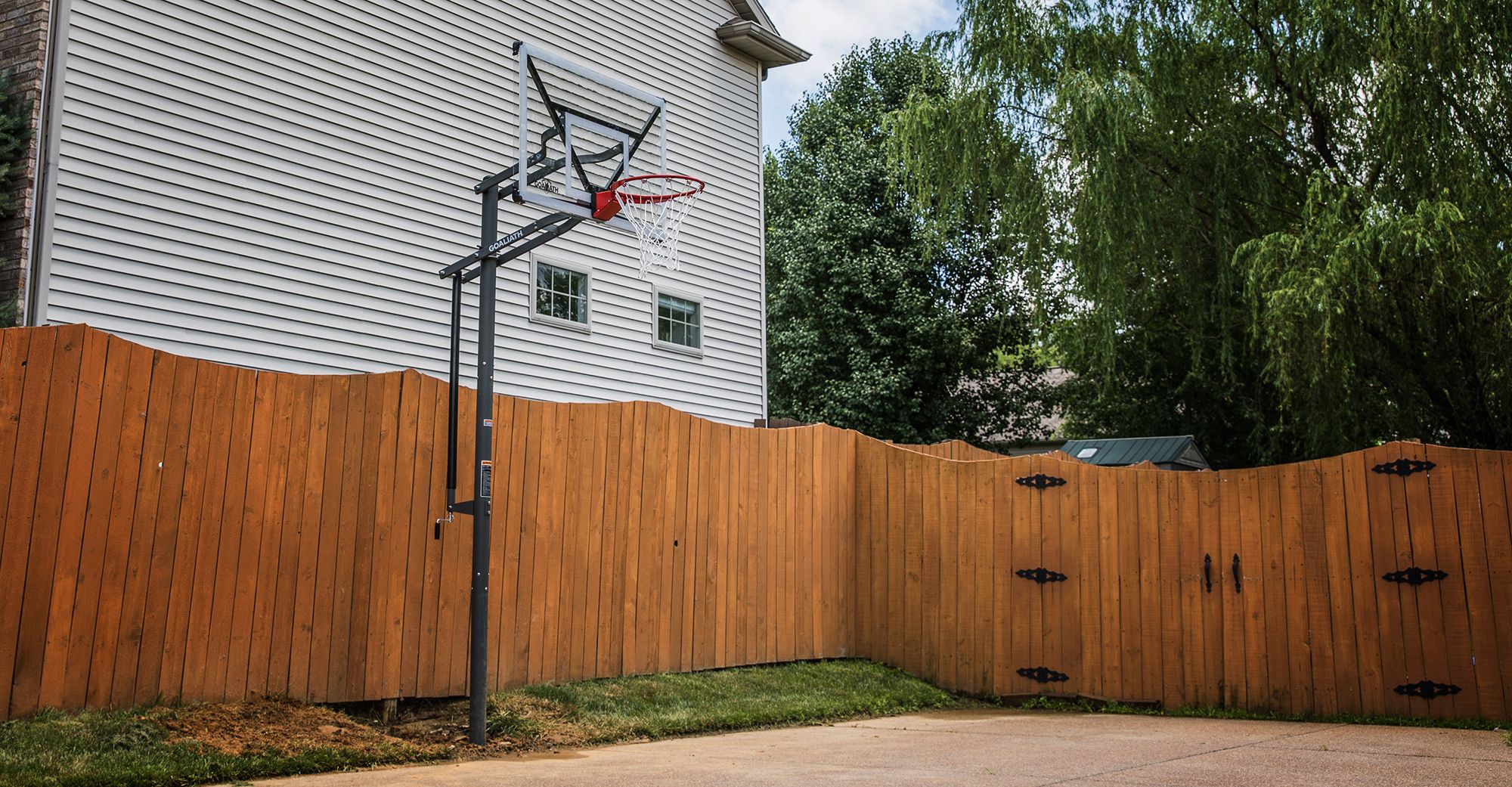 Click here for additional information relating to the Manufacturer's Warranty.
Brand: Goaliath
Country of Origin: Imported
Style: B2253
Web ID: 16GLTUGLTH54GXXXXBKE
Tech Specs:
Backboard Size
54"
Backboard Type
Tempered Glass
Rim
Pro-Style Flex Rim
Height Adjustment
7 ½' to 10'
Pole Type
Swedged two-piece pole
Pole Construction
Dupont® powder coated
Hardware
Zinc coated
Rated 4 out of 5
by
JLDan8
from
Great goal for the $
I ordered this goal to be installed at a local private school. It is a good product satisfying the basic requirements of a basketball goal. Installation was pretty straightforward and helped that we obtained a concrete contractor to pour the foundation. It has an easy mechanism to move the rim to different heights with the spinning handle. The backboard is slightly undersized, however makes installation a bit easier than a Goalrilla. I was able to purchase this product 50% off at $599, which was quite a value. If you are going to spend over $1,000, I would go for a larger goal and backboard, but it is perfect for younger ages or a semi-basketball enthusiast.
Date published: 2015-10-21
Rated 4 out of 5
by
joebob8000
from
Solid Hoop - Great price
Bought this hoop system on sale and knew that is was the sink the pole in ground type. That's fine with me, I'm not moving and don't need to pay extra for a bolt on system. Pole installation was fine - my only recommendation not mentioned in the instructions is to make sure the pole face is parallel to the driveway if you want the backboard to be parallel to the edge of the driveway. Hoop it self is very secure in the ground now and does not wobble. I didn't put any sand or concrete inside the pole either. We needed 4 adults and 4 ladders to hang the backboard. Overall, our family hopes to enjoy this for years to come and we are off to a great start!
Date published: 2018-05-12
Rated 5 out of 5
by
Hoopster
from
10 yrs old and going strong!
I bought this item in the Spring of 2007. I has received heavy use over the years, not to mention constant exposure to the elements in Chicago. It has held up beautifully and has been worth every penny. A little pricey going in, but considering it has lasted so long, you get what you pay for. Only thing is that the pad is on its last legs, and I'm having trouble finding an exact replacement, however, I've also left it out for 9 winters now often buried in snow- if I had brought the pad in, it would most likely still be fine.
Date published: 2017-04-29
Rated 5 out of 5
by
Burtto
from
Very heavy duty and came in exactly as avertised
I was able to put in the new hoop as winter moved in, but it looks great and the few times we have been able to shoot baskets it is very solid and did not have any sway. This is the 3rd Goliath I have put up, I end up leaving them with the house when we move, but this is the first one that did not have the bracket and bolt system and was a direct pole to concrete install. It was scary to make sure it stayed level while the concrete set up, but once it did it is solid as a rock. Make sure you did the hole plenty deep because you install the pole on an 8" concrete block as the base in the hole.
Date published: 2018-01-22
Rated 5 out of 5
by
Hoopdreams1
from
No Complaints - Great Product
I just finished installing this hoop today with my two young sons, 11 & 13. Nice product and I'm very happy with the quality. Needless to say, they're elated. This model is the one that is actually buried in the ground. It isn't attached to a plate. Only downside there is if we ever move, the hoop stays here. I followed the directions exactly how they were written and absolutely no problems whatsoever. Very good directions and easy to read and understand. The bolts are wrapped and coded to match the directions. That was awesome. The hardest part was putting the backboard on but my sons and I muscled through it. If you can get two bolts in the backboard, you got it licked. We three did the project all ourselves and it turned out perfect. I definitely would have a third set of hands there for the backboard install. Definitely two thumbs up!
Date published: 2015-07-14
Rated 5 out of 5
by
JWBDN
from
Awesome Hoop
I bought this hoop two months ago. I was nervous because I was going to have to dig a hole and use concrete to stabilize the hoop in the hole. However, the directions were amazing and installation went great. I got a great deal for this hoop online and have been very pleased with it. It is also a beautiful product.
Date published: 2017-06-16
Rated 4 out of 5
by
Joemomma
from
Good hoop at a good price
We just finished installing this. We held off for a month because I didn't realize when I bought it that this was the model that is buried in the ground and doesn't use the bolt down option. We almost returned it and bought another portable unit, but I'm glad we didn't. The install was much easier than I expected. It took us a couple hours to dig the hole, and the next day another couple of hours to setup the pole and pour the concrete. We didn't use any forms because I will have gravel and bark around the pole, so the concrete will be hidden. We used used two 2x4's to stabilize the pole and that seemed to work great. We waited a week to install the backboard because we had a lot of rain. I anticipate this part to be much more difficult, but it only took me a couple of hours and I completed it with my 11 and 13 year old boys. The backboard wasn't as heavy as people made it seem. Total hours to install was around 6. Now that it's installed, we're very satisfied with it. It does have some movement to it, but not near as much as a portable. I was able to pick this up for $400, so for less than a good portable, I can put up with some movement on the backboard and rim (to be expected with a two-piece 4" pole). I think even at $800 I'd be happy with it. The rim seems professional compared to the cheap portable systems we've had and the tempered glass backboard is a huge improvement over the polycarbonate. The ball comes off it like a pro backboard, and we think it looks pretty nice too. Love it! Overall I give it a 4 star because of the movement when the ball hits the backboard, but it's not a ton. I wouldn't let it keep you from buying it, especially if you can pick this up on sale for under $500, which happens somewhat regularly.
Date published: 2018-04-01
Rated 5 out of 5
by
JL15GPrix
from
Great Product....so far.
Purchased the Goaliath 54" In-Ground Basketball Hoop with Pole Pad for $499. Had some issues going to my local store to have it shipped to the store instead of my home so that I didn't have to pay for shipping. I worked that out and received the goal. In my rocky, red clay/dirt it was very hard to dig the hole. I used an auger to assist in the digging. I ended up using 600 lbs of Quikrete. I even used four two foot bars of rebar in the concrete. Instructions do not call for that, but thought it might help. Once I got the hole dug and pole installed, installation was a breeze. The goal is really stable with very little shake/wobble. The goal looks really good and seems to be of great quality. Hopefully it will hold up in the Alabama heat/weather.2 people installed the pole3 people installed the backboard2 people installed the rim1 person did everything elseThe goal has only been installed and usable for 4 days, so we'll see how well it stands up to play and weather, but so far I love it.
Date published: 2015-06-09