Harmony Recreational Kayak Miniskirt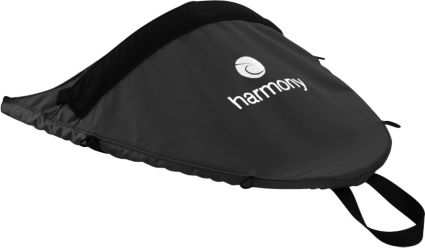 Harmony Recreational Kayak Miniskirt
is rated out of
5
by
10
.
The price of the product might be updated based on your selection
This product is currently out of stock.
Please choose product options above
Please choose product options above
PDP Sticky bottom AddToCart Section - active and hide position
Product Information:
The Harmony ® Kayak Miniskirt is perfect for kayakers who need to work on a dry surface. This convenient splash guard protects you from splashes, sprays and harmful sun radiation while giving you a dry area to handle maps or fishing gear. The miniskirt will attach to your kayak easily with the fully adjustable bungee cords. It will fit many cockpit sizes.
FEATURES:
Fully adjustable bungee for a form fit
Fits most recreational kayak cockpits
Durable urethane-coated nylon
Protects you from sprays, splashes and sun
Provides a dry surface for tasks on the open water
Brand: Harmony
Country of Origin: United States of America
Web ID: 15HMYURCRTNLMNSKRPAS
Rated 4 out of 5
by
hasbro
from
Almost too small for Pelican Trailblazer
Too hot here lately so wanted some shade on my legs, also reduce the paddle drips on my new Trailblazer. Miniskirt is universal fit so expected some difficulty wroth such a big cockpit. After much fiddling and sweating finally got proper tension on bungee, it is very tight. It still wanted to slip off on both sides so I ended up putting on a padeye to keep it in place. The front of the skirt is puckered a bit but the rest is okay. As long as you're willing to invest some time you can make it fit. Internal bows keep fabric fairly right.
Date published: 2016-08-20
Rated 4 out of 5
by
WrongWayRandall
from
Good item, just know what you are getting
First off, this item is not a full spray skirt - it's just a partial skirt that does not wrap your body, meaning that if you punch into a tall wave and water comes over the bow you're going to get wet. What this IS is a partial cockpit covering that will protect your legs from paddle drips, moderate spray, and the sun. It is also not fitted specifically to any one cockpit length/width combination, so if you want to make the most of the protection it offers you'll want to spend a few minutes adjusting it to fit your particular boat.This is designed for the large cockpits that recreational kayaks have, which are both long and wide. To handle this, the skirt has a thick, elastic cord around the perimeter that you can adjust so that it fits tightly, but is not impossible to remove. To adjust this to fit your needs you'll want to re-tie the knot in the cord located at the rear of the cockpit. It's a simple knot, so fit the front end first, pull the exposed cord at the rear around the coaming, untie the existing knot, pull both cords to the point that they are stretched 3 or 4 inches longer than they are when they are at rest, and then tie them together again. The goal is to have the tied cord be tight, but not so much that you have to fight it to get the skirt on and off. Fit the skirt in place and pull the exposed cord back a few inches, then let it go. It should snap audibly, if it does not it won't stay in place when in use. Now that its on there, use the strap (you did leave the strap out on the top side, right?) to remove it. You should be able to pull the skirt off using that strap without a great deal of force, but it should not be so easily that you can do it single finger (it's not easy to describe, but you'll know when you've got it tight enough because the skirt will stay in place when in use and still be simple to remove)The last part are the two bows that keep the skirt from forming a bowl in your lap if you take on some water. On the underside of the skirt are two straps - each has a loose end of webbing used to tighten the skirt and make it bow up in the middle. Pull firmly (but without yanking) on each of these until they are just snug - not so much that the cord begins to ride up the coaming on the sides of the cockpit. By tightening these straps you are bending two thick plastic strips sewn inside the skirt which then bow upwards to help shed water to the sides. You just want these to be snug, not twanging tight. If you make them too tight the skirt edges will not fit over the coaming properly and you'll get water in from the sides (or worse, a skirt that suddenly pops off, likely at the worst possible time.)The whole process took me maybe 5-6 minutes (I had to re-tie the knot a couple of times to get the tension where I wanted it.) When you're ready to paddle, wait to put this on until you get all the way settled in the boat. Start with the rear, slide the sides along, and then make sure the strap is on top when you slip the front edge in place. Then take it off when you are ready to get out rather than attempting to climb over it - you've got a nice, wide cockpit, take advantage of it! Be sure to wipe the skirt dry (after rinsing it well with tap water if it's been exposed to salt water) and stow it in the nice mesh bag that comes with this skirt.
Date published: 2015-04-08
Rated 5 out of 5
by
FlashFlood
from
Great Product
This miniskirt kept my legs and kayak's cockpit cool on a warm, sunny day. I coiled my wet anchor rope up on it, and no water soaked through. When water gets on it, it forms pools in one or two places, making it easy to reach under and push the water off. When the miniskirt gets wet, it sags a little bit. Not that much of a problem.I did not need to adjust the knot.Great product for the price.
Date published: 2015-05-15
Rated 3 out of 5
by
mikeyj
from
does not fit
This may be a great miniskirt but it is not wide enough to fit my 10 footer. If this was just 1 inch wider it would fit great but alas it's not so I will have to return it.
Date published: 2016-08-04
Rated 4 out of 5
by
oldguy63
from
Kayak miniskirt
I got this in the other day and it looks pretty good. I wish the bow was a little stronger but it's impossible to make it fit the variety of cockpit shapes. I will probably do some modifications my self to make it stronger so a wave doesn't end up in my lap. For what it is and the price I think it will work fine and would buy it again.
Date published: 2015-06-27
Rated 3 out of 5
by
JAS13
from
Wont fit without modifications
This kayak miniskirt seems to be of fine quality, but won't fit Mt Pelican Kkayak, despite the measurements saying it should. It's so tight, the elastic cord won't stay in the cockpit channel. As this is the closest fit I've found for my kayak, I'm adding some hooks to secure the cord and make the miniskirt useable. May have to cut the nylon fabric to expose the cord for a more secure solution.
Date published: 2018-11-20
Rated 5 out of 5
by
devil6driver
from
Great miniskirt
I love it. Shields my legs from the sun, keeps water off of my legs when I don't want to get wet. Easily snugs up to bow the plastic strip upward & make it ridged. Water runs off properly. Steered into a few boats wakes to put waves over the front of my kayak & it helped direct water well. Has to be taken off for our dog to ride but that's easy. I can just roll it up & tuck it between my feet.
Date published: 2016-06-28
Rated 4 out of 5
by
Lake Hag
from
Cool Ride
This is very easy to use & really makes it nice to kayak on a hot, sunny day. Since the adjustment requires adding another knot in a different location, it would be better if there was a sliding locking device on the bungie end. I was afraid to remove the knot that it came with unless I had another knot elsewhere. I wouldn't want to loose the ends!
Date published: 2012-08-07