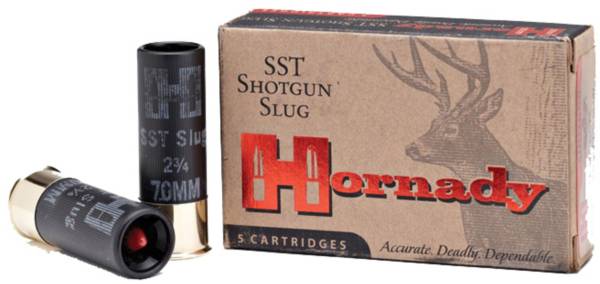 Hornady SST FTX Shotgun Slug Ammunition
Achieve the ultimate in accuracy and terminal performance with the Hornady® SST® FTX® Shotgun Slug Ammunition. With a super flat trajectory, the slug delivers sub-2" groups at 100 yards and true 200 yard accuracy. It produces 2000+feet per second muzzle velocity.For hunters who prefer shotguns, the Hornady® slug with Super Shock Tip technology is the ideal ammunition for taking down your prey.
FEATURES:
Super Shock Tip technology
True 200 yard accuracy and sub-2" groups at 100 yards
Designed for use in fully rifled barrels only
Quantity: 5 shells
It is Dick's Sporting Goods Policy that customers who wish to purchase firearms or ammunition of any type must be at least 21 years of age.
Brand :

Hornady

Country of Origin : Imported
WARNING:
Discharging firearms in poorly ventilated areas, cleaning firearms, or handling ammunition may result in exposure to lead and other substances known to cause birth defects, reproductive harm, and other serious physical injury. Have adequate ventilation at all times. Wash hands thoroughly after exposure.
Web ID:

15HRNU12GSSTSLGXXAMO

SKU:

10998483