Innova Disc Golf DX 3-Disc Set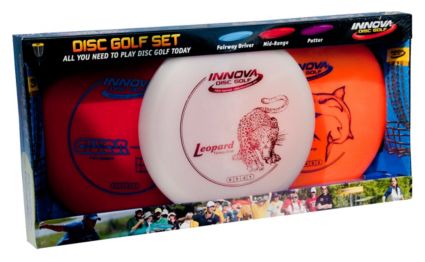 Innova Disc Golf DX 3-Disc Set
is rated out of
5
by
66
.
This product is currently out of stock.
Please choose product options above
Please choose product options above
PDP Sticky bottom AddToCart Section - active and hide position
Product Information:
The Innova® 3-Disc Golf Set is perfect for beginners just starting the sport of Disc Golf. This box set of three discs includes a fairway driver, mid-range and putter so you can master shots from all different ranges. Each disc is made from durable plastic and has and easy handling grip. The Innova® Disc Golf Set will provide season after season of summer fun.
Features:
3-Disc golf set
Ideal for beginners
Set includes everything you need to get started
Includes: fairway driver, mid-range and putter
Durable plastic construction
Assorted color discs
Brand: Innova
Country of Origin: Imported
Style: PG-3SET
Web ID: 16IVAUDX3DSCSTXXXSTG
Rated 5 out of 5
by
Club Manager Rick
from
Innova Discs an Affordable Solution
We wanted to add a new activity to our annual picnic. Frisbie Golf seemed to be a suitable and exciting addition. But when we looked at the cost involved, we almost shelved the project. That is, until we found the Innova Disc Golf DX-3 Set. We were concerned with the quality because of the great price, but that issue turned out to be unfounded. We absolutely loved the game, due in large part to the great frisbies we used. They were weighted and were not flimsy. Handling them was easy, as the inside edges were fashioned wide enough to enable a good grip. I didn't see a full set-up (targets and a complete compliment of discs). If you don't offer one, I'd recommend it.
Date published: 2012-10-18
Rated 5 out of 5
by
JoseC
from
Good Disk for the starter.
I purchased 4 starter packs for myself so I could drag along family and friends whenever they wanted to come with my to give disk golf a go. The disk weights we all 150grams (ideal for starters) and consisted of 3 solid disk for starters. If you want to give disk golf a try without commitment, this is the way to go. If your looking to get into the sport I wouldn't start with these cuz you will eventually want the better plastics (champion, pro, or star) and disk molds (like tea bird, mako, and aviar3)
Date published: 2018-03-07
Rated 3 out of 5
by
psudgc17
from
Exactly what it says
These discs will most likely be all 150g discs, which is on the lighter end of golf discs. I've been playing this sport for 10 years, and I used this set to furnish friends and family with discs when we play a casual round. Do not think these discs will be mainstays in your bag if you're a serious player; they will be too lightweight for you. The Champion Plastic 3 piece set will have heavier discs (except the driver) and will be more helpful and cost-effective for beginner/intermediate players.
Date published: 2010-09-05
Rated 5 out of 5
by
Jaker72
from
Happy with this set
I am new to the sport, but have found these discs to be a much better quality than the Franklin starter set I purchased elsewhere for about $10- not that I expected the best quality from those at that price point. The only bad thing I would say here is that I don't recall the Dick's site specifying that the disc colors would not necessarily match those in the picture. I could be wrong about that, but what I recall is the word 'color' in the 'size' field of the order form. Either way, the discs are high-quality, and perform as they should. One thing I was really impressed with was the enclosed pamphlet- it described the different specs of the discs, and how they affect flight. Along with this, it was nice to see a wide listing of Innova's other offerings, complete with intended uses and all specs. Nice touch.
Date published: 2016-07-20
Rated 5 out of 5
by
knightsofnii
from
All a beginner needs for disc golf
Was about to buy off amazon but checked Dick's and saw they were in stock locally, purchased in store. They have a TON of "distance drivers" and a couple putters and fairways and these 3disc packs. I highly recommend NOT going for a "distance driver" off the bat. I'm learning to throw the starter discs. It is hard at first. The more you improve technique, the more time you put in, the straighter and farther they go. I am at the point where I now can get the fairway/driver to go straight and far. The putter included is used by many pros even. I have not had issues with damage, some chipping some rash, but it doesn't seem to affect the flight characteristics yet. Play once in the woods and this will happen to any disc (chipping). I DID have an issue where I forgot my discs in my hot car, and the putter warped a little. Luckily it was the putter and I'm not too concerned, it goes straight still. Read up on Disc Golf and how to and everything. These are NOT "Frisbees" and will not fly anything like them, you have to learn new techniques to do it right. But it gets fun :) and burns calories chasing them down :)
Date published: 2017-09-06
Rated 5 out of 5
by
CaseyD
from
Great Set
Great Set. If you go to the store you can see the discs in the boxes so you have some choice about what colors you want. Got mine on sale for [$]. Even if you only use them twice to figure out you don't like the sport, you'll get at least 4 hours of entertainment out of it. Ad is a little misleading with the bag on it and all the discs. I'm happy. I use to play a lot. Played in a couple of junior tournaments. Starting over again 15 years later. I have quite a bit of knowledge on the flight characteristics of different discs and this is the set you need if you're starting out. I travel at least 200 days a year and a small set is perfect to take with me when I'm traveling to an area that has a course. You can go [@] to check on a course near you.
Date published: 2010-07-24
Rated 5 out of 5
by
Tim who plays disc
from
Great Starter Set
Disc Golf is an awesome sport and this set is a great place to start learning the game. Innova is a top brand in the sport. They always make quality products. And the quality of your disc absolutely effects the quality of your play. Great choice here!
Date published: 2017-12-11
Rated 3 out of 5
by
EasyE
from
Disc Golf Starter
I've been playing disc golf for about 7 years, what you get are alright discs to start off. Once you have experience these are not the best, and you will find the best for your style. So if your starting off they are a good start.
Date published: 2011-03-08