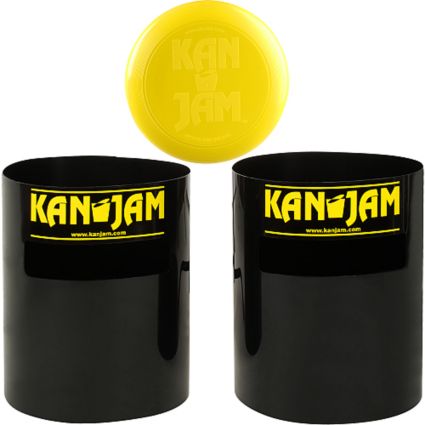 KanJam Disc Game
is rated out of
5
by
366
.
This product is currently out of stock.
Please choose product options above
Please choose product options above
PDP Sticky bottom AddToCart Section - active and hide position
Product Information:
KanJam® is a 4 player disc game, similar to bean bag toss played with a disc instead of bean bags that uses teamwork to score. The object of the game is to score points as a team by throwing the disc in the goal ("kan"). Instead of just throwing the disc back and forth in the backyard, KanJam® provides hours of fun with a target to throw toward and the challenge as a teammate of redirecting an errant toss on the other end.
KanJam® just got that much cooler. Download the KanJam® app to get rules, how-to videos and a super easy to use scorekeeper! This set is lightweight and easily portable, making it the perfect game for tailgating, camping, backyard, and the beach.
How to play:
Set up the goals ("kans") 50 feet apart.
Two teams of two.
Teams take turns throwing/deflecting the disc toward the goal.
Play to 21 points.


Scoring:



Instant win: Throw the disc inside the kan through the small front slot opening
2 points: Throw the disc to strike the kan, unassisted by teammate
3 points: Teammate deflects the disc throw inside the kan
1 point: Teammate deflects the disc throw to hit the kan


Features:



2 durable official goals ("kans")
Custom designed 168 gram disc
Detailed scoring guide and instructions
Brand: Kan Jam
Country of Origin: United States of America
Web ID: 16KJAUKNJMXXXXXXXSTG
Rated 5 out of 5
by
jdie987
from
Kan Jam...good for literally hours of backyard fun
We introduced Kan Jam to our extended family during a recent one week long vacation and it took hold like a virus. We played throughout the days and in to the evenings. So much so that we are looking in to purchasing the glow in the dark add-ons that the makers advertise on-line. The only improvement that I would suggest is more substantial / traditional disks (175g) vs the single generic disk that comes with the game.Since our vacation, we ordered two of the game kits to send to families with whom we spent our vacation. I recommend it to anyone looking for a fun and competitive game that the entire family can enjoy.Go for it...you won't regret it.
Date published: 2015-08-18
Rated 5 out of 5
by
mfardig
from
Surprisingly fun!
I saw this is stores many times, but never bought it until recently. I finally was able to see a set out of the box in the store - and the cans are really big. You'll be misled by the box thinking they aren't that big - my concern was that it was some mini frisbee type of set which I don't like.The frisbee is full size and pretty durable.The cans are big, and easy to put together (you can take them apart for travel which is a nice bonus).The game itself is really fun - we are able to play it with our kids (age 7 and 11). The rules are easy to understand - its a great social game for parties.I'm debating purchasing a 2nd set to have KanJam gettogethers - it really is that fun!
Date published: 2014-07-08
Rated 2 out of 5
by
Jordan
from
Fun game...if frisbee works properly
I played this game with some friends a couple months ago and loved it, so I eventually picked one up for myself at Dicks. My only frustration is that the frisbee came out of the package very lopsided and doesn't fly well. I scrambled to get the game last minute for a BBQ we were having so the frisbee issue kind of ruined the excitement of showing it off to my guests. I'm sure they would exchange if I brought it back but I haven't had the time to do it. I just didn't expect to have any issues with a game that consists of 1 frisbee and 2 pieces of stamped plastic, especially when I paid $40 for it.
Date published: 2016-03-08
Rated 5 out of 5
by
Cam
from
Better than bag toss and horseshoes!!!
From the kids to the grandparents my whole family got into Kan Jam more so than bag toss and horseshoes at out last get together. The fact that both players are active on each throw are a big hit. While shoes and bag toss are a more skill and experience game "The Jam" rarely has many missed points since your partner can alter a lack of precision on your throw. And the hole in one takes all factor keeps it exciting in an otherwise blow out. I'm still a fan of the shoes and bag toss but for including the whole Fam Kan Jam has proven to be the game. Well played Kan Jam, well played indeed.
Date published: 2014-11-05
Rated 4 out of 5
by
CRMom
from
Fun game for everyone
We purchased this game looking for something new that we could play as a family or that the kids could play with friends. This game works great! It is fun as a target game. We also morphed it into a modified 4 person Utlimate-style game with the can as an end zone . Everyone from the kids to the adults had fun, and it is a game we could all play together. The cans are heavy plastic sheets that roll into the cans. It makes the game very portable, but the cans aren't heavy and can tip over. We didn't find that to be much of a problem, but if the disk hits the can hard enough it will tip.
Date published: 2014-06-26
Rated 5 out of 5
by
MomOf4
from
Best Group Game Ever
Bought this after having fun with a family members Kan Jam at the beach... We took our new Kan Jam camping....Our site was non-stop Kan Jam Action for 5 straight days. Fun for all ages and skill levels. We had a blast and had competitions every day for hours.Easy to pack and store. Simple rules: you throw the Frisbee toward the can - if you get it in, instant win for your team. If your teammate helps by hitting the Frisbee and it goes in you get 3 points. If you hit the outside of the can unassisted you get 2 points, if your teammate helps and you hit the outside of the can you get 1 point. Pairs take turns throwing like innings in baseball. You have to get 21 exactly to win. Very fun, very addictive.
Date published: 2013-10-19
Rated 4 out of 5
by
NinjaBob
from
It's frisbee + volleyball... and it's tons of fun!
First off, if you can't throw a Frisbee, then this game will be an exercise in futility. If you can, then this game is a blast. You can even play it with a drink in one hand. One caution: the Frisbee is heavy, so I ended up with a few bruises on my hand from overzealous slamming. The price was expensive for what it is, but the material seems durable and should last many years.
Date published: 2016-08-17
Rated 4 out of 5
by
amkrome21
from
A little flimsy but a great game!
My son's football coach recommended this game and since we had a week long vacation coming up with family, I decided to give it a try. The "Kan"s are not what I thought they'd be. Basically thin plastic that you roll and secure with tabs to form the target - they don't have a bottom. For the price, I thought it was going to be an actual can and a lot more sturdy. That being said, both the kids and adults loved the game itself - had a great time with it once you got the hang of it. We have a handful of very competitive teenage boys in our family and they thought it was awesome - many hours were spent on this game. It wasn't physically challenging for the adults who can no longer handle kick ball games with the teens! A word to the wise, if you're picky about things looking nice, don't let your kids put the yellow Kan Jam stickers on the front - once they put them on crooked, they're almost impossible to take off and reposition! Overall, a great game, just a little on the pricey side for the quality.
Date published: 2016-07-27