Katadyn Hiker Microfilter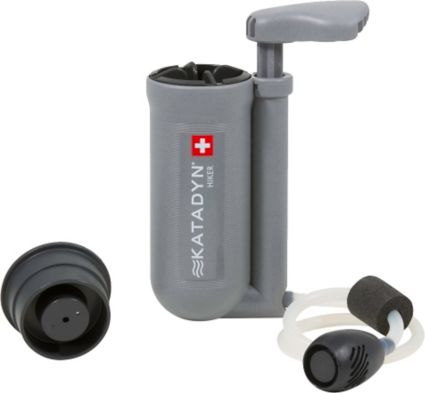 Katadyn Hiker Microfilter
is rated out of
5
by
23
.
This product is currently out of stock.
Please choose product options above
Please choose product options above
PDP Sticky bottom AddToCart Section - active and hide position
Product Information:
Ideal for hiking and backpacking, the Katadyn® Hiker Microfilter is a convenient way to ensure you always have access to clean, great tasting water. The unique pleated cartridge design allows you to pump out water quickly and easily and the included Easy Fill™ bottle adapter makes it a snap to fill your water bottle. It's also lightweight so it won't weigh down your backpack.
FEATURES:
Lightweight and easy to use
Unique, pleated cartridge design provides fast and easy pumping
Convenient for 1-2 people
Compatible with hydration bladders
Removes bacteria, protozoa, cysts, algae, spores, and sediments
Reduces bad tastes and odors
Includes: Prefilter, Easy Fill™ bottle adapter and carry bag
Easy Fill™ bottle adapter attaches directly to your water bottle
Click here for additional information relating to the Manufacturer's Warranty.Specs:
Dimensions: 3" x 6.5" x 2.4"
Output: 1L
Technology: Pump filter, AntiClog™ Technology with 0.3 micron glassfiber (no cleaning needed); includes activated carbon granules
Weight: 11 oz
Output: Approximately 1L/min
Capacity: Up to 200 gallons depending on water quality
Brand: Katadyn
Country of Origin: United States of America or Imported
Web ID: 15KATUHKRXXXXXXXXCAC
Rated 5 out of 5
by
HunterPaul76
from
Awesome product!
We have used this product in the BWCA and other canoe trips for many years. I like it so much I had to have one myself. I'm pretty particular about what I buy. Do the research, probably the best, hassle free one on the market. Works perfect and no funny taste. Light weight and easy to use.Take care of your equipment and it will take care of you.
Date published: 2015-08-19
Rated 4 out of 5
by
Slug
from
Hiking Microfilter Must bring along
When I firsted looked at the price of microfilters, I was a bit taken aback. Then I realized, hmmmmm, trip to Doctor, or Hiking Microfilter. Works like a charm, easy to operate, it is rated for 750 liters, and in a week of hiking I probably only made 7 liters, so I can see it lasting for a lifetime at that rate. Make sure you take it apart to dry it out when in storage. Great deal to avoid unknowns in water while hiking, pay for the device or pay the Doctor and have medical complications, easy choice. Lightweight and compact
Date published: 2012-08-15
Rated 3 out of 5
by
HeatMan
from
I returned it
I liked it. I reviewed it on the assorted sites and saw it was a good unit.But I returned it.Why?Well.... This one had a 200 gallon limit. The one that I bought at REI was the Hiker PRO, the one that either wasn't in stock or not offered. And I paid about $5 more for the Hiker PRO before the member rebate. And REI has the replacement filters where there wasn't even an empty hook at Dick's.
Date published: 2015-10-14
Rated 4 out of 5
by
MB
from
A hiking "must have"
This filter performed excellent. The water is always crystal clear, no bad taste, and best of all, the water was rendered safe to drink. I accidentally left my Nalgene bottle full of filtered pond water after a hiking trip. The water had no odor or evidence of being once pond water when opened months later.A few pointers for those who are worried about durability, performance or cloudy water, etc. Most failures are due to user error, and can easily be overlooked as product faults.As with any activated carbon filter, you MUST run the filter through a few cycles to rid the water of any loose carbon dust. I flushed mine at least 4 large Nalgene bottles worth with water before using the filter to capture clean water. Even if the water is turbid at first, its still safe to drink. Each filtering session will result in clearer water than the last in the beginning.Pumping too hard can break the filter pump mechanism. It may take a bit more time to collect safe water, but pumping slower with a little less effort will lengthen the life of the filter. You will also get better filtering results. The kit comes with additional lubricant for servicing as well.Consider bringing small coffee filters and a rubber band to cover over the weighted inlet. This will keep debris from clogging the inlet and lengthen the life if the filter itself if you happen to be in an area with high algae or underwater plants.Katadyn makes better, more durable filters, for hikers that will be using a filter for long periods of time or to service large groups. This one is not meant for extremely heavy use. The maximum capacity that this will service is 2 hikers per day.The bottle adapter will fit standard Nalgene and Camelbak Bottles. The bag is also big enough to add additional items, such as water iodine tabs for backup in case of emergencies.Also, common sense should dictate any scenario. You should avoid muddy or murky water whenever possible as this type of water will quickly reduce the life of the filter.The only gripe I have is that I wish that the instructions that came with the filter were not made of paper. It would make more sense to be plastic instead as the paper tends to get wet and deteriorates if not stored in a separate bag.
Date published: 2015-01-20
Rated 5 out of 5
by
Matt139511
from
Worth every penny
I bought this to go backpacking, and it was exactly what I needed. Any source of water will do, it's portable and packs small, and it's incredibly easy to use.
Date published: 2015-09-15
Rated 4 out of 5
by
tellsacket
from
will fit in my backpack ok
haven't tried it out yet. why don't the stores that sell the unit sell the replacement cartridges?
Date published: 2015-02-19
Rated 5 out of 5
by
RLJohnson
from
The best I've owned
I've gone through several camping water filters over the years, and this is the best I've owned. I bought a second one for my son who just began backpacking, so that he could skip the frustration of trying cheaper brands. The Katadyn Hiker does a great job. It sets up quickly and fills a jug in a hurry which is a real plus when you're crouched down by a Pacific Northwest stream in the pouring rain.
Date published: 2013-01-09
Rated 5 out of 5
by
Matt
from
Great!
This is a great product. We spent 6 days in the wilderness with 2 of these filters and 4 people and used it every day. It is the only way to go in my opinion. I've used other products before, but this is the top of the line. Way to go katadyn. If there is any downside it is that I'll probably need to replace the filter after using it so much.
Date published: 2014-07-30