KEEN Kids' Moxie Mary Janes
The price of the product might be updated based on your selection
{ "warrantyData" : [ { "ProductSKU" : "18050371", "ProductUniqueId" : "3468714", "warrantySKUS" : [ ] }, { "ProductSKU" : "18050374", "ProductUniqueId" : "3468717", "warrantySKUS" : [ ] }, { "ProductSKU" : "18050375", "ProductUniqueId" : "3468718", "warrantySKUS" : [ ] }, { "ProductSKU" : "18050376", "ProductUniqueId" : "3468719", "warrantySKUS" : [ ] }, { "ProductSKU" : "18050421", "ProductUniqueId" : "3468720", "warrantySKUS" : [ ] }, { "ProductSKU" : "18050422", "ProductUniqueId" : "3468721", "warrantySKUS" : [ ] }, { "ProductSKU" : "18050423", "ProductUniqueId" : "3468722", "warrantySKUS" : [ ] }, { "ProductSKU" : "18050424", "ProductUniqueId" : "3468723", "warrantySKUS" : [ ] }, { "ProductSKU" : "18050425", "ProductUniqueId" : "3468724", "warrantySKUS" : [ ] }, { "ProductSKU" : "18050426", "ProductUniqueId" : "3468725", "warrantySKUS" : [ ] }, { "ProductSKU" : "18050432", "ProductUniqueId" : "3468726", "warrantySKUS" : [ ] }, { "ProductSKU" : "18050433", "ProductUniqueId" : "3468727", "warrantySKUS" : [ ] }, { "ProductSKU" : "18050434", "ProductUniqueId" : "3468728", "warrantySKUS" : [ ] }, { "ProductSKU" : "18050436", "ProductUniqueId" : "3468729", "warrantySKUS" : [ ] }, { "ProductSKU" : "18050438", "ProductUniqueId" : "3468730", "warrantySKUS" : [ ] }, { "ProductSKU" : "18050441", "ProductUniqueId" : "3468731", "warrantySKUS" : [ ] }, { "ProductSKU" : "18050459", "ProductUniqueId" : "3468732", "warrantySKUS" : [ ] }, { "ProductSKU" : "18050461", "ProductUniqueId" : "3468733", "warrantySKUS" : [ ] }, { "ProductSKU" : "18050462", "ProductUniqueId" : "3468734", "warrantySKUS" : [ ] }, { "ProductSKU" : "18050463", "ProductUniqueId" : "3468735", "warrantySKUS" : [ ] }, { "ProductSKU" : "18050464", "ProductUniqueId" : "3468736", "warrantySKUS" : [ ] }, { "ProductSKU" : "18050465", "ProductUniqueId" : "3468737", "warrantySKUS" : [ ] }, { "ProductSKU" : "18050482", "ProductUniqueId" : "3468738", "warrantySKUS" : [ ] }, { "ProductSKU" : "18050484", "ProductUniqueId" : "3468739", "warrantySKUS" : [ ] }, { "ProductSKU" : "18050486", "ProductUniqueId" : "3468740", "warrantySKUS" : [ ] }, { "ProductSKU" : "18050488", "ProductUniqueId" : "3468741", "warrantySKUS" : [ ] }, { "ProductSKU" : "18050490", "ProductUniqueId" : "3468742", "warrantySKUS" : [ ] }, { "ProductSKU" : "18050492", "ProductUniqueId" : "3468743", "warrantySKUS" : [ ] }, { "ProductSKU" : "18050551", "ProductUniqueId" : "3468756", "warrantySKUS" : [ ] }, { "ProductSKU" : "18050552", "ProductUniqueId" : "3468757", "warrantySKUS" : [ ] }, { "ProductSKU" : "18050553", "ProductUniqueId" : "3468758", "warrantySKUS" : [ ] }, { "ProductSKU" : "18050554", "ProductUniqueId" : "3468759", "warrantySKUS" : [ ] }, { "ProductSKU" : "18050556", "ProductUniqueId" : "3468760", "warrantySKUS" : [ ] }, { "ProductSKU" : "18050558", "ProductUniqueId" : "3468761", "warrantySKUS" : [ ] }, { "ProductSKU" : "18630660", "ProductUniqueId" : "3468762", "warrantySKUS" : [ ] }, { "ProductSKU" : "18630661", "ProductUniqueId" : "3468763", "warrantySKUS" : [ ] }, { "ProductSKU" : "18630662", "ProductUniqueId" : "3468764", "warrantySKUS" : [ ] }, { "ProductSKU" : "18630663", "ProductUniqueId" : "3468765", "warrantySKUS" : [ ] }, { "ProductSKU" : "18630664", "ProductUniqueId" : "3468766", "warrantySKUS" : [ ] }, { "ProductSKU" : "18630665", "ProductUniqueId" : "3468767", "warrantySKUS" : [ ] }, { "ProductSKU" : "18630677", "ProductUniqueId" : "3468768", "warrantySKUS" : [ ] }, { "ProductSKU" : "18630678", "ProductUniqueId" : "3468769", "warrantySKUS" : [ ] }, { "ProductSKU" : "18630680", "ProductUniqueId" : "3468770", "warrantySKUS" : [ ] }, { "ProductSKU" : "18630681", "ProductUniqueId" : "3468771", "warrantySKUS" : [ ] }, { "ProductSKU" : "18630683", "ProductUniqueId" : "3468772", "warrantySKUS" : [ ] }, { "ProductSKU" : "18630684", "ProductUniqueId" : "3468773", "warrantySKUS" : [ ] }, { "ProductSKU" : "18630766", "ProductUniqueId" : "3475704", "warrantySKUS" : [ ] }, { "ProductSKU" : "18630767", "ProductUniqueId" : "3475705", "warrantySKUS" : [ ] }, { "ProductSKU" : "18630768", "ProductUniqueId" : "3475706", "warrantySKUS" : [ ] }, { "ProductSKU" : "18630769", "ProductUniqueId" : "3475707", "warrantySKUS" : [ ] }, { "ProductSKU" : "18630770", "ProductUniqueId" : "3475708", "warrantySKUS" : [ ] }, { "ProductSKU" : "18630771", "ProductUniqueId" : "3475709", "warrantySKUS" : [ ] }, { "ProductSKU" : "18630773", "ProductUniqueId" : "3475710", "warrantySKUS" : [ ] }, { "ProductSKU" : "18630774", "ProductUniqueId" : "3475711", "warrantySKUS" : [ ] }, { "ProductSKU" : "18630775", "ProductUniqueId" : "3475712", "warrantySKUS" : [ ] }, { "ProductSKU" : "18630776", "ProductUniqueId" : "3475713", "warrantySKUS" : [ ] }, { "ProductSKU" : "18630777", "ProductUniqueId" : "3475714", "warrantySKUS" : [ ] }, { "ProductSKU" : "18630778", "ProductUniqueId" : "3475715", "warrantySKUS" : [ ] }, { "ProductSKU" : "18630881", "ProductUniqueId" : "3475716", "warrantySKUS" : [ ] }, { "ProductSKU" : "18630882", "ProductUniqueId" : "3475717", "warrantySKUS" : [ ] }, { "ProductSKU" : "18630883", "ProductUniqueId" : "3475718", "warrantySKUS" : [ ] }, { "ProductSKU" : "18630884", "ProductUniqueId" : "3475719", "warrantySKUS" : [ ] } ] }
PROTECTION PLAN
(optional)
Info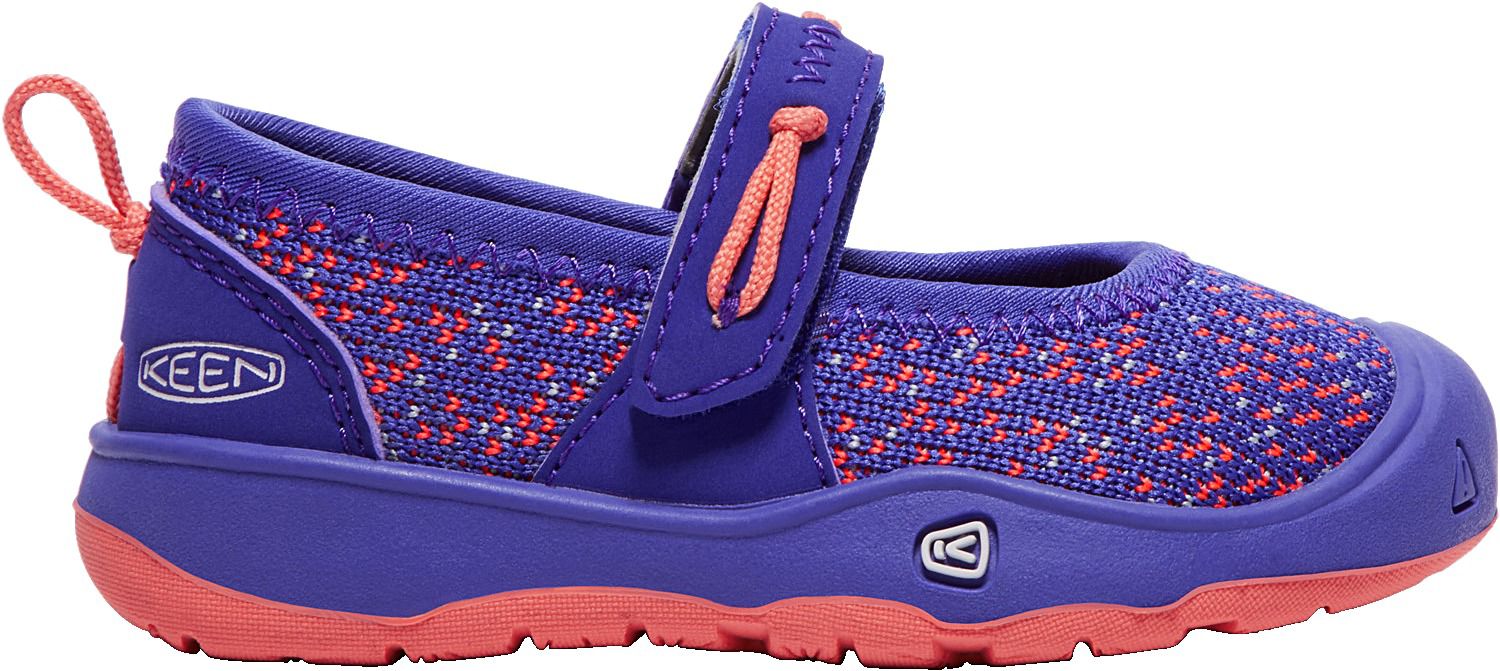 KEEN Kids' Moxie Mary Janes
Selected Option Not Available to Ship
Selected Option Not Available For Pickup
PDP Sticky bottom AddToCart Section - active and hide position
This product is currently out of stock.
Please choose product options above
Please choose product options above
Your kid will love the bright color and bold prints of the KEEN® Youth Moxie mary janes - and you'll love that they're machine-washable. The textile upper features a wraparound rubber overlay to keep mud off their feet, while mesh lining wicks sweat and allows their feet to breathe. The hook and loop closure makes it easy for them to get on and off by themselves. When they jump in puddles, don't sweat it - these shoes are designed to dry quickly and feature Cleansport NXT™ technology that keeps them and the shoes fresh. The non-marking rubber outsole helps them stay on their feet on slippery sidewalks so you can both focus on the road ahead.
FEATURES:
< UL>
Textile upper features bold prints and a wraparound rubber overlay
Machine-washable - allow shoes to air-dry
Hook and loop strap over instep makes it easy for them to put on and take off by themselves
Mesh lining wicks sweat and allows feet to breathe
Quick-dry design keeps them moving even after getting wet
Cleansport NXT™ technology controls odors for fresher feet
Removable EVA footbed gives them padding where they need it
Non-marking rubber outsole helps them keep their footing
Brand: Keen
Country of Origin: Imported
Style: 1016680
Web ID: 17KEEYMXMRYJNXXXXFBO