KEEN Men's Atlanta Cool ESD Steel Toe Work Shoes
{ "warrantyData" : [ { "ProductSKU" : "18166218", "ProductUniqueId" : "2964758", "warrantySKUS" : [ ] }, { "ProductSKU" : "18166219", "ProductUniqueId" : "2964759", "warrantySKUS" : [ ] }, { "ProductSKU" : "18166220", "ProductUniqueId" : "2964760", "warrantySKUS" : [ ] }, { "ProductSKU" : "18166222", "ProductUniqueId" : "2964761", "warrantySKUS" : [ ] }, { "ProductSKU" : "18166223", "ProductUniqueId" : "2964762", "warrantySKUS" : [ ] }, { "ProductSKU" : "18166226", "ProductUniqueId" : "2964763", "warrantySKUS" : [ ] }, { "ProductSKU" : "18166229", "ProductUniqueId" : "2964764", "warrantySKUS" : [ ] }, { "ProductSKU" : "18166231", "ProductUniqueId" : "2964765", "warrantySKUS" : [ ] }, { "ProductSKU" : "18166232", "ProductUniqueId" : "2964766", "warrantySKUS" : [ ] }, { "ProductSKU" : "18166234", "ProductUniqueId" : "2964767", "warrantySKUS" : [ ] }, { "ProductSKU" : "18166238", "ProductUniqueId" : "2964768", "warrantySKUS" : [ ] }, { "ProductSKU" : "18166242", "ProductUniqueId" : "2964769", "warrantySKUS" : [ ] }, { "ProductSKU" : "18166244", "ProductUniqueId" : "2964770", "warrantySKUS" : [ ] }, { "ProductSKU" : "18166246", "ProductUniqueId" : "2964771", "warrantySKUS" : [ ] }, { "ProductSKU" : "18166245", "ProductUniqueId" : "2964774", "warrantySKUS" : [ ] }, { "ProductSKU" : "18166248", "ProductUniqueId" : "2964775", "warrantySKUS" : [ ] }, { "ProductSKU" : "18166250", "ProductUniqueId" : "2964776", "warrantySKUS" : [ ] }, { "ProductSKU" : "18166251", "ProductUniqueId" : "2964777", "warrantySKUS" : [ ] }, { "ProductSKU" : "18166253", "ProductUniqueId" : "2964778", "warrantySKUS" : [ ] }, { "ProductSKU" : "18166256", "ProductUniqueId" : "2964779", "warrantySKUS" : [ ] }, { "ProductSKU" : "18166259", "ProductUniqueId" : "2964780", "warrantySKUS" : [ ] }, { "ProductSKU" : "18166260", "ProductUniqueId" : "2964781", "warrantySKUS" : [ ] }, { "ProductSKU" : "18166262", "ProductUniqueId" : "2964782", "warrantySKUS" : [ ] }, { "ProductSKU" : "18166264", "ProductUniqueId" : "2964783", "warrantySKUS" : [ ] }, { "ProductSKU" : "18166278", "ProductUniqueId" : "2964786", "warrantySKUS" : [ ] }, { "ProductSKU" : "18166279", "ProductUniqueId" : "2964787", "warrantySKUS" : [ ] }, { "ProductSKU" : "18166280", "ProductUniqueId" : "2964788", "warrantySKUS" : [ ] }, { "ProductSKU" : "18166281", "ProductUniqueId" : "2964789", "warrantySKUS" : [ ] }, { "ProductSKU" : "18166282", "ProductUniqueId" : "2964790", "warrantySKUS" : [ ] }, { "ProductSKU" : "18166283", "ProductUniqueId" : "2964791", "warrantySKUS" : [ ] }, { "ProductSKU" : "18166284", "ProductUniqueId" : "2964792", "warrantySKUS" : [ ] }, { "ProductSKU" : "18166285", "ProductUniqueId" : "2964793", "warrantySKUS" : [ ] }, { "ProductSKU" : "18166287", "ProductUniqueId" : "2964794", "warrantySKUS" : [ ] }, { "ProductSKU" : "18166289", "ProductUniqueId" : "2964795", "warrantySKUS" : [ ] }, { "ProductSKU" : "18166291", "ProductUniqueId" : "2964796", "warrantySKUS" : [ ] }, { "ProductSKU" : "18166293", "ProductUniqueId" : "2964797", "warrantySKUS" : [ ] }, { "ProductSKU" : "18166296", "ProductUniqueId" : "2964798", "warrantySKUS" : [ ] }, { "ProductSKU" : "18166297", "ProductUniqueId" : "2964799", "warrantySKUS" : [ ] }, { "ProductSKU" : "18166292", "ProductUniqueId" : "2964802", "warrantySKUS" : [ ] }, { "ProductSKU" : "18166294", "ProductUniqueId" : "2964803", "warrantySKUS" : [ ] }, { "ProductSKU" : "18166295", "ProductUniqueId" : "2964804", "warrantySKUS" : [ ] }, { "ProductSKU" : "18166298", "ProductUniqueId" : "2964805", "warrantySKUS" : [ ] }, { "ProductSKU" : "18166300", "ProductUniqueId" : "2964806", "warrantySKUS" : [ ] }, { "ProductSKU" : "18166301", "ProductUniqueId" : "2964807", "warrantySKUS" : [ ] }, { "ProductSKU" : "18166302", "ProductUniqueId" : "2964808", "warrantySKUS" : [ ] }, { "ProductSKU" : "18166303", "ProductUniqueId" : "2964809", "warrantySKUS" : [ ] }, { "ProductSKU" : "18166304", "ProductUniqueId" : "2964810", "warrantySKUS" : [ ] }, { "ProductSKU" : "18166305", "ProductUniqueId" : "2964811", "warrantySKUS" : [ ] }, { "ProductSKU" : "18166306", "ProductUniqueId" : "2964812", "warrantySKUS" : [ ] }, { "ProductSKU" : "18166307", "ProductUniqueId" : "2964813", "warrantySKUS" : [ ] } ] }
PROTECTION PLAN
(optional)
Info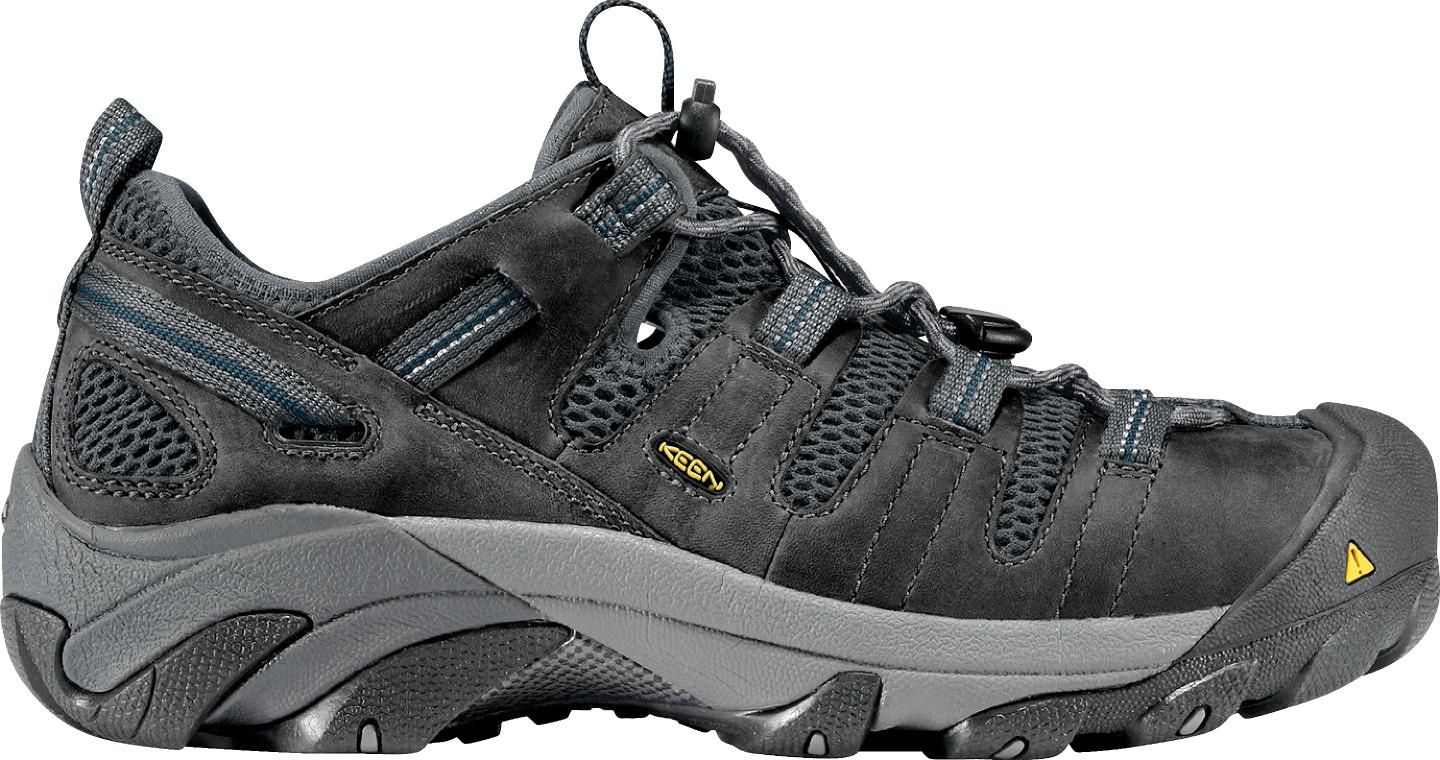 KEEN Men's Atlanta Cool ESD Steel Toe Work Shoes
Selected Option Not Available to Ship
Selected Option Not Available For Pickup
PDP Sticky bottom AddToCart Section - active and hide position
This product is currently out of stock.
Please choose product options above
Please choose product options above
Stay surefooted and protected from hazards in the low-cut KEEN® Atlanta Cool steel toe work shoes. These versatile work shoes features a strong steel toe for superior abrasion protection, while a supportive EVA footbed and compression molded EVA midsole supply needed cradling and support. A KEEN.Protect™ toe cap protects from stub and scrapes, while the non-slip, non-marking rubber outsole delivers stability on wet or dry surfaces.
FEATURES:
Electro Static Dissipative (ESD) technology to reduce static electricity
Lace capture system for a secure fit
Removable, dual-density EVA footbed for cushioned support
Compression molded EVA midsole for stability, support and shock absorption
Left and right asymmetrical steel toes for protection
KEEN.Protect™ toe bumper guards against stubs and scrapes
Non-marking, oil- and slip-resistant rubber outsole for traction
Meets ASTM 2412-11 and F2413-11 I/75 C/75 EH standards
Weight (per shoe, based on men's size 9): 19.2 oz/544.3 g
Care instructions: To treat daily wear, especially on lighter color leathers, use a leather cleaner and conditioner.
Brand: Keen
Country of Origin: Imported
Style: 1006978
Web ID: 17KEEMTLNTCLSTSDGFBO