KEEN Men's Atlanta Cool ESD Work Shoes
The price of the product might be updated based on your selection
{ "warrantyData" : [ { "ProductSKU" : "18165903", "ProductUniqueId" : "2964677", "warrantySKUS" : [ ] }, { "ProductSKU" : "18165912", "ProductUniqueId" : "2964679", "warrantySKUS" : [ ] }, { "ProductSKU" : "18165921", "ProductUniqueId" : "2964680", "warrantySKUS" : [ ] }, { "ProductSKU" : "18165925", "ProductUniqueId" : "2964681", "warrantySKUS" : [ ] }, { "ProductSKU" : "18165933", "ProductUniqueId" : "2964682", "warrantySKUS" : [ ] }, { "ProductSKU" : "18165937", "ProductUniqueId" : "2964683", "warrantySKUS" : [ ] }, { "ProductSKU" : "18165946", "ProductUniqueId" : "2964684", "warrantySKUS" : [ ] }, { "ProductSKU" : "18165952", "ProductUniqueId" : "2964685", "warrantySKUS" : [ ] }, { "ProductSKU" : "18165958", "ProductUniqueId" : "2964686", "warrantySKUS" : [ ] }, { "ProductSKU" : "18165901", "ProductUniqueId" : "2964689", "warrantySKUS" : [ ] }, { "ProductSKU" : "18165902", "ProductUniqueId" : "2964690", "warrantySKUS" : [ ] }, { "ProductSKU" : "18165909", "ProductUniqueId" : "2964691", "warrantySKUS" : [ ] }, { "ProductSKU" : "18165913", "ProductUniqueId" : "2964692", "warrantySKUS" : [ ] }, { "ProductSKU" : "18165919", "ProductUniqueId" : "2964693", "warrantySKUS" : [ ] }, { "ProductSKU" : "18165926", "ProductUniqueId" : "2964694", "warrantySKUS" : [ ] }, { "ProductSKU" : "18165932", "ProductUniqueId" : "2964695", "warrantySKUS" : [ ] }, { "ProductSKU" : "18165939", "ProductUniqueId" : "2964696", "warrantySKUS" : [ ] }, { "ProductSKU" : "18165944", "ProductUniqueId" : "2964697", "warrantySKUS" : [ ] }, { "ProductSKU" : "18165950", "ProductUniqueId" : "2964698", "warrantySKUS" : [ ] }, { "ProductSKU" : "18165959", "ProductUniqueId" : "2964699", "warrantySKUS" : [ ] }, { "ProductSKU" : "18166190", "ProductUniqueId" : "2964703", "warrantySKUS" : [ ] }, { "ProductSKU" : "18166192", "ProductUniqueId" : "2964705", "warrantySKUS" : [ ] }, { "ProductSKU" : "18166193", "ProductUniqueId" : "2964706", "warrantySKUS" : [ ] }, { "ProductSKU" : "18166194", "ProductUniqueId" : "2964707", "warrantySKUS" : [ ] }, { "ProductSKU" : "18166195", "ProductUniqueId" : "2964708", "warrantySKUS" : [ ] }, { "ProductSKU" : "18166196", "ProductUniqueId" : "2964709", "warrantySKUS" : [ ] }, { "ProductSKU" : "18166197", "ProductUniqueId" : "2964710", "warrantySKUS" : [ ] }, { "ProductSKU" : "18166198", "ProductUniqueId" : "2964711", "warrantySKUS" : [ ] }, { "ProductSKU" : "18166199", "ProductUniqueId" : "2964712", "warrantySKUS" : [ ] }, { "ProductSKU" : "18166201", "ProductUniqueId" : "2964714", "warrantySKUS" : [ ] }, { "ProductSKU" : "18166203", "ProductUniqueId" : "2964715", "warrantySKUS" : [ ] }, { "ProductSKU" : "18166348", "ProductUniqueId" : "2964718", "warrantySKUS" : [ ] }, { "ProductSKU" : "18166350", "ProductUniqueId" : "2964719", "warrantySKUS" : [ ] }, { "ProductSKU" : "18166352", "ProductUniqueId" : "2964720", "warrantySKUS" : [ ] }, { "ProductSKU" : "18166355", "ProductUniqueId" : "2964721", "warrantySKUS" : [ ] }, { "ProductSKU" : "18166356", "ProductUniqueId" : "2964722", "warrantySKUS" : [ ] }, { "ProductSKU" : "18166358", "ProductUniqueId" : "2964723", "warrantySKUS" : [ ] }, { "ProductSKU" : "18166360", "ProductUniqueId" : "2964724", "warrantySKUS" : [ ] }, { "ProductSKU" : "18166362", "ProductUniqueId" : "2964725", "warrantySKUS" : [ ] }, { "ProductSKU" : "18166363", "ProductUniqueId" : "2964726", "warrantySKUS" : [ ] }, { "ProductSKU" : "18166364", "ProductUniqueId" : "2964727", "warrantySKUS" : [ ] }, { "ProductSKU" : "18166365", "ProductUniqueId" : "2964728", "warrantySKUS" : [ ] } ] }
PROTECTION PLAN
(optional)
Info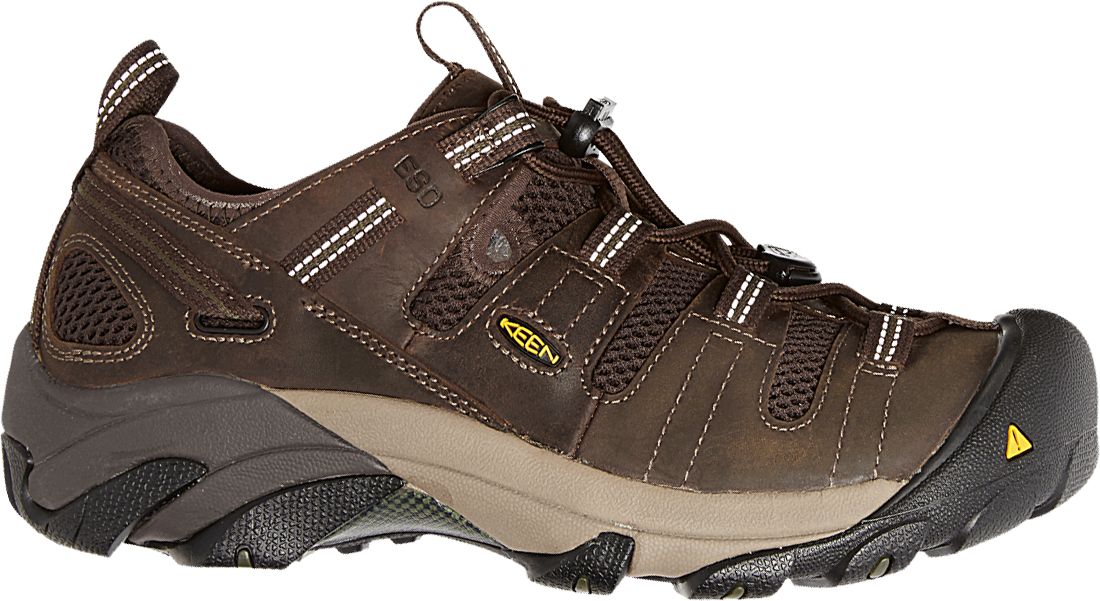 KEEN Men's Atlanta Cool ESD Work Shoes
Selected Option Not Available to Ship
Selected Option Not Available For Pickup
PDP Sticky bottom AddToCart Section - active and hide position
This product is currently out of stock.
Please choose product options above
Please choose product options above
Stay surefooted and protected from hazards in the low-cut KEEN® Men's Atlanta Cool soft toe work shoes. These versatile work shoes feature a supportive EVA footbed and compression molded EVA midsole to supply needed cradling and support. A KEEN.Protect™ toe cap protects from stub and scrapes, while the non-slip, non-marking rubber outsole delivers stability on wet or dry surfaces.
FEATURES:
Electro static dissipative (ESD) shoe designed to reduce excess static electricity
Lace capture system for a secure fit
Removable, dual-density EVA footbed for cushioned support
Compression molded EVA midsole for stability, support and shock absorption
Soft toe
KEEN.Protect™ toe bumper guards against stubs and scrapes
Non-marking, oil- and slip-resistant rubber outsole for traction
Meets ASTM 2412-11 and F2413-11 I/75 C/75 EH standards
Weight (per shoe, based on men's size 9): 19.2 oz/544.3 g
Care instructions: To treat daily wear, especially on lighter color leathers, use a leather cleaner and conditioner.
Brand: Keen
Country of Origin: Imported
Fabric Content: 1014604
Web ID: 17KEEMTLNTCLSFTTSFBO