KEEN Men's Mt. Vernon 6'' Waterproof Steel Toe Work Boots
The price of the product might be updated based on your selection
{ "warrantyData" : [ { "ProductSKU" : "18167277", "ProductUniqueId" : "2960600", "warrantySKUS" : [ ] }, { "ProductSKU" : "18167280", "ProductUniqueId" : "2960602", "warrantySKUS" : [ ] }, { "ProductSKU" : "18167282", "ProductUniqueId" : "2960603", "warrantySKUS" : [ ] }, { "ProductSKU" : "18167285", "ProductUniqueId" : "2960604", "warrantySKUS" : [ ] }, { "ProductSKU" : "18167287", "ProductUniqueId" : "2960605", "warrantySKUS" : [ ] }, { "ProductSKU" : "18167288", "ProductUniqueId" : "2960606", "warrantySKUS" : [ ] }, { "ProductSKU" : "18167291", "ProductUniqueId" : "2960607", "warrantySKUS" : [ ] }, { "ProductSKU" : "18167292", "ProductUniqueId" : "2960608", "warrantySKUS" : [ ] }, { "ProductSKU" : "18167295", "ProductUniqueId" : "2960609", "warrantySKUS" : [ ] }, { "ProductSKU" : "18167297", "ProductUniqueId" : "2960610", "warrantySKUS" : [ ] }, { "ProductSKU" : "18167299", "ProductUniqueId" : "2960611", "warrantySKUS" : [ ] }, { "ProductSKU" : "18167303", "ProductUniqueId" : "2960613", "warrantySKUS" : [ ] }, { "ProductSKU" : "18167330", "ProductUniqueId" : "2960616", "warrantySKUS" : [ ] }, { "ProductSKU" : "18167332", "ProductUniqueId" : "2960617", "warrantySKUS" : [ ] }, { "ProductSKU" : "18167335", "ProductUniqueId" : "2960618", "warrantySKUS" : [ ] }, { "ProductSKU" : "18167337", "ProductUniqueId" : "2960619", "warrantySKUS" : [ ] }, { "ProductSKU" : "18167339", "ProductUniqueId" : "2960620", "warrantySKUS" : [ ] }, { "ProductSKU" : "18167342", "ProductUniqueId" : "2960621", "warrantySKUS" : [ ] }, { "ProductSKU" : "18167343", "ProductUniqueId" : "2960622", "warrantySKUS" : [ ] }, { "ProductSKU" : "18167346", "ProductUniqueId" : "2960623", "warrantySKUS" : [ ] }, { "ProductSKU" : "18167347", "ProductUniqueId" : "2960624", "warrantySKUS" : [ ] }, { "ProductSKU" : "18167349", "ProductUniqueId" : "2960625", "warrantySKUS" : [ ] }, { "ProductSKU" : "18167351", "ProductUniqueId" : "2960626", "warrantySKUS" : [ ] }, { "ProductSKU" : "18167496", "ProductUniqueId" : "2960658", "warrantySKUS" : [ ] }, { "ProductSKU" : "18167498", "ProductUniqueId" : "2960659", "warrantySKUS" : [ ] }, { "ProductSKU" : "18167500", "ProductUniqueId" : "2960660", "warrantySKUS" : [ ] }, { "ProductSKU" : "18167501", "ProductUniqueId" : "2960661", "warrantySKUS" : [ ] }, { "ProductSKU" : "18167502", "ProductUniqueId" : "2960662", "warrantySKUS" : [ ] }, { "ProductSKU" : "18167503", "ProductUniqueId" : "2960663", "warrantySKUS" : [ ] }, { "ProductSKU" : "18167504", "ProductUniqueId" : "2960664", "warrantySKUS" : [ ] }, { "ProductSKU" : "18167505", "ProductUniqueId" : "2960665", "warrantySKUS" : [ ] }, { "ProductSKU" : "18167506", "ProductUniqueId" : "2960666", "warrantySKUS" : [ ] }, { "ProductSKU" : "18167507", "ProductUniqueId" : "2960667", "warrantySKUS" : [ ] }, { "ProductSKU" : "18167508", "ProductUniqueId" : "2960668", "warrantySKUS" : [ ] }, { "ProductSKU" : "18167511", "ProductUniqueId" : "2960670", "warrantySKUS" : [ ] }, { "ProductSKU" : "18167513", "ProductUniqueId" : "2960672", "warrantySKUS" : [ ] }, { "ProductSKU" : "18167517", "ProductUniqueId" : "2960674", "warrantySKUS" : [ ] }, { "ProductSKU" : "18167520", "ProductUniqueId" : "2960675", "warrantySKUS" : [ ] }, { "ProductSKU" : "18167521", "ProductUniqueId" : "2960676", "warrantySKUS" : [ ] }, { "ProductSKU" : "18167528", "ProductUniqueId" : "2960679", "warrantySKUS" : [ ] } ] }
PROTECTION PLAN
(optional)
Info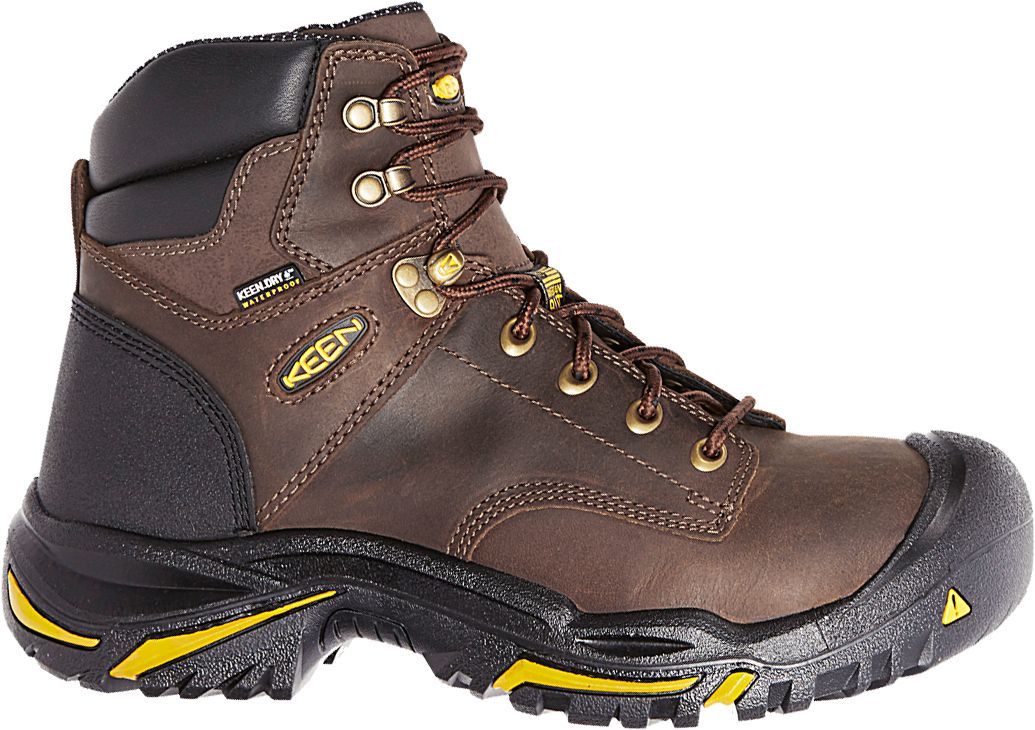 KEEN Men's Mt. Vernon 6'' Waterproof Steel Toe Work Boots
Selected Option Not Available to Ship
Selected Option Not Available For Pickup
PDP Sticky bottom AddToCart Section - active and hide position
This product is currently out of stock.
Please choose product options above
Please choose product options above
Built in KEEN's® Portland factory with the finest materials from around the world, the American-made Mt. Vernon 6'' waterproof steel toe work boot offers durable performance. KEEN.Dry™ waterproof protection wards off water and the moisture-resistant lining ensures dryness. A removable dual density footbed cushions feet, and the TPU shanks supplies stability. An oil- and slip-resistant outsole protects from electrical hazards.
FEATURES:
American Built with materials from around the world.
Breathable KEEN.Dry™ waterproof membrane keeps feet dry and lets moisture escape
Waterproof nubuck leather upper wards off water
Speed lacing hooks supply a quick, snug fit
Hydrophobic/hydrophilic, two-zone comfort lining helps to keep feet dry
Removable metatomical dual density EVA footbed provides excellent arch support and naturally cradles the foot for unbeatable comfort
Not compatible with aftermarket insoles or orthotics
Direct attach PU midsole
Integrated heel cushion
TPU stability shank supply needed support
Steel toe for protection
Oil- and slip-resistant, non-marking rubber outsole provides ultimate traction and stability
Meets or exceeds ASTM F1677-96 Mark II non-slip testing standards
Meets or exceeds ASTM F2412-11 and F2413-11 I/75 C/75 EH standards
Weight (per shoe, based on men's size 9): 25.6 oz/725.75 g
Care instructions: Gently brush the shoe with a soft bristle brush or hand towel to remove loose dirt and debris. Treat stains by lightly rubbing a gum eraser and lightly brushing afterwards. Tough stains can be treated with a mixture of water and a little vinegar on a damp cloth. This process may cause slight discoloration.
Brand: Keen
Country of Origin: Imported
Style: 1016778
Web ID: 17KEEMMTVRNNMDSTBFBO