KEEN Men's Raleigh AT Work Shoes
The price of the product might be updated based on your selection
{ "warrantyData" : [ { "ProductSKU" : "18167241", "ProductUniqueId" : "2960686", "warrantySKUS" : [ ] }, { "ProductSKU" : "18167243", "ProductUniqueId" : "2960687", "warrantySKUS" : [ ] }, { "ProductSKU" : "18167245", "ProductUniqueId" : "2960688", "warrantySKUS" : [ ] }, { "ProductSKU" : "18167246", "ProductUniqueId" : "2960689", "warrantySKUS" : [ ] }, { "ProductSKU" : "18167247", "ProductUniqueId" : "2960690", "warrantySKUS" : [ ] }, { "ProductSKU" : "18167249", "ProductUniqueId" : "2960691", "warrantySKUS" : [ ] }, { "ProductSKU" : "18167252", "ProductUniqueId" : "2960692", "warrantySKUS" : [ ] }, { "ProductSKU" : "18167254", "ProductUniqueId" : "2960693", "warrantySKUS" : [ ] }, { "ProductSKU" : "18167256", "ProductUniqueId" : "2960694", "warrantySKUS" : [ ] }, { "ProductSKU" : "18167258", "ProductUniqueId" : "2960695", "warrantySKUS" : [ ] }, { "ProductSKU" : "18167253", "ProductUniqueId" : "2960700", "warrantySKUS" : [ ] }, { "ProductSKU" : "18167255", "ProductUniqueId" : "2960701", "warrantySKUS" : [ ] }, { "ProductSKU" : "18167257", "ProductUniqueId" : "2960702", "warrantySKUS" : [ ] }, { "ProductSKU" : "18167259", "ProductUniqueId" : "2960703", "warrantySKUS" : [ ] }, { "ProductSKU" : "18167261", "ProductUniqueId" : "2960704", "warrantySKUS" : [ ] }, { "ProductSKU" : "18167263", "ProductUniqueId" : "2960705", "warrantySKUS" : [ ] }, { "ProductSKU" : "18167264", "ProductUniqueId" : "2960706", "warrantySKUS" : [ ] }, { "ProductSKU" : "18167265", "ProductUniqueId" : "2960707", "warrantySKUS" : [ ] }, { "ProductSKU" : "18167267", "ProductUniqueId" : "2960708", "warrantySKUS" : [ ] }, { "ProductSKU" : "18167269", "ProductUniqueId" : "2960709", "warrantySKUS" : [ ] }, { "ProductSKU" : "18167272", "ProductUniqueId" : "2960710", "warrantySKUS" : [ ] }, { "ProductSKU" : "18167274", "ProductUniqueId" : "2960711", "warrantySKUS" : [ ] }, { "ProductSKU" : "18167271", "ProductUniqueId" : "2960714", "warrantySKUS" : [ ] }, { "ProductSKU" : "18167273", "ProductUniqueId" : "2960715", "warrantySKUS" : [ ] }, { "ProductSKU" : "18167276", "ProductUniqueId" : "2960716", "warrantySKUS" : [ ] }, { "ProductSKU" : "18167279", "ProductUniqueId" : "2960717", "warrantySKUS" : [ ] }, { "ProductSKU" : "18167281", "ProductUniqueId" : "2960718", "warrantySKUS" : [ ] }, { "ProductSKU" : "18167283", "ProductUniqueId" : "2960719", "warrantySKUS" : [ ] }, { "ProductSKU" : "18167284", "ProductUniqueId" : "2960720", "warrantySKUS" : [ ] }, { "ProductSKU" : "18167286", "ProductUniqueId" : "2960721", "warrantySKUS" : [ ] }, { "ProductSKU" : "18167289", "ProductUniqueId" : "2960722", "warrantySKUS" : [ ] }, { "ProductSKU" : "18167290", "ProductUniqueId" : "2960723", "warrantySKUS" : [ ] }, { "ProductSKU" : "18167293", "ProductUniqueId" : "2960724", "warrantySKUS" : [ ] }, { "ProductSKU" : "18167305", "ProductUniqueId" : "2960730", "warrantySKUS" : [ ] }, { "ProductSKU" : "18167306", "ProductUniqueId" : "2960731", "warrantySKUS" : [ ] }, { "ProductSKU" : "18167308", "ProductUniqueId" : "2960732", "warrantySKUS" : [ ] }, { "ProductSKU" : "18167310", "ProductUniqueId" : "2960733", "warrantySKUS" : [ ] }, { "ProductSKU" : "18167312", "ProductUniqueId" : "2960734", "warrantySKUS" : [ ] }, { "ProductSKU" : "18167316", "ProductUniqueId" : "2960736", "warrantySKUS" : [ ] }, { "ProductSKU" : "18167318", "ProductUniqueId" : "2960737", "warrantySKUS" : [ ] }, { "ProductSKU" : "18167320", "ProductUniqueId" : "2960738", "warrantySKUS" : [ ] } ] }
PROTECTION PLAN
(optional)
Info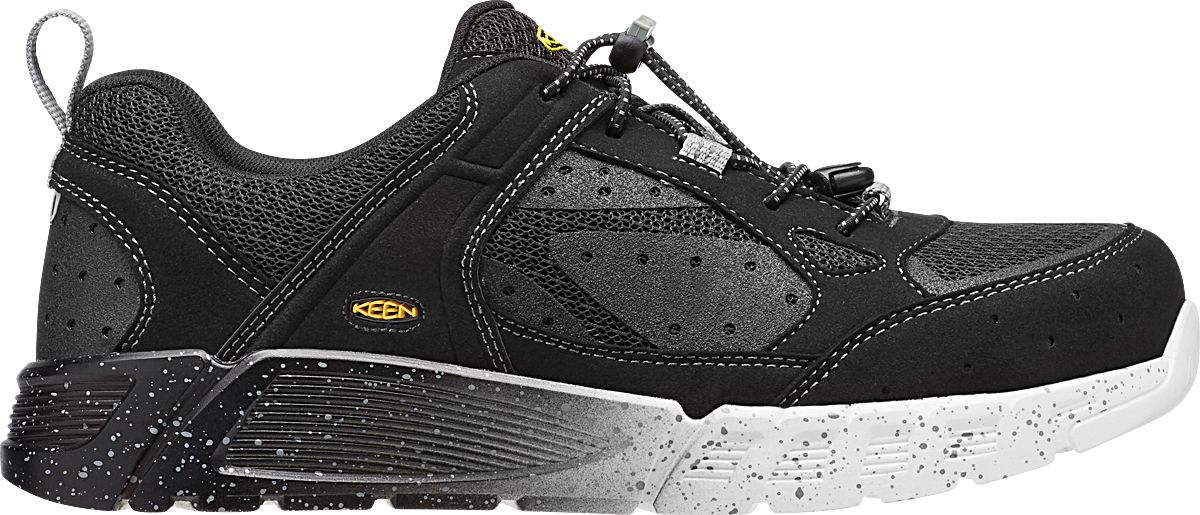 KEEN Men's Raleigh AT Work Shoes
PDP Sticky bottom AddToCart Section - active and hide position
This product is currently out of stock.
For increased range of motion and flexibility over a regular work boot, step into the sneaker styling of the KEEN® Men's Raleigh Aluminum Toe work shoes. Built like an athletic shoe, the Raleigh offers optimal movement, while still providing durable performance. A removable metatomical footbed contours feet for lasting comfort, while a sturdy TPU shank lends stability. A lightweight aluminum toe offers protection without weighing you down.
FEATURES:
Reflective patch on heel and toe
Secure fit lace capture system
Second pair of laces included with shoes
Cleansport NXT™ controls odors naturally
Removable metatomical PU footbed
PU midsole
Left and right asymmetrical aluminum toe
TPU stability shank supply needed support
Oil- and slip-resistant, non-marking rubber outsole provides ultimate traction and stability
Meets or exceeds ASTM F2412-11 and F2413-11 I/75 C/75 EH standards
Weight (per shoe, based on men's size 9): 17.0 oz/481.94 g
Care instructions: Gently brush the footwear with a soft, damp sponge to remove loose dirt and restore surface. Stains should be treated immediately with a gentle cleaner.
Brand: Keen
Country of Origin: Imported
Style: 1016971
Web ID: 17KEEMRLGHTBLKRVNFBO