KEEN Men's Tacoma Waterproof Composite Toe Work Boots
The price of the product might be updated based on your selection
{ "warrantyData" : [ { "ProductSKU" : "18167786", "ProductUniqueId" : "2960798", "warrantySKUS" : [ ] }, { "ProductSKU" : "18167787", "ProductUniqueId" : "2960799", "warrantySKUS" : [ ] }, { "ProductSKU" : "18167788", "ProductUniqueId" : "2960800", "warrantySKUS" : [ ] }, { "ProductSKU" : "18167790", "ProductUniqueId" : "2960801", "warrantySKUS" : [ ] }, { "ProductSKU" : "18167793", "ProductUniqueId" : "2960802", "warrantySKUS" : [ ] }, { "ProductSKU" : "18167795", "ProductUniqueId" : "2960803", "warrantySKUS" : [ ] }, { "ProductSKU" : "18167796", "ProductUniqueId" : "2960804", "warrantySKUS" : [ ] }, { "ProductSKU" : "18167797", "ProductUniqueId" : "2960805", "warrantySKUS" : [ ] }, { "ProductSKU" : "18167798", "ProductUniqueId" : "2960806", "warrantySKUS" : [ ] }, { "ProductSKU" : "18167799", "ProductUniqueId" : "2960807", "warrantySKUS" : [ ] }, { "ProductSKU" : "18167800", "ProductUniqueId" : "2960808", "warrantySKUS" : [ ] }, { "ProductSKU" : "18167806", "ProductUniqueId" : "2960813", "warrantySKUS" : [ ] }, { "ProductSKU" : "18167808", "ProductUniqueId" : "2960815", "warrantySKUS" : [ ] }, { "ProductSKU" : "18167814", "ProductUniqueId" : "2960818", "warrantySKUS" : [ ] }, { "ProductSKU" : "18167816", "ProductUniqueId" : "2960819", "warrantySKUS" : [ ] }, { "ProductSKU" : "18167817", "ProductUniqueId" : "2960820", "warrantySKUS" : [ ] }, { "ProductSKU" : "18167818", "ProductUniqueId" : "2960821", "warrantySKUS" : [ ] }, { "ProductSKU" : "18167819", "ProductUniqueId" : "2960822", "warrantySKUS" : [ ] }, { "ProductSKU" : "18167820", "ProductUniqueId" : "2960823", "warrantySKUS" : [ ] }, { "ProductSKU" : "18167831", "ProductUniqueId" : "2960825", "warrantySKUS" : [ ] }, { "ProductSKU" : "18167832", "ProductUniqueId" : "2960826", "warrantySKUS" : [ ] }, { "ProductSKU" : "18167833", "ProductUniqueId" : "2960827", "warrantySKUS" : [ ] }, { "ProductSKU" : "18167834", "ProductUniqueId" : "2960828", "warrantySKUS" : [ ] }, { "ProductSKU" : "18167836", "ProductUniqueId" : "2960829", "warrantySKUS" : [ ] }, { "ProductSKU" : "18167838", "ProductUniqueId" : "2960830", "warrantySKUS" : [ ] }, { "ProductSKU" : "18167841", "ProductUniqueId" : "2960831", "warrantySKUS" : [ ] }, { "ProductSKU" : "18167842", "ProductUniqueId" : "2960832", "warrantySKUS" : [ ] }, { "ProductSKU" : "18167843", "ProductUniqueId" : "2960833", "warrantySKUS" : [ ] }, { "ProductSKU" : "18167844", "ProductUniqueId" : "2960834", "warrantySKUS" : [ ] }, { "ProductSKU" : "18167845", "ProductUniqueId" : "2960835", "warrantySKUS" : [ ] }, { "ProductSKU" : "18167846", "ProductUniqueId" : "2960836", "warrantySKUS" : [ ] }, { "ProductSKU" : "18167847", "ProductUniqueId" : "2960837", "warrantySKUS" : [ ] }, { "ProductSKU" : "18167851", "ProductUniqueId" : "2960840", "warrantySKUS" : [ ] }, { "ProductSKU" : "18167852", "ProductUniqueId" : "2960841", "warrantySKUS" : [ ] }, { "ProductSKU" : "18167853", "ProductUniqueId" : "2960842", "warrantySKUS" : [ ] }, { "ProductSKU" : "18167854", "ProductUniqueId" : "2960843", "warrantySKUS" : [ ] }, { "ProductSKU" : "18167856", "ProductUniqueId" : "2960844", "warrantySKUS" : [ ] }, { "ProductSKU" : "18167858", "ProductUniqueId" : "2960845", "warrantySKUS" : [ ] }, { "ProductSKU" : "18167861", "ProductUniqueId" : "2960846", "warrantySKUS" : [ ] }, { "ProductSKU" : "18167862", "ProductUniqueId" : "2960847", "warrantySKUS" : [ ] }, { "ProductSKU" : "18167863", "ProductUniqueId" : "2960848", "warrantySKUS" : [ ] }, { "ProductSKU" : "18167864", "ProductUniqueId" : "2960849", "warrantySKUS" : [ ] }, { "ProductSKU" : "18167865", "ProductUniqueId" : "2960850", "warrantySKUS" : [ ] } ] }
PROTECTION PLAN
(optional)
Info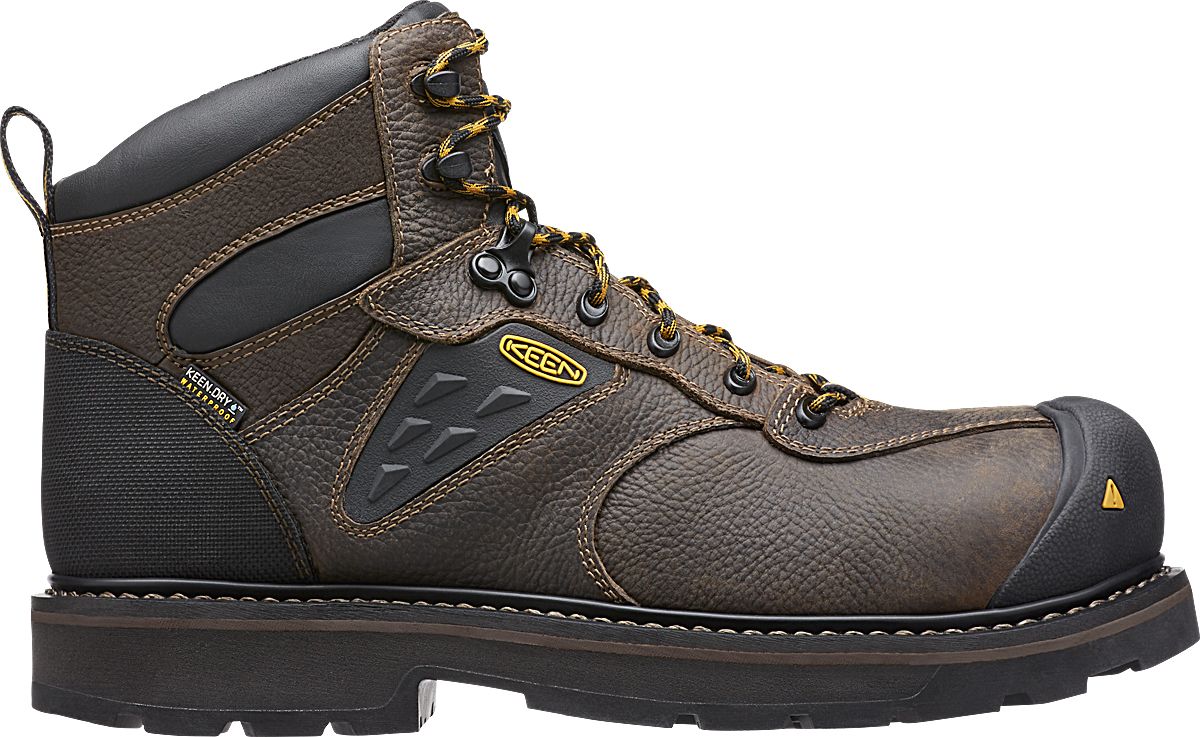 KEEN Men's Tacoma Waterproof Composite Toe Work Boots
PDP Sticky bottom AddToCart Section - active and hide position
This product is currently out of stock.
For seriously rugged performance, pick up a pair of the KEEN® Men's Tacoma waterproof composite toe work boots. Built with a breathable, waterproof KEEN.Dry™ membrane, the Tacoma keeps feet dry throughout the day. Cleansport NXT™ treatment controls odors naturally for fresh shoes and feet, while the stability shank absorbs shock. An oil- and slip-resistant rubber outsole provides grip and protects from electrical hazards.
FEATURES:
Breathable KEEN.Dry™ waterproof membrane keeps feet dry and lets moisture escape
100 percent non-metallic construction
Full-grain leather upper
Cleansport NXT™ controls odors naturally
Removable metatomical dual density EVA footbed provides excellent arch support and naturally cradles the foot for unbeatable comfort
90 degree heel
TPU stability shank supply needed support
Goodyear welt construction resists water penetration
Left and right asymmetrical composite toe
Oil- and slip-resistant, non-marking rubber outsole provides ultimate traction and stability
Meets or exceeds ASTM F1677-96 Mark II non-slip testing standards
Meets or exceeds ASTM F2412-11 and F2413-11 I/75 C/75 EH standards
Care instructions: To treat daily wear, especially on lighter color leathers, use a leather cleaner and conditioner.
Brand: Keen
Country of Origin: Imported
Style: 1015395
Web ID: 17KEEMTCMWPCTBLKXFBO