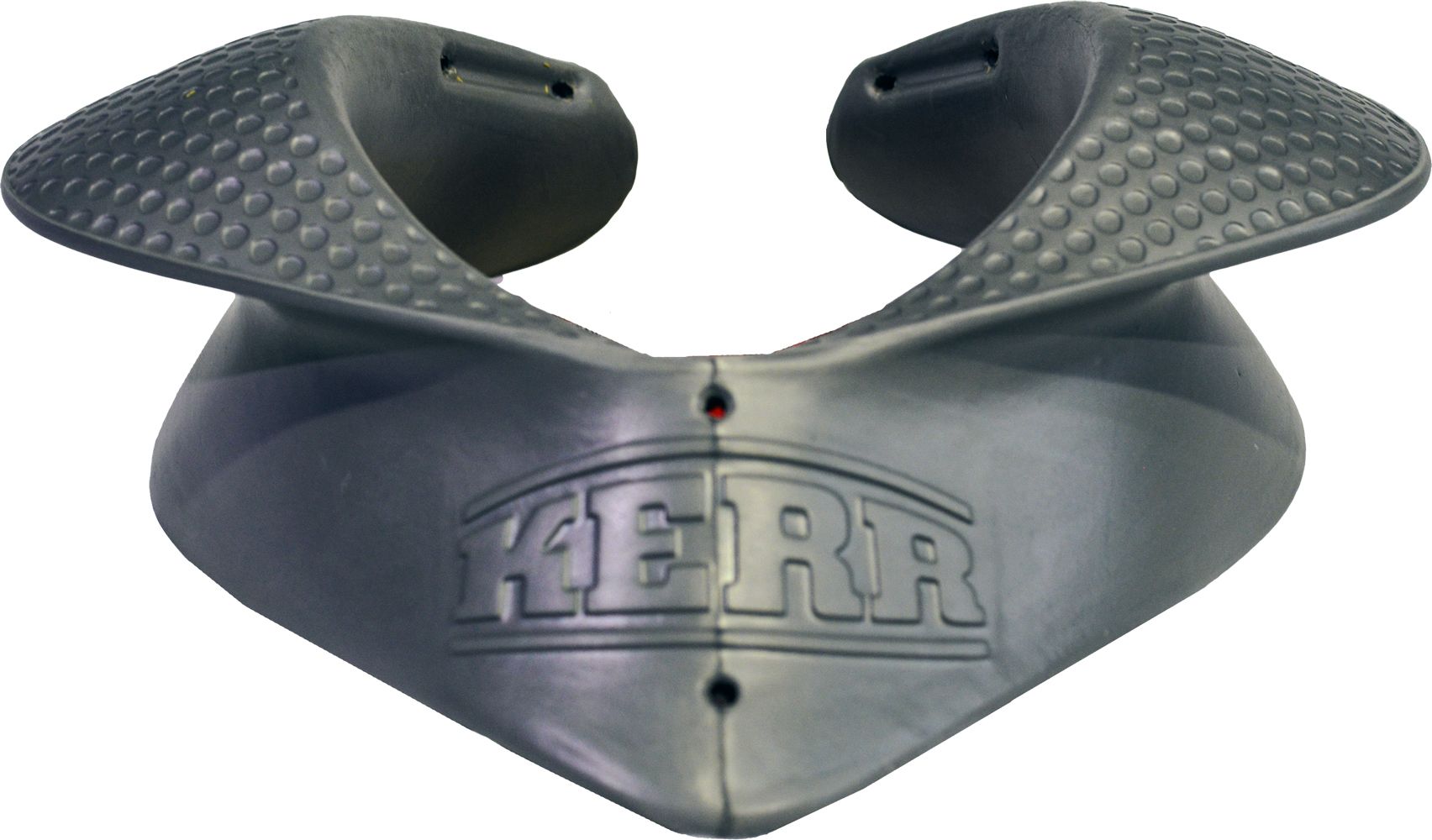 Out of Stock
Kerr Football Collar
Kerr Football Collar
is rated out of
5
by
10
.
Product Information:
Boasting high-impact engineering, player satisfaction and a streamlined design, the Kerr Collar® is a revolutionary protective device that helps prevent neck and spinal injury. The Kerr Football Collar is designed for the base of a player's helmet to contact the collar upon impact, limiting neck hyperextension and excessive axial loading. The Kerr Collar® is light and flexible to provide the perfect fit and unrestricted player mobility.
FEATURES:
Revolutionary football neck collar
Compressive elements absorb forces generated upon impact
Designed for the base of the helmet to contact the collar to limit neck hyperextension
Helps prevent injury as a result of excessive axial load to the head, neck and spine
Will not restrict or interfere with a player's mobility and speed
Allows players to comfortably get into a 3 point stance and keep their heads UP while tackling
Streamlined, flexible design offers easy installation to provide the perfect fit
Proven at Virginia Tech Center for Injury Biomechanics to reduce neck impact force
Lightweight Semi-Impact molded synthetic construction for ultimate durability and protection
Fits directly into the top opening of shoulder pads
Fits best with Riddell® Evolution Shoulder Pads
Model: KERRCOLLAR
Kerr Sports
SIZE CHART:
M: Use with adult MEDIUM shoulder pads
L: Use with adult LARGE shoulder pads
XL: Use with adult XL or larger shoulder pads
**Fits best with Riddell® Evolution Shoulder Pads
WARNING:
NO DEVICE CAN PREVENT THE SERIOUS NECK INJURIES A PLAYER MIGHT RECEIVE WHILE PARTICIPATING IN FOOTBALL. THE USE OF THIS PRODUCT IS NOT A GUARANTEE OF PREVENTION OF INJURY.
Brand: Kerr
Country of Origin: United States of America
Web ID: 16KRRAKRRCLLRXXXXFTA
Rated

5

out of

5
by
Anonymous
from
Really like Kerr Collar
Works best with Riddell shoulder pads. Appreciated Dr. Kerr's office taking personal interest in verifying fit that would provide the best protection for High School Football player.
Date published: 2016-08-09
Rated

5

out of

5
by
Anonymous
from
Can't have enough protection
Excellent product I have not had an accident yet but I can feel how it would protect me. I use football pads for BMX.
Date published: 2016-08-07
Rated

3

out of

5
by
Anonymous
from
Youth Size Needed
The Kerr Collar is well made and easy to install. Problem is they do not have youth sizes. I ordered a medium(not yputh) for my 12 year old son who is a QB. I believe mainly due to the sizing it was very uncomfortable and limited his range of motion also...great idea and science behind the KC just need youth sizes.
Date published: 2016-08-07
Rated

2

out of

5
by
Anonymous
from
Mom likes but son hates
After reading the reviews and watching the videos, I decided this would be a good addition to my son's football equipment. The selling point for me were the parents who had praised the collar. The parents who said that the collar helped keep their child from more injuries after having previous injuries without the collar. That's the reason I bought the collar, was to protect my son. But, I'm not wearing it. My son's view of the collar is that it is very uncomfortable. His neck is bruised where after contact his neck was pushed into the collar. My thoughts are the collar is doing the job intended, but he says his neck is very sore & stiff after wearing it during a game. Could it be that he has the wrong size, or the placement of the collar in his shoulder pads is incorrect? I dont know. I emailed the Kerr company before purchasing the collar to see what size I should buy & we followed the online demonstration on installing the collar. I'm really not sure if its something we've done or if its just an uncomfortable collar that my son refuses to use. I would suggest finding someone who has one & trying it out before spending the money on buying one.
Date published: 2016-08-03
Rated

1

out of

5
by
Anonymous
from
fitting not as advertised
i bought this for my sons shoulder pads and by size recommended. he doesn't like how it rubs on his neck. waste of my money.
Date published: 2015-11-14
Rated

5

out of

5
by
Anonymous
from
Football
Works really well while playing football. It fits nice and snug under pads
Date published: 2015-09-07
Rated

5

out of

5
by
Anonymous
from
Working well so far
Although we had trouble finding definitive information about what size of Kerr Collar would be appropriate for my 12 year old son's youth shoulder pads (Riddell Evolution Youth XL - shoulders 14"-15" and chest 32"-34"), we settled on the Medium Kerr Collar. It fits well in his shoulder pads and after 6 practices and 3 scrimmages he continues to tell me that it is providing him with a good amount of neck protection without limiting his range of motion. Last year he wore a neck roll which also worked very well, but since it significantly reduced his ability to tilt his head back very far, it was a bit of a problem when he was down in a 3 point stance playing fullback. Having played football in high school and being told a few years ago by a chiropractor that I had the neck of a 65 year old at 45, I have come to realize that football can be hard on your neck if it isn't protected. As a result, I wanted to make sure that I outfitted my son with as much protection as possible and so far, the Kerr Collar seems to be a worthwhile device that limits the impact on the neck yet provides the player with a good amount of mobility. In the future I hope that the price will come down on this device so that it can be afforded by more parents out there to protect their boys.
Date published: 2015-08-25
Rated

5

out of

5
by
Anonymous
from
KERR COLLAR
Great product, my son can really tell a difference.
Date published: 2014-09-15