Louisville Slugger Series 3X Ash Bat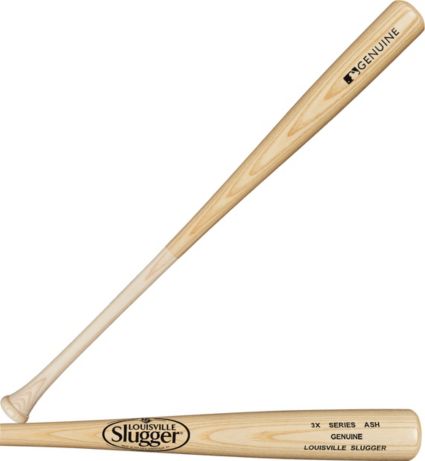 Louisville Slugger Series 3X Ash Bat
is rated out of
5
by
76
.
This product is currently out of stock.
Please choose product options above
Please choose product options above
PDP Sticky bottom AddToCart Section - active and hide position
Genuine ash construction with a natural finish, the Louisville Slugger® Series 3X Ash Bat provides a large sweet spot and ideal bat speed that gets through the zone quickly.
Product Features
Ash boasts a higher moisture content and more porous structure than other wood types
Mixed turning models cut from Rawlings professionals
Increased flexibility and a lighter swing weight
Specs
Material: Ash
Turning Model: Mixed
Barrel/Handle Finish: Natural
Bone Rubbed: No
Sport: Baseball
Series: 3X
NOTICE:
We recommend that you receive approval from your local league before removing the wrapper from your bat.
Brand: Louisville Slugger
Country of Origin: Imported
Style: WTLW3AMIXB16
Web ID: 16LSLAS3XSHNTRLXXWBT
Rated 4 out of 5
by
Coach Gregory
from
A WORD OF CAUTION >> READ THIS <<
A lot of reviews state "my bat broke after 2-3 swings." Problem is, youth, in a rush at the plate - with adrenaline, rotate the bat subconsciously, not realizing the logo is not "facing the sky," and swing. Contact then is not "into the grain" but actually "against it," cracking many a bat. It's evident when you look at the damage and you know what you are looking for. I see it all the time. Yes, maple is more dense, however heavier, which in theory launches the ball further, but, a heavier bat means a slightly slower swing. So pick your poison. If you are a contact hitter and you can control the bat with spray charts proving it, then ash is a great choice. If your hand speed is fast (and no, not because YOU think it is), then choose maple. But know you can own 3 ash bats for the price of one maple. MLB didn't even use maple until SamBats came in during the Barry Bonds era. Now 70% of big league players use them. But know this: 100% of the 70% HAVE FAST HANDS. Science says "wood is wood" until your exit velocity is over 100mph. Hope this helps.
Date published: 2018-05-08
Rated 4 out of 5
by
Paone84
from
Feels good, decent pop, lighter then maple
A lot of people saying broke on first swing. Well, I have broken every type of bat with one swing. It is the swing not the bat. If you hit the ball on the handle or the end of the bat, it probably going to break. Sure maple is more durable, but it's heavier and double the price. I used to use a 32 maple wich I like a lot and have a 533 average. I just get base hits but now I am using a lighter longer bat which is a 33 Ashe because I am 5,7 170 pounds. I can swing the bat fast but lack leverage and have trouble reaching outside pitches. Like the other guy said, pick your poison. Bottom line you can get several season out of one bat if you hit with the grain and on the sweet spot.
Date published: 2018-08-28
Rated 4 out of 5
by
Gman98
from
Good bat
Bat has a great pop to it. Sadly, it only lasted one day for me. I caught a fast pitch toward the tip of the bat. Created a curved crack in the bat. However, despite the crack, it still hits. But as long as you don't catch any awkward pitches like that, this is a good bat.
Date published: 2017-03-12
Rated 5 out of 5
by
414BaseballDad
from
Your results may vary ...
In a pinch for time, my son and I stopped at Dick's the morning of his first adult amateur baseball game. The league is a wood bat only deal. He had a couple 34" heavy end load cage bats he'd been using over the winter and we figured with the guys he'd be facing throwing harder than he'd been looking at in High School. He thought it would be a good idea to grab a slightly lighter 33", more balanced profile cut. 33 being a popular length left our local store with just a few options ... so, we opted for the least expensive and grabbed 2x of this Ash bat. As others mentioned here ... follow the manufacturer's trademark rule ... it should be on top of the bat as the player holds it out in front of him in the strike zone. Ash grain plays strongest horizontal in the zone ... think of hitting something with a notebook ... if you hit it with the pages turned vertically, it flexes and does nothing ... turned on it's side is another story all together. Birch and Maple are the opposite, with the trademark on top, the grain in the bat runs vertically. I read recently that the cellular structure on birch and maple works 90 degrees opposite how an Ash bat works. There are a TON of great wood bat resources on the web. But, also understand ... based on what we learned ... every wood bat we've purchased in the last 5 years (and we still have most of the broken ones) has the manufacturers trademark in the correct position. Trust it! Good luck out there fellas ... wood bat tourneys and leagues are super fun. Very few things are more pleasing to my ears than the crack of a well struck wood bat.
Date published: 2018-06-08
Rated 5 out of 5
by
Red raider
from
3X Ash
Took to batting cages after purchase. Hit off 80 mph. Took few off handle and didn't break. Good sweet spot when connected. Added lizzard tape. Weight distribution very good.
Date published: 2017-06-08
Rated 5 out of 5
by
Andres
from
Amazing
This bat is amazing. Thanks for all. I recommend .
Date published: 2017-03-04
Rated 5 out of 5
by
Todd16
from
Great bat for the price
Bought the bat for a high school summer team. Incredible pop for a $30 bat.
Date published: 2017-09-12
Rated 5 out of 5
by
Abelrios01
from
Great slugger
This bat is amazing feels great in my hands and when you wack a ball and hit the sweet spot you hear the crack and just watch the ball fly
Date published: 2017-08-15