Malone Stax Pro2 Two Kayak Rack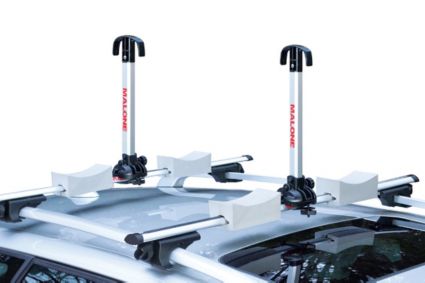 Malone Stax Pro2 Two Kayak Rack
is rated out of
5
by
52
.
This product is currently out of stock.
Please choose product options above
Please choose product options above
PDP Sticky bottom AddToCart Section - active and hide position
Product Information:
The Malone Stax ™ Pro2 Two Kayak Rack is your transportation solution for carrying 2 kayaks from place to place. Constructed with aluminum octagon posts, this is one of the strongest folding stackers on the market. This sturdy design features a fold-down design and new foam stacker blocks that cradles your kayak for safe transport. Kit includes 4 blocks, straps, tie-downs, and all the hardware.
FEATURES:
Strongest and most stable folding stacker available in the market with aluminum octagon shaped posts
Great economical option to transport multiple kayaks
StaxPro2 comes with 4 foam stacker blocks to hold 2 boats in place during loading and tie down and cushion from the cross bar during transport
Individual strap slots for two kayak transport
Folds down for better aerodynamics and low clearance when not in use
Universal fit JAWZ ™ mounting hardware works with round, square and most factory oval cross bars
Can assemble or transfer to another vehicle in minutes with no tools required
Totally rust resistant for years of service
12' cam style H.D. polypropylene load straps
12' Bow & Stern safety tie-downs
Dimensions: 5'' x 5'' x 20''
Manufacturer's lifetime warranty
For additional information relating to the Manufacturer's Warranty, please contact 1-800-295-0042.
Brand: Malone Auto Racks
Country of Origin: Imported
Web ID: 16MAUUSTXPR2XXXXXPSR
Rated 4 out of 5
by
Shrimpy
from
Does the job
I've had this for a few years. My wife and I use it to put two 9.5 foot Swifty kayaks on our Subaru Crosstrek. It's gotten them from Virginia to Cape Cod and back twice, as well as a few other trips with multiple hours at sustained highway speeds. And some pretty crummy wind/rain. Once you get the hang of it, it's not hard to get your boats secure, but the first few times were frustrating. The rack, its mounting hardware, straps and ropes are holding up nicely. The little foam blocks are pretty much done after 2 years of use, but that's not a big surprise to me. I used those little felt sticky pads that you put on furniture feet to prevent the bolts from scratching the roof of my car when the racks are tightened down, and so far no damage of any kind to the roof. Overall, pretty happy with this system. It does the job well for a price I was willing to pay.
Date published: 2017-05-01
Rated 5 out of 5
by
Geokayaker
from
Easy to use
We purchased the Malone 50 inch bare roof racks and the Stax Pro2. They work well on our Hyundai and Acura. The directions are easy to follow for assembly and for the loading procedure. We took our boats on a camping weekend and they stayed solid at "interstate speeds" (wink) and twisty-turny back roads. Malone warns of possible seepage by the roof rack straps and sure enough they did. Oh, by the way, it was a torrential downpour that lasted almost an hour! Nice system with ease to use on two vehicles!
Date published: 2016-09-01
Rated 3 out of 5
by
DB193
from
Sturdy Rack - But I Still Have My Doubts
Now that I've used the rack several times, I wanted to give my feedback. I have to say, I was really skeptical that this rack would be sturdy or durable. It just doesn't have a strong feel to it. But it was the only one available when I bought my kayaks, so I tried it. I live about 20 minutes through highway and winding roads, and was really pleasantly surprised that it held up so well.The first few times it was really hard to use. The foam blocks kept shifting, and I had a hard time getting the kayak's loaded and secure. But now that we've got a system in place, it's a little easier. The blocks don't shift, but I have a terrible time with the hooks that the straps are supposed to loop through. I can't believe nobody's commented on this. It's really hard to catch on them.Our regular trip takes us about 30 miles from home. I trust the rack in good weather. One day, with 20 MPH winds, we had to pull over and tighten the straps, but, otherwise, it holds them well.We had a comment this week from a someone passing by as we were reloading at the lake that it seemed like a real hassle. I kind of agree. It takes about 15-20 minutes sometimes for me to load them to the roof. Most of the time is spent playing with the straps.All-in-all, if you are on a budget, and need to carry two kayaks, this is a good choice. Your cargo will be secure, but you will have a bit of fussing to get things loaded right.It's also a good choice if, like me, you have a tough time lifting the kayaks to the roof. I also tried a J carrier I purchased online and returned it because I couldn't get the kayak up that far.But if your budget affords something nicer, I would suggest going with something simpler to use.
Date published: 2016-06-20
Rated 1 out of 5
by
Sean832
from
Returned after first use
This product was horrible. My wife and I used it to transport 2 kayaks about 12 miles to a river and back home. I had to pull over about 4 times total because the straps provided kept coming loose and the kayaks were shifting from the correct upright position to their bottoms. It was a short but stressful ride. We returned the rack the following day.It could have been defective straps, not sure. The foam blocks also did not hold the kayaks very well as the kayaks easily seemed to slide off.Luckily it was easy to put on and remove from the roof.
Date published: 2015-06-15
Rated 4 out of 5
by
BigT
from
Worked well mounted on temporary rails
My 2011 Nissan Rouge has only verticle rails, so we found a set of portable cross rails from our local all-in-one store. The Malone Stax Pro2 attached easily and securely to these round rails and held a single kayak securely all the way home with a new kayak purchase. This included highway speeds of 65 mph+ with no issues. Everything was still tight and secure when we arrived home late. No reason to believe it would perform any less with 2 kayaks attached, especially with the additional strap to tie the 2 kayaks together. That is why we bought this product.
Date published: 2012-07-19
Rated 1 out of 5
by
megan12131
from
Would not recommend!
My boyfriend and I recently bought our first kayaks. I went online to find a kayak rack that would hold 2 kayaks on top of my car and found this one. I didn't do a whole lot of research but this one had great reviews and was fairly priced so I purchased it. First time I used it I had no issues but only drove 20 minutes from home and didn't go over 45 mph. Used it again for the second time this past weekend and I am now deciding to return it. We used it to drive about 50 minutes from home going about 40-45 mph and getting on the freeway for about two minutes to get off at the next exit. While on the freeway, I was driving about 60 mph and the kayaks started moving around a ton. Not to mention the fact before we go on the freeway I pulled out onto the street hit a minor bump in the road and heard a snap, we pulled over at the next gas station and one of the red straps had somehow loosened up. The straps have a ton of wear on them after only using them twice. This product is terrible and will cause a ton of anxiety if you drive over 40 mph anywhere!
Date published: 2015-05-05
Rated 4 out of 5
by
Chuck
from
The product has great and easy instructions
Fits my Subaru Forester perfectly easy to install. I would recommend this kayak carrier
Date published: 2016-07-31
Rated 5 out of 5
by
Flat water Kayaker
from
Rack does the job
Carried two 10ft kayaks 900miles on top of my van, often at 70mph, they rode great. Did have to tighten the straps after the first 50mi or so, I think the kayaks shifted in some way, then was good to go. Even when the straps were not completely snug the kayaks seemed secure on the rack. Tip, if the blue safety strap makes a wind noise, you might try a half twist in the strap as it spans the tops and bottoms of the kayaks. I did, and the whole assembly rode with no noticeable noise.
Date published: 2012-08-04