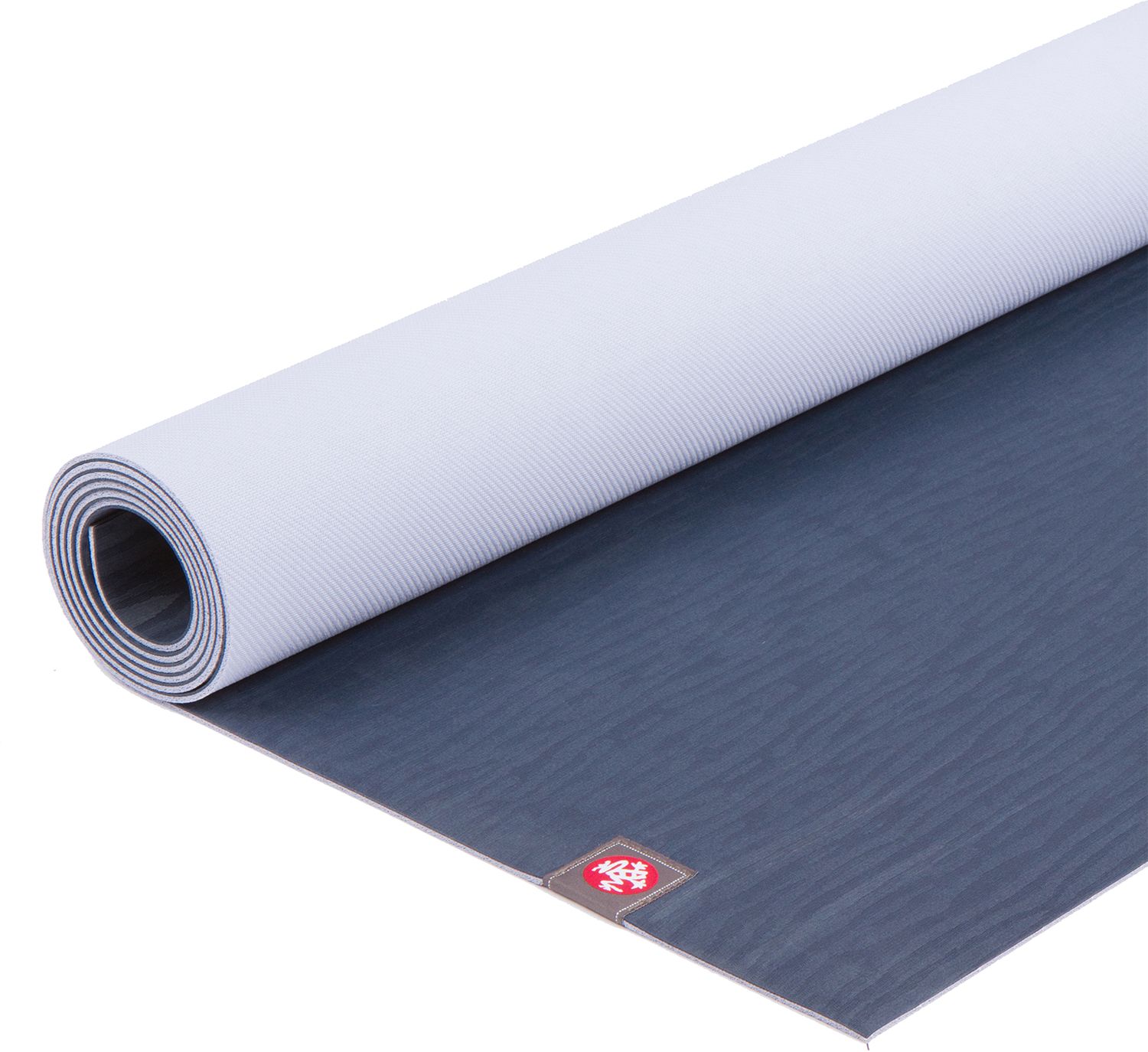 Out of Stock
Manduka 3mm eKO Lite Two-Tone Yoga Mat
Manduka 3mm eKO Lite Two-Tone Yoga Mat
is rated out of
5
by
9
.
Product Information:
The Manduka® 3mm eKO Lite® Yoga Mat is a wonder of eco-conscious innovation and convenience. Developed by yoga teachers looking for a high-performance, environmentally friendly yoga mat, the eKO Lite® features ultimate grip and cushion surface control during the most heated yoga sessions. The eKO Lite® Yoga Mat marries performance and durability with a lightweight design so you can support your body while protecting the planet.
FEATURES:
Durable, eco-yoga mat for ultimate combination of cushion and grip
Made of eco-friendly, biodegradable, natural and non-Amazon harvested tree rubber
Features Tri Layer Technology for maximum grip, durability and slip-resistance
PVC, toxic plasticizer and 99% latex free, for safe use with latex sensitivities
Dual-function bottom layer provides thick yet lightweight cushion for superior comfort
Lightweight and travel-friendly mat for the yogi on-the-go
Developed over four years by yoga teachers
Recommended Care: Manduka Mat Restore (not included) or diluted organic cider vinegar wash (50/50) on a damp cloth or sponge
Recommended Storage: Store mat out of sunlight and dry before rolling up
Product Dimensions: 68" L x 24" W x 1/8"
Thickness: 3mm
Product Weight: 3.5 lbs
Manduka
Brand: Manduka
Country of Origin: United States of America or Imported
Web ID: 15MDKUKLTYGMTDRFTEAC
Rated

4

out of

5
by
Zetta
from
Really good quality and non slip
Needed a new yoga mat and a quality one. I kept slipping on my previous one. It's super sticky to the floor and to my hands and feet. It's rubber so it's still kind of stinky (rubber smell) even though I've had it for several weeks
Date published: 2017-03-04
Rated

5

out of

5
by
Anonymous
from
Great Mat!
This is my first yoga mat but it's amazing! My yoga instructor even commented on the mat saying how much she loves this brand!
Date published: 2016-08-05
Rated

5

out of

5
by
Anonymous
from
My everyday mat
After purchasing several cheap mats (literally, two were only $5.00), I decided to buy a better mat that wouldn't "shred" all over the floor, myself, and my clothing. My yoga teacher had bought a Manduka Pro that goes for $108. She loves it, but admitted it was quite heavy to bring the mat back & forth from home to studio. This mat was $52 and although it doesn't have a lifetime warranty, it is supposed to last for years. I use it at home daily and will bring it to class once a week. It takes a little getting used to as it is quite sticky/grippy due to the natural rubber, but at least I'm not sliding all over the mat like I did on the cheap ones, just be aware that your toes may grip the mat more when bringing your foot forward from down dog, for instance. It's 99% latex free which hasn't caused any problems for my latex allergy. A slight smell to the mat for a few days is almost gone after a week.
Date published: 2016-04-24
Rated

4

out of

5
by
Anonymous
from
Great Yoga Mat
I really like this mat! I wanted one that didn't slip on the floor and that was smooth, this mat has both of those features. This is my first Manduka Yoga Mat and I think that it good for beginners and advanced Yoga. I will be using this mat much more often than my previous one due to the fact that it doesn't slip all over the place. It is also easy to clean off and great for heated Yoga!
Date published: 2015-04-27
Rated

5

out of

5
by
Anonymous
from
This is a great product so far....
I've had this mat for about 3 weeks and have used it about 9-10 hours each week for bikram and various hot yoga sessions. This is not a sticky mat, so there is a minimal amount of sliding when very sweaty. My feet haven't slid so much as my hands but that is without the use of an absorbent yoga mat towel. Picture yourself 40 minutes into hot yoga and as you try to maintain downward dog your palms slide 1/4"-1/2" forward. It's not ideal but it's not the end of your focus.There is a smell of rubber at first. It's not too strong of a smell to cause it to be unusable and the odor of the rubber does transfer to your hands with use but the smell of the natural rubber is gone from your body after you wash up. That's to be expected from a natural source material like rubber. I think the odor was noticeably gone after the first week, but I did allow it to air out flat.I really enjoy the 3mm width. My last mat was 1/2" and caused weakening in my wrists and ankles. With 3mm, I feel grounded and secure in my postures.Cleaning the mat is a cinch. You can buy the Manduka Mat Renew for this particular mat (not for use on 100% rubber!) but I just wipe up with distilled water and a soft cloth. You can let it soak briefly in a tub and use a very mild soap if necessary. (Make sure you research how to care for any yoga mat because you may otherwise unintentionally shorten it's life.)All in all I really like this mat. If it turns out to be highly destructible within the year I'll update this review.
Date published: 2014-08-26
Rated

5

out of

5
by
Anonymous
from
Better stick , less slide .
Love this Matt , no sliding when doing hot yoga with a stick towel. Love!
Date published: 2014-08-12
Rated

2

out of

5
by
Anonymous
from
Disappointing mat
Saw this mat in store when looking for a new mat as the cheaper, "normal" yoga mats my girlfriend and I use were wearing out. On the first use I was disappointed. Neither of us do hot yoga, but we both sweat a little bit during normal practice. Both myself and my girlfriend slip all over on this mat, making it extremely hard to concentrate on our practice. It's also extremely thin, and only comfortable for more than 10 minutes of use on thick carpet, or laid on top of another yoga mat. Very disappointed with this purchase.... Really wishing I could get my money back for it.
Date published: 2014-08-04
Rated

4

out of

5
by
Anonymous
from
Light and Thin
This mat grips fantastically, is very portable, and makes certain yoga poses easier to practice than on a traditional mat. If you are not used to practicing on a thinner mat like me, there is an adjustment period. Especially for poses on your back. Also, be prepared for the rubber smell to be around for a few weeks.
Date published: 2014-04-17