Marcy Pro Utility Weight Bench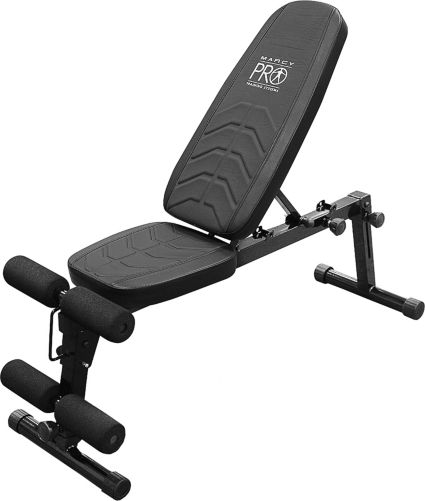 Marcy Pro Utility Weight Bench
is rated out of
5
by
18
.
This product is currently out of stock.
Please choose product options above
Please choose product options above
PDP Sticky bottom AddToCart Section - active and hide position
This item requires specialized installation which, if selected, may require a separate appointment from the delivery date shown during checkout.  The assembly date and time of appointment will be scheduled once delivery is in process. The delivery date shown at checkout is an estimate of the initial delivery date only
Product Information:
Essential for any home gym, the Marcy Pro® Utility Bench helps you reach your fitness goals. This high-quality and versatile weight bench features four abdominal bench positions including military, incline, flat and decline. The bench can be adjusted to be a slant board by tucking the rear leg, while the reinforced back padding and roller pads keep you comfortable and protected. Easy to store, this utility bench folds and features transport wheels
FEATURES:
Heavy-duty steel tube frame
4 abdominal bench positions: military, incline, flat and decline
4 comfortable thigh and ankle roller pads
Reinforced back pad adjustment
High-density padding and upholstery
Scratch and chip-resistant powder coat finish
Bench folds flat for easy storage
Transport wheels for easy transportation
Manufacturer's 2 year limited warranty
Model: PM-10110
Marcy
Brand: Marcy Pro
Country of Origin: Imported
Web ID: 16MC1UMRCYPRTLBNCWGH
Rated 1 out of 5
by
1corygson
from
It was good until......
I bought this item about a year ago. When I first got it, it was great. A little wobbly but nothing an allen wrench couldn't tighten. My problem is today in the flat bench position, I was about to begin my lift pressing on the bar for lift off and then all of a sudden I dropped about a half foot into decline position. Luckily I hadn't unracked they weight yet so I got up and looked and the pin where the rear leg stand is was stressed open to the point of no return. My delima is I can get the warranty from marcy but, I don't even want this bench because this will happen again and to anyone else. So be careful while lifting, and always check the quality of that pin before lifting. ALSO I looked for the maximum weight the bench can handle and it's no where on the description. I would like to return it but it's been longer than Dicks 60 day warranty... I guess wishful thinking
Date published: 2017-05-01
Rated 5 out of 5
by
Wade
from
Great things come in small packages.........
I am reposting this review because for some reason, it did not take. I am not an "in-store" shopper so when I visit a store and have excellent customer service, I think the people should be recognized and commended.I wanted a small bench in which I could workout without always having to hit the gym. The nearest Dick's Sporting Goods is up in Seabrook, NH. I was helped by a salesman named Cory. There were two weight bench models on sale that I was considering. He assisted me in looking up reviews on Dick's in-house computer as well as accessing his iPhone. The whole experience was exceptional, ending with Cory carrying the box out to my car. Having been in retail management in my younger years for one of the large high-end department stores, i know great service when I see it. Bravo Cory....you made my day!Now about the bench. I rated this 5 stars because it was exactly what I needed. It came pre-assembled, folds down for convenient storage, yet has the feel of a quality weight bench. I am 5'11" 190 lbs and this bench is not too small. I think some of the diehard lifters would want something that could withstand higher weight. I also really wanted the "Ironmaster Super Bench," yet had I purchased that online, it would have been too large. Things always look bigger at home than they do in the store. The leg in the back of the bench can be adjusted for a flat or incline positions. You then can fold up that back leg and inset it into the main bar, allowing a wonderful downward angle.....nice! This bench can be carried around to other parts of your house very easily. Since there weren't many reviews for this bench, I found one negative review that stated it was "wobbly." When something comes pre-assembled, it usually needs to be tightened up after the last remaining parts are attached. I tightened what needed tightening and it is very sturdy. If you are looking for a bench that you can use a barbell, this is not the one. I recently purchased a set of adjustable dumbbells and wanted a bench with a small footprint. Lastly, there is NO annoying space between the seat and the back panel. Even the most expensive benches have not figured out how to fill that "gap."Thank you Cory and Dick's Sporting Goods. As a result of this wonderful experience, I am more likely to venture back up to Dick's in the near future.WadeNewburyport, MA
Date published: 2016-05-20
Rated 1 out of 5
by
Jake21
from
Terrible
I bought this junk about a year ago and I should have returned it immediately. Bench is severely unstable. Poor design and quality. Buyer beware buy something of superior quality.
Date published: 2017-05-18
Rated 4 out of 5
by
imanym
from
READILY STURDY EXCELLENT DECLINE
It comes preassembled, you need to tighten the bracket that braces the padding. Once you do that, this bench is really amazingly stable. It works just as good as a decline bench. The leg cushions are very comfortable and very stable.Cons-1. It comes pre-assembled, but you really need to tighten those area s that seem to rattle. Once done, very nice.2. The slits used to adjust the positions of the bench are not aligned precisely and require some slight precision in order to align the holes to use the bar locking pin.Pro -1. Folds pretty flat2. Has an excellent decline for sit ups.3. Comes preassembled.4. Padding is very comfortable and strong.5. Extremely sturdy.
Date published: 2016-07-30
Rated 1 out of 5
by
LittleGuysLiftToo
from
Bad quality , crooked seat.
Got this delivered the other day. It's alright if you're doing light stuff on it. The seat part is totally crooked and not aligned with the large cushion. I wouldn't feel safe putting more than 150lbs of free weights or benching on it. Gonna be returning it and order a heavy duty bench.
Date published: 2017-05-02
Rated 5 out of 5
by
Rocky
from
Outstanding Bench
The bench is very well designed and engineered as well as solidly put together. Although the instructions say "no assembly required", a few pieces need to be affixed to the frame; the instructions are clearly described and pictured - no small screws! Every hole and part was perfectly aligned and fit!. Takes about 5 minutes to attach pieces.This was an outstanding buy to supplement my other exercise equipment!
Date published: 2016-10-24
Rated 5 out of 5
by
kalima117
from
Pretty close to perfect.
We love this product. It is comfortable and sturdy. Ready to use right out of the box. Has great features and is very adjustable. I would have taken off half a star but not a whole one, because it needed to be a couple of inches longer to accommodate taller people. But it still works great and is very comfortable to use. Love it!
Date published: 2017-01-13
Rated 4 out of 5
by
Jack C
from
Good gang for the buck
Wanted an inexpensive Utility wight bench for home so I could work out when it was not possible to go to the gym. The product arrived in good condition and ready to use. The pads are a bit wobbly but no big deal. This is a good value for the price.
Date published: 2018-02-06