McDavid HEX Extended Leg Sleeves - Pair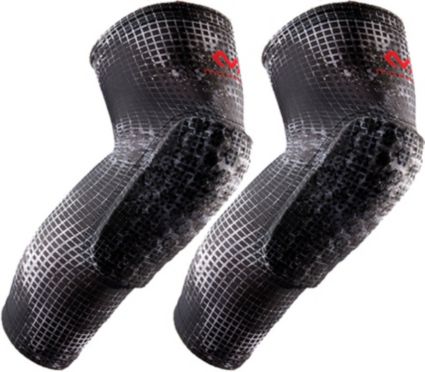 McDavid HEX Extended Leg Sleeves - Pair
is rated out of
5
by
687
.
The price of the product might be updated based on your selection
This product is currently out of stock.
Please choose product options above
Please choose product options above
PDP Sticky bottom AddToCart Section - active and hide position
The best of the best for on-court protection, the McDavid® HEX™ Extended Leg Sleeves offer premium padding for serious athletes. An additional 3" of fabric and HEX™ technology on the top and bottom of the sleeves provides superior coverage to prevent abrasions. hDc™ Moisture Management technology works to keep you cool and dry for added comfort, with hexagon-shaped padded fabric that gives athletes added protection against falls when giving it their all on the court. Popular among NBA® basketball players, the McDavid® Hex Leg Sleeves are a must have for any serious star of the hardwood.
FEATURES:
HEX™ technology uses 9mm thick, independently positioned hexagon shaped pads that are permanently bonded to performance fabric for serious protection
Additional 3 in. of fabric on the top/bottom for extended protection against cuts and abrasions
hDc™ Moisture Management technology keeps athletes cool and dry
Popular among pro and collegiate athletes
Set includes one pair (two sleeves)
Materials: 80% nylon / 20% spandex
Manufacturer's warranty: free from defects of workmanship and materials (does not include normal wear and tear) for a period of 30 days
MCDAVID HEX™ LEG SLEEVE SIZE CHART
Knee circumference 10" – 12" = S
Knee circumference 12" – 14" = M
Knee circumference 14" – 16" = L
Knee circumference 16" – 19" = XL
Knee circumference 19" – 22" = 2XL
For additional information relating to the Manufacturer's Warranty, please contact 1-800-237-8254.
Brand: McDavid
Country of Origin: United States of America
Style: 6446R
Web ID: 16MCVAMCDVDHXLGSLBKA
Rated 5 out of 5
by
Don
from
Great value
Because I live 210 miles away, needed high quality knee pads for an injured player (my son) who had a game where we live that evening and could not play without the protection, I called Dicks about the availability of the knee pads. This call was made about 20 minutes before opening time. My call was received and transferred to the proper person with unbelievable efficiency and courtacy. I was told that they were I stock and would be waiting at the cash regester when I got there. I arrived in Salt Lake City 3 hours later, the pads were at checkout waiting for me, I returned home and the player said the pads are great. We won too!Thanks Dick's for the help, you've got a customer for life.
Date published: 2014-02-19
Rated 5 out of 5
by
TazB
from
Great comfort
I bought this a week ago, good fitt & goiod to comfort, Want this to protect My knees done turf surfacet. A bit pricey, but a good product.
Date published: 2017-10-03
Rated 5 out of 5
by
Largo
from
Extended Leg Sleeve
Excellent fit and comfort!I had a very deep wound over the bones of my leg and knee which has very little skin to heal. Last season, every time I played basketball and fell on the court, my knee gashed open and took weeks to heal again. My mom got me these sleeves at the recommendation of a staff personnel and they have worked wonderfully! Over the summer during scrimmages/camps/open gyms, when ever I fell, my previous wound remained in tack and did not bust open as it had done all last year. I wear both sleeves on both legs and I feel that I do not get stiff when playing now. Comfortable!
Date published: 2015-08-15
Rated 2 out of 5
by
basketballer
from
Rip easily
By the 2nd game my son had a hole ripped in the knee pad from the gym floor. We have had some previously that had ripped and the hex pads came off. They need to find a way to make the fabric handle contact with the gym floor.
Date published: 2017-04-27
Rated 4 out of 5
by
Abdonix2014
from
Great Product
This is a very good buy. I have had 2 pairs cause of rippage in it but still love it. Only downside that I find abit annoying unlike other people noticing is that there are actually two types of the knee pads. there are ones were the bottom of the sleeve is loose and moves more freely and u got the other one were it is more tight at the bottom. Just a small thing that I have noticed. For me I prefer the tight ones so I wonder if it is possible to determine which one arrives. But overall lovely product for a Basketball player who loves to dive on the ball and hustle and GET BUCKETS. :)
Date published: 2015-03-25
Rated 1 out of 5
by
vito
from
Durability "NOT"
Purchase this product for son Basketball tournament (12U AAU Travel Squad) and all it lasted for was one game!!! workmanship the padding works amazing but the quality of the fabric material covering the padding truly sucks. After falling on his knees once the product material ripped and exposed the hex padding. Now I'm looking back and I should've bought the Nike knee pads cause the fabric material was thicker and appeared to be stronger. I paid $30 for theses pads and I feel that the quality of fabric "material" should've been better. Never again, I don't recommend this product
Date published: 2014-07-09
Rated 1 out of 5
by
Basketballmom
from
Poor Quality
Purchased this for my son for basketball this season to protect his knees. First time he wore them he fell and the material outside the pad ripped. It is a very thin material and therefore does not hold up well. The padding itself is very durable and good but the outside material will rip very easily. Have had to return twice for a new pair. Was going to exchange for another brand in store, but this is the only type they had and since we don't have time to wait to order another kind online, we will make do with this for this season, but would not purchase this brand again.
Date published: 2015-01-28
Rated 1 out of 5
by
msleukie
from
Just not durable enough.
I had initially orderd 2 pairs (one black & one white) of the leg sleeves from another company for my 17 year old son who plays varsity basketball. One pair (black ones) tore the first time he wore them. I returned that pair and purchased another pair from Dick's. Unfortunately, that pair also tore within a week of having them. I will also return that pair and in the mean time, the 2nd pair (white) that was purchased initially, also tore! I'm not sure what the solution is, but these leggings are just not durable. The tears always happened in the knee pad section.
Date published: 2012-11-27
Rated 5 out of 5
by
ParisS
from
Great For basketball
I had the same pair of knee pads for over two basketball seasons and they tore but I still wear them i'm missing a pad but they still work when they have holes in them we call them "war marks" I love them!!!!!!
Date published: 2017-03-14
Rated 3 out of 5
by
janette
from
Not sure yet!
Bought these to help protect our son's knees from getting so banged up playing basketball. He plays hard and often ends up on the floor or colliding with others. However, the first game he wore them, the kneepads ripped, the first time he fell. I called customer support today and they were really good about sending us a new pair. She told us they were meant for body-to-body contact not body-to-floor! They are coming out with a new product soon that has a teflon coating on the kneepads to make them more durable! I would wait to get the new product!!
Date published: 2015-04-01
Rated 4 out of 5
by
Kee kee
from
Leg sleeve
The price was average. The sleeve fits but does tend to slide down a lot. Any size smaller would've been too tight though. Over all it gets the job done.
Date published: 2017-03-28
Rated 5 out of 5
by
Happymom1
from
What she needed to save her knees!
These are perfect for saving knees from injury and legs from strawberry burns. So worth the money!
Date published: 2018-01-24
Rated 2 out of 5
by
Antsybeets
from
Maybe not for AAU basketball
My daughter wore them for two games at a tournament and they already have holes in the padding.
Date published: 2017-04-19
Rated 5 out of 5
by
jacky28
from
Great Features
I bought this a month ago and very very happy I did!...
Date published: 2017-12-01
Rated 5 out of 5
by
Jimmy 128
from
Awesome!
I am a firefighter and I bought these to wear under my turnout gear for search and rescue training. This entails us crawling around on our knees and searching structures for victims. These knee pads held in place better than any pair my fellow crew purchased. They stayed dry and wicked away the sweat pretty good too. My entire crew ended up buying these type to use as well. Great product!
Date published: 2017-11-22
Rated 2 out of 5
by
MissyM
from
Nice looking but doesn't stay in place
We ordered these in S and M for our two sons ages 9 and 12. Average size boys - both a little slim, a little tall. They both felt the small seemed too tight - uncomfortable around thigh and limited their knee bend. The medium SEEMED ok at first, but less than 5 minutes into a basketball game, slipping down. They had to take them off first chance they got. Couldn't play the game with the things sliding down their legs. We tried them on again at home later - I rolled the top part over to see if that would make them more snug or secure. Didn't work at all. Perhaps my boys both just happen to be between sizes - but it seems that part of the problem is the design of the item itself. Great patterns & colors tho. My boys very disappointed they didn't fit.
Date published: 2014-10-14
Rated 5 out of 5
by
nighthawk
from
Great Product
I was trying to decide weather to get these or the Adidas tech fit ones. I chose these over the Adidas ones because I thought these would be less bulky but still protect my knees and keep them warm when I'm hoopin'. I am very happy with this product and I think that I made the right choice over the Adidas ones. When you first put them on before you start playing, they slip of a couple times. But once you run for about 3 minutes and get your legs warm, they do not slip off at all. BTW: do not listen to the reviews about how they have ripped!!! I have played in these about 25 times and they have held up great. To the people who have had theirs rip, you should have looked at the size chart. If you get the right size on the size chart, you will be fine.
Date published: 2014-06-13
Rated 1 out of 5
by
AshleyB
from
Poor quality
Purchased these for my son, who plays AAU basketball. The sleeves barely last several games before the knees are ripped and worn. Kind of defeats the purpose of wearing a protective sleeve if the one area they're supposed to protect are constantly exposed. I've purchased 5 replacement leg sleeves already this season, and there's still 2 months left before it ends. McDavid should consider lowering the $35 price tag to reflect the cheap quality, or make a product that actually provides the level of protection in the product description.
Date published: 2015-04-15
Rated 5 out of 5
by
Epatt
from
Performing well
Bought these to reduce floor burns during games. I have the confidence with these to avoid those sometimes painful injuries.
Date published: 2017-11-26
Rated 4 out of 5
by
beckstar
from
Quality product, well made
Bought these for my daughter to protect herself from injury diving for loose basketballs. These are nice, breathable material, wash well, quality manufactured knee pads. Her teammate has a pair that have lasted 6 months so far with only a small tear in one knee. Only negative is the cost. $40 is steep for a pair of knee pads (my personal opinion).
Date published: 2018-05-15
Rated 3 out of 5
by
910 Bball Mom
from
For Beginners
We're just 4 games into to the season and there's a hole in the material already. Doesn't provide as much impact protection for the knees of a girl high school basketball player. Disappointed in the cushioning protection layers. Although some protection is better than nothing, this product should be purchased based on athletes level of play.
Date published: 2017-11-27
Rated 4 out of 5
by
The Real Housewife of AAU!!!
from
Protection is needed!!!
I purchased these for my 11 year old daughter who plays AAU Basketball. The cushion is very flexible and comfortable while running. She was sliding across the floor on her knees while keeping her dribble was very impressive. I was thinking if those pads were not there, that could have been a trip to the ER for serious knee burns. At the end of the game she said, "I got a hole in my pads and need a new one".My response, "we can replace those but, not your knees". I will recycle the torn pair and make her a padded undershirt.
Date published: 2014-02-13
Rated 2 out of 5
by
bball mother
from
Poorly made
I have 2 daughters that play basketball. I buy these knee pads for them but am unsatisfied with them. The first time they slide on the floor they get a hole and it just gets bigger after that. I have to buy a new pair about every 2 months. If there was another brand that was better made I would buy them in a minute.
Date published: 2017-10-03
Rated 5 out of 5
by
Chevy
from
Leg sleeves
I bought these a couple weeks ago for my daughter as her knees were extremely bruised from basketball. She should've worn these from the beginning of the season, but we purchased late. I'd definitely recommend as they prevented further bruising and she indicates they were extremely comfortable and stayed up well.
Date published: 2017-02-21
Rated 5 out of 5
by
C-HAWK12
from
Perfect for flag football!
Purchased this product to kill two birds with one stone. I wanted compression for my calves and padding on my knees for the constant knee on knee contact in flag football. The padding moves very well while being active and the sleeve stays in place thanks to the rubber trim around the inside at the top of the sleeve. The material is thin around the hex padding, but I think that's because these sleeves are more suited for indoors. But for the price, I'll but another pair for each flag football season if need be.
Date published: 2014-08-25
Rated 1 out of 5
by
zvg
from
Horrible quality but aesthetically appealing .
We have gone through three of these or maybe even four this basketball season which started in November. They open up and you can see the foam through them. We stick with them because they look better than the big and fat ones they sell. Am actually going to return-exchange them as $70 for two pairs should last more than a few weeks. Love what they look like but not the way it is constructed. My girls are agressive with rebounding, going for loose balls, etc. which is why maybe they go through them so quickly
Date published: 2015-02-20
Rated 5 out of 5
by
Coach E
from
Protects his legs
This is the 2nd time I have purchased these for my son. He plays baseball and wears one under his pants to protect him when he slides. I know a couple of other players made their parents buy it for them to wear during games. My son loves his. They may seem delicate and soft but they held up for nearly two full seasons of baseball and were not torn or ripped up. We replaced them with a larger size because he grew and they were getting tight.
Date published: 2017-12-01
Rated 4 out of 5
by
Happy AAU Basketball Mom
from
Comfortable
I bought this a month ago for my son who is very aggressive on the basketball court, and really need the protection. This is our second time purchasing these knee pads and he loves them. It has lots of cushion, snug but not tight, and doesn't fall down while playing.
Date published: 2018-05-08
Rated 1 out of 5
by
Amyallex
from
Weird sizing
I ordered two pair in size small, just different colors but he black size small has a different size in inches that the white does. They both say small on the packages but have different measurements and the black are super small. Will be returning both.
Date published: 2017-11-15
Rated 1 out of 5
by
Buck 81
from
Junk
These knee pads ripped out in the first game my daughter played. Need to be a different material to slide across a gym floor. Actually ripped out the first time she fell to the ground playing basketball. Gave it one star for fitting nice.
Date published: 2018-06-26