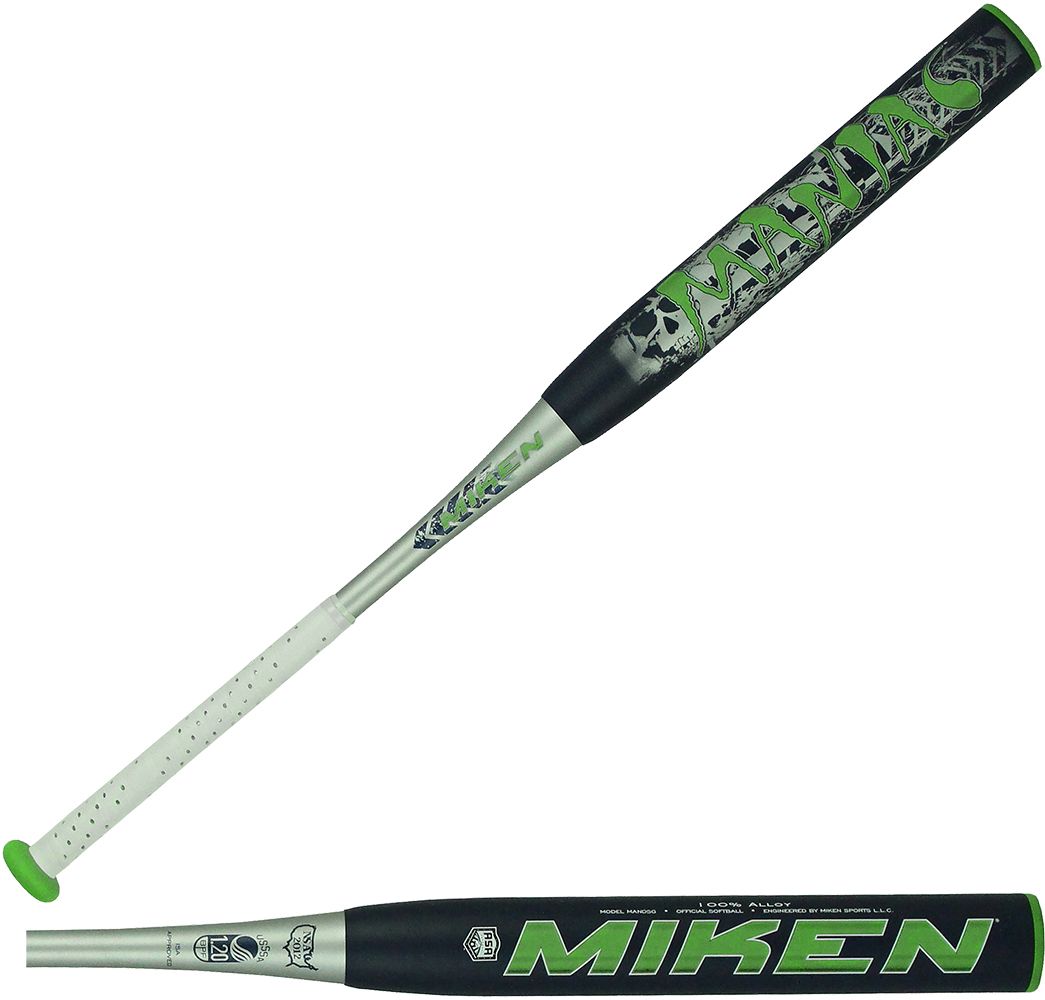 Out of Stock
Miken Maniac ASA/USSSA Slow Pitch Bat 2015
Miken Maniac ASA/USSSA Slow Pitch Bat 2015
is rated out of
5
by
28
.
Product Information:
Introducing Miken's® strongest alloy, E-Flex® 700, the 2015 Maniac Slow Pitch Bat allows for thinner barrel walls to maximize flex and performance. This two-piece slow pitch bat meets the new ASA Higher Performance Standard and is approved for play in all major softball leagues. The Miken® Maniac ASA/USSSA Slow Pitch Bat also features a balanced swing weight for excellent control and precision with every swing.
FEATURES:
Two-piece alloy construction for superior flex and rebound
E-Flex® 700 alloy with thinner barrel walls helps maximize flex and performance
Balanced swing weight for excellent control and precision with every swing
Meets the new ASA Higher Performance Standard
Miken
SPECS:
Barrel Diameter: 2-1/4"
Material: Aluminum Alloy
Construction: Two-Piece
Swing Weight: Balanced
Sport: Slow Pitch Softball
Series: Maniac
Certification(s): 1.20 BPF (ASA, USSSA, NSA ISA and ISF)
Manufacturer's Warranty: 1 year
Year: 2015
Model: MANDSG
NOTICE:
We recommend that you receive approval from your local league before removing the wrapper from your bat.
Brand: Miken Composites
Country of Origin: United States of America
Web ID: 16MCOAMNCSP2015XXSPB
Rated

5

out of

5
by
JKing
from
Great Bat Below 65 Degrees
Purchased the Miken Maniac for temperatures below 65 degrees. A great alternative for cold weather use to save the more expensive composite bats.
Date published: 2017-03-09
Rated

2

out of

5
by
Anonymous
from
looks great but not for everyone
hit it about 2 months now and has plenty of pop for someone with low to medium swing speed but for anyone with a lot of bat speed its a dud consistently 50 feet shorter that my old double wall from 2001.
Date published: 2016-09-09
Rated

1

out of

5
by
Anonymous
from
Broke the first day
Bought this bat because I need an ASA bat in a pinch. After about 20 cut the handle split into two pieces. So I've had it one day and I'll have to send it in for warranty repair.
Date published: 2016-09-07
Rated

2

out of

5
by
Anonymous
from
26 oz is too light
I was hoping the batspeed I could generate with a 26 oz bat would be an advantage but there just isn't enough pop in this bat to make a differenceMy son likes it but I'm not impressed.Time to get a freak or ultra.Since I'm not concerned about regulations those will be plenty.I will say it's durable. I have 400 ft power and this bat has not deformed at all after many swings.
Date published: 2016-08-27
Rated

4

out of

5
by
Anonymous
from
A heavier bat
Really haven't used it other than batting cage. Will get a workout in the up coming weeks
Date published: 2016-07-12
Rated

5

out of

5
by
Anonymous
from
Miken Maniac- Nice product with plenty of pop
Very good service from Dick's sporting goods. Easy on-line purchase and quick shipping. I was able to use this bat at a Thursday morning practice, and so far it looks like a nice addition to my bat bag. It acts like a full composite, so it does not work well when the ball is very cold, but mid day it comes alive.Use when temperatures are over 70. Should be great as summer arrives.I have a Miken Triad for warm weather and huge bombs to deep field. This bat acts similar when warm, but as noted, I found that using the Miken Freak during morning games works better due to the cold. Break it out a little later for deep field hits.
Date published: 2016-04-25
Rated

3

out of

5
by
Anonymous
from
1 year in and still disappointed
I never make posts about products, but I need to add my two cents to the performance of this bat.I play in a Alloy only bat league, and bought a Miken Maniac 34" 27oz. bat in the spring of 2015, because there are FEW all alloy bats out there in a retail setting. My whole team started using it at first, because it was a new bat. Mid way through the season I stopped using it, because it literally felt like a DEAD Bat. Very small sweet spot.Took batting practice Spring of 2016 in hopes that the bat had enough reps on it from last season, but it still didn't make the ball fly.I can say that it is a solid base hit bat at best.Recommedation to Dick's Sporting Goods: Know the rules of the leagues in your markets that your selling into, and supply a broader selection. I was just at your store and you had literally 3 alloy bats, and 6-8 composite bats. I don't know a league in my metropolis that actually allows composite bats. The alloy bats you have for sale, 1 that was $40, the 2015 Miken Maniac, and 2016 Miken Maniac........BTW, this bat is perpetually on sale for $99 (Originally $149.99) per the wrapper. Just like last year. HA!Anyone looking to buy this bat, I would strongly consider saving another $70 and go a step up.
Date published: 2016-04-25
Rated

5

out of

5
by
Anonymous
from
Nice Bat.
For the price this is an excellent bat if you are playing in league limitations to no composites. It has plenty of punch when hit cleanly.
Date published: 2016-04-24