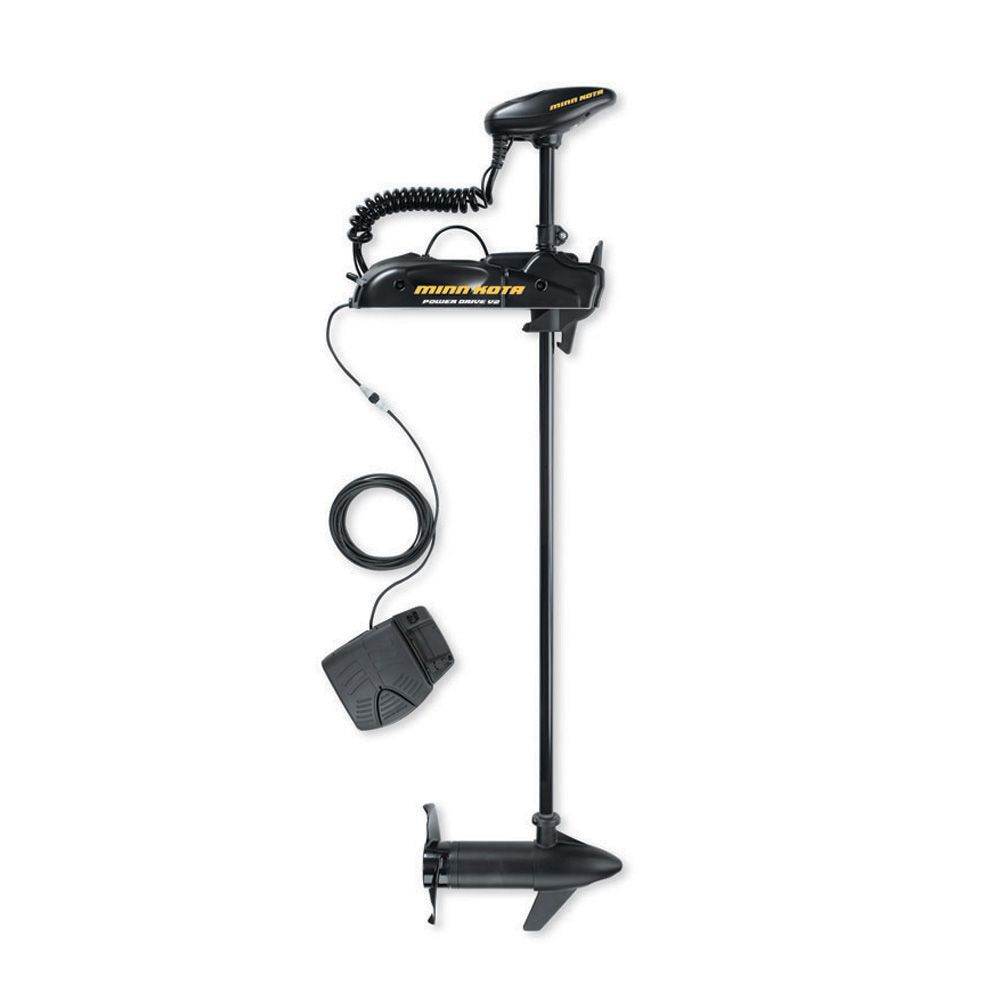 Out of Stock
Minn Kota PowerDrive V2 Freshwater Bow Mount Trolling Motors
Product Information:
A redesigned foot pedal, new deploy-assist lever, and digital electronics enhance one of the most trusted motors in the industry, the Minn Kota® PowerDrive 55 PD V2 Motor with Autopilot™. AutoPilot keeps your pursuit of trophy fish headed in the right direction. The motor has a new deploy-assist lever. All you have to do is depress the lever to deploy the motor and you're ready to go.
FEATURES:
New deploy-assist lever
Depress the lever to deploy the motor and you're ready to go.
Stows easily and securely
Ergonomic foot pedal
Precise speed adjustment
Right/left steering
Momentary and constant On/Off
Industry's highest IP68 waterproof rating and 18' cord
Minn Kota® AutoPilot™ navigation system
CoPilot™ Compatible
Digital Maximizer™ runs up to five times longer run time on a single charge
Delivers the precise amount of power needed at any setting, along with variable speed control
Indestructible composite shaft
Shaft will not kink, break, rust, or corrode and guaranteed for life!
Cool, quiet power
AutoPilot™ locks onto any heading and allows for steering adjustments for smoother rides and better accuracy (on 55 model)
Extra large windings and commutators are used to dissipate heat, resulting in cooler operation, extended battery power and longer motor life
Unique bearing system produces low rpms/high torque to cut down on fish-spooking noise
Weedless Wedge 2 Prop is the latest generation of this legendary Roland Martin design
Swept-back and flared blades on propeller
Warranty: 2 years
Minn Kota
For additional information relating to the Manufacturer's Warranty, please contact 732-237-9300.
SPECS:
55: 12 54
Max Thrust: 55 lbs.
Volts: 12
Shaft Length: 54"
Mount: PowerDrive
Control: Electric Steer
Speeds: Variable
Features: Composite Shaft, Auto Pilot, Digital Maximizer
Model: PowerDrive V2 55/AP
50: 12 48
Max Thrust: 50 lbs.
Volts: 12
Shaft Length: 48
Mount: PowerDrive
Control: Electric Steer
Speeds: Variable
Features: Composite Shaft, Digital Maximizer
Model: PowerDrive V2 50
45: 12 48
Max Thrust: 45 lbs.
Volts: 12
Shaft Length: 48"
Mount: PowerDrive
Control: Electric Steer
Speeds: Variable
Features: Composite Shaft, Digital Maximizer
Model: PowerDrive V2 45
65: 24 54
Max Thrust: 65 lbs.
Volts: 24
Shaft Length 54"
Mount: PowerDrive
Control: Electric Steer
Speeds: Variable
Features: Composite Shaft, Digital Maximizer
Model: PowerDrive V2 65
70: 24 54
Max Thrust: 70 lbs.
Volts: 24
Shaft Length: 54"
Mount: PowerDrive
Control: Electric Steer
Speeds: Variable
Features: Composite Shaft, Digital Maximizer
Model: PowerDrive V2 70
Web ID: 15MKOUMKPWRDRVV2BFEL