Mission Enduracool Instant Cooling Towel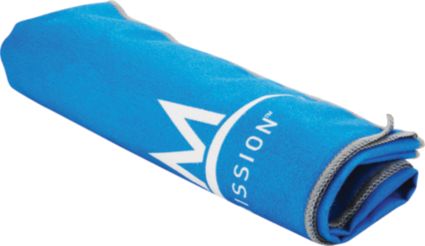 Mission Enduracool Instant Cooling Towel
is rated out of
5
by
313
.
The price of the product might be updated based on your selection
This product is currently out of stock.
Please choose product options above
Please choose product options above
PDP Sticky bottom AddToCart Section - active and hide position
Product Information:
Keep cool and comfortable during even the most intense activities with the Mission™ Enduracool™ Instant Cooling towel. Made from performance fabric, this towel cools instantaneously when wet with water or sweat or wrung out and snapped to activate the cooling properties. Lasting up to two hours, the Enduracool™ is breathable, made for all sports, chemical free, reusable and can be machine washed with detergent.
FEATURES:
Instantly cools when wet with water or sweat, wrung out or snapped in air to activate cooling properties
Performance fabric absorbs and retains sweat and water, delivering an instant cooling effect on the skin
Lasts up to two hours
Wearable Ultra Violet Protection Factor (UPF) 45 provides protection against the sun
Lightweight, chemical free
Reusable, can be machine washed with detergent
Does not require refrigeration
Breathable and made for all sports
When not used for cooling, wipes away sweat and water, keeping you dry during strenuous activity
Brand: Mission
Country of Origin: Imported
Style: 101200
Fabric: 80% Polyester, 20% Nylon
Web ID: SS14MSNENDRCLTWLBLK
Rated 4 out of 5
by
JC
from
It helps
I work on roofs and hot mechanical rooms. I have about 4 of these towels. I use them everyday at work in the summer. I get very overheated working in the sun and extremely hot rooms. This towel definitely helps keep me cooler. Your not putting A/C on your head, so don't expect those kind of results. It keeps my head and neck much cooler and blocks the sun. It will also keep sweat out of your eyes. If it would stay colder longer it would be perfect. If your someone who gets too hot in the sun this product will help. The more you can wet it the better it is. It definitely helps keep you cooler.
Date published: 2015-09-08
Rated 3 out of 5
by
helipilot121
from
Verdict isn't out yet
I don't think I'm 100% sold on this product. In theory I guess it makes sense but there's nothing special about this particular towel over others similar to it. Really I'd probably stay just as cool or cooler if I got a regular towel and soaked it in water. The snapping of the towel doesn't exactly create much of a noticeable cooling difference. Probably a plus to this is its size. For certain activities or sports a larger towel of some sort wouldn't be as practical as this.Overall I'm mostly on the fence. I think I'll continue to give it a chance and see what sports or activities it seems to work best in.
Date published: 2014-07-22
Rated 4 out of 5
by
Florida hot head
from
Does the job but not for long
The product does definitely provide a cooling sensation when used as directed. The issue I have is that it only stays cool for maybe 1 minute in hot temperatures. I live in Florida where the "feels like" temperature has been around 105 every day. This product is good if you're feeling overheated but it will not provide lasting temperature drops. The good news is that you can continue snapping it to get another blast of cold. It also did not feel like it was 30 degrees cooler than my skin, but I have no way of proving that. There are also a few versions of this product, I got the smaller towel and it's not great for trying a head wrap but you can do a head band or scarf configuration.
Date published: 2014-09-03
Rated 4 out of 5
by
MeatSweats
from
Does what it says
I used this on the golf course in 95 degree weather. To its credit, it worked as advertised, although you really have to douse it in water to get the cooling effects. It did make me feel like I was wasting water for my cooling towel that I should probably be drinking to stay hydrated. But all that being said, it works really well and I am absolutely pleased with the purchase. It is a new staple in my golf or gym bag, and I take it on activities whenever I can. I am not totally convinced that I standard towel wouldn't do as well for a lesser price, but I'm a sucker for the idea of it.
Date published: 2013-07-09
Rated 5 out of 5
by
Spanky
from
Simply awesome!
I work outside and ha e one of these for every day of the week. The only two downfalls is when the humidity is really high you will be constantly wringing your sweat out of it. Because it doesn't evaporate well the cooling effect is small. When the humidity is really low the cooling effect is high but since the towel is t-shirt thin you ha e to constantly wet it. Get one for each day as it will smell like a sweaty shoe after a day of mopping up sweat. In a pinch I give it a quick wash in the sink with some hand soap to minimize the smell during extended use.
Date published: 2015-07-07
Rated 1 out of 5
by
Cartman819
from
Does not perform as advertised
Actually bought two of these towels to take on a golf trip to Pinehurst. With temps pushing 100 I thought they would be very useful. Turns out I wasted my money. I followed directions on wetting, ringing out and "snapping" towels to activate chemical reaction but the towel did not feel cooler and in fact dried out very fast. My golf partner wet a stantard hand towel and it stayed wetter and cooler than this product.
Date published: 2015-07-01
Rated 5 out of 5
by
Joe
from
Mission Endura Cool Towel
Who'd a ever thunked, that paying $14.00 for a towel to keep you cool would actually keep you cool? Not me. After paying $14.00 for a towel to keep my head cool, and using it - amazingly, the towel worked great, and kept my head cool. Dry it out, re-wet it, snap it, and it does the same thing all over again. In use daily when temps are above 85, and less than 100. I see on line, this company makes a skull cap. Dick's does not carry the skull cap. I want one of these things in a skull cap too......If U hot, and want to cool off. Dis B da thing!
Date published: 2013-07-02
Rated 5 out of 5
by
Shell
from
Great Cooling Towel
I really love this towel. I first used it on vacation, which was when I bought it. I used it in the car right away to wipe sweat off my face. Which the towel is very soft. Then once I was able to get to a sink to wet the towel, it was really nice. Very cold, and stays cold for a long time. I just used it for my son's fever and it brought the fever down quick. Plus he loved it and he is only 6. He went to bed with it on his head, he even asked for his "cooly" he calls it. When I get to have it back, I will take it with me to the gym and yoga class. Can't wait. I have another towel that is similar to this, however it's not a soft towel all the time. It gets hard as a rock, and you have to wet it to soften it and get it cold. Do not like that one now.
Date published: 2013-08-23