New Balance Kids' Preschool Fresh Foam Zante v4 Running Shoes
The price of the product might be updated based on your selection
{ "warrantyData" : [ { "ProductSKU" : "18854838", "ProductUniqueId" : "3743141", "warrantySKUS" : [ ] }, { "ProductSKU" : "18854840", "ProductUniqueId" : "3743142", "warrantySKUS" : [ ] }, { "ProductSKU" : "18854843", "ProductUniqueId" : "3743143", "warrantySKUS" : [ ] }, { "ProductSKU" : "18854845", "ProductUniqueId" : "3743144", "warrantySKUS" : [ ] }, { "ProductSKU" : "18854847", "ProductUniqueId" : "3743145", "warrantySKUS" : [ ] }, { "ProductSKU" : "18854850", "ProductUniqueId" : "3743146", "warrantySKUS" : [ ] }, { "ProductSKU" : "18854852", "ProductUniqueId" : "3743147", "warrantySKUS" : [ ] }, { "ProductSKU" : "18854853", "ProductUniqueId" : "3743148", "warrantySKUS" : [ ] }, { "ProductSKU" : "18854854", "ProductUniqueId" : "3743149", "warrantySKUS" : [ ] }, { "ProductSKU" : "18854855", "ProductUniqueId" : "3743150", "warrantySKUS" : [ ] }, { "ProductSKU" : "18854857", "ProductUniqueId" : "3743151", "warrantySKUS" : [ ] }, { "ProductSKU" : "18854860", "ProductUniqueId" : "3743152", "warrantySKUS" : [ ] }, { "ProductSKU" : "18854862", "ProductUniqueId" : "3743153", "warrantySKUS" : [ ] }, { "ProductSKU" : "18854863", "ProductUniqueId" : "3743154", "warrantySKUS" : [ ] }, { "ProductSKU" : "18854865", "ProductUniqueId" : "3743155", "warrantySKUS" : [ ] }, { "ProductSKU" : "18854868", "ProductUniqueId" : "3743156", "warrantySKUS" : [ ] }, { "ProductSKU" : "18854870", "ProductUniqueId" : "3743157", "warrantySKUS" : [ ] }, { "ProductSKU" : "18854871", "ProductUniqueId" : "3743158", "warrantySKUS" : [ ] }, { "ProductSKU" : "18854873", "ProductUniqueId" : "3743159", "warrantySKUS" : [ ] }, { "ProductSKU" : "18854875", "ProductUniqueId" : "3743160", "warrantySKUS" : [ ] }, { "ProductSKU" : "18854878", "ProductUniqueId" : "3743161", "warrantySKUS" : [ ] }, { "ProductSKU" : "18854879", "ProductUniqueId" : "3743162", "warrantySKUS" : [ ] }, { "ProductSKU" : "18854881", "ProductUniqueId" : "3743163", "warrantySKUS" : [ ] }, { "ProductSKU" : "18854861", "ProductUniqueId" : "3743166", "warrantySKUS" : [ ] }, { "ProductSKU" : "18854864", "ProductUniqueId" : "3743167", "warrantySKUS" : [ ] }, { "ProductSKU" : "18854866", "ProductUniqueId" : "3743168", "warrantySKUS" : [ ] }, { "ProductSKU" : "18854867", "ProductUniqueId" : "3743169", "warrantySKUS" : [ ] }, { "ProductSKU" : "18854869", "ProductUniqueId" : "3743170", "warrantySKUS" : [ ] }, { "ProductSKU" : "18854872", "ProductUniqueId" : "3743171", "warrantySKUS" : [ ] }, { "ProductSKU" : "18854874", "ProductUniqueId" : "3743172", "warrantySKUS" : [ ] }, { "ProductSKU" : "18854876", "ProductUniqueId" : "3743173", "warrantySKUS" : [ ] }, { "ProductSKU" : "18854877", "ProductUniqueId" : "3743174", "warrantySKUS" : [ ] }, { "ProductSKU" : "18854880", "ProductUniqueId" : "3743175", "warrantySKUS" : [ ] }, { "ProductSKU" : "18854882", "ProductUniqueId" : "3743176", "warrantySKUS" : [ ] }, { "ProductSKU" : "18854883", "ProductUniqueId" : "3743177", "warrantySKUS" : [ ] }, { "ProductSKU" : "18854884", "ProductUniqueId" : "3743178", "warrantySKUS" : [ ] }, { "ProductSKU" : "18854885", "ProductUniqueId" : "3743179", "warrantySKUS" : [ ] }, { "ProductSKU" : "18854886", "ProductUniqueId" : "3743180", "warrantySKUS" : [ ] }, { "ProductSKU" : "18854887", "ProductUniqueId" : "3743181", "warrantySKUS" : [ ] }, { "ProductSKU" : "18854888", "ProductUniqueId" : "3743182", "warrantySKUS" : [ ] }, { "ProductSKU" : "18854889", "ProductUniqueId" : "3743183", "warrantySKUS" : [ ] }, { "ProductSKU" : "18854890", "ProductUniqueId" : "3743184", "warrantySKUS" : [ ] }, { "ProductSKU" : "18854891", "ProductUniqueId" : "3743185", "warrantySKUS" : [ ] }, { "ProductSKU" : "18854892", "ProductUniqueId" : "3743186", "warrantySKUS" : [ ] }, { "ProductSKU" : "18854893", "ProductUniqueId" : "3743187", "warrantySKUS" : [ ] } ] }
PROTECTION PLAN
(optional)
Info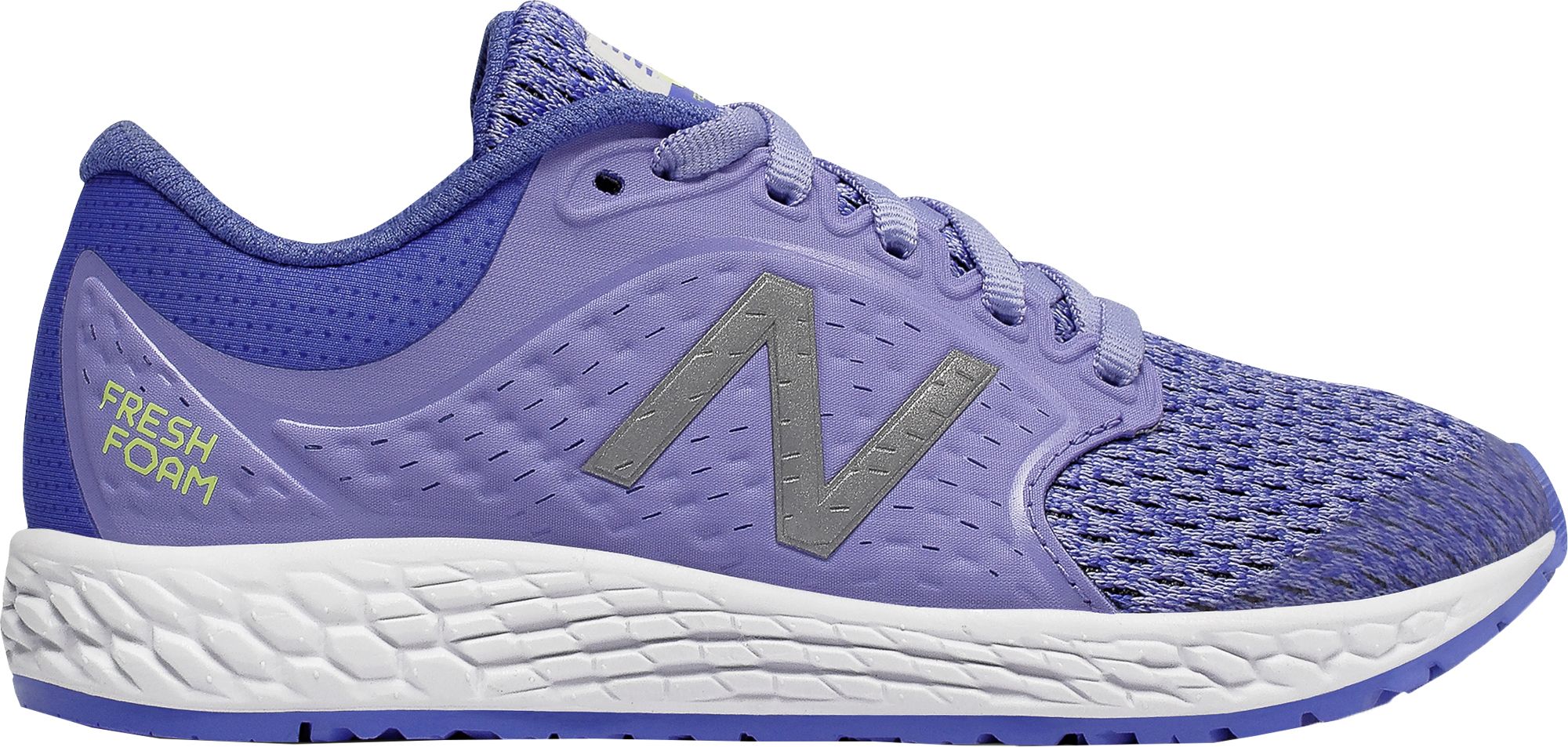 New Balance Kids' Preschool Fresh Foam Zante v4 Running Shoes
Selected Option Not Available to Ship
Selected Option Not Available For Pickup
PDP Sticky bottom AddToCart Section - active and hide position
This product is currently out of stock.
Please choose product options above
Please choose product options above
Get your little runner ready for race day in the New Balance® Fresh Foam Zante v4 sneakers. Built with a Hyposkin upper to create a comfortable fit, these running shoes move with them for an adaptable fit and feel every step of the way. Mesh is also used in the upper to keep the fit light and breathable, while a no-sew design also reduces weight to prevent a bulky feeling. To keep them feeling fresh at the start and end of the race, these NB sneakers are made with Fresh Foam midsole cushioning.
FEATURES:
Hyposkin upper creates a snug and secure fit while on the move
Upper allows for targeted flex and support in key areas of the foot
Mesh vamp allows the toes to splay naturally while running
Fresh Foam midsole cushioning offers a soft, smooth feel
No-sew material application creates a more durable design
Rubber outsole creates needed traction
Brand: New Balance
Country of Origin: Imported
Style: ZANTE-PS
Web ID: 17NWBYZNTV4XXXXXXBYS