New Balance Men's 890 v6 Running Shoes
The price of the product might be updated based on your selection
{ "warrantyData" : [ { "ProductSKU" : "18859467", "ProductUniqueId" : "3807184", "warrantySKUS" : [ ] }, { "ProductSKU" : "18859468", "ProductUniqueId" : "3807185", "warrantySKUS" : [ ] }, { "ProductSKU" : "18859470", "ProductUniqueId" : "3807186", "warrantySKUS" : [ ] }, { "ProductSKU" : "18859471", "ProductUniqueId" : "3807187", "warrantySKUS" : [ ] }, { "ProductSKU" : "18859474", "ProductUniqueId" : "3807188", "warrantySKUS" : [ ] }, { "ProductSKU" : "18859478", "ProductUniqueId" : "3807189", "warrantySKUS" : [ ] }, { "ProductSKU" : "18859480", "ProductUniqueId" : "3807190", "warrantySKUS" : [ ] }, { "ProductSKU" : "18859485", "ProductUniqueId" : "3807191", "warrantySKUS" : [ ] }, { "ProductSKU" : "18859487", "ProductUniqueId" : "3807192", "warrantySKUS" : [ ] }, { "ProductSKU" : "18859489", "ProductUniqueId" : "3807193", "warrantySKUS" : [ ] }, { "ProductSKU" : "18859490", "ProductUniqueId" : "3807194", "warrantySKUS" : [ ] }, { "ProductSKU" : "18859491", "ProductUniqueId" : "3807195", "warrantySKUS" : [ ] }, { "ProductSKU" : "18859493", "ProductUniqueId" : "3807196", "warrantySKUS" : [ ] }, { "ProductSKU" : "18859494", "ProductUniqueId" : "3807197", "warrantySKUS" : [ ] }, { "ProductSKU" : "18859495", "ProductUniqueId" : "3807198", "warrantySKUS" : [ ] }, { "ProductSKU" : "18859496", "ProductUniqueId" : "3807199", "warrantySKUS" : [ ] }, { "ProductSKU" : "18859497", "ProductUniqueId" : "3807200", "warrantySKUS" : [ ] }, { "ProductSKU" : "18859498", "ProductUniqueId" : "3807201", "warrantySKUS" : [ ] }, { "ProductSKU" : "18859499", "ProductUniqueId" : "3807202", "warrantySKUS" : [ ] }, { "ProductSKU" : "18859500", "ProductUniqueId" : "3807203", "warrantySKUS" : [ ] }, { "ProductSKU" : "18859502", "ProductUniqueId" : "3807204", "warrantySKUS" : [ ] }, { "ProductSKU" : "18859504", "ProductUniqueId" : "3807205", "warrantySKUS" : [ ] }, { "ProductSKU" : "18859506", "ProductUniqueId" : "3807206", "warrantySKUS" : [ ] }, { "ProductSKU" : "18859509", "ProductUniqueId" : "3807207", "warrantySKUS" : [ ] }, { "ProductSKU" : "18859511", "ProductUniqueId" : "3807208", "warrantySKUS" : [ ] }, { "ProductSKU" : "18859512", "ProductUniqueId" : "3807209", "warrantySKUS" : [ ] }, { "ProductSKU" : "19183056", "ProductUniqueId" : "4105275", "warrantySKUS" : [ ] }, { "ProductSKU" : "19183058", "ProductUniqueId" : "4105276", "warrantySKUS" : [ ] }, { "ProductSKU" : "19183060", "ProductUniqueId" : "4105277", "warrantySKUS" : [ ] }, { "ProductSKU" : "19183063", "ProductUniqueId" : "4105278", "warrantySKUS" : [ ] }, { "ProductSKU" : "19183066", "ProductUniqueId" : "4105279", "warrantySKUS" : [ ] }, { "ProductSKU" : "19183068", "ProductUniqueId" : "4105280", "warrantySKUS" : [ ] }, { "ProductSKU" : "19183070", "ProductUniqueId" : "4105281", "warrantySKUS" : [ ] }, { "ProductSKU" : "19183072", "ProductUniqueId" : "4105282", "warrantySKUS" : [ ] }, { "ProductSKU" : "19183074", "ProductUniqueId" : "4105283", "warrantySKUS" : [ ] }, { "ProductSKU" : "19183076", "ProductUniqueId" : "4105284", "warrantySKUS" : [ ] }, { "ProductSKU" : "19183065", "ProductUniqueId" : "4105288", "warrantySKUS" : [ ] }, { "ProductSKU" : "19183067", "ProductUniqueId" : "4105289", "warrantySKUS" : [ ] }, { "ProductSKU" : "19183069", "ProductUniqueId" : "4105290", "warrantySKUS" : [ ] }, { "ProductSKU" : "19183071", "ProductUniqueId" : "4105291", "warrantySKUS" : [ ] }, { "ProductSKU" : "19183073", "ProductUniqueId" : "4105292", "warrantySKUS" : [ ] }, { "ProductSKU" : "19183075", "ProductUniqueId" : "4105293", "warrantySKUS" : [ ] }, { "ProductSKU" : "19183077", "ProductUniqueId" : "4105294", "warrantySKUS" : [ ] }, { "ProductSKU" : "19183079", "ProductUniqueId" : "4105295", "warrantySKUS" : [ ] }, { "ProductSKU" : "19183081", "ProductUniqueId" : "4105296", "warrantySKUS" : [ ] }, { "ProductSKU" : "19183083", "ProductUniqueId" : "4105297", "warrantySKUS" : [ ] }, { "ProductSKU" : "19183084", "ProductUniqueId" : "4105298", "warrantySKUS" : [ ] }, { "ProductSKU" : "19183085", "ProductUniqueId" : "4105299", "warrantySKUS" : [ ] }, { "ProductSKU" : "19203220", "ProductUniqueId" : "4105300", "warrantySKUS" : [ ] }, { "ProductSKU" : "19203221", "ProductUniqueId" : "4105301", "warrantySKUS" : [ ] }, { "ProductSKU" : "19319963", "ProductUniqueId" : "4300379", "warrantySKUS" : [ ] }, { "ProductSKU" : "19319967", "ProductUniqueId" : "4300381", "warrantySKUS" : [ ] }, { "ProductSKU" : "19319968", "ProductUniqueId" : "4300382", "warrantySKUS" : [ ] }, { "ProductSKU" : "19319971", "ProductUniqueId" : "4300383", "warrantySKUS" : [ ] }, { "ProductSKU" : "19319973", "ProductUniqueId" : "4300384", "warrantySKUS" : [ ] }, { "ProductSKU" : "19319976", "ProductUniqueId" : "4300385", "warrantySKUS" : [ ] }, { "ProductSKU" : "19319979", "ProductUniqueId" : "4300386", "warrantySKUS" : [ ] }, { "ProductSKU" : "19319981", "ProductUniqueId" : "4300387", "warrantySKUS" : [ ] }, { "ProductSKU" : "19319983", "ProductUniqueId" : "4300388", "warrantySKUS" : [ ] }, { "ProductSKU" : "19319984", "ProductUniqueId" : "4300389", "warrantySKUS" : [ ] }, { "ProductSKU" : "19319986", "ProductUniqueId" : "4300390", "warrantySKUS" : [ ] }, { "ProductSKU" : "19319988", "ProductUniqueId" : "4300391", "warrantySKUS" : [ ] }, { "ProductSKU" : "19319975", "ProductUniqueId" : "4300394", "warrantySKUS" : [ ] }, { "ProductSKU" : "19319977", "ProductUniqueId" : "4300395", "warrantySKUS" : [ ] }, { "ProductSKU" : "19319978", "ProductUniqueId" : "4300396", "warrantySKUS" : [ ] }, { "ProductSKU" : "19319980", "ProductUniqueId" : "4300397", "warrantySKUS" : [ ] }, { "ProductSKU" : "19319982", "ProductUniqueId" : "4300398", "warrantySKUS" : [ ] }, { "ProductSKU" : "19319985", "ProductUniqueId" : "4300399", "warrantySKUS" : [ ] }, { "ProductSKU" : "19319987", "ProductUniqueId" : "4300400", "warrantySKUS" : [ ] }, { "ProductSKU" : "19319989", "ProductUniqueId" : "4300401", "warrantySKUS" : [ ] }, { "ProductSKU" : "19319990", "ProductUniqueId" : "4300402", "warrantySKUS" : [ ] }, { "ProductSKU" : "19319994", "ProductUniqueId" : "4300403", "warrantySKUS" : [ ] }, { "ProductSKU" : "19319995", "ProductUniqueId" : "4300404", "warrantySKUS" : [ ] }, { "ProductSKU" : "19319998", "ProductUniqueId" : "4300405", "warrantySKUS" : [ ] }, { "ProductSKU" : "19320000", "ProductUniqueId" : "4300406", "warrantySKUS" : [ ] }, { "ProductSKU" : "19320002", "ProductUniqueId" : "4300407", "warrantySKUS" : [ ] }, { "ProductSKU" : "19320005", "ProductUniqueId" : "4300408", "warrantySKUS" : [ ] } ] }
PROTECTION PLAN
(optional)
Info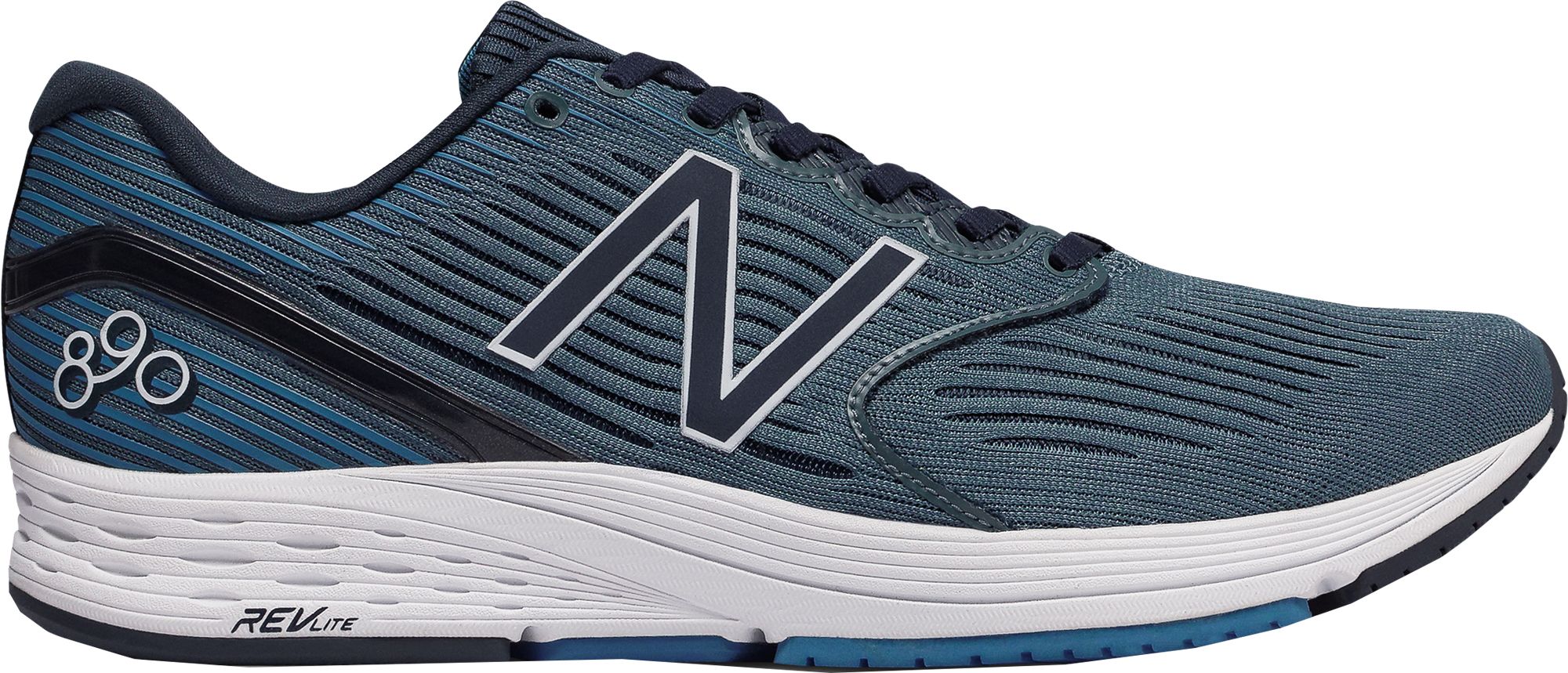 New Balance Men's 890 v6 Running Shoes
Selected Option Not Available to Ship
Selected Option Not Available For Pickup
PDP Sticky bottom AddToCart Section - active and hide position
This product is currently out of stock.
Please choose product options above
Please choose product options above
Back and better than ever, the New Balance® 890 v6 picks up right where the series left off and includes tech updates to keep you feeling great on your next run. The upper is created with engineered mesh for a light yet supportive fit, and combines with arch-hugging bootie construction for a comfortable and reliable fit while you put the miles in during the next training cycle. A full-length REVlite midsole offers cushioned comfort and keeps you feeling light and springy mile after mile.
FEATURES:
Engineered mesh upper offers flexibility and support
No-sew material application keeps the fit light while you run
Bootie construction ensures a secure and comfortable fit when moving
REVlite midsole design creates responsive cushioning
TPU forefoot strips create a fast underfoot feeling
Rubber in the outsole maintains grip and durability
SPECS:
Shoe type: Neutral
Drop: 6mm
Weight: 9.6oz
Brand: New Balance
Country of Origin: Imported
Style: M890BK6D
Web ID: 17NWBM890V6DBLKVDRNN