Nike Men's Flat Front Golf Pants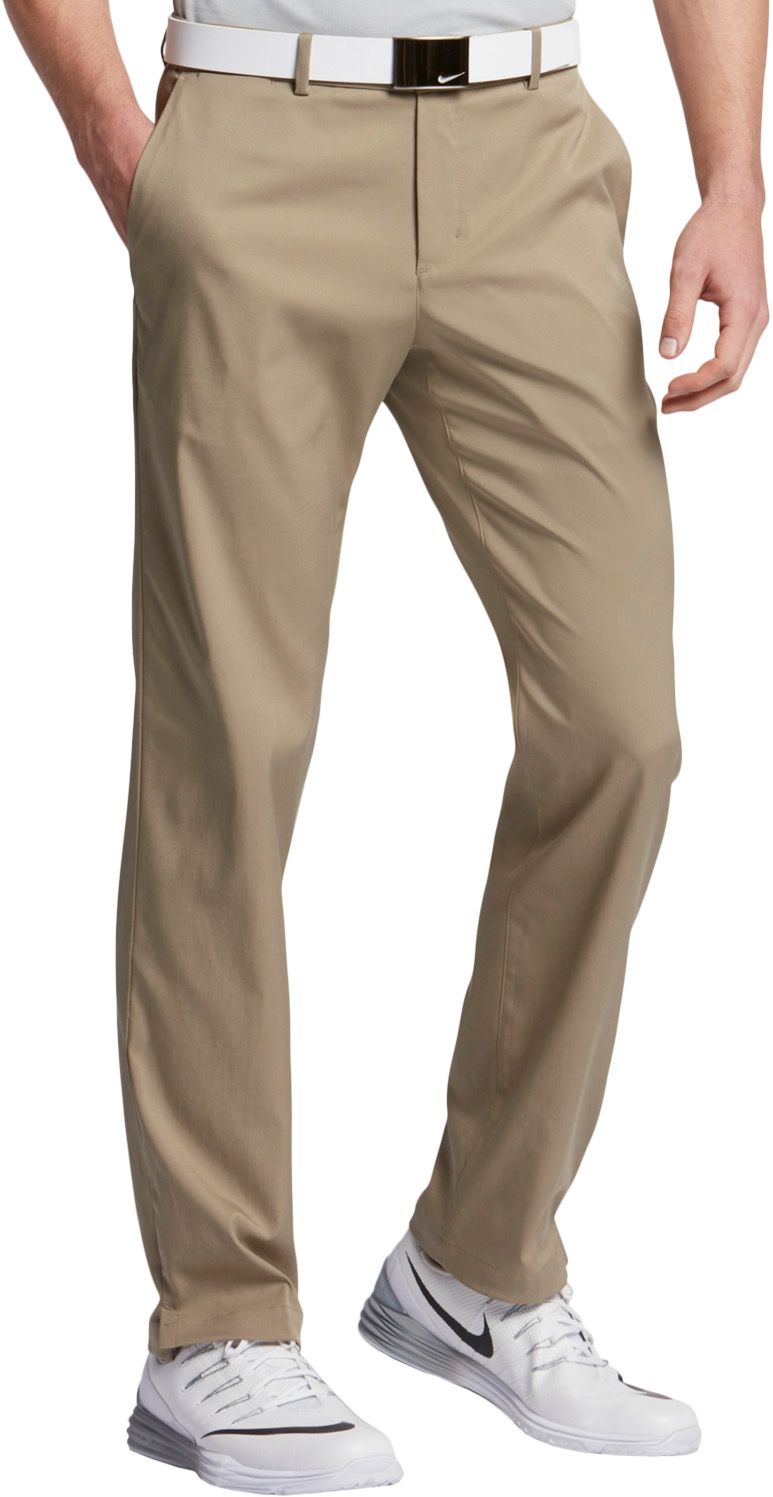 The price of the product might be updated based on your selection
{ "warrantyData" : [ { "ProductSKU" : "17130517", "ProductUniqueId" : "2667242", "warrantySKUS" : [ ] }, { "ProductSKU" : "17130518", "ProductUniqueId" : "2667243", "warrantySKUS" : [ ] }, { "ProductSKU" : "17130520", "ProductUniqueId" : "2667244", "warrantySKUS" : [ ] }, { "ProductSKU" : "17130521", "ProductUniqueId" : "2667245", "warrantySKUS" : [ ] }, { "ProductSKU" : "17130523", "ProductUniqueId" : "2667247", "warrantySKUS" : [ ] }, { "ProductSKU" : "17130525", "ProductUniqueId" : "2667248", "warrantySKUS" : [ ] }, { "ProductSKU" : "17130527", "ProductUniqueId" : "2667249", "warrantySKUS" : [ ] }, { "ProductSKU" : "17130535", "ProductUniqueId" : "2667253", "warrantySKUS" : [ ] }, { "ProductSKU" : "17130537", "ProductUniqueId" : "2667254", "warrantySKUS" : [ ] }, { "ProductSKU" : "17130539", "ProductUniqueId" : "2667255", "warrantySKUS" : [ ] }, { "ProductSKU" : "17130542", "ProductUniqueId" : "2667256", "warrantySKUS" : [ ] }, { "ProductSKU" : "17130543", "ProductUniqueId" : "2667257", "warrantySKUS" : [ ] }, { "ProductSKU" : "17130547", "ProductUniqueId" : "2667259", "warrantySKUS" : [ ] }, { "ProductSKU" : "17130548", "ProductUniqueId" : "2667260", "warrantySKUS" : [ ] }, { "ProductSKU" : "17155589", "ProductUniqueId" : "2667262", "warrantySKUS" : [ ] }, { "ProductSKU" : "17155590", "ProductUniqueId" : "2667263", "warrantySKUS" : [ ] }, { "ProductSKU" : "17155592", "ProductUniqueId" : "2667265", "warrantySKUS" : [ ] }, { "ProductSKU" : "17155593", "ProductUniqueId" : "2667266", "warrantySKUS" : [ ] }, { "ProductSKU" : "17155595", "ProductUniqueId" : "2667268", "warrantySKUS" : [ ] }, { "ProductSKU" : "17155596", "ProductUniqueId" : "2667269", "warrantySKUS" : [ ] }, { "ProductSKU" : "17155602", "ProductUniqueId" : "2667274", "warrantySKUS" : [ ] }, { "ProductSKU" : "17155604", "ProductUniqueId" : "2667275", "warrantySKUS" : [ ] }, { "ProductSKU" : "17155608", "ProductUniqueId" : "2667277", "warrantySKUS" : [ ] }, { "ProductSKU" : "17155610", "ProductUniqueId" : "2667278", "warrantySKUS" : [ ] }, { "ProductSKU" : "17155614", "ProductUniqueId" : "2667280", "warrantySKUS" : [ ] }, { "ProductSKU" : "17155616", "ProductUniqueId" : "2667281", "warrantySKUS" : [ ] }, { "ProductSKU" : "17155626", "ProductUniqueId" : "2667286", "warrantySKUS" : [ ] }, { "ProductSKU" : "17155628", "ProductUniqueId" : "2667287", "warrantySKUS" : [ ] }, { "ProductSKU" : "17155634", "ProductUniqueId" : "2667289", "warrantySKUS" : [ ] }, { "ProductSKU" : "17155637", "ProductUniqueId" : "2667290", "warrantySKUS" : [ ] }, { "ProductSKU" : "17155644", "ProductUniqueId" : "2667292", "warrantySKUS" : [ ] }, { "ProductSKU" : "17155646", "ProductUniqueId" : "2667293", "warrantySKUS" : [ ] }, { "ProductSKU" : "17155661", "ProductUniqueId" : "2667298", "warrantySKUS" : [ ] }, { "ProductSKU" : "17155664", "ProductUniqueId" : "2667299", "warrantySKUS" : [ ] }, { "ProductSKU" : "17155671", "ProductUniqueId" : "2667301", "warrantySKUS" : [ ] }, { "ProductSKU" : "17155673", "ProductUniqueId" : "2667302", "warrantySKUS" : [ ] }, { "ProductSKU" : "17155677", "ProductUniqueId" : "2667304", "warrantySKUS" : [ ] }, { "ProductSKU" : "17155680", "ProductUniqueId" : "2667305", "warrantySKUS" : [ ] }, { "ProductSKU" : "17155695", "ProductUniqueId" : "2667310", "warrantySKUS" : [ ] }, { "ProductSKU" : "17155700", "ProductUniqueId" : "2667311", "warrantySKUS" : [ ] }, { "ProductSKU" : "17155704", "ProductUniqueId" : "2667313", "warrantySKUS" : [ ] }, { "ProductSKU" : "17155707", "ProductUniqueId" : "2667314", "warrantySKUS" : [ ] }, { "ProductSKU" : "17155713", "ProductUniqueId" : "2667316", "warrantySKUS" : [ ] }, { "ProductSKU" : "17155716", "ProductUniqueId" : "2667317", "warrantySKUS" : [ ] }, { "ProductSKU" : "17155728", "ProductUniqueId" : "2667322", "warrantySKUS" : [ ] }, { "ProductSKU" : "17155729", "ProductUniqueId" : "2667323", "warrantySKUS" : [ ] }, { "ProductSKU" : "17155733", "ProductUniqueId" : "2667325", "warrantySKUS" : [ ] }, { "ProductSKU" : "17155735", "ProductUniqueId" : "2667326", "warrantySKUS" : [ ] }, { "ProductSKU" : "17155740", "ProductUniqueId" : "2667328", "warrantySKUS" : [ ] }, { "ProductSKU" : "17155741", "ProductUniqueId" : "2667329", "warrantySKUS" : [ ] } ] }
PROTECTION PLAN
(optional)
Info
This product is currently out of stock.
Please choose product options above
Please choose product options above
PDP Sticky bottom AddToCart Section - active and hide position
From the opening tee to the final green, the Nike® Flat Front Pants keep you outfitted in tour-winning comfort. The Dri-FIT® fabric wicks moisture away from the skin to the outer layer for rapid evaporation. The stretch fabrication allows you to move freely as you swing, stride, or crouch to get a read on a birdie putt. The pockets at the sides and back offer versatile storage options for keeping your golf equipment within arm's reach.
FEATURES:
Lightweight Dri-FIT® fabric wicks moisture
Stretch fabrication allows you to move freely
Button waist and zip fly
Pockets at sides and back waist for versatile storage
Brand: Nike
Country of Origin: Imported
Fabric Content: 95% Polyester / 5% Spandex
Style: 833194
Web ID: 16NIKMNKFLTFRNTPNAPB