Nike Men's Force Zoom Trout 4 Mid Metal Baseball Cleats
The price of the product might be updated based on your selection
{ "warrantyData" : [ { "ProductSKU" : "17968113", "ProductUniqueId" : "3929485", "warrantySKUS" : [ ] }, { "ProductSKU" : "17968114", "ProductUniqueId" : "3929486", "warrantySKUS" : [ ] }, { "ProductSKU" : "17968117", "ProductUniqueId" : "3929487", "warrantySKUS" : [ ] }, { "ProductSKU" : "17968119", "ProductUniqueId" : "3929488", "warrantySKUS" : [ ] }, { "ProductSKU" : "17968123", "ProductUniqueId" : "3929490", "warrantySKUS" : [ ] }, { "ProductSKU" : "17968125", "ProductUniqueId" : "3929491", "warrantySKUS" : [ ] }, { "ProductSKU" : "17968134", "ProductUniqueId" : "3929495", "warrantySKUS" : [ ] }, { "ProductSKU" : "17968230", "ProductUniqueId" : "3929498", "warrantySKUS" : [ ] }, { "ProductSKU" : "17968232", "ProductUniqueId" : "3929499", "warrantySKUS" : [ ] }, { "ProductSKU" : "17968235", "ProductUniqueId" : "3929500", "warrantySKUS" : [ ] }, { "ProductSKU" : "17968238", "ProductUniqueId" : "3929501", "warrantySKUS" : [ ] }, { "ProductSKU" : "17968241", "ProductUniqueId" : "3929502", "warrantySKUS" : [ ] }, { "ProductSKU" : "17968242", "ProductUniqueId" : "3929503", "warrantySKUS" : [ ] }, { "ProductSKU" : "17968244", "ProductUniqueId" : "3929504", "warrantySKUS" : [ ] }, { "ProductSKU" : "17968247", "ProductUniqueId" : "3929505", "warrantySKUS" : [ ] }, { "ProductSKU" : "17968248", "ProductUniqueId" : "3929506", "warrantySKUS" : [ ] }, { "ProductSKU" : "17968250", "ProductUniqueId" : "3929507", "warrantySKUS" : [ ] }, { "ProductSKU" : "17968253", "ProductUniqueId" : "3929508", "warrantySKUS" : [ ] }, { "ProductSKU" : "17968255", "ProductUniqueId" : "3929509", "warrantySKUS" : [ ] }, { "ProductSKU" : "17968266", "ProductUniqueId" : "3929515", "warrantySKUS" : [ ] }, { "ProductSKU" : "17968268", "ProductUniqueId" : "3929516", "warrantySKUS" : [ ] }, { "ProductSKU" : "17968269", "ProductUniqueId" : "3929517", "warrantySKUS" : [ ] }, { "ProductSKU" : "17968270", "ProductUniqueId" : "3929518", "warrantySKUS" : [ ] }, { "ProductSKU" : "17968271", "ProductUniqueId" : "3929519", "warrantySKUS" : [ ] }, { "ProductSKU" : "17968272", "ProductUniqueId" : "3929520", "warrantySKUS" : [ ] }, { "ProductSKU" : "17968273", "ProductUniqueId" : "3929521", "warrantySKUS" : [ ] }, { "ProductSKU" : "17968274", "ProductUniqueId" : "3929522", "warrantySKUS" : [ ] }, { "ProductSKU" : "17968275", "ProductUniqueId" : "3929523", "warrantySKUS" : [ ] }, { "ProductSKU" : "17968276", "ProductUniqueId" : "3929524", "warrantySKUS" : [ ] }, { "ProductSKU" : "17968277", "ProductUniqueId" : "3929525", "warrantySKUS" : [ ] }, { "ProductSKU" : "17968278", "ProductUniqueId" : "3929526", "warrantySKUS" : [ ] }, { "ProductSKU" : "17968279", "ProductUniqueId" : "3929527", "warrantySKUS" : [ ] }, { "ProductSKU" : "18210907", "ProductUniqueId" : "3929530", "warrantySKUS" : [ ] }, { "ProductSKU" : "18210908", "ProductUniqueId" : "3929531", "warrantySKUS" : [ ] }, { "ProductSKU" : "18210909", "ProductUniqueId" : "3929532", "warrantySKUS" : [ ] }, { "ProductSKU" : "18210910", "ProductUniqueId" : "3929533", "warrantySKUS" : [ ] }, { "ProductSKU" : "18210911", "ProductUniqueId" : "3929534", "warrantySKUS" : [ ] }, { "ProductSKU" : "18210912", "ProductUniqueId" : "3929535", "warrantySKUS" : [ ] }, { "ProductSKU" : "18210913", "ProductUniqueId" : "3929536", "warrantySKUS" : [ ] }, { "ProductSKU" : "18210914", "ProductUniqueId" : "3929537", "warrantySKUS" : [ ] }, { "ProductSKU" : "18210915", "ProductUniqueId" : "3929538", "warrantySKUS" : [ ] }, { "ProductSKU" : "18210916", "ProductUniqueId" : "3929539", "warrantySKUS" : [ ] }, { "ProductSKU" : "18211035", "ProductUniqueId" : "3929558", "warrantySKUS" : [ ] }, { "ProductSKU" : "18211037", "ProductUniqueId" : "3929559", "warrantySKUS" : [ ] }, { "ProductSKU" : "18211038", "ProductUniqueId" : "3929560", "warrantySKUS" : [ ] }, { "ProductSKU" : "18211039", "ProductUniqueId" : "3929561", "warrantySKUS" : [ ] }, { "ProductSKU" : "18211040", "ProductUniqueId" : "3929562", "warrantySKUS" : [ ] }, { "ProductSKU" : "18211041", "ProductUniqueId" : "3929563", "warrantySKUS" : [ ] }, { "ProductSKU" : "18211042", "ProductUniqueId" : "3929564", "warrantySKUS" : [ ] }, { "ProductSKU" : "18211043", "ProductUniqueId" : "3929565", "warrantySKUS" : [ ] }, { "ProductSKU" : "18211044", "ProductUniqueId" : "3929566", "warrantySKUS" : [ ] }, { "ProductSKU" : "18211045", "ProductUniqueId" : "3929567", "warrantySKUS" : [ ] }, { "ProductSKU" : "18211046", "ProductUniqueId" : "3929568", "warrantySKUS" : [ ] }, { "ProductSKU" : "18211047", "ProductUniqueId" : "3929569", "warrantySKUS" : [ ] }, { "ProductSKU" : "18211048", "ProductUniqueId" : "3929570", "warrantySKUS" : [ ] }, { "ProductSKU" : "18211335", "ProductUniqueId" : "3929590", "warrantySKUS" : [ ] }, { "ProductSKU" : "18211337", "ProductUniqueId" : "3929591", "warrantySKUS" : [ ] }, { "ProductSKU" : "18211340", "ProductUniqueId" : "3929592", "warrantySKUS" : [ ] }, { "ProductSKU" : "18211341", "ProductUniqueId" : "3929593", "warrantySKUS" : [ ] }, { "ProductSKU" : "18211343", "ProductUniqueId" : "3929594", "warrantySKUS" : [ ] }, { "ProductSKU" : "18211345", "ProductUniqueId" : "3929595", "warrantySKUS" : [ ] }, { "ProductSKU" : "18211347", "ProductUniqueId" : "3929596", "warrantySKUS" : [ ] }, { "ProductSKU" : "18211354", "ProductUniqueId" : "3929599", "warrantySKUS" : [ ] } ] }
PROTECTION PLAN
(optional)
Info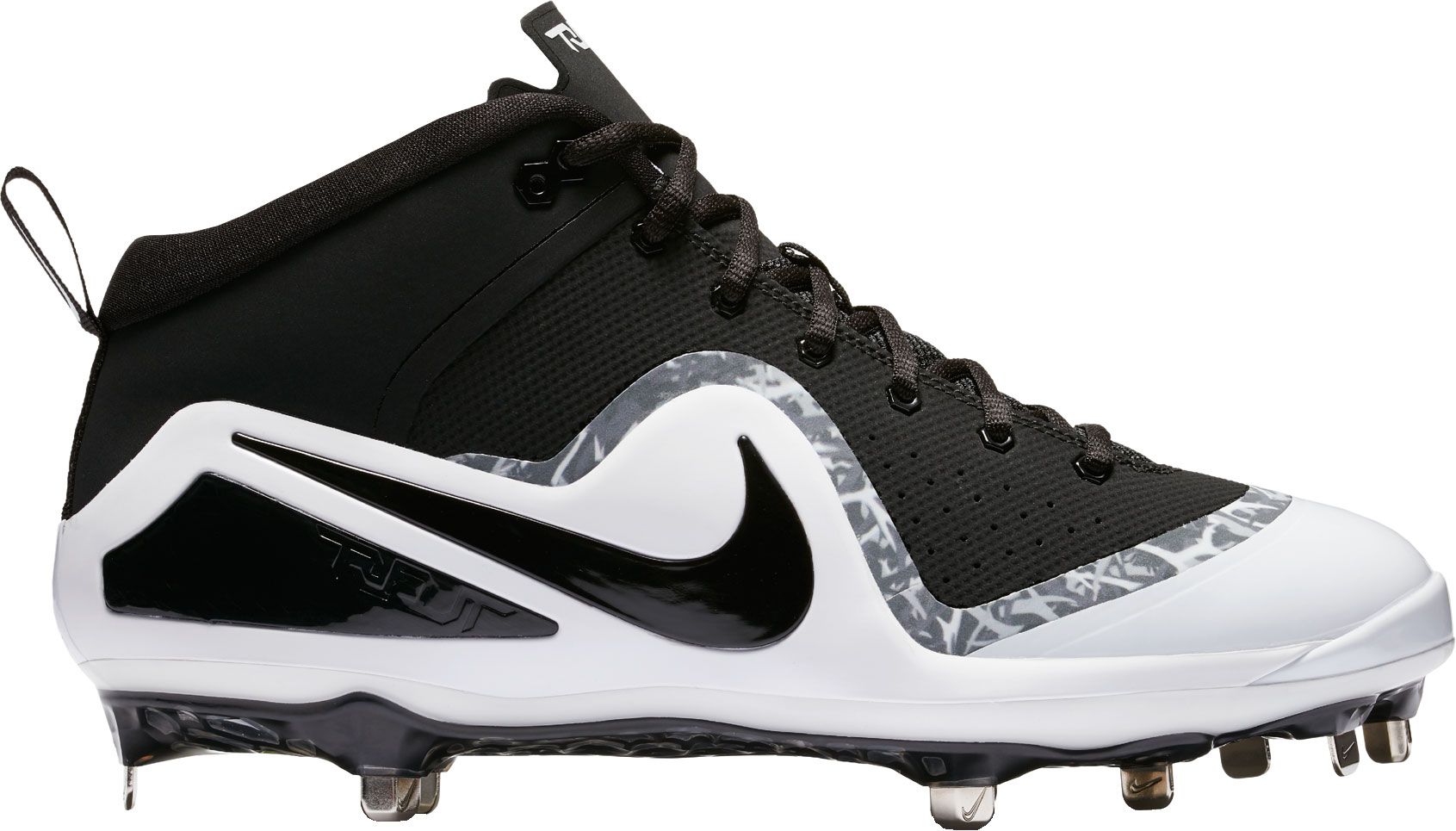 Nike Men's Force Zoom Trout 4 Mid Metal Baseball Cleats
Selected Option Not Available to Ship
Selected Option Not Available For Pickup
PDP Sticky bottom AddToCart Section - active and hide position
This product is currently out of stock.
Please choose product options above
Please choose product options above
Start your pursuit for greatness in the Force Zoom Trout IV. A synthetic upper with no-sew gloss overlay on the toe offers you an improved fit and added durability. A foam wing stabilizes your feet during baseball movements while a hexagonal Zoom Air unit helps reduces impact and cleat pressure. The Nike® Force Zoom Trout 4 baseball cleats have a firm but flexible TPU plate for enhanced stability while a generative plate that is data-informed from Mike Trout improves stability and flexibility on the diamond.
FEATURES:
Gusseted tongue helps block dirt
No-sew gloss overlay at the toe enhances durability
5/8-height foam collar adds cushioning around the ankle
Foam wing provides stability while rounding the bases
Hexagonal Zoom Air units help absorb impact
TPU plate is firmer for stability while still allowing flexibility
Generative plate is data-informed directly from Mike Trout for stability and flexibility
Brand: Nike
Style: 917837
Web ID: 18NIKMFRCZMTRT4BLSTL