Nike Women's Air Max Sequent 3 Running Shoes
The price of the product might be updated based on your selection
{ "warrantyData" : [ { "ProductSKU" : "18353600", "ProductUniqueId" : "3725929", "warrantySKUS" : [ ] }, { "ProductSKU" : "18353605", "ProductUniqueId" : "3725930", "warrantySKUS" : [ ] }, { "ProductSKU" : "18353610", "ProductUniqueId" : "3725931", "warrantySKUS" : [ ] }, { "ProductSKU" : "18353620", "ProductUniqueId" : "3725932", "warrantySKUS" : [ ] }, { "ProductSKU" : "18353628", "ProductUniqueId" : "3725933", "warrantySKUS" : [ ] }, { "ProductSKU" : "18353638", "ProductUniqueId" : "3725934", "warrantySKUS" : [ ] }, { "ProductSKU" : "18353648", "ProductUniqueId" : "3725935", "warrantySKUS" : [ ] }, { "ProductSKU" : "18353656", "ProductUniqueId" : "3725936", "warrantySKUS" : [ ] }, { "ProductSKU" : "18353666", "ProductUniqueId" : "3725937", "warrantySKUS" : [ ] }, { "ProductSKU" : "18353674", "ProductUniqueId" : "3725938", "warrantySKUS" : [ ] }, { "ProductSKU" : "18353731", "ProductUniqueId" : "3725949", "warrantySKUS" : [ ] }, { "ProductSKU" : "18353733", "ProductUniqueId" : "3725950", "warrantySKUS" : [ ] }, { "ProductSKU" : "18353735", "ProductUniqueId" : "3725951", "warrantySKUS" : [ ] }, { "ProductSKU" : "18353737", "ProductUniqueId" : "3725952", "warrantySKUS" : [ ] }, { "ProductSKU" : "18353738", "ProductUniqueId" : "3725953", "warrantySKUS" : [ ] }, { "ProductSKU" : "18353739", "ProductUniqueId" : "3725954", "warrantySKUS" : [ ] }, { "ProductSKU" : "18353740", "ProductUniqueId" : "3725955", "warrantySKUS" : [ ] }, { "ProductSKU" : "18353741", "ProductUniqueId" : "3725956", "warrantySKUS" : [ ] }, { "ProductSKU" : "18353742", "ProductUniqueId" : "3725957", "warrantySKUS" : [ ] }, { "ProductSKU" : "18353743", "ProductUniqueId" : "3725958", "warrantySKUS" : [ ] }, { "ProductSKU" : "18487926", "ProductUniqueId" : "3725969", "warrantySKUS" : [ ] }, { "ProductSKU" : "18487925", "ProductUniqueId" : "3725970", "warrantySKUS" : [ ] }, { "ProductSKU" : "18487923", "ProductUniqueId" : "3725971", "warrantySKUS" : [ ] }, { "ProductSKU" : "18487920", "ProductUniqueId" : "3725972", "warrantySKUS" : [ ] }, { "ProductSKU" : "18487918", "ProductUniqueId" : "3725973", "warrantySKUS" : [ ] }, { "ProductSKU" : "18487917", "ProductUniqueId" : "3725974", "warrantySKUS" : [ ] }, { "ProductSKU" : "18487916", "ProductUniqueId" : "3725975", "warrantySKUS" : [ ] }, { "ProductSKU" : "18487915", "ProductUniqueId" : "3725976", "warrantySKUS" : [ ] }, { "ProductSKU" : "18487914", "ProductUniqueId" : "3725977", "warrantySKUS" : [ ] }, { "ProductSKU" : "18487913", "ProductUniqueId" : "3725978", "warrantySKUS" : [ ] }, { "ProductSKU" : "18487910", "ProductUniqueId" : "3725981", "warrantySKUS" : [ ] }, { "ProductSKU" : "18487909", "ProductUniqueId" : "3725982", "warrantySKUS" : [ ] }, { "ProductSKU" : "18487908", "ProductUniqueId" : "3725983", "warrantySKUS" : [ ] }, { "ProductSKU" : "18487907", "ProductUniqueId" : "3725984", "warrantySKUS" : [ ] }, { "ProductSKU" : "18487906", "ProductUniqueId" : "3725985", "warrantySKUS" : [ ] }, { "ProductSKU" : "18487905", "ProductUniqueId" : "3725986", "warrantySKUS" : [ ] }, { "ProductSKU" : "18487904", "ProductUniqueId" : "3725987", "warrantySKUS" : [ ] } ] }
PROTECTION PLAN
(optional)
Info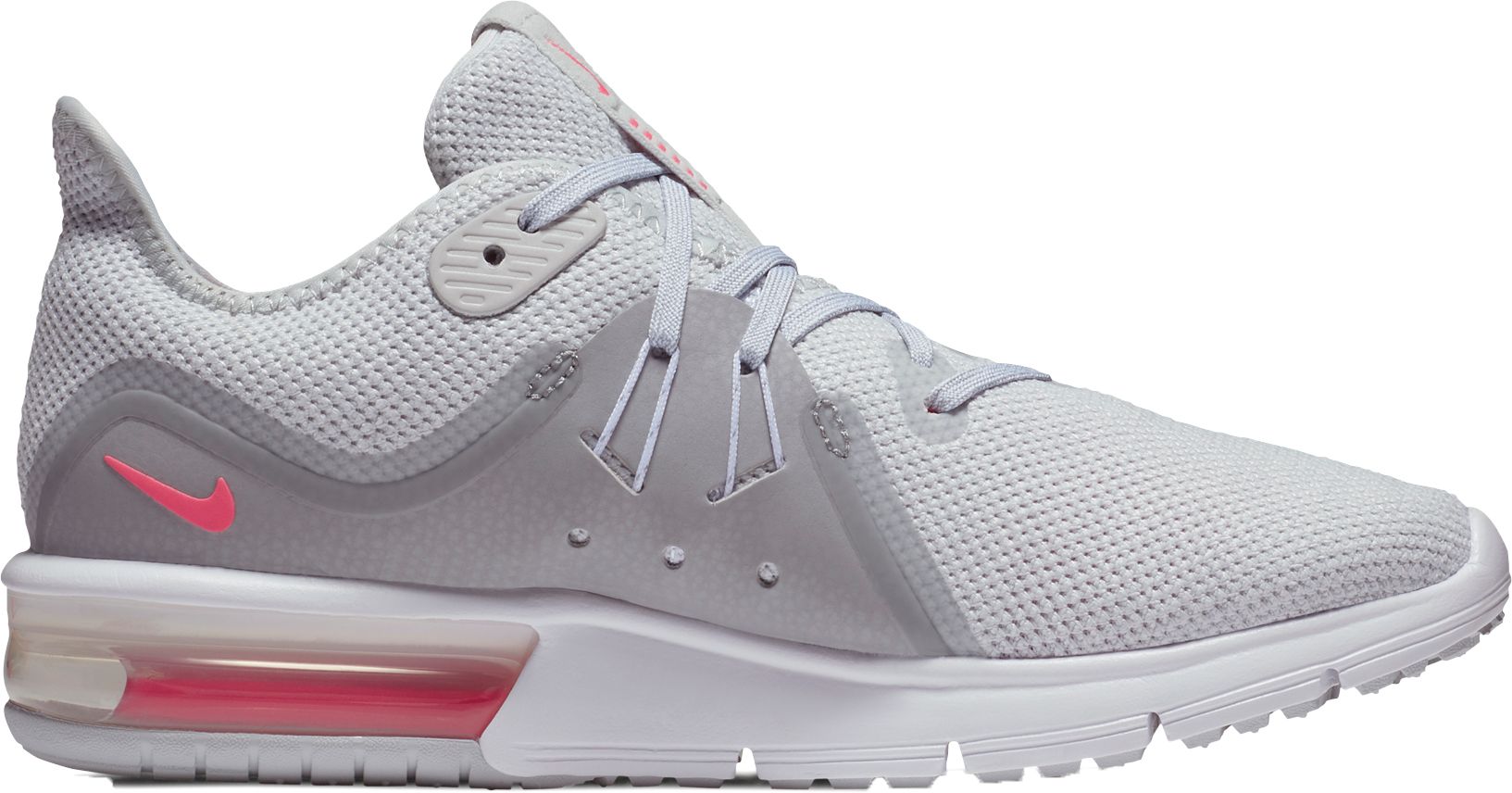 Nike Women's Air Max Sequent 3 Running Shoes
Selected Option Not Available to Ship
Selected Option Not Available For Pickup
PDP Sticky bottom AddToCart Section - active and hide position
This product is currently out of stock.
Please choose product options above
Please choose product options above
With design details nodding to the original Air Max, the Nike® Women's Air Max Sequent 3 running shoe delivers resilient cushioning with a smooth transition. 4-way stretch knit throughout the upper expands and contracts with your foot while working with the partial bootie to deliver a secure feel. The articulated forefoot design works with the deep flex grooves for a smooth, natural range or motion through footstrike. Complete with flywire cables for a secure fit while the U-shaped Max Air unit adds plenty of bounce to your step.
FEATURES:
Stretch-knit upper expands and contracts with your foot
U-shaped Max Air unit provides responsive cushioning
Flywire cables deliver secure lock down
4-way stretch knit throughout the upper expands and contracts with your foot
Partial bootie construction delivers a secure feel
Injected Phylon (IP) midsole adds lightweight cushioning and comfort
Articulated forefoot design works with the deep flex grooves for a natural range of motion through footstrike
Segments of solid rubber under the toe and heel enhance durability in high wear zones
Brand: Nike
Country of Origin: Imported
Style: 908993
Web ID: 17NIKWRMXSQNT3XXXSPR