Nikon COOLSHOT 20 Golf Laser Rangefinder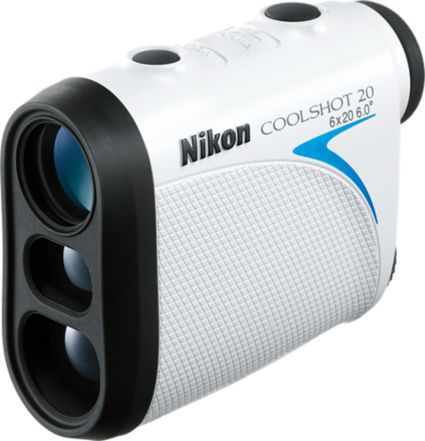 Nikon COOLSHOT 20 Golf Laser Rangefinder
is rated out of
5
by
72
.
This product is currently out of stock.
Please choose product options above
Please choose product options above
PDP Sticky bottom AddToCart Section - active and hide position
Product Information:
Experience the little tool that packs a powerful punch by using a COOLSHOT 20 Laser Rangefinder. Nikon®'s most compact and lightest model features a 6x monocular design that is accurate to +/- 1 yd. within 100 yards and +/- 2 yds. from over 100 yards. 8-second continuous measurement capability features First Target Priority, which provides distance to the closest object and equips the Nikon® COOLSHOT 20 Rangefinder with superior utility.
FEATURES:
Most compact and lightest model of the Nikon® golf electronics line
6x monocular design features Nikon®'s legendary optics to provide bright, clear images
Long eye relief design engineered to ensure easy viewing for golfers who wear eyeglasses
Wide temperature tolerance (14° F to 122° F) allows for extreme weather reliability
Accurate to +/- 1 yd. within 100 yards and +/- 2 yds. from over 100 yards with a max range of 550 yards
Simply press the POWER button to receive 8 seconds of continuous measurement to multiple objects
First Target Priority technology measures the closest chosen object for unmatched ease of use
CR2 Lithium Battery x 1 (DC 3V) power source ensures long-lasting dependability
Auto power shut-off function engaged after 8 seconds of inactivity
Durable, rainproof construction provides all-weather reliability
Rangefinder measures approximately 3.6" x 2.9" x 1.5"
Device weighs approximately 4.4 oz. (without battery)
USGA approved for Tournament Play
Manufacturer's Warranty: 2-Years
Brand: Nikon
Country of Origin: Imported
Style: 16200
Tech Specs:
| Model | Range | Increment | Magnification | Angular Field Of View | Display | Diopter Adjustment | Power | Size | Weight | Objective Diameter |
| --- | --- | --- | --- | --- | --- | --- | --- | --- | --- | --- |
| COOLSHOT 20 | 6 - 550 yards | 1 yards | 6x | 6° | yards | ±4° | 1 CR2 lithium battery | 3.6'' x 1.5'' x 2.9'' | 4.4 oz | 20 mm |
Rated 3 out of 5
by
Texas_Wedge
from
Disappointed
I bought this in August to replace on old, cheap rangefinder. I should have saved my money. This one doesn't perform any better than my old cheap unit. I have a hard time locking in on a flag when there's no wind blowing the flag out. I thought it was just my unsteady hand, so I tried a playing partner's Leupold unit and locked on to the flag almost instantly. In this particular case, the flag was about 175 yards out. I don't have the steadiest of hands, but if one unit works great and the other doesn't, then it's not me...it's the unit. On the bright side, it's small and simple to use when you do get a reading.
Date published: 2015-10-23
Rated 5 out of 5
by
Nickc
from
Great buy for the price, definitely worth it!
Finder works as stated and is perfect for finding distance. Only negative is that this doesn't work in the fog ( but I am assuming most range finders don't). One other thing to note is that this device doesn't include 'grades' or inclines' which many of the more expensive versions do. I didn't need it so this was really the perfect finder for me!!!!
Date published: 2015-06-04
Rated 5 out of 5
by
Mokh1
from
Accurate
So simple to use. Lock in on flag. Pull out Iron and shank to the right. I'm still a horrible golfer but at least I know how far I screwed up from!!
Date published: 2018-02-14
Rated 4 out of 5
by
Shawn04
from
Excelent when it works so, so when it doesn't
Product has excellent optics and great distance. Feels solid in the hand and battery life is on par with competitors. Where it falls down is if you are not locked on a flag say your firing at a fairway layup area it some times ( I would say 3-5% of the time) wont lock on a grassy area. This was not a chronic issue at all just every once in awhile say every 3rd round or so. But otherwise on par with Bushnell but just slightly under performs in that one aspect so only 4 stars.
Date published: 2015-06-25
Rated 3 out of 5
by
chaz
from
Good enough for an amateur.
The first impression I got from opening the package was it looked like a toy. It is close to half the size of a regular rangefinder; which makes it look a little childish. It can switch modes from metric to standard. It comes set up as standard. To use, you press button closest to viewfinder once to turn on and once again to start 8 sec worth of continuous range-finding. this is key, because it allows you to cross check the distance to the flag with other distances around the green. I would not recommend this rangefinder for any other use than golf. easy to use up to 180 yds, gets a little tricky thereafter up to 260 yd. I wouldn't trust anything beyond that. Good enough to get the job done for an amateur golfer.
Date published: 2015-06-12
Rated 5 out of 5
by
mcdonne
from
Very good rangefinder
I have been using this rangefinder for only a couple of weeks but it has already saved me some consternation on the golf course. It allows me to better assess the distance to the green from just about anywhere on the course, assuming I am within a 3 wood distance. It is very easy to use right out of the box. I just strap it to my push cart strap and it is right at hand when needed. I am sure it has saved me a few shots that I would have otherwise misread the right club usage for.
Date published: 2016-05-03
Rated 5 out of 5
by
PaulK
from
Great little rangefinder
So far, I really like this rangefinder. It is very small and light, and easily fits in your pocket without feeling bulky. It is very easy to use, and takes only a second or two to give you a reading. I am very pleased with it so far (only used it few times).
Date published: 2016-06-11
Rated 4 out of 5
by
PinSeeker
from
Cool little tool
It is definitely helpful to know your distances on the course, regardless of your skill level. I just bought this product and have only had the chance to use it a few times so far, but it has been great. My buddy has a Bushnell, and when compared side by side they gave exactly the same reading.I have two minor issues with it, though. First is the size. It is a little small, which makes it tough to keep steady. I know this is a common issue with all rangefinders, but I think that with something a little bigger it would be easier to manage. The other issue is the distance limit. Although I'll never hit it further than the range limit on this device, I would still like to know how far away that bunker down the fairway is - just for my own peace of mind.I would definitely recommend this product, but I will most likely be returning it to buy the COOLSHOT 40 instead - a little bigger, and much longer range.
Date published: 2016-06-08