Nite Ize GlowStreak LED Ball and SpotLit Combo Dog Toy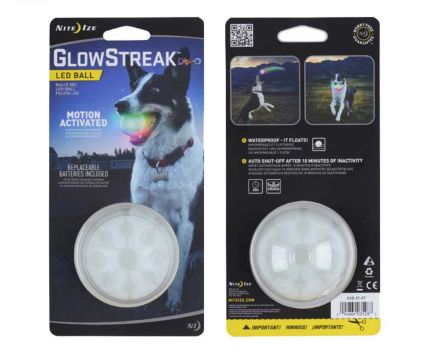 Nite Ize GlowStreak LED Ball and SpotLit Combo Dog Toy
is rated out of
5
by
37
.
This product is currently out of stock.
Please choose product options above
Please choose product options above
PDP Sticky bottom AddToCart Section - active and hide position
Product Information:
The Nite Ize® GlowStreak™ LED Ball and SpotLit Combo Dog Toy features a durable design for a pooch that is ready for a game of fetch. This dog toy lights up its path of travel and shuts off after ten minutes of inactivity. For a hot summer day, your pup will enjoy the waterproof and floatable design! With included batteries, some night games are in your future with the Nite Ize® GlowStreak™ LED Ball and SpotLit Combo Dog Toy.
GLOWSTREAK™ LED BALL FEATURES:
Durable LED Ball for nighttime play
Motion activated
Auto shut-off after 10 minutes of inactivity
Durable rubber construction
Waterproof - it floats!
Run time: 35 hours
2 replaceable CR2032 batteries included
Diameter: 2.5"
Weight: 3.9oz
SPOTLIT LED COLLAR FEATURES:
Push on/off
Glows and flashes
Water resistant
Run time: Glow: 20 hours | Flash: 25 hours
Easily replaceable 2x 2016 batteries included
Dimensions: 2.12" x 1.28" x 0.85"
Weight: 0.56oz
Model: GSBC-07-R7
Brand: Nite Ize
Country of Origin: Imported
Web ID: 16NIZAGLWSTRKBLLSHUA
Rated 3 out of 5
by
Keira & Harry
from
Love the ball....when it works
My dog loooves this ball. Especially for those dark winter mornings and evenings, it makes fetch soo much easier. However, the LED didn't last long. After a couple weeks, it became super inconsistent and flickered in an out. I thought the batteries were dying, so replaced them, but a few days later, the same thing. This is an outdoor ball, but it seems like the battery pack is getting damp from the moisture and now looks almost rusty? I live in Vancouver so its going to get wet so this is really disappointing. This ball has potential to be amazing, or its going to get really expensive when i have to keep replacing the battery pack.
Date published: 2018-12-05
Rated 5 out of 5
by
Undisclosed
from
My dog absolutely LOVES this ball. It fits in a chuckit thro
My dog absolutely LOVES this ball. It fits in a chuckit thrower, and you can use during day or night. The ball glows brightly at night, which makes it perfect for evening use. The new design is much improved over the old product, and is superior to other LED balls like the Chuckit LED dog ball. This ball is waterproof, and practically indestructable (although I wouldn't recommend using it as a chew toy). The auto on/off feature is great for preserving battery life. The 2 coin cell batteries have lasted over 10 months so far. Definitely worth the extra money to purchase this high quality product! My dog and I are extremely happy with the product and I highly would recommend it.
Date published: 2016-10-30
Rated 3 out of 5
by
J&J&Radar
from
Love That it Lights up!!
We bought this ball a couple of weeks ago for our energetic lab/boxer mix! Fetch is the only thing that wears him out. We live in Alaska and it's dark by the time we get off work 5-6 months out of the year so a glowing ball seemed to be the answer to our prayers! We were so disappointed when the ball stopped working after only three times playing fetch. We tried replacing the batteries and everything. There weren't any warnings about playing with it in the cold.... We love it so much but we don't really want to try to buy a new one not knowing if it's just going to die again... :(
Date published: 2018-11-27
Rated 2 out of 5
by
Cwcanada
from
Works for awhile
We used to love these balls, but everyone we've owned(5) has had the centre pop out. After repeated throws the light part shears off the threads and pops out, it can not be reinstalled because the threads are gone. I'm not talking the battery cover, but the whole inner piece the batteries/lights are in.
Date published: 2019-01-17
Rated 5 out of 5
by
Kahousto
from
If I could give this ball 10 stars I would!
First let me say I have bought 20 plus light up balls and this one is by far the BEST ever. First, the size is perfect (about a tennis ball). Second it is light weight (perfect for fetch). Third, the colors are awesome and bright. Added bonuses are that it is waterproof, floats and has replaceable batteries. It is worth every penny and I can honestly tell you that I will be enjoying this ball for many years to come with my dog. Great product, my only complaint is that I didn't find it sooner!
Date published: 2017-05-20
Rated 5 out of 5
by
Rick
from
Perhaps the best product I've bought all year
I bought the red LED GlowStreak a couple weeks ago and my 18 month old yellow lab and I have used it every night since. Living in MN we have many short days and long nights. This is a great product. Very durable, my lab can destroy just about anything and this shows no wear or damage so far(I do follow the recommendation not to use it as a chew toy or leave it unattended with the her). I just love the extra time I get to get in one more exercise session with her at or after dusk. I'm going to buy another as a gift for my daughters lab. The only thing I can think of in the way of caution is to know the area well where you throw it so the excited chasing dog doesn't run into something and get injured, especially eye injury. But that has nothing to do with the product, rather that is an owner issue. I wish everything I bought made me (and my dog) this happy.
Date published: 2017-12-01
Rated 5 out of 5
by
Satisfied Customer
from
No title could summarize my dog's love for this
This is the first review I've ever written, because is the first product I've ever thought every person (with dogs) should have. I live in the north of Canada, and I've got two male golden retrievers. One of them loves fetch more than anything in the world, and the other one legitimately lives to retrieve. He was trained as a hunting dog before we got him as an adult, and we don't hunt. With deep snow from November to June, playing fetch with balls had been impossible. UNTIL NOW! This ball is bright enough to see in the pitch dark 2 feet down in snow! It's durable, bright, and entirely weather proof. Get this product. Thank you for reading my review. Sincerely, Satisfied customer
Date published: 2018-11-16
Rated 5 out of 5
by
All dogs are gorgeous!
from
This product is super cool!
I love this ball! It's so fun! It changes from toxic waste green to Little Mermaid aqua to hot magma red.... It's kinda trippy when a dog runs up to you in the dark and drops a glowing orb at your feet. Or, watching a mini UFO bobbing along in the dark at knee height. ;P
Date published: 2017-04-06