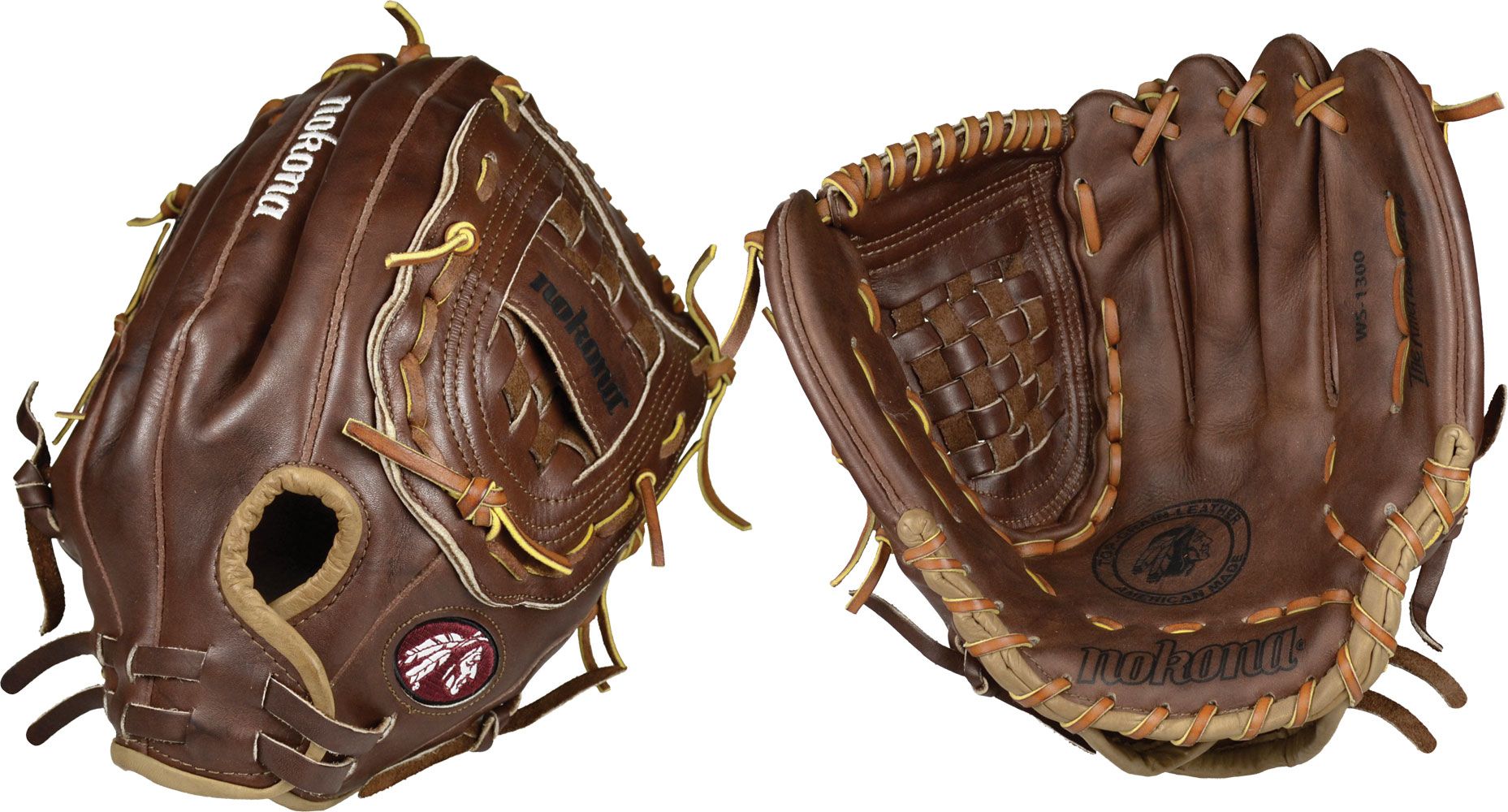 Out of Stock
Nokona 13" Classic Walnut Series Slow Pitch Glove
Nokona 13" Classic Walnut Series Slow Pitch Glove
is rated out of
5
by
22
.
Product Information:
Dominate the field with superior comfort and performance wearing the Nokona® 13" Classic Walnut™ Series Glove. Versatile enough for Fastpitch or Slow Pitch softball, the 13" Classic Walnut™ Glove is crafted with pride in the USA from Nokona's® legendary "Crunch" leather for incredible shape, control and feel. Other features include a Basket web pattern and a closed back.
** Learn more about Glove Steam-Fitting Services available at select DICK's Sporting Goods locations **FEATURES:
Can be used for Fastpitch or Slow Pitch softball
Legendary Walnut Crunch™ leather is sturdy and strong, yet becomes soft and pliable once broken in
Extra wide pocket to accommodate a 12" softball
Closed back
Weight: 810g
Handcrafted in the USA
Manufacturer's limited warranty: 1 year
SPECS:
Size: 13"
Age: Adult
Sport: Slow Pitch Softball, Fastpitch Softball
Position(s): Third Base, Pitcher, Outfielder
Web: Basket Web
Series: Classic Walnut
Model: WS-1300C
For additional information relating to the Manufacturer's Warranty, please contact 1-800-433-0957.
Brand: Nokona
Country of Origin: United States of America
Web ID: 16NOKA13CLSSCWLNTBGL
Rated

5

out of

5
by
Anonymous
from
excellent glove and customer service also DO NOT STEAM TO BREAK IN
I bought this as an allpurpose glove for coaching little league/playing with my son but also for playing slow pitch with the fellow aging rock and rollers (49). This glove is well made, a bit stiff but if you get Nokonas oil (much better than liquid as it is a gel like stuff that offers more control and deeper penetration) .and play with it, it breaks in beautifully and in not that much time. its worth the money and I like that it is American made.Nokona also stands behind their product which hooks me into a company immediately. The glove (my 2nd, more on that below) had a problem with the webbing/basket as it was bending into the palm rather than out to form a nice pocket. No matter how much I tried, it wouldnt reshape. I couldnt figure it out so called Nikona who asked to see a photo, then called me back and told me to send it in. They picked up all shipping charges. I got it back about a month later. They had fixed the problem and included at no charge a tube of their oil. They couldnt have done a better job helping me and taking care of the problem. We are having an exceptionally warm fall right now so Im able to get out there and use it. Its breaking in nicely, the pocket is forming and I love this glove. Will never go back to Rawlings. Nokona has won a faithful customer and evangelist for thier product.Now, my breakin tip is this: DO NOT STEAM this glove. This glove is very stiff off the shelf so the guy at Dicks recommended steaming it. He did so and the next weekend warming up with another coach the stitching tore and the glove was useless. I looked at it closely and noticed that the leather stitching had shrunk, dried out and was cracking EVERYWHERE. I took it back to Dick's and they replaced it (through the internet# at no cost but even the manager said the cause was probably the steaming. The replacement glove was the one I mentioned above with the webbing problem..I noticed on the tag of the new glove that the warranty is void if you steam it. so, once again DO NOT STEAM THIS GLOVE!.After all this, I still highly recommend this glove for its performance, feel (as it shaped to my hand quickly), and more importatnly that the AMERICAN company who makes this is a pleasure to work with and stands behind their product. Real people from Texas answer the phone/emails and are very helpful in a timely manner. Thanks Nokona!
Date published: 2015-12-18
Rated

5

out of

5
by
Anonymous
from
Best glove made!
Without a doubt this is the finest glove made...anywhere! I don't know where they get it but the leather is amazing, the coloring is absolutely beautiful and the craftsmanship is unparalleled. This is the third Nokona glove I've purchased for my son, starting in high school and I wouldn't spend my money on any other brand. A bit pricey but worth every penny and as an added bonus it is made in America.
Date published: 2014-12-20
Rated

5

out of

5
by
Anonymous
from
Awesome ball glove!!!!!!!!
Great glove. I always wanted a Nakona glove as a kid but couldn't afford one. I figured since this is the last glove I would ever buy so I finally got my Nakona. Most well built glove I've ever had. It has extra padding at the base of the fingers so no sting if you don't catch the ball in the pocket. It was really easy to break in. Expensive but it should outlast my 10 year old son's baseball career.
Date published: 2014-08-05
Rated

5

out of

5
by
Anonymous
from
nokona glove
Great glove! Game ready. The leather is soft and easy to handle. Had a hard time letting my Rawlings Gold glove go but this nokona feels just as good
Date published: 2014-05-14
Rated

5

out of

5
by
Anonymous
from
Great Glove!
I love the glove! It took a little work to break in but recommend to anyone. No steam, No microwave just Nokona Conditionera malet and a little elbow grease to break in. Oh yeah! And alittle one on one catch time with the son. Priceless!
Date published: 2014-04-22
Rated

5

out of

5
by
Anonymous
from
American Made Gem
Nokona is top quality. Don't be afraid to move away from Rawlings or Wilson.
Date published: 2013-08-27
Rated

4

out of

5
by
Anonymous
from
Excellent Glove!!
This glove is the best that I have had yet. I play women's college softball and so I wanted a glove that would last throughout all the games and practices and not fall apart mid-season (like some of the other gloves I have had in the past). This glove has proven to be true and is very durable. I don't think I'll ever buy another glove after this. Only down side is that it took a while to break in--but once it is, it is AMAZING. I would most defiantly recommend this glove to anyone.
Date published: 2013-08-21
Rated

5

out of

5
by
Anonymous
from
The best glove I have ever owned.
This is the best glove I've ever owned and I have had a few. With four kids all played ball. Now I have six grandkids. This will be the last glove I'll ever have to buy. Don't know why I waited so long.
Date published: 2013-07-04