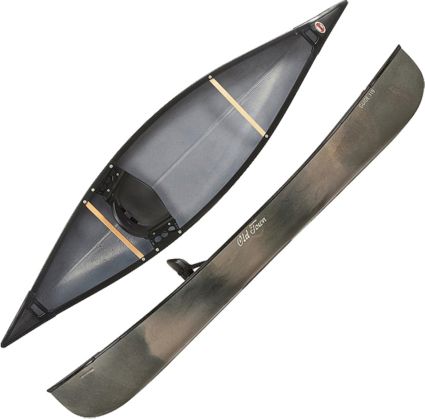 Old Town Guide 119 Canoe
is rated out of
5
by
58
.
The price of the product might be updated based on your selection
This product is currently out of stock.
Please choose product options above
Please choose product options above
PDP Sticky bottom AddToCart Section - active and hide position
This item will ship via a truckload carrier and will be delivered to your destination per the service level that you choose in checkout.  Estimated delivery dates are shown at checkout.
Product Information:
The Old Town Guide 119 canoe is agile, stable and easy to handle. It's even well-suited for a double-bladed paddle! And thanks to the construction process, it's tough without being too heavy. Enjoy a relaxing paddle around your favorite lake in the contoured seat with adjustable folding backrest. Carry handles make it easy to transport the Guide 119 to and from the shore.
FEATURES:
1 person canoe
Dimensions: 11'9'' x 32.5"
Bow Height: 19"
Depth: 13.5"
Weight: 49 lbs
Capacity: 450-500 lbs
Contoured seat with adjustable folding backrest
Lightweight and easy to carry
Durable 3-layer construction
Unique beamy cross section and stabilizing chines
Straight sides
Bottom shallow arch
Carry handles
Paddles not included
Manufacturer's lifetime hull and deck warranty from original purchase date and original owner
Model # CEH00551
Brand: Old Town Canoe
Country of Origin: United States of America
Web ID: 16OTOAGD119CNXXXXPSC
Rated 5 out of 5
by
MaineBrookieWrangler
from
Best Solo Canoe For Your $$$$
This little solo canoe is excellent. The camo looks very nice. I actually like the seat a lot in contrast to what others have to say about it. All I do is put a thin hunting cushion in and it makes a big difference. The canoe is a little tippy when you first get in, but once you get situated it paddles like a dream! It paddles very fast and tracks very true because it has a keel on the bottom. Very lightweight can throw right over your shoulder and go! Can't beat Old Town's 3 layer polyethylene canoes. They are the most durable canoes I have ever used. A must buy for both fisherman or hunter who wants to get into remote spots!
Date published: 2015-06-28
Rated 5 out of 5
by
ngneer
from
119
Bought this boat in June of this year. Have been able to use it only once on a river with class II water, which is what I bought it for mainly. Will fish when I get fitted with the boat. Very happy on just 1 outing, will take some time to get use to it. I'm use to a tandem canoe. If you don't boat very much, I can see where some reviews I have read would say it gets tippy. If you have some paddle time under your belt, then no. Can't comment on the seat, took it out when I got home, had a Perception saddle for it. It will work out great, once I get my padding situated, ankles, knees, etc. Love it, think it will be a long time floater.
Date published: 2013-07-17
Rated 5 out of 5
by
Doveman
from
Handles like a kayak, with lots of room for gear!
Recently purchaced the Guide 119, and have taken three trips. I'm 6'3", 260 lbs. First trip on a calm lake to check it out. Found it to be little tippy, and did not track well with a canoe paddle. Had to switch sides every second stroke, to keep it strait. Purchased a 240 cm Kayak Paddle, for my second trip. This was a river trip, with Class 1,2 and 3 Rapids, It handled great, very much like a kayak! Stays out of the water 6-8 inches, and only in the water 4-5 inches. Third trip was a river trip with Class 1& 2 Rapids. Fished in calm waters and had a great time! Holds my weight (260), and plenty of gear just fine! Can't wait to see what it can do, in Class 4 Rapids!
Date published: 2013-07-03
Rated 5 out of 5
by
RC
from
built for real outdoors men and women
My first review was 5 years ago and I gave this boat 4 stars, now I'm giving this boat 5 stars after having used many kayaks! This is a great hunting and fishing canoe , raise or lower the seat to fit your liking,and purchase a double paddle and your set, you don't need to strap down on top your gear like a most kayaks. If this boat is unstable for you you should buy a larger canoe , My Kayak buddies always want me to haul some of their gear ! If you float fish and camp a river this boat or the larger 2 seater is the deal, however if you drink La-ta's at starbucks you should buy a "tready" kayak .
Date published: 2017-01-08
Rated 5 out of 5
by
JCali
from
Awesome boat
Purchased this canoe a few months ago and used primarily on rivers and lakes so far with great results. Used it yesterday in Tampa bay mangroves and loved it. While the kayakers were schlepping their kayaks off their trailers, loaded it up with gear and positioned on a dolly, I threw my Guide 119 over my shoulder with a backpack, paddle and fishing rod and walked to the ramp. Guys told me "no fair, too light" and was on the water in no time flat. Super windy in the bay yet the boat tracked extremely well, even against the wind and held it's position during gusts. I was able to stand and cast and drift along the mangroves with great stability. To me, the ability to get on and off the water quickly with this light boat is the greatest attribute of the Guide 119. It has more than enough storage, I got around with ease and tracked straight with a "J" stroke. I was concerned about the wind but it wasn't a problem at all. I can't say enough about this fantastic boat. Get it, you'll be glad you did.
Date published: 2018-04-14
Rated 4 out of 5
by
the larch
from
This canoe is one fix away from being awesome
Using a kayak paddle, this thing is great on rivers or lakes. The only problem with it is the seat. You always feel like you are not really in it. I took the plastic seat completly out and built a lowered plank seat that would accept any canoe style cushioned back seat. Awesome. Anyone who thinks this canoe is tippy (with a lowered seat) hasn't spent much time paddling.This is a great solo camping/fishing option for anyone. It's very easy to get into and out of. You can pack it to the gills and it's durable.With a kayak paddle, you can turn 90degrees in one hard sweep, but it still tracks really well.You're not going to find anything else under $500 that is under 50lb, can displace almost 500lbs, and is durable. Awesome boat...just fix the stupid seat.
Date published: 2014-06-25
Rated 5 out of 5
by
KYRiverRat
from
Great Caone
This is a great boat. It will hold a ton of gear. I recently took it on a 4-day river trip where we primitive camped, and it held all my gear while still maintaining excellent maneuverability and swiftness in the water. I was even able to fit a coleman 5 day extreme cooler in front of me when I took the wheels off. It wedges in perfect. The only drawback I experienced was the seat. The hard plastic seat leaves a lot to be desired. This is the only drawback this canoe has to a kayak. Find a good gel cushion. I used a low profile stadium seat and sat on a towel too. It did okay over the four day trip, but I'm still going to try and figure something else out. Oh, and a double sided kayak paddle is a must. Just awesome. I was taking a 10ft kayak on our 3-4 day river trip, but this is the boat I'm taking from now on. All the benefits of a small boat like a kayak, and all the benefits of a canoe too.
Date published: 2015-11-03
Rated 5 out of 5
by
BASSER
from
GREAT CANOE
THIS CANOE IS A AWSOME CANOE IF YOU GET ONE THAT HAS A FLAT BOTTOM,I PURCHASED TWO OF THEM FROM DICKS AND ONE WAS FLAT BOTTOM AND THE OTHER ONE WAS ROUNDED,I DIDNT NOTICE IT UNTIL THIS YEAR LOOKING A BOTH CANOES UPSIDE DOWN,SO I CALLED DICKS AND THEY TOOK CARE OF IT.I SWAPED THE ROUNDED ONE FOR A FLAT ONE NOW VERY STABLE,AWSOME CANOE.FOR THE PEPOLE WHO HAVE WROTE REVIEWS ABOUT YOUR CANOE BEING UNSTABLE TRY CALLING OLD TOWN OR TRY DICKS IF IT IS A UNDER A YEAR OLD BECAUSE YOU PROBALY HAVE A DEFECTIVE CANOE WHERE THE BOTTOM IS ROUNDED AND NOT FLAT,GET A FLAT ONE AND YOU WILL BE HAPPY AS I AM.......
Date published: 2014-06-18