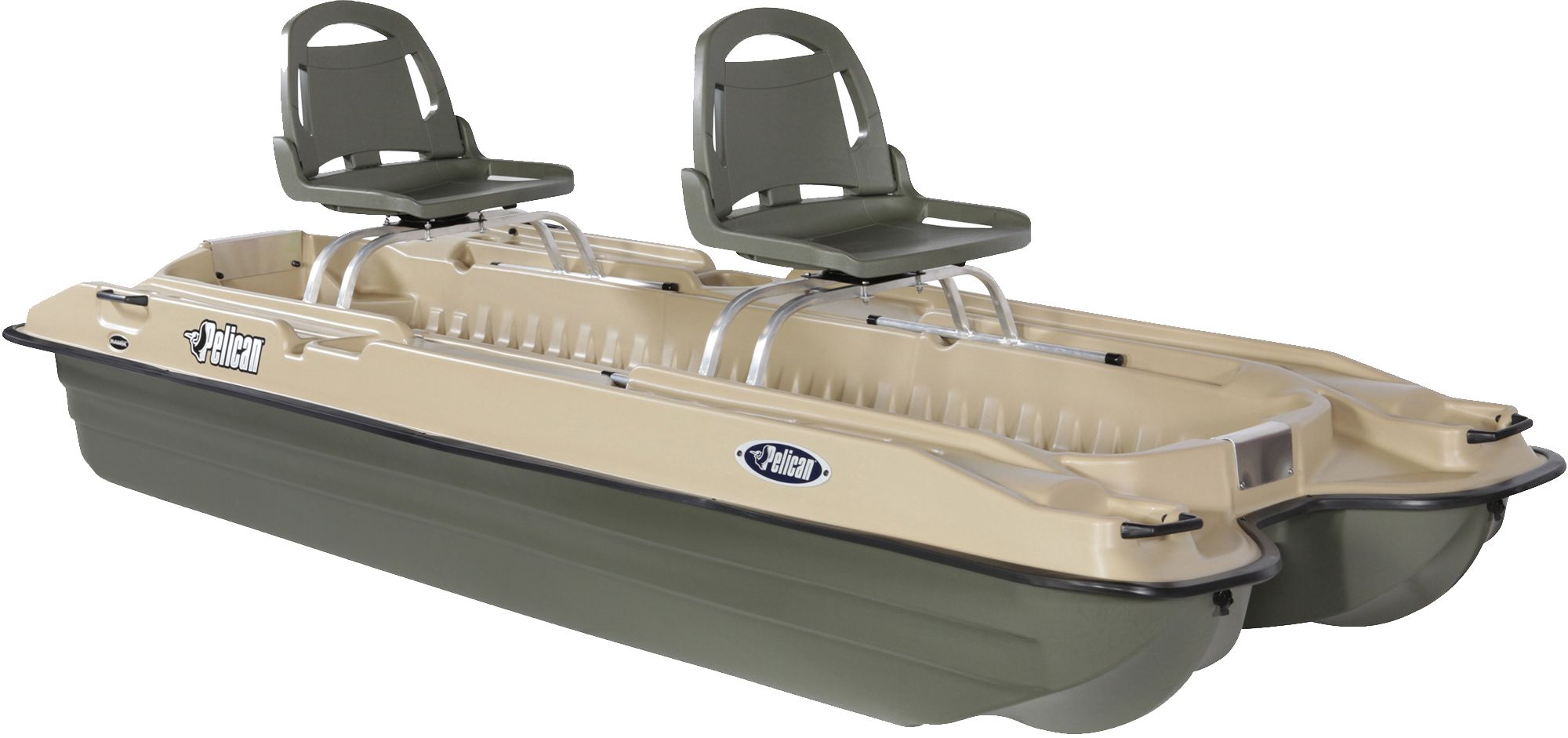 Out of Stock
Pelican Bass Raider 10E Fishing Boat
Pelican Bass Raider 10E Fishing Boat
is rated out of
5
by
31
.
Product Information:
The Pelican® Bass Raider 10E Fishing Boat is designed with high impact-resistant Ram-X™ materials and has all the essentials for the avid fishermen. This boat is prewired for electric trolling motors, includes bow/stern built-in motor mounts and sits on two pontoons for extra stability. Also included are drink holders, carrying handles and removable swivel seats.
FEATURES:
2-person fishing boat
Ram-X™ hull materials
Two adjustable/removable swivel seats
Bow and stern built-in motor mounts
Prewired for electric trolling motors
12 V electrical outlet
Drink holders
Carrying handles
Multiple compartments
Two vertical rod holders
For additional information relating to the Manufacturer's Warranty, please contact 1-888-463-6960.
Specifications:
Length: 10'2"
Beam: 50"
Weight: 145 lbs
Capacity: 600 lbs
HP rating: 3.5 HP
Manufacturer's 2-year limited extended warranty on hull and deck, 1-year on parts and accessories
DISCLAIMER: At this time, Dick's Sporting Goods is unable to sell this product to Louisiana residents.
Model: BBA10P409
Pelican
Brand: Pelican
Country of Origin: Imported
Web ID: 15PELUBSSRDRLCTRCPSO
Rated

5

out of

5
by
Marsha44
from
Removable seats, place and wiring for motorto put
Bought this for my grandson and his parents and they were thrilled with the boat.
Date published: 2017-08-11
Rated

2

out of

5
by
Tn45
from
Need better system of registering
They didn't have anyway to help me register this boat so I could use it out on bigger bodies of water with trolling motor. In Tennessee if it has motor it has to be registered. Dicks told me clerks office could do it, clerks office said dicks would do it. Nightmare. Finally county clerk made it work. They need to get a system in place for such things. I understand they don't do this a lot but it was a hassle. The boat is great and price was great.
Date published: 2017-07-26
Rated

2

out of

5
by
Blacksmith
from
Nice Boat
Just returned this to Dicks.Thanks to them for great service.Boat will not track at all. Wont even follow the trolling motor. Front end blows around on water like a paper cup on the water.
Date published: 2017-05-11
Rated

5

out of

5
by
Horrible requirement
from
Better than the next boat
$100 cheaper than the Pond Prowler. The handles also allow easier transport, plus a place to tie lines without drilling into the hull. I've added more than 150# of gear plus I weigh in about 400. This boat performed very well. Would not want to venture out to a large lake, but stability is great compared to John boats. Glad I made this purchase over BPS version.
Date published: 2017-04-05
Rated

5

out of

5
by
Anonymous
from
This is great boat for fishing
I have had this boat since 2005. It has held up very well. I would highly recommend it to anyone wanting a good quality boat that holds up.
Date published: 2016-08-13
Rated

5

out of

5
by
Anonymous
from
Perfect Pond Hopper
Quality is very good, if your looking for a pond hopper where you cannot bring your bass boat and something you can toss in the back of your pickup here it is . Stable enough to not have to worry about capsizing and can be moved with a modest trolling motor. Light weight not to heavy at all for dragging around at launches. Gonna devise some wheels for it as I usually fish alone(or with my dog) not that I cannot drag it but would rather not worry about wearing it out. Great product just what I was looking for .Built a small deck for my dog who loves the water which fits on the rails for the chairs .
Date published: 2016-07-02
Rated

4

out of

5
by
Anonymous
from
Great first time boat for any fisherman
I try to get out fishing at least twice a week and usually had to borrow a kayak or canoe if I wanted to get to hard to reach places, but this boat is about the same price as a decent fishing canoe and a WHOLE LOT MORE value. I bought this about 5 days ago and couldn't be happier. I spent 8 straight hours out on the river trolling up and down the sides ripping out smallies with a buddy of mine. We stuck to the sides to avoid the larger boats but the wakes didn't cause any concern. Bought a 55lb thrust Minn Kota that did the job pushing us around with some force overall amazing boat for the lake/large pond fisherman.PROS: Comfort: The 10 feet are plenty of space for 2 30 year old 200lbish anglers with 7 foot baitcasters, a cooler of beverages, tackle and two trolling rods. The stock seats aren't bad. I did order new padded seats because I have a pregnant wife that will be accompanying me, but it isn't necessary. The seats swivel all the way around so there is never concern that you will cross lines with a fishing mate. Stability: This really surprised me. The larger boat's wake did very little to make us uncomfortable. If you steer the boat head on to the incoming waves, there is virtually no issues. When the wind blows, it doesn't drift too bad. I will be buying an anchor though to ensure I don't move. There were plenty of times we'd get caught up on a log or tree and had to move around/stand up which was easy to do without worrying about tipping. CONSAdd-on Design: So the only thing that I'm a little disappointed in was the design with add-ons in mind. Since the boat is virtually two pontoons built into plastic, you have to add a little to make it a legit bass fishing machine. The plastic has all kinds of waves ,shallow storage compartments and short sides that don't really allow you to mount anything flush on the boat. Deeper cup holders, better pole holders (not too stable) and some flat surfaces to be able to mount some lights, an anchor pulley system, or fish finder. All of these small inconveniences, with a little effort on the buyers side can make for a great experience and a fishing boat to pass down. All in all AWESOME Boat! Had the most fun fishing last weekend than I have in long time. One last thing though, I was a little disappointed in the quality of the product when I first picked it up. It is advertised as new but had some scratches on the side, The seats were just thrown in loosely and the rubber guard was peeling back in some spots. I think this has less to do with Pelican and more how the store handled it. I expect a new product when I buy at a sporting good store if advertised as new. I could have easily bought on craigslist for a couple hundred dollars cheaper. All cosmetic issues, but just a little disappointed in the store. I'd consider looking at craigslist for a lightly used one to save money, it'll probably look the same. Just make sure you get paperwork with it.
Date published: 2016-06-27
Rated

5

out of

5
by
Anonymous
from
7 years and still going!
I bought my Pelican for a song and a dance off of a guy who used it twice! There was not one scratch on it at all, I was amazed!The cup holders are not able to be used as cup holders, so they should be renamed gear/accessory compartments instead. Others have mentioned the difficulty in keeping more than 3 rods aboard and this is completely accurate. Between the two of us, we've lost 3 rods overboard in 7 years, one of them an expensive setup in a 25 ft depth which really hurt! If the outside railings were just a couple inches higher, it would be better. We've had to replace each of the seat brackets, but were able to get those cheap enough online. We've also added padded fishing seats for better comfort.We use a 55 lb thrust trolling motor mounted on the bow and it pulls our big butts around pretty nicely. We also have made some modifications adding additional wiring and added a Dragonfly 5 fish finder and some switches, so this rig has some bells and whistles and gets the job done nicely!My fishing partner and I collectively weigh 550 total. We use it for some cartopper tourneys and even some local tourneys on smaller bodies of water (or if not, we just stick to the edges and coves) against $30,000 bass boats when allowed and beat them! The joke often said is "The two biggest guys in the smallest boat catch the biggest fish!" We exceed the 600 lb limit often with our own weight, gear (including full size cooler filled with water and pump for a live well), extra full size battery and anything else you take fishing. I LOVE my Pelican and until I get a bigger bass boat, this will do just fine for awhile longer!
Date published: 2016-04-17