Perception Striker 11.5 Angler Kayak
Perception Striker 11.5 Angler Kayak
is rated out of
5
by
15
.
The price of the product might be updated based on your selection
This product is currently out of stock.
Please choose product options above
Please choose product options above
PDP Sticky bottom AddToCart Section - active and hide position
Product Information:
With a larger weight capacity and feature-heavy, the Perception® Striker 11.5 Kayak is your go-to for rec paddling or fishing. A tri-hull delivers superior stability while casting out, and the two-tiered molded-in seat is enjoyable for fishing, paddling or a little bit of both! Kayak Karrier handles aid in transport from the car to the shore.
FEATURES:
1-person, sit-on-top kayak
Designed for fishing and recreational paddling
Best use: lakes, slow moving rivers
8" deck plate
Tri-hull delivers superior stability
Tankwell with bungee
Accommodates large weight capacity without sacrificing performance
Stand-up assist strap for versatile use
Two-tier molded-in seat
Dual comfort seat options
Molded-in footwells
Center hatch offers storage
Molded-in side handles
Kayak Karrier handles for easy transport
Five-year limited manufacturer's warranty
SPECIFICATIONS:
Length: 11'5"
Width: 33"
Carry weight: 65 lbs.
Deck height: 17"
Maximum user weight capacity: 500 lbs.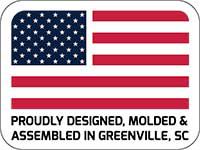 Brand: Perception
Country of Origin: United States of America
Style: STRIKER115
Web ID: 16PTNUSTRKR115XXXPSK
Rated 5 out of 5
by
chuck
from
I feel like I'm in my favorite lounge chair, hooked for life~
Don't want to sound like a broken record but the only complaint I have about this sucker is also the tracking.... That is something I'll be able to deal with tho as I don't think I've ever had this much fun fishing before. Stealth is the name of the game and this thing has all the comfort to me of my living room, plenty of storage space, stable, light weight as far as I'm concerned, and just lets you go places you normally couldn't. The only regret I have is that I don't have as much time to use it as I want to, if I had my way I'd be in it every day..... I did add an after market seat too and it is like riding in a Cadillac.... Couldn't be happier about the purchase!!!
Date published: 2015-07-16
Rated 5 out of 5
by
Specklefinder27
from
Best Kayak on the watere
I've had mine for about two months and have over 200+ hrs on the water with it. This is the best kayak I have seen out there. I sit on the top seat and paddle and it tracks great for me. I don't use the bottom seat for much except a town and any others random thing I have with me. I actually stand up and paddle sometimes just like a SUP. Very very stable. I have moved from front to back of the yak often. Never felt like I'd tip. I was in 25 mph wind today and spun around a few times but never felt like I'd fall in. Extremely fun yak. Scupper holes are deep enough to keep water from coming in. Even in prett good size wake the holes just spit minimal water. Every other yak will envy you as you float by standing up catching all the fish.
Date published: 2016-01-13
Rated 5 out of 5
by
justanotherjim
from
great all around fishing kayak
this is a very stable kayak,I got this during the winter and waited until i had it out a few times before i wrote this. this is a wide fishing yak and tracks like one, just as many others have wrote about, you wont be the fastest boat out there but you can trust you will get there safe. so if your a bigger person and you dont want to spend twice the cash to even come close to the 500lb capacity or get a much heavier yak, then this is worth looking at. this is a hard one to roll over from the lower seat but the upper one is not to play around on until you practice where the tipping point is(and i have been), I'm 6'3" 270lb and its got lots of room to stretch out you legs, a smaller person could dance around on it. plus at only 65lbs i can put it up on my min-van easily even after a long day fishing.
Date published: 2015-06-30
Rated 5 out of 5
by
Wilderness1971
from
Waited too long to purchase this Striker
Purchased this Striker during the Thanksgiving holiday and had it shipped to my home. Delivery was through ABF Transport and the driver was awesome. He helped me carry it to my garage where it sat until yesterday. Bright and early yesterday morning I set out to see if my back could take the setup. I am 5'11" and weigh 255lbs. I have experienced lower back pain since football and sitting on or in most anything only last for 30 or so minutes. I can say that at about hour 2 I had to remind myself that my back was not hurting. I paddled about 3 miles and had zero pain. I had loaded the yak up with all sorts of item I did not know that I did not need. Totally love the second level of seating. The yak felt completely stable at both levels. I noticed that if I dug in hard on the paddle the tracking would stray. But if I kept with smooth soft strokes it would glide without tracking issues. I think a good many people are coming from longer yaks when they complain of the tracking. At 255 with another 30 lbs of junk on board the water did not push up through the scruppers. All was good. After about an hour I was comfortable enough to attempt the stand. The strap worked good to give me mental support for rising. I do not think it really made a difference what so ever. My biggest struggle was to sit down after standing. This was more mental also. All and all I totally love this big beast. For the money, you cant beat it. The one I ordered arrived with an 1 anchor, 1 Scotty, and the anchor trolley already attached. I will most likely buy a high back Harmony seat but as she floats she is fine.I highly recommend this Perception Striker to anyone who loves to fish or is not comfortable with some of the other, more normal, less stable sit on tops. Trust me, you can not tip this yak unless you want to. My other yak is a Wilderness Tarpon 120. I will be choosing this Striker over the 120 because I do not need to choose what I should take with me on the day trip. With the Perception Striker 11.5 you can take it all without worries.
Date published: 2015-12-07
Rated 5 out of 5
by
justemily
from
Excellent sturdy fishing kayak
I love this boat! As a beginner I felt so nervous on my first kayak. The ocean kayak I was on tipped me out twice in a river. This tri hull allows for a crazy amount of security. You can lean , reach & stand. I am over 300 pounds and I wanted a boat that I could depend on to hold me & my gear, with no problems. You can not beat the 500lb weight limit! I can throw a leg over, fish and move around. If I ever want I can add a trolling motor and still have plenty of cushion.Now instead of watching from the sidelines I can row with my family.I love the color, I paddle right into the Lily pads and cast out. The camo green blends well and doesn't stick out like a sore thumb.This kayak has allot of self draining holes, so buying plugs can get pricey.I haven't found one negative aspect of this product.There were issues with shipping because I was emailed a ship day and kept waiting. Dicks does not in for you that the shipping company would call to set up a delivery. So because I do not answer unknown callers my delivery day was put off over a week, until I called them and drove to Philly for my boat.We recently took our boats up the Broad Creek river fishing & paddling. Seeing wild life and plants very few people explore, no crowds, relaxing.It was awesome!!Now I created a fun Facebook page to explore our area by kayak.If you considered this boat, buy it! I have not tipped and I've been crashed into by my kids, struck by a angry 24 inch carp and a mad beaver! It's stability can not be matched!
Date published: 2015-09-06
Rated 5 out of 5
by
Kayaking mama
from
Has everything you need!
I've had mine for 2 years and it's in great shape. I've used it on lake's and rivers and it does great on both types of water. I love fishing and this was the best purchase I could have made. I'm a small frame gal but it handles great.
Date published: 2017-04-01
Rated 5 out of 5
by
zyxuv
from
Pontoon boat kayak!
I bought this last year took it out a few time. It is very stable its like the Pontoon Boat of kayaks. Im a big guy 6 feet tall and 350lbs and this thing handles me on the lake just fine. Both my kids and use it at the same time and stand up at the same time without any tipping over. The only band thing i would say is it is heavy to carry and its not the fast kayak out there. But supper stable and comfortable. Make sure to buy a seat for it with a backrest that and a paddle and life jacket and your good to go!
Date published: 2018-04-19
Rated 5 out of 5
by
Pops64
from
Solid and stable fishing kayak
Have owned this kayak for 1 year now. I'm 6' 0" and weigh 225lbs. I was new to Kayaking. I fish in lagoons to large bays in the Great Lakes area (Lake Erie) The Kayak handles choppy water very well. I have never felt unstable in it at all. Standing up takes some getting use to, but now I can stand easily to stretch and fish. Very flexible layout to carry all kinds of gear and rig to your personal liking. The Yak paddles very well once underway. Does require a bit of "muscle" to get going. Tracks fairly well, but will wander in high winds. The anchor trolley is a welcomed factory provided rig in the wind. I picked up Yak Gear Manta Ray seat for longer fishing sessions. Fits well with factory pad eye set up on top seat. Easy to load and unload on my Subaru Forester alone using a boat bumper under a kayak car mat to slide yak from the back of vehicle onto cross bars atop vehicle. Love this Kayak.
Date published: 2018-03-04