PING Sigma 2 Tyne 4 Platinum Putter
PING Sigma 2 Tyne 4 Platinum Putter
is rated out of
5
by
26
.
This product is currently out of stock.
Please choose product options above
Please choose product options above
PDP Sticky bottom AddToCart Section - active and hide position
Product Information:
Bring a new level of performance to your short game with a PING Sigma 2 Putter. A Dual-Durometer Insert combines two hardnesses of PEBAX material to enhance performance on both short and long putts. Tour-proven True Roll face technology utilizes grooves that vary in width and depth to unlock consistent performance and distance control. Industry-first adjustable shaft length technology -- concealed within the grip – helps golfers find their optimal fit.
Sigma 2 Tyne 4 Model
Maintains the stability and ease of alignment found in the original Tyne, re-created with heel shaft placement
Short hosel design offers a distinctive – and most player-preferred – aesthetic at the time of address
Unique winged mallet profile with a heavier, 370g head creates smoother tempo and short putt consistency
Heel-shafted balance targets golfers with an increased amount of rotation during the putting stroke
Premium platinum putter head finish delivers timeless quality and style
Dual-Durometer PEBAX Insert with True Roll Face Pattern: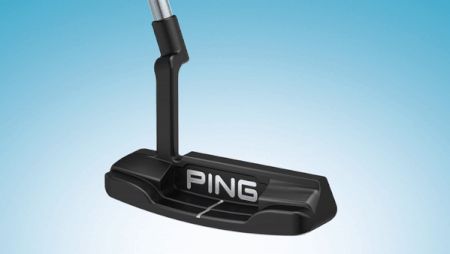 Designed for golfers who prefer a blend of softer response and firm face performance
Dual-Durometer insert combines two hardnesses of PEBAX material for player-preferred feel
Softer front layer ensures greater precision for those shorter, more delicate, must-make putts
Firmer back layer offers the solid feedback and distance control required for longer-range putts
True Roll face grooves vary in width and depth for consistent performance and distance control
Simple, Intuitive Shaft Length Adjustment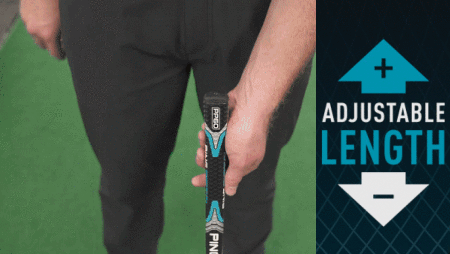 PING's research indicates 8 out of 10 golfers are playing with a putter that is the wrong length
Industry-first adjustable shaft length technology – concealed within grip – adapts length between 32" – 36"
Adjustment tool inserts into the top of the grip and modifies the length in ¼" increments with a full turn of dial
Affords golfers the ability to experiment with length until they're comfortable, ideally with eyes directly over ball
Grip orientation remains completely aligned with the face angle throughout the adjustment process
PING PP60 Pistol Putter Grip – Midsize:
Consistent pistol shape naturally fits into fingers for more consistent grip pressure in both hands
Foam under-listing dampens excess vibration at impact to provide soft, player-preferred response
Soft, tacky polymer construction with a deep link surface pattern enables comfort and wear resistance
Core Size: .580" | Weight: 50.5g | Installed Size: Midsize Putter
Brand: PING
Style: SG2TYNE4PLT60,SG2TYNE4PLT60LH
Web ID: 18PNGMSGM2TYN4PLTPTR
Tech Specs:
| Model | Loft | Lie | Length | Stroke Type | Head Weight |
| --- | --- | --- | --- | --- | --- |
| Sigma 2 Tyne 4 | 3° | 20° | Adjustable: 32" - 36" | Strong Arc | 370g |
Rated 5 out of 5
by
Willie
from
Superb!!!!
Recently bought the odyssey exo and traded it after two rounds—-balance and long putt feel was not there for me Bought the sigma 2 valor and am most impressed! Great putter from grip to toe! Excellent swing balance thru impact with great feel from short to long range! A KEEPER!!!!
Date published: 2018-11-09
Rated 5 out of 5
by
JHawaii
from
Finally a automatic putter.
Purchased the Sigma 2 Anser, first the adjustable shaft is brilliant, I have a shorter left arm than right so its always been a struggle to keep putter face on line but the longer lenght has taken that out of the equation. The tri layer face is remarkable the feel and touch is so different its so easy to roll the ball because the softer surface grabs ball and spins it as oppose to a hard surface where ball bounces off soon as ball contacts surface. 1-6 footer's 90% make, speed control from 20-30 feet 2-3 foot radius much easier.
Date published: 2019-02-16
Rated 5 out of 5
by
AlanF
from
FETCH is a Very Balanced Putter
Received a FETCH putter as a Christmas gift and after playing two rounds I have found my 'go to' putter. I do not change putters on a whim as I have been using the Cadence TR ANSER putter for the last two years. The SIGMA2 insert is a real innovation and my biggest surprise as I thought that insert may be too soft. It isn't too soft is just right. Furthermore the balance of the FETCH putter is exceptional. When you make a stroke the ball goes so smoothly off of the putter face and follows the line I had envisioned. A memory from childhood is the 'club pro' admonishing a member when he retrieved his ball from the hole by using a old blade putter. So I always retrieved by hand. With the FETCH I can retrieve without touching the grass/soil ring at the top of the hole. It really is quite amazing! What a great present!
Date published: 2018-12-29
Rated 5 out of 5
by
2down
from
Swiss Army knife putter.
I've had it for a month now and love it. Broke par the other day. Also, beyond fetching the ball and the length adjustment you can also tamp the sides of the hole back into place you can also put a ball into the putter line it up and draw a perfect line on the ball for alignment.
Date published: 2018-11-26
Rated 5 out of 5
by
Ray2027
from
Fantastic Putter
Ping could only make such a putter. Love the soft feel. The adjustable shaft is awesome. Moderately priced and looks appealing to the eye. This will be in my Bag forever. Innovative!!!
Date published: 2018-11-02
Rated 2 out of 5
by
Golfer Bob
from
Not a Fan
I bought the Ping Sigma G Tyne putter last year and can't begin to tell you how much I loved it. Oh, what it did to my handicap!!! WOW!! Having said that, I couldn't wait to buy and try the newest one. The attraction for me was the soft face, and adjustable length. Not so fast. I found the putter to be almost "flexible". Just didn't feel right. And the face? Oh, wow. I could go on for hours. Absolutely NO sense of "touch" with this putter. All my clubs are Ping. My bag is Ping. Heck, my towels are Ping. So know I'm not a Ping hater. But this putter just doesn't work for ME. Yes, for ME. Try it before you buy it. Try it a couple of times, not just in store in small space if you can. Sorry, but this time, Ping missed the mark for me.
Date published: 2018-11-20
Rated 5 out of 5
by
Thomas Berger
from
— The best Putter for me —-
I like very much the soft feedback from the Anser. I tried EVNROLL ER 1.2 and different models of Odyssey. This is the best one.
Date published: 2019-03-09
Rated 5 out of 5
by
Heymikeyo
from
Great so far
Revived the Anser2 sigma 2 for Xmas. The length adjustment is kinda neat, adjust it too low, hit some putts, then adjust it too high, hit some putts, then dial in perfect feel length. If you play an insert face putter you should like the feel of this one. I was using an odyssey 2 ball, and is a completely different style of putter but may fit my natural stroke better. First round 3 birds and an Eagle, so the putter has found a home in my bag.
Date published: 2019-01-13