Platypus Hoser 70 oz. Hydration Reservoir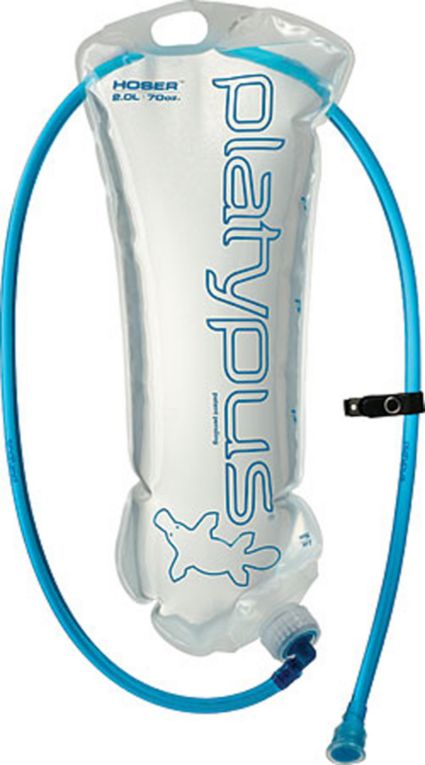 Platypus Hoser 70 oz. Hydration Reservoir
is rated out of
5
by
53
.
The price of the product might be updated based on your selection
This product is currently out of stock.
Please choose product options above
Please choose product options above
PDP Sticky bottom AddToCart Section - active and hide position
Product Information:
Easily turn any pack into an instant hydration system with the Platypus® Hoser™ 70 oz. Hydration Reservoir. Lightweight and ready to use, it's perfect for drinking or cooking at camp—or attach to a Shower Kit for bathing on the trail. Compactable and convenient for travel, the Hoser 2L gives you great-tasting water anywhere!
FEATURES:
Capacity: 2L/ 70 fl oz
Great for drinking or cooking at camp
Use with almost any pack
Lightweight, ready-to-use
Weight: 3.6 oz
Size: 6" x 16"
Materials:
Film: Polyurethane/polyethylene
Spout: Polyethylene
Finger loop material: Polyethylene
Drink tube material: Polyurethane
Bite valve material: Silicone
Brand: Platypus
Country of Origin: United States of America
Web ID: 15PTYUHSR2XXXXXXXCAC
Rated 4 out of 5
by
Chris
from
Needs a center baffle! But I still love it.
This is the simplest, lightweight reservoir out there! Never have to worry about some overly complex slider, etc system leaking or coming unclipped from one (or both) ends. Fill and seal from a single opening. Under pressure the valve can be a bit drippy but I still prefer it over the locking ones. The one place this really fails though is it's lack of center baffle. Without it, the bladder fills up round and doesn't sit flat to your back/bag taking up too much space in small bags and adding to the pressure drip issue. A simple near zero weight fix would be the addition of a simple center seam. Just add one and it will be perfect!
Date published: 2018-07-16
Rated 5 out of 5
by
melizabeth0
from
Great system!
I am an avid trail runner and because of that, I have tried many different hydration systems to find which works best for me. Platypus I found was the best yet, it feels thinner inside my pack and sits well against my back, I don't even know its there. You also do not have the annoying rubber taste that some hoses have, making the water taste much better. It is also very durable in its design, during races I have to quickly open and close the bladder to refill it multiple times during the race, and the wear and tear I have put on mine is quite significant, but it has held up better than any of my other bladders. I would highly recommend this product
Date published: 2015-08-31
Rated 4 out of 5
by
Pablo
from
Flexible system
I have been using platypus water bladders for years and in general very happy with their performance. I am not a big believer in storing water inside my pack after a bad leak with a different brand bladder. So I use an outside pocket for my Hoser. No problem keeping the hose under control. I like the ability to use different size bags as needed. I usually fill a one liter bag for hiking and carry empty two liter bags for in camp use. When needed I can swap tops and have the larger bag as a hoser. Still fits in Side pocket. Yes it takes a few days to dry these. I find that a paper towel stuffed inside for the first day really helps get the drying started. Also I have swapped out the bite valve for a different brand since I like magnetic instead of spring clips. But so far no bladder/water system seems as light and as strong as the platypus bags.
Date published: 2014-10-22
Rated 5 out of 5
by
Apple5
from
Skeptic Before Use
I was super skeptical of any of these hydration systems (no matter the brand). I was finally talked into my 3L system during my last backpack purchase. I'm pretty glad I pushed passed my skepticism. There is no added smell that I can gather (and I am a super taster, who used to be a raw food chef). The only thing I'm having a slight issue with - is the cleaning of the hose. Even just to run water through it without actually biting the valve seems troublesome. It could be that I'm not familiare enough and not gonna knock it yet. I'm also gonna get the cleaning kit once I can afford it.
Date published: 2016-04-19
Rated 4 out of 5
by
ScoutMom
from
Good product, but expensive
We purchased 2 of these as replacements in our boys hydration backpacks before scout camp. They worked great and fit their packs just fine. My biggest issue was the price. I had seen these same packs (same brand and size) at Bass Pro but didn't buy them in hopes Dick's would have a bigger selection to choose from. Dick's selection was not only the same as Bass Pro, but more expensive. For the sake of time I didn't go back to Bass Pro, but definitely made note of the higher price ($2.50 more per hydration reservoir, if you want the larger size it was $5 more per reservoir.)
Date published: 2016-07-20
Rated 5 out of 5
by
gcap48
from
Great reservoir, no taste or smell, and no leaks.
I've been a hiker for a while now and have always used a simple Nalgene bottle, but finally gave in and purchased this 3L Platypus reservoir to go in a reservoir compatible day pack I already owned. My first issue was that the sleeve in the day pack was too small for this enormous water bladder. Once I got it situated in my pack and routed the hose I was all set. The advantage of course is that when I want a drink I don't have to try and contort myself to reach for a side pocket and the Nalgene bottle, I can just pop the hose into my mouth and bite down to get a drink. Now on to reviewing the actual reservoir. The Hoser is a lot like all the other water bladders on the market, it has a large size bladder, is made of BPA free plastic, and does not impart a taste to the water you've stored in it. I like the larger size of the Hoser which at 3.0 L is one of the larger ones. It does make things difficult when getting it into your pack but the nice part is that I only have to fill it once, and maybe carry a single Nalgene bottle as a spare depending on the hike distance and environment. There were only two issues that I've run into with this bladder. The first being when you fill it up. The opening for filling the bladder is a bit small (about the size of a plastic water bottle cap) which makes it difficult to completely fill the reservoir. And cleaning and drying the unit is also affected by this same issue. Once you are done using the bladder and are ready to clean it and put it away you have to contend with the same small opening. It can take days for me to completely dry out the bladder so I can put it away. I have tried coming up with different tools to prop open the bladder but inevitably there is always a bit of moisture still inside that stubbornly doesn't want to evaporate. Most recently I decided to try freezing the empty bladder and leaving it in the freezer until I need it next. We'll see how that works when I go on my next hike. On the plus side of this bladder, I like the design of the bite valve. It takes getting used to as you have to bite down just right to get the water to flow, but I have never had an issue with leakage. Also, I've hiked with several friends who have competitors products and at least once a hike someone has a problem where their reservoir leaks in their pack. I have never had an issue with the screw on filler cap leaked. I have seen on some of the competitor models with the larger opening that they don't always seal as well. This unit has a small 'loop' at the top which you can use to clip the bladder into a pack and there is a metal clip on the hose so you can position the bite valve for easy access. There are also a variety of accessories offered by Platypus such as an insulating sleeve for the hose. I have found once or twice that if left unprotected on a cold weather hike the hose can freeze up and then the bladder is useless. All in all this is a great product if you are planning on doing long hikes where there is a limited supply of fresh water.
Date published: 2014-10-15
Rated 5 out of 5
by
Justin
from
Great and Durable Product
I have used this hydration bladder on many occasions and it has held up flawlessly each time. I like the simplicity of it, and the ease of use. I also like how it does not need to be placed vertically in a pack, I typically carry it on its side in the top of my pack and I have never had a problem getting water to come through. This is a simple and very versatile water bladder that you should buy if you plan on backpacking a lot.
Date published: 2017-03-27
Rated 5 out of 5
by
natebarnz
from
Best in class
I've been using the hoser system exclusively for over 10 years now and my primary bag is still my original 2L. I have never had issues with plastic taste in any of the 7 various size bags that I own and have never had mold issues with any part of my system. Now that I live in the desert I need a 3rd 2L bag for my backpacking trips and will be purchasing again in the near future. Thank you for the awesome product!
Date published: 2018-02-16