Potable Aqua Plus Water Purification Tablets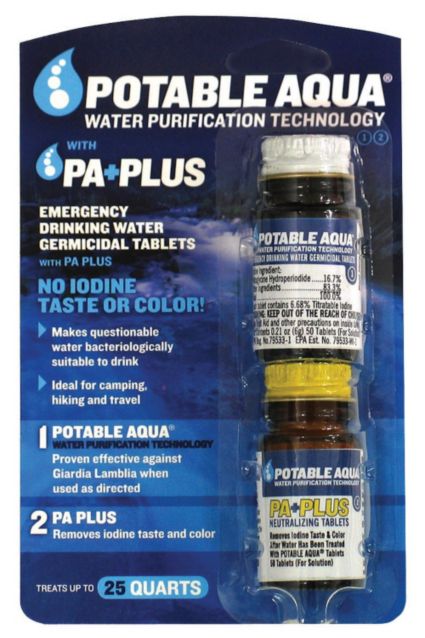 Potable Aqua Plus Water Purification Tablets
is rated out of
5
by
24
.
This product is currently out of stock.
Please choose product options above
Please choose product options above
PDP Sticky bottom AddToCart Section - active and hide position
Product Information:
Ideal for camping, hiking, travel or emergency situations, Potable Aqua® Plus Water Purification Tablets are a must for every emergency kit. Use Potable Aqua® first to disinfect your drinking water, followed by Potable Aqua® Plus to neutralize the iodine aftertaste and color. This simple process takes only 30 minutes to produce bacteria-free, great tasting drinking water. You'll receive enough tablets to treat up to 25 quarts.
FEATURES:
Includes one 50-count bottle of Potable Aqua® drinking water germicidal tablets and one 50-count bottle of Potable Aqua® Plus tablets for neutralizing iodine aftertaste and color after disinfecting with Potable Aqua®
Water is ready in 30 minutes
Tablets are easy to use
Ideal for camping, hiking & travel
Proven effective against Giardia Lamblia when used as directed
Treats up to 25 quarts
Remember to always use Potable Aqua® first to make water safe for drinking, as the neutralizer alone will not eliminate bacteria
Use for emergency disinfection of drinking water to make most water bacteriologically suitable for drinking
Not to be used on a continuous basis; for short term or limited emergency use only
Brand: Potable Aqua
Country of Origin: Imported
Web ID: 16PAQUPTBLQPLSXXXCAC
Rated 5 out of 5
by
HikeBikeTravel
from
Portable, easy to use & no aftertaste
I used these products while on a recent four day backpacking trip in Newfoundland. What I liked about them: 1.The containers weighed next to nothing. 2.The containers are colour coded & that made it a whole lot easier to remember which one to use. 3.There was zero Iodine taste after using the tablets and the water was clear coloured. The only issue for some people, particularly if you are only carrying one water bottle, is that you do have to wait 35 minutes in total for the water to be safe to drink. I had 2 water bottles so when I emptied one, I'd refill and add tablets immediately so I never had to wait.
Date published: 2014-07-10
Rated 5 out of 5
by
LandonF
from
Awesome Stuff
I've used these little guys as both a primary and secondary water purification source. They are ridiculously easy to use and ridiculously easy to pack, which is why I never go anywhere without them in my pack, my first aid kit, my car, etc. Generally I have used them the most when out backpacking and will often use the tablets instead of an actual filter since they are so much smaller and easier. The taste is the only downside. The treated water doesn't generally taste that great, but when I'm out backpacking or climbing I'm thirsty and some funky tasting water tastes just fine to me especially when I know it's clean.
Date published: 2014-07-14
Rated 5 out of 5
by
Jessica The Mountain Lady.
from
A must have!
Potable Aqua with PA+ Drinking Water Germicidal Tablets are a must have for any situation. These will come in handy on a long hike if you run out of water, and are over all just great to have handy especially in our world today with toxic chemicals leaching into or getting dumped into our water supply. These tablets also kill all bacteria and viruses in the water so you can be rest assured when out and about to aide in your hydration needs. I also noticed this product as a long expiration date on them which is good if you are planning on using them at a later date for an emergency situation. I haven't noticed any negative things from using this product and can only keep saying this is a must have if you are into camping, hiking or overall survival.
Date published: 2015-09-02
Rated 5 out of 5
by
John
from
Great for Travel! (Not just for camping)
I use this product extensively while traveling to areas with unsafe drinking water. While most of those traveling will purchase water bottles, I found the tablets to be a great alternative to avoid wasting plastic bottles, avoid the worry of not having drinkable water, avoid many trips to the store to buy more bottles. I could simply fill up a jug, sterilize it with the PA products, neutralize it and have great drinking water in the bottles I brought.
Date published: 2014-07-10
Rated 5 out of 5
by
ActiveExplorer
from
Compact and light!
I carried these on my backpacking trip last week and really appreciated their light weight and compact size. They can treat larger quantities of water at once than a UV pen and don't require tedious hand pumping. Even when I carry other purification methods, I pack these tabs as a backup because they are foolproof.
Date published: 2014-07-29
Rated 5 out of 5
by
ShelbeyB
from
Great Sort Of
I would give them a five only because they do exactly what they're supposed to do which is to purify the water, but I would actually give them a rating of a 3 because you have to use two separate tablets and they say they are supposed to take away the chemical taste, when in all reality they don't, the water still has a slight chemical taste to it. I would recommend it only if you have no other way to purify your water and it's better then just boiling the water and hoping.
Date published: 2015-05-03
Rated 5 out of 5
by
mollyw
from
Potable Aqua with PA Plus
I tried these out and love how the PA Plus Tablets take the iodine taste & color out of the water! So awesome, and easy to use.
Date published: 2014-07-01
Rated 5 out of 5
by
Hikingforward
from
Potable Aqua Review
Recently on my website HikingForward I raffled some of Potable Aqua's products out to my readers. Mrs. Tamara Deane from North Carolina won the prize pack. Below is her comments concerning the products. Tim Deane ( my husband) and I have been hiking for several years as individuals and only recently together. We both have used different methods of getting clean drinking water. He has shared with me that the drops and tablets were effective but had left a unpleasant color and taste. So I have steered clear of using them. Recently I was gifted with an awesome opportunity to use the Potable Aqua system that I won from Hiking Forward during a kayak/camping weekend trip on Douglas Lake TN. Not only was it easy to use and easy to pack, it also didn't have the unpleasant taste I was expecting. I am excited to have this product in my pack as a reliable way of purifying my drinking water and am pleased with how easy it was to use. Thank you for my gift and I'll be spreading the word.
Date published: 2014-07-15