Primos Quick Shot Trail Camera – 12MP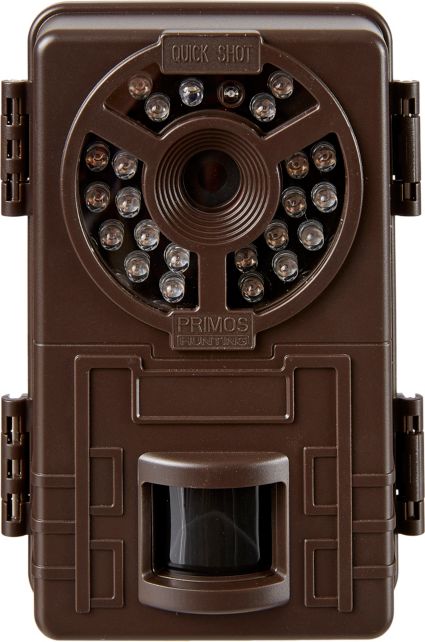 Primos Quick Shot Trail Camera – 12MP
is rated out of
5
by
62
.
This product is currently out of stock.
Please choose product options above
Please choose product options above
PDP Sticky bottom AddToCart Section - active and hide position
Product Information:
Pattern the deer on your property using the Primos® Quick Shot trail camera so you can fill your tag as well as your freezer this fall. Featuring a 12MP image resolution as well as 720p HD video capabilities, the Quick Shot also offers a speedy 1 second trigger speed to capture more images in less time. The Primos® Quick Shot also boasts a long lasting battery life for months of scouting on a single set of batteries.
FEATURES:
Perfect for patterning and finding the big bucks on your property
12MP image resolution for high quality pictures of wildlife
720p HD video capabilities
1 second trigger speed for capturing shots of moving deer
Long lasting battery life for months of scouting on a single set of batteries
Requires 8 AA batteries (sold separately)
Compatible with SD cards up to 32GB (sold separately)
Web ID: 18POSUQCKSHT12MPLTCH
Tech Specs:
| Image Resolution | Trigger Speed | Video (Y/N) | Video Resolution | LED Count |
| --- | --- | --- | --- | --- |
| 12MP | 1 second | Y | 720p | 36 |
Rated 5 out of 5
by
joko64
from
Impressive
I run lots of trail cameras mostly on public land and some for pleasure of viewing animals for inventory of what made it and what didn't. I am cautious of them being stolen so a lower price and reputable name is what I was in search of. Primos delivered. This camera was inexpensive and the pictures are clear with no apparent 'click' of the shutter capturing the image as the animals were not on alert. I would highly recommend this camera and WILL BE buying more. Perhaps Santa will come early this year.
Date published: 2018-12-07
Rated 5 out of 5
by
ob1coyotte
from
Awesome
I bought a bunch of these thinking the price was too good to be true. I was amazed at how quick the trigger speed is and the range is a lot better than I thought. I tested it out to 60+ feet during the day and worked fine. Pictures are good and video seems to work. I noticed the audio didn't record. The package says it records audio but the one I tested didn't. I'll be testing the others I bought soon. Maybe they are discounted so cheap because the packaging is wrong where it states it records audio but in fact they do not. Either way, an absolute steal for the sale price which was under $20. I have other cameras that are better but I also paid close to $200 a piece.
Date published: 2018-12-27
Rated 4 out of 5
by
Anonymous
from
Can't go wrong for $25
Bought 2 Tasco 8MP's from Walmart in Oct for $29. They work more than adequate. Saw these online and noticed they were very similar to the Tasco's, with regard to setup/battery tray/on-off switch/main door/size. Bought 3 of these. Tested them, and they work a bit better than the Tasco models as they have 4MP more. Both the Tasco and Primos brands work ALMOST as good as my 10MP Wildgame cam($65). Here are some nightpics(first two are from Tasco cams 11-15 is my pond and 11-23 is in field) and wildgame cam to show difference. Last pic is Tasco daytime in field.
Date published: 2018-12-29
Rated 1 out of 5
by
Ruined my season
from
Terrible product
I bought three of these within a month, all from Dick's online and have never had a worse camera other than the cheap Walmart brand. Each of these cameras initially worked, as in accepting Duracell batteries and being easy to program. Once placed in the field, they stopped working, having killed fresh batteries within hours. Call it flawed or jinxed, these are terrible. I older Primos cameras that have worked for seasons on end in the woods from October through March each year and they still perform flawlessly. The maker of this camera must be bad. Not a good product.
Date published: 2019-01-02
Rated 5 out of 5
by
Westernhunter
from
Fantastic Value!!
Picked this camera up because the price was too good to turn down on a Primos brand camera. I've had good luck with Primos cameras in the past. Turns out, this one is no exception. For the price this is a fantastic camera. Doesn't have lots of bells and whistles, but sets up easily, takes good photos day and night, and triggers appropriately when there is movement in front of the camera. Looking forward to getting it on a tree in the woods this weekend.
Date published: 2018-12-05
Rated 5 out of 5
by
KCW1979
from
Can't Beat it for the Money.
At 34.99, I'll buy a few more and spread them out. I'm hunting public land and have lost more cameras to theft and wildfires than I care to remember. If I lose one of these, I won't lose too much sleep over it. They're easy toi set-up, but make sure you do a few test runs with them; I discovered I had to reformat my SD cards before the camera would take photos (See FORy function). I'm impressed with how well it triggered on the edge of the frame. Most cameras in the lower price range miss movement on the edges. Animals don't always pose in front of your camera, sometimes all you get is on the fringe. I also like to put two cameras on my stands, especially if one camera is out in the open, I'll use Quick Shot in a more conspicuous areas to monitor my more expensive cameras; to catch thieves or someone tampering with my cameras or stand.
Date published: 2018-12-05
Rated 1 out of 5
by
th88
from
Camera bad upon arrival
Firstly, I had to format a SD card to get the camera to even recognize it. Set up went smooth after that. When I checked my camera a few days later, it wouldn't come on. I had to pop the battery tray out and reinsert it to get the camera to start up. I checked my SD card and no pictures! Thought it may have been a fluke so I set it up to go again... Checked it a week later and the same thing happened. Camera wouldn't power on. Reinsert battery tray, it comes back on. Check SD card, no pictures! I should have known better than to buy a $20 camera. Will never make this mistake again!
Date published: 2019-01-26
Rated 5 out of 5
by
Jakeo
from
Awesome
I purchased a couple of these cameras to use as a back up security camera for my front porch (package drop off) during the Holiday season. I was skeptical at the price but both in video and photo mode I was very impressed. At 30.00 I will definitely be utilizing these for my properties for hunting.
Date published: 2018-12-01