Quantum Xtralite Spinning Combo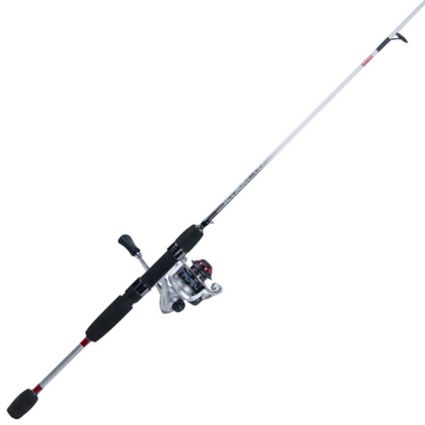 Quantum Xtralite Spinning Combo
is rated out of
5
by
80
.
This product is currently out of stock.
Please choose product options above
Please choose product options above
PDP Sticky bottom AddToCart Section - active and hide position
Product Information:
Designed for ultimate line control, the Quantum® Xtralite Spinning Combo offers a lightweight build with powerful features. The Quantum Xtralite Rod is armed with Micro Trac line guides that use a smaller and lighter construction to deliver enhanced sensitivity and line control. The solid reel of the Quantum Xtralite Spinning Combo features 3+1 ball bearings, graphite frame, and continuous anti-reverse, giving you the power you need on the water.
FEATURES:
Spinning combo
Micro Trac micro guide system for enhanced sensitivity and line control
2 piece graphite blank design
Smooth 3+1 bearing reel
Continuous anti-reverse
Right or left retrieve
Lightweight graphite reel frame
Brand: Quantum
Country of Origin: Imported
Web ID: 15QUTUXTRLT6FTSPNCOM
Tech Specs:
| Model | Rod Length | Power | Pieces | Retrieve | Gear Ratio | Bearings | Mono Capacity (yd./lb.) | Line Weight (lbs.) | Lure Weight (oz.) |
| --- | --- | --- | --- | --- | --- | --- | --- | --- | --- |
| XTS05461UL | 4'6" | Ultra Light | 1 | Interchangeable | 5.2:1 | 3+1 | 110/4 | 2-6 | 1/64-1/8 |
| XTS05502UL | 5'0" | Ultra Light | 2 | Interchangeable | 5.2:1 | 3+1 | 110/4 | 2-6 | 1/64-1/8 |
| XTS05602UL | 6'0" | Ultra Light | 2 | Interchangeable | 5.2:1 | 3+1 | 110/4 | 2-6 | 1/64-1/8 |
Rated 5 out of 5
by
FishingBuyer
from
Great Rod!
This is a great fishing rod. I've used it every single day since I bought it.
Date published: 2017-07-16
Rated 4 out of 5
by
Lutz
from
Nice combo for the money
Bought this new rod for trout season pretty good deal for the money
Date published: 2017-04-11
Rated 3 out of 5
by
tench
from
Good deal, not very sturdy
Great feeling combo, light in the hand and good balance. Caught some nice brook trout with it my first time out. Spooled with some 4lb fluoro it is a sweet setup for live bait rigs or small spinners. However, my day was cut short when the tip broke off about an inch below the top guide. This happened during my first trip when I set the hook on a 11 inch brookie. Obviously not that much force involved in that type of hook set, but still the tip broke. I'm going to reglue a replacement tip though and continue using this sweet trout setup.
Date published: 2015-06-10
Rated 4 out of 5
by
Anonymous
from
Solid Ultra light at a good price
You can tell the reel is cheaper but has a good drag that i have no complaints with. The rod has solid action and a good backbone for its line class. I have caught redfish up to 27" and a 4lb largemouth. 10lb J-braid and 8lb Floro leader most of the time. I throw it around in the back of the truck and it has held up well. I have recommended this set up to may people.
Date published: 2017-02-19
Rated 1 out of 5
by
L0ve 2 Fish
from
Don't Like It
I bought this a little over 2 months ago. I took it on 1 fishing trip. It is lightweight. The rod does not cast well. Between the reel and rod, I can only cast half the distance I usually cast. I took it back to the store and they would not allow me to return it. I would not recommend this product. Buyer beware that the store will not stand behind it.
Date published: 2017-08-14
Rated 1 out of 5
by
Dave
from
Quantum xtralight
Bought this combo last year.Didn't last a season.1 got a snag and went to break the line, it literally broke the tip of the rod off.2 still used after tip broke off... Took a majority of the action out of the rod... The bail gave out ... Uncertain what went wrong but it's internal.Rod/reel is garbage!
Date published: 2016-02-20
Rated 2 out of 5
by
Kd13
from
A big pain in a small package!
I purchased this for fishing light gear for small fish and it has been a rather large disappointment. It is very prone to creating big birds nests, something none of my other spinning reels do.
Date published: 2017-04-25
Rated 5 out of 5
by
Jamie
from
Excellent combo
Rod is perfectly balanced and reel is super smooth. Have used it twice now under winter conditions and has performed flawlessly. And for the price, you can't go wrong!
Date published: 2014-02-19
Rated 5 out of 5
by
basscat
from
great quality for the price
Bought this as a crappie rod to add to the collection in the bass boat. Have used it twice to pull some slabs off of brush piles and it works quite well.
Date published: 2016-11-02
Rated 5 out of 5
by
AnglerJ
from
Don't Leave Home Without It!!!
By far one of the lightest combos in the universe!! I've caught crappies, walleye, bass, bluegill and catfish on this setup. Buy it!! That's an order!!!
Date published: 2014-03-21
Rated 4 out of 5
by
drserge
from
replacement rod + reel in ultra light
i brooke my ultra light reel and rod recently i had for over 20 years so i got a new set and so far i am very satisfied
Date published: 2017-04-19
Rated 1 out of 5
by
SonOfOsiris77
from
Poor for the money
The first one i bought i found to be cracked at the handle right from the store, so i returned it immediately bought the second one with a protection plan, this one snapped after its first use, called the manufacturer only to find out they wanted me to pay for the shipping to have it repaired (which I would think would be why you buy the protection plan) all in all for 40$ I expected a much better pole, however Dick's Sporting goods is handling it great customer service!
Date published: 2014-05-28
Rated 2 out of 5
by
StevieB
from
Rod & Reel are Sub-Par
Bought the 6' 2-piece ultra lite last week. First I was having issues with line wrapping around the drag knob on the reel. Replaced the reel. Next time out, the top half of the rod snapped in 2 places while I was bringing up a blue gill... The rod is hollow, and is very week even for an ultra lite. I would have returned it but I lost the receipt. If you get this, make sure to spend the money on the protection plan. You'll need it.
Date published: 2018-05-19
Rated 4 out of 5
by
Matt Brookman
from
Great ultra light rod!
Great Ultra light rod I picked up at Dick's Sporting goods in Woodbury, MN specifically for casting ultra light crank baits and jigs for crappies. So far it's stacked up to what I wanted to get out of it. Extremely light and light action set up which has made for some fun days on the water even catching the accidental 26" pike it has held up. New reel needs to be freshly lubricated before use to improve performance.
Date published: 2013-05-23
Rated 3 out of 5
by
Fisher-Guy
from
Light, Compact, Fragile
This is the second rod and reel combo I have bought. The first was an Abu Garcia, the rod snapped in the center on that one. On this one the tip broke so buyer beware. Otherwise it's great for fishing small streams. Where there is not a lot of room to move. Perfect for stocked streams. All and all there are better rods and better reels. But the price is hard to beat. Just be careful with it.
Date published: 2013-02-27
Rated 1 out of 5
by
Huebsch79
from
HUGE DISSAPOINTMENT!!!
You get what you pay for I guess. I was looking for a cheap ultra light rod to fool around with. The line nested up almost every other cast and the rod snapped off at the tip while trying to free my line up from a snag. I brought it back to Dick's and got my money back. It's a nightmare of poor construction and would recommend avoiding this product at all cost.
Date published: 2014-01-06
Rated 1 out of 5
by
SmurfTaint
from
Terrible rod. Okay reel
I bought this combo a little while ago from my local dicks b&m. The rod is absolutely garbage. The rod tip snapped after catching a small crappie. The reel is great until you drop it in some sand for the first time. Even after a very thorough cleaning the reel is very crunchy and the bale tends to rise when reeling somewhat fast. Would not recommend to anyone.
Date published: 2018-06-26
Rated 3 out of 5
by
windflag
from
Spinning rod is great, the reel is garbage.
On my first fishing trip with the new combo the reel completely fell apart, literally.The screw holding the bale on came off and I had to search the bottom of the canoefor the screw, metal washers and a clear plastic washer. Have you ever tried to locatea clear, tiny plastic washer on the bottom of a canoe???Luckily I found them all, I think.
Date published: 2013-05-14
Rated 1 out of 5
by
Sick of buying junk
from
Snapped in half on a trout, second time
Bought this pole because my first quantum pole broke after 3 years so I was looking for the same thing but you guys don't sell anymore so I bought this one and it snapped while hooked up to a small trout, snapped right where the two pieces connect and the pole wasn't even bent over. Sticking to the ugly stick I guess...
Date published: 2018-06-30
Rated 5 out of 5
by
DoninNC
from
GREAT ultralight setup!!!!
What a great product! I read the bad reviews, but took a shot anyway. I was able to pull out crappie after crappie, and even managed to haul in a 5 lb. catfish on 4 lb. line. It made every fish feel like a fight, and I could feel every hit on the line. The reel never struggled, either! GREAT combo, Quantum!!!!
Date published: 2013-05-10
Rated 2 out of 5
by
ReelSad
from
Broke within 4 months
I like this product because it is very lightweight and does cast nicely. After 4 months though, the reel handle broke into two piece, i duct taped it together however I don't know how well it will hold if I actually catch something. Of course I did not save the receipt either for a $40 pole.
Date published: 2015-09-01
Rated 4 out of 5
by
Hamamatsu
from
Decent product
This is a quality produted but if you use 6 pound test it's not very reliable because it tend to bird nest but I would rev amend for better fisher man not starters also when it going mess up with a birds nest the reel become not as smoothe so you know when it's coming which is good
Date published: 2014-04-29
Rated 4 out of 5
by
Quickreadingshopper
from
Great buy.
The product was easily prepped for the occasion, like features were close and readily available in the store to make my out of store experience even more impactful. The line cast easily, the reel revolved smoothly, and not an issue one with the line matting up.
Date published: 2016-04-05
Rated 4 out of 5
by
Bopper1123
from
For the money tough to beat
I have several ultra light setups and like this a lot. I has enough backbone to set the hook unlike some of the wet noodles most ultra lights have in common. The reel hasn't given me any problems caught lots of fish with it already. For the money good deal
Date published: 2019-05-08
Rated 4 out of 5
by
Fisherman
from
Great rod for the price.
This is a very good rod for the money caught it on sale for 29.99. The only faults I see are occasionally the line will catch on the bait keeper, and the bail it sometime hard to flip with the handle. I believe you are supposed to use your hand anyways.
Date published: 2016-04-20
Rated 1 out of 5
by
lester
from
quantum a poor choice
i purchased one of these rigs and used it for fishing. after the second day of use the rod snapped under 5-6 lb weight. the following day the reel lost a screw during use, rendering it inoperable. i paid 40 bucks for three days of use. not a good deal.
Date published: 2013-09-10
Rated 1 out of 5
by
Mongoose
from
Don't buy
I bought 2 of these and returned them after the first use. The eyelets are way to small. It is impossible to even use a slip bobber with these, the stop gets stuck in the tiny eyelets. Bought 2 similar browning poles from bass pro and are perfect
Date published: 2014-06-17
Rated 1 out of 5
by
Kanuga
from
Stay Away
I just took back the 4th and last combo today. When working it is a great set up... But the combo has been in constant failure. From the bail breaking to the rod snapping and screws coming out during casting... Would not recommend!
Date published: 2013-07-01
Rated 1 out of 5
by
bfish
from
cheap rod but okay reel
i got this rod and it broke the first time i used it on a small trout. so i thought it was a defect and returned it. i used the new one they gave me and it broke again at the same spot, the tip.the reel is ok but nothing amazing
Date published: 2013-03-31
Rated 1 out of 5
by
ed
from
product isn't very good
Reel broke the second day I used it. Went back to Dick's and they replaced it, no problem. Went fishing that same day and on around the 15th cast, the rod snapped and is no longer functional. Would not recommend this product.
Date published: 2014-05-28