Rage HD Standard Mechanical Broadheads - 3 Pack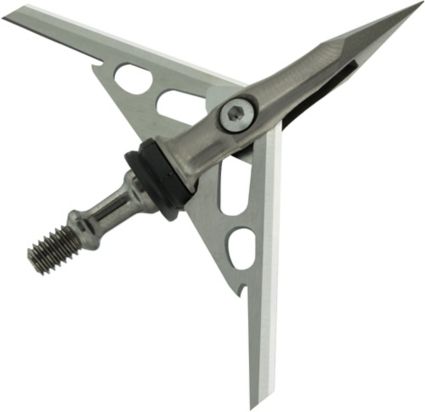 Rage HD Standard Mechanical Broadheads - 3 Pack
is rated out of
5
by
59
.
This product is currently out of stock.
Please choose product options above
Please choose product options above
PDP Sticky bottom AddToCart Section - active and hide position
Product Information:
The Rage® HD Standard Broadheads offer the penetrating power you need while hunting for big game. The broadheads are constructed of an aerodynamic, one-piece steel ferrule with an exclusive hybrid tip that provides you with great accuracy. Their tough, razor-sharp, stainless steel blades ensure a bone-crushing performance. These Rage® broadheads include a practice head so you can improve your shot.
Brand: Rage Broadheads
Country of Origin: United States of America
Web ID: 15RBRURGHDSTNDRD1ARO
Rated 4 out of 5
by
buck_man
from
great on deer
Work great on deer, but not so well on moose. Take my advice, if your hunting moose stick with a fixed blade. I hit a moose fall 2013 and of course hit to far forward three ribs from the front. Since these broadheads close as the arrow is moved backwards the result was no damage. I called this exact same bull the next day with my buddy sealing the deal. We located my piece of arrow and Brodhead sitting right beside the front lungs. Had this have been a fixed blade, the moose would have damaged his lungs and expired.With Deer sized animals, a complete passthrough is always a given with todays hard hitting fast bows. This makes fixed broadheads with there planing characteristics not a good choice.
Date published: 2014-09-24
Rated 5 out of 5
by
Indianabowhunter
from
Best expandables on the market today
I have shot the original rages since they came out I saw these this year and decided to change it up and try a new style and I love them. Second day out I shot a cyote 30 yards away and the blood trail was amazing complete pass thrue with blood on covering the ground like a highway he didn't go 100 yards with these the entry wound would almost make you sick it was so violent looking I wasn't to sure about the new shock collars but they do lock the blades better than the o rings did and stay closed better in your quiver than the o ring all in all a great product little pricey but hey old saying goes you get what you pay for an to me good broadhead are a must. buy them you will not be disappointed
Date published: 2014-10-10
Rated 5 out of 5
by
Just hanging around
from
Just what I thought
I'm not the most experienced hunter but I have been shooting bows for a long time and I was very happy with my former rage broad heads but when I saw the one piece hybrid tip I just had to trie I spent a month shooting them in the back yard i found thay were what I thought my grouping was tighter and more constant dead on shots I was shooting the actual broad heads while I was doing my test but I do use the practice point thay provide wich is a grate to use as well but I would all ways sacrifice at least one real tip to practice be for u hunt and as fare as that the hunt ill say it again just what I thought I got one hanging and both holes were very impressive iv stocked up on more trie them out see what u think
Date published: 2013-11-15
Rated 1 out of 5
by
Bowhunter777
from
Did not open
Shot 2 deer with them and both times were good shots.Both deer did not go down. For one broadhead did not open Gave the last one to my buddy yesturday for opening day he shot one and same thing broadhead did not open. Not a fan of these heads and they are expensive. Switched to Muzzy heads and I get 6 for $36 and they are extremely accurate
Date published: 2015-09-20
Rated 5 out of 5
by
poflobo
from
Rage HYPODERMIC Broadheads RULE!
I purchased the RAGE HYPODERMICs to use with some GOLD TIP DEVASTATOR bolts for my crossbow. Later, I became concerned that they might not work properly, since these are designed for arrows, and would open up prematurely when fired from a crossbow. After talking to another hunter more familiar with them, he said he knew several people who used them on their crossbows and assured me they would work. MAN, DO THEY WORK! Shot a small doe at about 37 yards and she was DRT (dead right there)! This is one brutal broadhead!
Date published: 2015-02-04
Rated 1 out of 5
by
bloodsport
from
FAILED TO OPEN
I have been hunting a long time and love mechanical. I finally decided to switch to Rage and of course I have a nice 5 year old deer in my sights, fired and never recovered the animal. The broad head was laying on the ground with the shock collar still on. I started researching forums after this happened and realized that this is common issue with Rage products. First they made it so it open very easily then now they made it so tight they dont open. Absolutely disappointing and in the market for a new head.
Date published: 2014-04-04
Rated 4 out of 5
by
HoytHunter
from
Excellent Broadhead
Yes they're pricey but you can't put a price on lost game. Any hunter knows a devastating wound channel equals an easy track. I've taken down 300+ pound hogs with them and the arrow never missed a beat. Only reason for 4 stars is price.
Date published: 2015-06-10
Rated 5 out of 5
by
Doogie77
from
These Broad Heads are Very Effective
I have not shot a deer yet with them, but I have shot several pigs. The entrance cut is very clean and seems to pass through like butter. Pass through on nearly all shots and had ridiculous blood trails.
Date published: 2016-09-28