Rage X-Treme 2-Blade Mechanical Broadheads - 100 GR, 3 Pack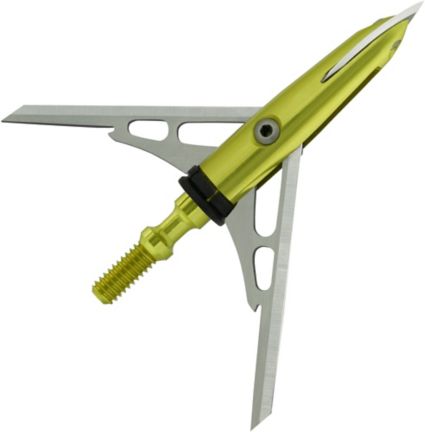 Rage X-Treme 2-Blade Mechanical Broadheads - 100 GR, 3 Pack
is rated out of
5
by
35
.
This product is currently out of stock.
Please choose product options above
Please choose product options above
PDP Sticky bottom AddToCart Section - active and hide position
Product Information:
These Rage ® X-treme Broadheads offer an amazing cutting diameter of 2.3 or more inches. The leading blade is extremely sharp, cuts with surgical precision and maintains kinetic energy longer to penetrate deeper. The extreme shock collar is designed for optimum blade retention and deployment. These broadheads are designed for precision and power for bows with 60 pound draw weights and up.
** Learn more about THE PROS Archery Services available at all DICK'S Sporting Goods locations **FEATURES:
Extreme leading blade honed to surgical sharpness
Extreme sweeping blade angle maintains kinetic energy longer and penetrates deeper
Extreme single-bevel blades improves cutting performance
A cutting diameter of 2.3 or more inches
Extreme shock collar for optimum blade retention and deployment
3-Pack
For 60 pound draw weights and up
SPECS:
Model Number: 51000
Quantity: 3-pack
Number of Blades: 2
Grain: 100
Cutting Diameter: 2.3 + in
Bow Draw Weight: 60 lbs +
Brand: Rage Broadheads
Country of Origin: United States of America
Web ID: 15RBRURGXTRM2BLD1ARO
Rated 5 out of 5
by
Humane Hunter
from
no animal will walk away
last year I used the 2" rage I bought the 2.3 rage 07/27/2012 and finally got to use it 9/10/2012 I used it on an adult doe and she only ran 100 feet the blood trail was huge the hole it left in the side of her was sick.If you want a quick humane kill then buy these.If you are hunting for a hide these are not for you unless you can sew good.the blades after the shot were bent but they went through 2 ribs on 1 side and hit front leg on other.small price to pay for short track through brush.I dont think I will shoot another large animal with a fixed blade again after shooting the 2.3 GREAT EXPANDABLE
Date published: 2012-09-11
Rated 5 out of 5
by
no longer an OOOfffeerrr
from
these broad heads are the very best
I have been bow hunting for over 35 years and as you can imagne I started out with wooden arrows and simple spade tips .I have stayed up with the new equipment and I have tried many new broad heads over the years these are by far the very best I have ever had. The proof is in the pudding I shot 7 deer (doe) this year and recovered 6 of them with in 100 yards .I have never had this type of success and it is because of the broad heads no doubt .The holes they put in the deer are huge ,they cannot recover ( even with out great shots which happened more then once ) I will not shoot anything else .I wish I had them when I started out .`if they are a few dollars more they are worth the money .
Date published: 2013-03-10
Rated 5 out of 5
by
Bryan1971
from
Best broadhead I've ever used!!!!!!
These are by far the most accurate and most devistating broadhead I have ever used! I shot a buck at 20 yards, quartered away, and the arrow passed all the way through, landing about 7 or 8 yards on the other side. The blood trail was unreal! It looked like someone had taken a five gallon bucket of red paint and poored a trail accross the ground. The buck was less that 30 yards from where I shot him and the hole that was in him looked like you could throw a baseball through it. If you dont want to loose any more deer, then I recomend switching to these. I gave all the other broadheads that I had to a friend that wanted them because I will not use anything except for the Rage X-treme from now on.
Date published: 2013-01-05
Rated 5 out of 5
by
hunting guy
from
Great Head, Flies Like Field Points
Bought these last season and loved them. If interested in buying these, please note that you must be shooting 60 lbs or more as they are rated for bows that are 60 and above. Also note that they do come with a practice head. You do not need a shock collar with the practice head. If you shoot the regular broadhead with a collar, you have to replace it for the next shot. When practicing use the practice tip. Only use the shock collar when you are actually in a hunting situation. Keep in mind that shot placement and accuracy are key. If you miss an animal or target at 15 yards or less, chances are its you or your bow is not tuned correctly, not the broadhead. Always remember that accuracy is key, and if you can put the arrow in the right place, any broadhead will do the trick.
Date published: 2018-10-07
Rated 5 out of 5
by
Kev583603
from
Tremendous Broadhead
These broad heads are worth every penny! Killed a buck with one and it left an amazing blood trail and it died only 50 yards from where it was shot.
Date published: 2015-11-14
Rated 5 out of 5
by
SeeMeHunt
from
Nothing Beats The Rage!
Nothing Beats the Rage. It just opens Gaping Holes in Whatever You Shoot -It is the only Broadhead that I shoot.
Date published: 2015-07-28
Rated 5 out of 5
by
Panther
from
RAGE!!!!!!
I personally haven't shot anything with one of these yet. Although, a friend of mine has shot a coyote in the chest dropping it on spot. What happened may not be appropriate for review... Needless to say, entrails accompanied the exit wound. On the other hand, I have had problems with them getting caught on branches while walking out of the woods, causing them to open (not breaking the plastic ring) and having me fiddle putting them back in the ready to rock position.
Date published: 2012-10-17
Rated 3 out of 5
by
mushroom
from
reveiw
i love the rage broadheads no no end, but the only problem that i have is that,once i bought these i cant shot them because they are recommened for bows of 60# or more any less they will not perform as they say.i had to call the company just to find that out.the other thing is they use a plastic thing to keep the blades shut so once u shoot it thats it until u get more plastic things.... do the reserch be fore u buy this........
Date published: 2012-10-30