Rawlings RX4 USA Youth Bat 2018 (-8)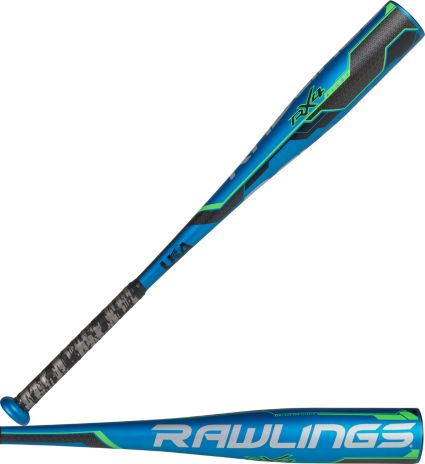 Rawlings RX4 USA Youth Bat 2018 (-8)
is rated out of
5
by
111
.
This product is currently out of stock.
Please choose product options above
Please choose product options above
PDP Sticky bottom AddToCart Section - active and hide position
Break Into The Game:
Stiff, traditional feel for hitters with a balanced approach
Lightweight feel creates a faster swing weight
Ideal bat for beginners
Specs:
Drop: -8
Barrel Diameter: 2-5/8"
Barrel Material: Alloy
Construction: One-Piece
Swing Weight: Balanced
Sport: Baseball
Series: RX4
Year: 2018
Age: Youth
Certification(s): USA
NOTICE:
We recommend that you receive approval from your local league before removing the wrapper from your bat.
Brand: Rawlings
Style: DICUSRX8
Web ID: 17RAWYRX42588SBLKKBT
Rated 1 out of 5
by
Make it Right
from
Bought 2 of these...Both handles bent!!!
I bought two of these bats. One for my 11 year old and one for my 9 year old. Both under 80 pounds, so not big hitters. Midway through their league season, one of the coaches noticed that both bats were bending at the handle. I couldn't believe it. Started doing research on these bats and it is an epidemic. Rawlings needs to refund the money spent for these bats, not offer the same terrible bat! Why would I want another bat that will bend? And to pay for Shipping costs to fix it is ridiculous. Please stay away from these bats. If Rawlings ever wants my business again, they will refund these bats!!!
Date published: 2018-05-30
Rated 1 out of 5
by
srball331
from
Avoid this bat
After 2 hitting practices and one game the bat is bent. My son is 12 yrs old and in 8 yrs of playing baseball we have never had this issue with a bat. Dicks will not take back or exchange any bats once they are used (way to stand behind your products). They say you have to go through the manufacture. Rawlings has issued a return authorization but there is no guarantee that they will replace the bat and they won't pay for shipping. Debating about putting any more money into the bat with shipping costs when, if replaced, it will just be with the same defective product. Will probably just purchase a new bat but it won't be a Rawlings and it won't be from Dick's.
Date published: 2018-04-30
Rated 1 out of 5
by
Alexthebentbaseballdad
from
Beware
Bought this for the new USA bat changes going through Little League International. Very disappointed in the quality of this bat. After two practices the bat bent just above the grip. Upon further review of other RX4 Rawlings bats within our league, we were not alone. Just after I sent the bat back to Rawlings for Warranty review (at my own cost) i found several other RX4's with the same issue. We also bought a Rawlings Prodigy at the same time for another son and that bat already has denting on the barrel. Looks like these products might have been rushed to market without proper testing.
Date published: 2018-02-13
Rated 4 out of 5
by
DTutt
from
Great bat for skilled hitters
Don't sleep on this bat!!! The bat has pop if your players have great swings. My players have been swinging it for the past couple of weeks and they love it. We have not compared it to other bats as of yet. They have been swinging the 31/23. If guys have the swinging mechanics down, they will perform well with any bat. A line drive swing is a line drive swing. The bat feels comfortable in your hands. There isn't any sting if you hit the ball on the barrel. Again, with bad swing mechanics, players will hit the ball on the handle with this bat as the barrel is not as large as they are used to. If this occurs, we need to go back to teaching proper swing mechanics and not blame a bat. I am certain that this bat will be just fine for all players.
Date published: 2017-09-17
Rated 1 out of 5
by
LMiller
from
Very Disappointed
Bought this bat in February because of the new USA Baseball regulations. We are a month into the season and the bat is no longer usable. I called Dick's Sporting Good, but they won't take it back because it's used. I called Rawlings and they say they can't help because I don't have a receipt from February and can't go to the store for their help because it was a gift card purchase. (Gift card was from Grandfather for the new bat). Was told to send an email to Rawlings Bat Warranty, but was told that is probably wouldn't help my case. Waiting for them to replay. Do not purchase this bat.
Date published: 2018-05-08
Rated 1 out of 5
by
Ball Player Parent
from
Buyer Beware- Poor Quality
Buyer beware. I Bought this bat for my 12 year old, noticed that the bat was bent after one game. Called Rawlings, they replaced it with the same bat. He used it in one game and the replacement bat was bent just like the original. Called Rawlings again and asked for my money back, but they would only offer merchandise credit or another replacement bat. Another player on my sons team experienced the same situation and upon reading other reviews I see that many others have had the same problem. These bats are obviously poor quality and considering the multitude of others experiencing the same situation these bats should be deemed defective and removed from shelves.
Date published: 2018-06-20
Rated 5 out of 5
by
SCal
from
Great value bat!
I had been researching bats for a good two weeks and just couldn't commit to a high end bat for my 9 year old due to the mixed reviews of the new USA bat standard. Since this bat was on sale at my local store and they were offering an extra 20%, I decided to buy it. At the very least I was thinking it could be a practice bat. I was pleasantly surprised on how well my son hit this bat and it has a very nice ring to it, something I've been reading that a lot of the USA bats are missing. My son was making great contact and I didn't notice any kind of drop in distance, but my son is a gap hitter anyways. He really enjoys the bigger barrel versus having a lighter bat. He swung a -13 Easton last year, 29/16 that he could whip pretty fast but he seems to be making contact more often with this new bat. This new standard is only going to make our kids better hitters later in life. Hope this helps.
Date published: 2017-12-14
Rated 3 out of 5
by
Unworthy1
from
Good pop, but weak handle - caution
I bought this bat for my big 12 year old. After a couple weeks of practice we noticed it was bent just above the handle grip. We did do some hitting practice with the weighted Skilz ball. I figured that must have done it, but it looks like several others have experienced this problem. So if your player is 11 or under, or is just learning, this will probably be a good choice. If you have an older player or power hitter, stay away from it.
Date published: 2018-03-25