RumbleRoller Compact Foam Massage Roller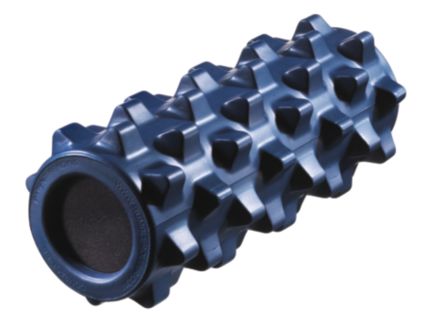 RumbleRoller Compact Foam Massage Roller
is rated out of
5
by
80
.
This product is currently out of stock.
Please choose product options above
Please choose product options above
PDP Sticky bottom AddToCart Section - active and hide position
Product Information:
Like the original RumbleRoller, the RumbleRoller Compact is a foam massage roller with flexible bumps that work like the thumbs of a massage therapist to deliver deep muscle penetration. This travel-sized version features 64 flexible bumps that knead the contours of your body, gently stretching soft tissue (muscle and fascia) in multiple directions to erode trigger points, restore flexibility and bring relief to common types of muscular pain.
FEATURES:
Travel-sized foam massage roller with 64 flexible bumps for muscle penetration
Bumps knead body contours to stretching soft tissue (muscle and fascia)
Erodes trigger points, restores flexibility and brings relief from muscle pain
Control the amount of pressure applied by adjusting your body position
Dimensions: 12" x 5"
Manufacturer's warranty: 90 days
Model: RRC126
For additional information relating to the Manufacturer's Warranty, please contact 1-800-883-3843.
Brand: RumbleRoller
Country of Origin: Imported
Web ID: 16RMRURMBLRLLRCMPEAC
Rated 5 out of 5
by
dlf7800
from
Perfect for my sciatica issue.
This roller is the first I have ever tried - on a recommendation from a friend - and it works well for me. The "knobs" press in and do a deep tissue massage of sorts, and the thing really seems to relax my back muscles. I "massage" (by rolling with my body weight) wherever I have pain, and after a couple of days I stopped having to deal with sciatic pain down the back of my leg. The buddy who recommended this said that the same thing happened to him. Kind of expensive for a piece of plastic, but it hasn't become "mis-shaped" and does work well. I do it for a few minutes each morning and evening. Love having no pain, after 3 years of dealing with it.
Date published: 2014-06-26
Rated 5 out of 5
by
Wynston
from
A good call
This tool is perfect for the avid athlete. Between swimming, running, cycling, and weightlifting, the rumble roller gives my muscles the attention they deserve at one price for as often as I like. The product comes with a massage guide that informs its user where and how to apply the roller. Hurts at first only because my body has never had a massage and my muscles are incredibly tense but after using it three times a week for two weeks I noticed less pain and more relaxation from the muscles being massaged. Definitely a product worth investing in especially if you are an endurance athlete.
Date published: 2013-03-06
Rated 5 out of 5
by
Chappy
from
Self Massage - Gets the Kinks Out
The Rumble Roller gets the kinks out of your cervical, thoracic and lumber spine. This model digs into your sore areas causing the tension to ease. You can either lay on the roller or gently roll it back and forth which caused my spine to pop and gently release pressure. This is like a deep massage. For those who don't like a deep massage, I'd try a plain round foam. It felt so good that I actually fell asleep on the roller. May be to deep for some individuals but for stubborn areas, I highly recommend it.
Date published: 2014-05-20
Rated 2 out of 5
by
Quite Contrary
from
Ouch
I've had IT band issues for a while, so I bought this roller. Expensive, but if it helped with the pain, it would be worth it.Ouch. I now have bruises along my hip where I guess there was too much pressure. It was very difficult to use in such a way that the bumps - very large and very hard - did not feel injurious. I am trying to decide if I should work on my technique or if I should return it. This was a lot of money, and I probably should have gone with just a foam roller. Heck, the foam swimming pool noodles, cut to size, might work better for me.I also used it for my piriformis muscle, and that works better. It could be that the position necesary to get to the IT band is just too difficult for me.
Date published: 2013-01-04
Rated 4 out of 5
by
Jaimie
from
It hurts, but it works
I recently started running again, which my lower back is NOT happy about. I only had to use this twice before my back started to feel better. I'm not gonna lie, it HURTS when you're using it and if your core isn't strong the lower back massage is a little awkward, but it makes a difference. My back was a little bruised after using it the first time because it really digs in there, but I am extremely sensitive to bruising so I wasn't all that surprised. It's nice to not have constant aching pain during the day after I run! Only gripe is the price.
Date published: 2015-05-21
Rated 5 out of 5
by
Djapa
from
Your own personal sports masseuse!
When used properly, the RumbleRoller delivers an effective myofascial release that supports muscle recovery, via trigger point therapy, much faster than without.Regular tissue-work is highly recommended for athletes of all levels and ages and this product fulfills this need for those unable to afford regular massage visits (nearly everyone!).Pick one of these babies up, use it often and try to pair your stretching sessions with a foam rolling session - they go hand in hand!
Date published: 2014-02-26
Rated 4 out of 5
by
Ash
from
Great, but not worth the price.
I just got P90X2 and I use this with the workouts. It's fantastic for getting the knots out of tight muscles. I got this smaller roller because the large one is ridiculously expensive considering it's just made out of foam. However, the large one would be a lot easier to use. The small one requires more flexibility to get good pressure on some muscles such as the inner thighs. If you don't mind coughing up the dough it's a great tool.
Date published: 2012-10-17
Rated 2 out of 5
by
alex77
from
Lotsa bruises
I work out six days a week, and needed a tougher version of the foam roller. Bought this one, thinking the toughness would give more relief on the IT band and hip flexor. It actually bruised my entire thigh in the 'brick' pattern. I thought the pain was good for me, until I saw the dozens of purple marks.It would probably be good for someone with a lot of meat on their legs, but didn't work for me.Will keep looking...
Date published: 2013-05-07