Saris Bones 2-Bike Trunk Vehicle Rack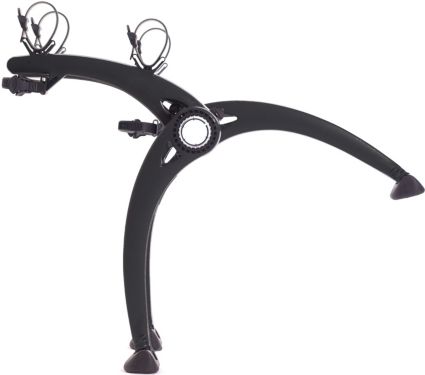 Saris Bones 2-Bike Trunk Vehicle Rack
is rated out of
5
by
579
.
This product is currently out of stock.
Please choose product options above
Please choose product options above
PDP Sticky bottom AddToCart Section - active and hide position
Product Information:
Transport your bikes worry-free with the Saris® Bones 2-Bike Trunk Vehicle Rack. Easily carry two bikes, up to 35 pounds each, with the Bones's unique arc-based design that fits practically any vehicle and over most spoiler. The ratcheting anti-sway straps secure your bikes to the strong injection-molded rack arms, so your bikes stable the entire trip to the trail.
FEATURES:
Carries to 2 bikes, up to 35 pounds each
Arc-based design fits over most spoilers and separates bikes on different levels
Injection-molded arms and legs are strongest on market
Ratcheting anti-sway straps for secure bikes to the rack arms
Built with 100% recyclable material
Non-rusting
Manufacturer's lifetime warranty
Model: 805BL
Click here for additional information relating to the Manufacturer's Warranty.
Brand: Saris
Country of Origin: Imported
Web ID: 16SARUBNS2BKTRNKRTNK
Rated 3 out of 5
by
tom55
from
Domane difficulties
I am familiar with the Bones rack from my job at a bicycle shop. Customers are typically with the purchase. My complaint has to do with the frame design of the Trek Domane. It is difficult to secure the strap over the top tube near the seatpost due to the size of the top tube and the location of the exit of the rear brake housing from the frame. i recently had to use an extra strap to secure my bike because I could not get the rack strap secured. I was able with some difficulty to secure the other more forward strap around the top tube as well as the seat tube stabilizing strap.
Date published: 2015-07-29
Rated 2 out of 5
by
Rufush
from
2 Years, needs a replacement part
Has the Bones 2 for 2 years now and loved it until this past week. Removing it from the car and one of the support legs came right off. I noticed that the bolt was missing and that the hole was stripped. We stored the bones 2 inside and never left on the car if we weren't transporting out bikes. I have been very careful never to over tighten the bolts since they were plastic. When I reached out to Saris Support as a warranty issue, they replied that this wasn't covered. Insult to injury was the $10 shipping rate for standard shipping. Honestly, if I would have known that Saris wouldn't stand behind their products, I would have went with a different brand for a bike rack.
Date published: 2018-09-15
Rated 2 out of 5
by
Disappointed
from
A little too hard to use
My wife and I are in our mid 60's, and this rack is too difficult to use for us on our Sienna minivan. The first problem is that the bikes have to be raised too far off the ground: it hurts my wrists and my wife can't lift them that high. The second problem is the plastic holding straps and buckles that keep the bike in place on the rack: they are very stiff, and require pulling away from me to tighten, which is rather difficult; seems like you could have come up with a better design for the straps and buckles. So this might have been an acceptable rack if we were younger, but it is not a good bike rack for us at our age.
Date published: 2012-04-17
Rated 5 out of 5
by
Boobooc
from
Very secure
I bought this last year at the beginning of the summer and used it all the time. Love it. It holds two bikes very securely. I have a Prius that it was not recommended for but I looked up on the Internet and found some one who had used it on their Prius and there was a photo of how it was placed. I did the same and it works great. ( the bottom arms don't rest on the bumper) I love that it is light, folds up well and that the straps are marked as to where they go! The only thing that can be a little tough is undoing the ratcheted straps that secure the bikes. It takes a bit of getting used to. But it does keep them very secure on the rack.
Date published: 2015-03-16
Rated 5 out of 5
by
Anonymous
from
Simple and sturdy
I have used our Bones 2 once. We bought it for a 1200 mile trip from Tennessee to Vermont. I installed it once the day before we left, and then again the next day. The second time took about 5 minutes at most. We then checked it throughout about 200 miles of travel. I tightened the straps a bit, just to reassure myself. They really did not need it. Eventually, I forgot about it. It did not move, and the bike was perfectly stable even after the 850 mile drive on the second day, which included gusty winds and very windy roads through the Adirondacks. I cannot compare it to other racks because this is my first. I cannot, however, imagine a better one.
Date published: 2012-09-12
Rated 5 out of 5
by
Helge
from
Stable, Sturdy, and Very Easy to Use
I bought a Bones two-bike rack this summer shortly before driving across the country with an ancient, steel-framed bike firmly strapped to it. I have a 2007 Mazda 3 hatchback, and the rack worked like a charm. It fit just right, and the calibrated dials on the hinge meant that if I needed to remove it to get something out of my very packed truck, reattaching it and then the bike was no big deal. I never heard any wobbling, shaking, or flapping from the back, and the rack remained tight every time I checked it, even through snow and rain. I was afraid it the straps or posts might damage the spoiler or the bumper, but the finish looks as good as new.
Date published: 2015-03-16
Rated 5 out of 5
by
Duke
from
Perfect
This rack was recommended to my by a fellow cyclist who works at my local bike shop. I ride a 29er hardtail and it fits this rack well. I also have a 26" mountain bike and have hauled them both together with no problem. Rack is sturdy. I use a velcro strap to cinch up the front tires and keep the bars steady. Once the bikes are in the rack you can focus on the road because they will not budge. The rack is adjustable for about any car. I have a small compact and a large sedan and it fits both perfectly. This is the only rack I will ever need. I can have the rack on in 5 minutes and off in 5 minutes making it easy to lock in the trunk when I'm on all day rides.
Date published: 2014-08-30
Rated 4 out of 5
by
GAHTRI
from
Almost returned it...
I almost returned this bike rack because once I took it out of the box and studied how to put it together, I was a bit overwhelmed. I took it back to the store with this intention, when an employee of of the JC, MO store, Dan, told me he had done some research (as had I and talked with other cyclist) and both found that this is a highly remocommended and good quality bike rack. He said he had helped several customers put this on their car and he offered to help me, as well. I am so thankful and appreciative of the assistance that Dan provided. I am very pleased with my purchase and even more pleased with the customer service I received from Dan, who went way above and beyond to help me out! The only reason I have not given this product 5 stars is because I have not had a chance to transport my bike, yet. The season is still too cold for me! But from prior experience, I do not forsee any issues.
Date published: 2017-03-10