Schwinn Airdyne AD2 Upright Exercise Bike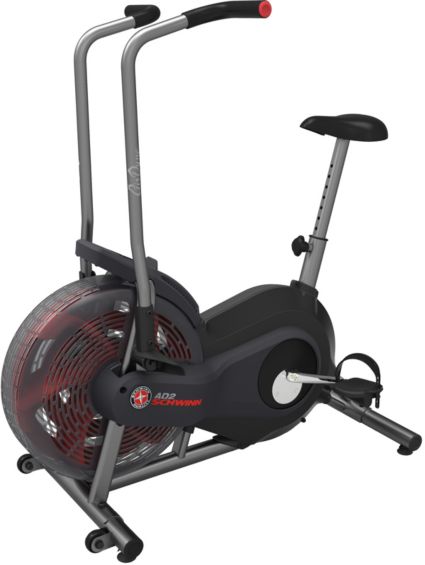 Schwinn Airdyne AD2 Upright Exercise Bike
is rated out of
5
by
13
.
This product is currently out of stock.
Please choose product options above
Please choose product options above
PDP Sticky bottom AddToCart Section - active and hide position
This item requires specialized installation which, if selected, may require a separate appointment from the delivery date shown during checkout.  The assembly date and time of appointment will be scheduled once delivery is in process. The delivery date shown at checkout is an estimate of the initial delivery date only
Product Information:
Get fit at home with the new Schwinn® Airdyne AD2 Upright Bike. Experience the benefits of exercising from home with BioFit™ Comfort and a BioConnect™ LCD console that displays speed, RPM, distance, time and calories. The faster you pedal, the higher the wind resistance that allows you to alter your workout intensity. Schwinn® Airdyne AD2 provides users with a total body workout designed to help you obtain your fitness goals.
FEATURES:
Compact, upright stationary bike with single stage belt drive system perfect for a total body workout
Progressive wind resistance system with patent-pending fan design to displace air effectively
BioConnect™ feedback features easy-to-use LCD with speed, RPM, distance, time and calorie readouts
BioFit™ Comfort delivers a smooth ride with air flow from built-in, quiet fan
BioDyne™ performance offers synchronized arm and leg motion for natural movement
Isolates upper body exercises with stationary foot rest pegs
Includes transportation wheels for simple and speedy storage
Manufacturer's Warranty: 5 years frame, 1 year parts and electronics, 90 days labor labor
Model: 100425
KEY SPECS:
Maximum User Capacity: 250 lbs
Drive System: Belt
Display: LCD
Heart Rate Monitor: No
Resistance System: Progressive air resistance system
Resistance Levels: Infinite
Built-in Fan: Yes
Seat: Extra padded, anatomically correct seat
Seat Adjustments: Yes; up/down
Handlebars: Synchronized arm and leg motion
Transport Wheels: Yes
Assembled Dimensions: 46" L x 25" W x 50" H
Item Weight: 96 lbs
Accessories: No
Brand: Schwinn
Country of Origin: Imported
Web ID: 16SCWUSCHWNND2MY2BKS
Rated 3 out of 5
by
Gary, the blackbelt martial artist
from
Good Bike With A Few Issues
I bought this to replace my Schwinn stationary bike. It gives you a much better workout than a typical exercise bike. The overall quality of the bike is pretty good. However, I am about 5'9", 160 lbs., and in really good shape. That seat is really uncomfortable even for me. In addition, the placement of the the display down near the pedals makes it difficult to see. Also, instead of just giving you a constant readout of calories burned, time, distance, etc., the display flashes each parameter for 5 seconds then moves to the next parameter. It is VERY annoying and a bad design. The bike is a bit noisy too which makes watching (and hearing) TV while exercising a bit of a challenge.
Date published: 2015-02-12
Rated 5 out of 5
by
C.J.
from
Great Exercise Bike
Well made exercise bike. Solid feel and easily moves around on wheels. Very stable and sits on floor with no wobble like other bikes I've tried. Has an easy step through mounting and smooth operation. Will give you a good cardio workout without having to adjust levels of performance or increase tension settings with buttons or knobs. Easy seat adjustment with pull out knob and turn to lock setting. It would be the perfect machine if it had a digital heart rate readout and sensor to track your cardio level. The monitor for calories, rpm, session time, and miles could use a backlight but it can be read in room light. But the price is right and a heart rate monitor would certainly add extra costs. It will give you all the cardio work you need and it's easy to use even if you are a senior citizen.
Date published: 2015-04-13
Rated 5 out of 5
by
Billy145
from
great piece of excercise equipment
This is a great piece of exercise for residential use. I have had mine for about a year now and used it 4-5 times per week at about 30 minutes per session. So I have some hours logged in on this thing. It works the entire body at the same time. I have used treadmills, stationary bikes, an elliptical and the original Airdyne (back in HS wrestling) over the decades I have been working out. I would say this is most closely related to a sitting elliptical. Low impact but high energy. It is not a good replica for a road cyclist because your posture is different, your arms are very active and you cannot control the resistance to give an even pressure to a specific rpm you would like to hit. However, I ride a mt. bike off road in the upper midlands of the US and this is pretty close to that because of all the movement. It is very versatile as a piece of exercise equipment though since you can let your legs do all the work, your arms do all the work or any variation of that combination. I will even focus on chest muscles by using only a push motion with me arms or the back muscles by using a pull motion. It does not have a heart rate monitor and the computer is very simple but that is what I wanted. I have found the heart rate monitors built into machines are very unreliable so I use a chest strap or even a wrist unit for my heart rate. And who really cares about "speed" and calculated calories? I find the most useful computer readings are time on the machine and maybe rpm so I can gauge what level I need to work to get to a target heart rate. The fan is loud when you get cranking but no more loud than the average treadmill or elliptical with motors and moving parts grinding away. It is considerably more noisy than a stationary bike with magnetic resistance, but what isn't? This model is much quieter than the original Airdyne made out of metal and cast iron. Man that thing kicked my butt in wrestling practice. Maybe that is why it took me 15 years before trying it again.Overall a great machine for anyone's home. A good investment that will last a long time and help you stay healthy.
Date published: 2015-03-27
Rated 2 out of 5
by
amb
from
SEMI-GOOD
East assembly. The bicycle part works great. The monitor is terrible, it works for 8-10 minutes then flashes without updating. Tried changing batteries...no help. Tried disconnecting for 10 minutes then reconnecting...no help.
Date published: 2015-03-10
Rated 5 out of 5
by
Satisfied1
from
So far it's been great!
I've only had the bike for a week now, but I am very pleased. I thought it was very simple to put it together. I've never owned a stationary bike before but have used and heard several. This is by far the quietest and the workouts have been great. I am not a gym rat and wanted something at home that would be easy for me to get some exercise during the winter months. It has met my expectations. The seat is not that comfortable, but it is more comfortable than my mountain bike. I'm a 40 year old guy, almost 6' tall and weighing 220. The airdyne suits me fine. I purchased it online during the holiday season and received it sooner than expected. I shopped several online locations and found the best price at Dick's and the free shipping made my shopping decision even easier.
Date published: 2015-01-02
Rated 4 out of 5
by
Sal
from
great stationary bike
This bike is well built and durable. I bought it about six months ago and have it in my outside patio under a gazebo. So far no issues with any parts considering is outside in Florida's weather. Not really expose to the sun, but it gets wet every now and then. Love it. Just wondering how accurate the calorie meter really is? just wondering
Date published: 2016-03-01
Rated 5 out of 5
by
Lyn
from
Built like a tank
This is a very well built exercise bike. It is heavy duty and not flimsy at all, unlike a lot of other affordable exercise bikes. The bike is very well packaged and a cinch to put together (basically you install 8 small bolts with an allen wrench, and put the pedals on). This bike provides an excellent full body workout and looks great to boot.
Date published: 2015-09-23
Rated 3 out of 5
by
Jeff
from
Not bad for the price, however...
For the price, it's not bad. It gets the job done. But there are 2 important aspects that fall short: 1) the seat is VERY uncomfortable. Trust me, you'll be looking for a cushion. And 2) the reason you get this type of bike is for the fan cooling effect while you ride, however, the impeller fan blows the air in the wrong direction to provide cooling. It blows away from the rider under the bike. You'll feel a small amount on your lower legs, but nothing from the waist up. If you pedal backwards, you'll get the desired cooling on your upper body and face where you really need it....but who wants to pedal backwards? If they'd reverse the spin direction of the fan, it would easily get a 4.0 rating from me.
Date published: 2016-03-05