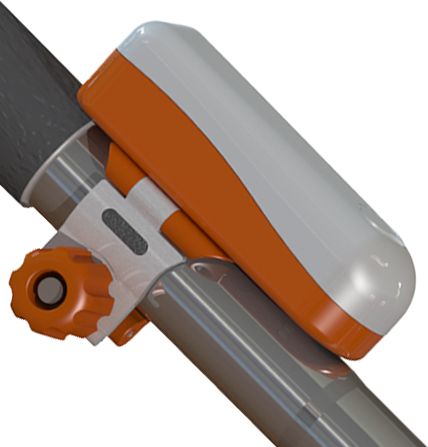 Out of Stock
SkyCaddie SkyPro Swing Training Aid
SkyCaddie SkyPro Swing Training Aid
is rated out of
5
by
5
.
Product Information:
Develop a mechanically-sound golf swing with the SkyPro Swing Training Aid. This device securely fits to the shaft of any club in your bag, and provides remarkably detailed swing analysis straight to your smartphone via a smartphone app. From tee shots to tap ins, this device provides 360° views of your swing, allows you to compare two separate swings, and much more, giving the SkyCaddie® SkyPro Swing Training Aid unmatched functionality.
FEATURES:
Securely fits any club, from putters to drivers, just below the grip
Smart Calibration provides unmatched accuracy with advanced calibration technology
Signal transmits wirelessly to your smartphone or tablet device via Bluetooth for easy analysis
Play back your swing in real time, or slow it down for a more thorough analysis
Face-on, Down-the-line, Top Views, and 360° views of your swing
Zoom in for a detailed, close-up view of any point in your swing
Compare, sync up, and overlay your favorite swings from the not-so-favorite
Compare positions and tempo to see exactly what changed from swing to swing
New Parameters allow this innovative device to analyze your putting strokes
Putting speed, tempo, rise angle, path, shaft lean, putt length, takeaway angle, and more
Rechargeable Lithium-ion polymer battery for 8 hours of continuous swinging
Zero-button sleep motion sensing for battery conservation
Weighs approximately 23.5 grams
Suitable for use on Apple iOS 7.0 or greater
Includes charging dock and carrying case
Water-resistant
Brand: SkyCaddie
Country of Origin: United States of America
Web ID: W13SKYPROSWGTNAID
Rated

5

out of

5
by
Anonymous
from
Works as advertised
The Skypro worked like a charm right out of the box. It works much better than my swing.
Date published: 2016-01-11
Rated

1

out of

5
by
Anonymous
from
Don't buy it
I did and three ball strikes later I had to return it in 3 pieces. Followed instructions to a T. The top broke open and the guts flew out. Junk.
Date published: 2015-04-02
Rated

5

out of

5
by
Anonymous
from
Great Product
I have been to see Michael Breed and when I saw his ad for this product, decided to try it out. The Sky Pro has helped me identify what to work on when I cannot see a golf professional. I know enough about the swing and correct angles that I can determine what changes to make when a measurement is flagged. So far I have used it almost almost every day and in the evening will spend time looking through the data to determine what to work on next time. I live in the Northeast and plan to use this during the winter.
Date published: 2014-10-01
Rated

5

out of

5
by
Anonymous
from
I would buy it again
I have used this now for two weeks. I have been an avid golfer for over 20 years (at least 50 rounds a year) and had taken a break these last 5 years. As I began swinging the club again I wanted to use recent technology innovations to help recapture a better game. I went to Dick's and the pro recommended this.This gives significant feedback on your swing, and has pinpointed problem areas I could not visualize without its help. If you want good information, trends that show you improving on your problem areas, trends pointing out your flaws, I find this to be a great tool. I have used this within a golf simulator at Dicks and found the information provided by the SkyCaddie to be accurate (swing speed, club face angle, etc.).
Date published: 2014-01-31
Rated

3

out of

5
by
Anonymous
from
Lack of manual
I don't know if I'm getting the full benefit of the Sky Pro, since it doesn't come with a manual. It does record every swing, sync to an IPOD Tough, but how to use this info to improve my swing is trial and error.
Date published: 2013-06-13