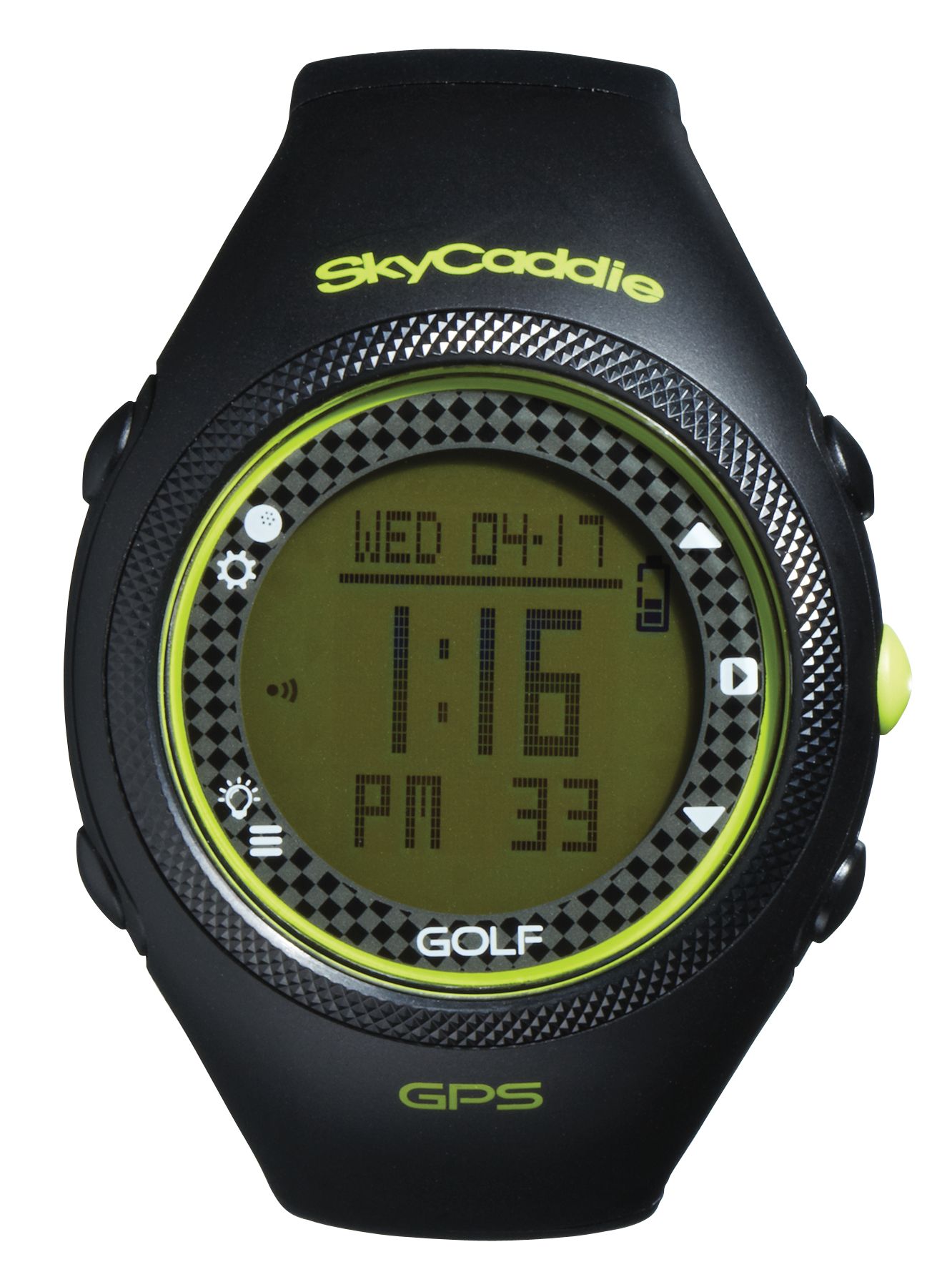 Out of Stock
SkyCaddie WATCH Golf GPS Watch
Product Information:
Golf GPS, Time and Fitness - you get it all with the SkyCaddie WATCH Golf GPS Rangefinder. This one-of-a-kind lightweight, flexible and comfortable everyday sport watch is perfect for on and off the course. Offering all of the great golf features you've come to expect from SkyCaddie plus fitness monitoring. The built-in odometer will track your location, distance, time, laps, speed, pace and calories burned during a run, walk or bike ride. This information can then be uploaded to a fitness website - no other golf watch offers that kind of functionality.

TrueGround® Course Maps
Unmatched accuracy begins with high-precision, ground-corrected course maps - Only from SkyCaddie!
No Tour Player uses yardage books derived from satellite images or flyovers - neither should you. Other GPS rangefinders use second and third generation maps derived from aerial imagery known to contain errors.
SkyGolf takes no such shortcuts when it comes to your game. Only SkyGolf walks every course with professional grade survey equipment to create original course maps, accurate within 1 yard. SkyGolf provides the most complete, most reliable and most precise course maps in the game. You can trust your SkyCaddie, just like Tour Players trust their caddie.
Now with no membership fees!
Enjoy access to 30,000 high-precision, error corrected course maps
Unlimited course updates
No longer requires an annual fee

SkyCaddie WATCH Screenshots
CGT Powered By Core Golfer Technology™
SkyCaddie's Sport Series of products use CGT to provide a more economical distance solution by substituting conventional GPS technology found in competitive devices in lieu of SkyCaddie's unmatched, but more costly, TruePoint® GPS Precision Positioning Technology. Accuracy and reliability remain superior to other brands by combining conventional GPS with SkyCaddie's proprietary, high-precision, ground corrected course maps to eliminate errors known to be inherent in maps provided by others. So, when it comes to distance, nothing beats SkyCaddie, unless it's another SkyCaddie...trusted by more serious golfers than all other rangefinders combined.
Additional Details
Big, easy-to-read front, center and back of green distances
High-precision, error-corrected course maps
Up to 30,000 updatable preloaded course maps
Digital scoring and measures any shot distance
Odometer tracks your location, distance, time, laps, speed, pace and calories during your run, walk or bike ride
Water resistant to 30 meters
Easily keep track of your total score
Auto-course recognition, auto-hole advance and auto-distance update
Capable of measuring any shot
Odometer automatically marks a lap after a predefined distance
Rechargeable lithium ion battery
Includes mini-USB cable for charging

Brand: SkyCaddie
Country of Origin: Imported
Web ID: 14SKYUWATCHGOLGPS