Slime Smart Tube Self-Healing Presta Valve 26" Bike Tube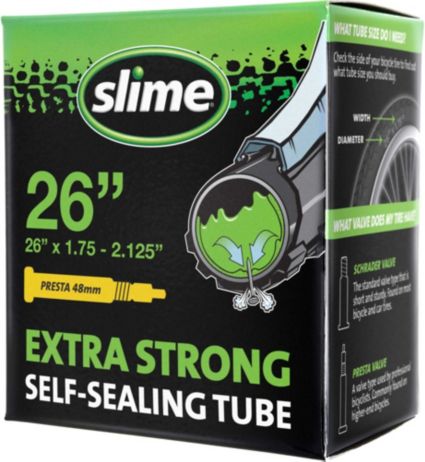 Slime Smart Tube Self-Healing Presta Valve 26" Bike Tube
is rated out of
5
by
31
.
This product is currently out of stock.
Please choose product options above
Please choose product options above
PDP Sticky bottom AddToCart Section - active and hide position
Product Information:
For protection from punctures on daring downhills and dirt jumps, outfit your bike with the Slime® Smart Tube Self-Healing Presta Valve 26" Bike Tube. Its innovative Slime® sealant prevents flats by instantly and repeatedly sealing punctures up to 1/8". This unique tube is made with durable Butyl rubber while the sealant offers puncture protection for two years. Inflate the tube with its Presta Valve and hit the trails without worry.
Features:
Mountain bike tube
Strong and durable enough for rough trails
Perfect for replacing a worn out tube and preventing flats
Features Slime® sealant
Self-healing design instantly and repeatedly seals punctures up to ?"
Provides protection against flats for up to 2 years
Material: Butyl rubber
Size: 26"
Valve type: Presta
Valve length: 48mm
Valve threaded: Fully threaded with locking nut and removeable presta core
Weight: 222g
Brand: Slime
Country of Origin: Imported
Style: STB926212
Web ID: 16SLMUSLMSLFHLNG2TAMX
Rated 4 out of 5
by
dropsrus83
from
Thorn-proof your ride
I have run slime in my tires for over 10 years. Living in southern/central California, we have "Goathead" thorns everywhere. If you don't have slime or something similar in your tubes, your ride will be over quick. Since I can't fill my presta valve tubes with slime myself, I use these. They will last me at least a month or two of riding, unless I'm doing a lot of downhill riding and blow one out. They are not very thick tubes, but they are pretty low cost. They don't come in a size wider than 2.125" in store for a 26" diameter tube, but I use them in my 26"x2.35"-2.5" all the time. For bike path riding, or riding around town you won't have any problems at all. They are worth the money.
Date published: 2013-03-19
Rated 3 out of 5
by
johny boy
from
good tube
the slime tubes arent near what a stans no tubes set up would be but they can save you in a pickle and they are fairly durable , i would disregard the other review here because the customer has no idea what he wanted nor does he have any bike knowledge whatsoever . the presta valve is a better system , the valve does not leak air because you can lock it down also if your pump does not have the presta fitting , then you are not using a proper bike pump and will probably not get enough air into the tube or it will be damaged.
Date published: 2010-06-30
Rated 5 out of 5
by
Elwood333
from
This product's quality and material construction is far superior to the Schwinn brand that I originally purchased @ Walmart.
I ride my bike close to 7 days a week. This past summer I had 4 (yes FOUR!) tire blowouts using the Schwinn bicycle brand of replacement inner tubes purchased @ Walmart. I became so frustrated by the constant changing of the tires that I vowed to get the inner tubes somewhere else. I luckily thought of Dick's. (The return associate @ Walmart explained to me that: "They do get a lot of those inner tubes returned to them on a pretty regular basis."The quality of the Slime inner tube carried by Dick's is readily apparent the moment you open the packaging. They feel twice as thick as the Schwinn's product sold @ Walmart. The valve stems are also of much better quality than the Schwinn product.I will never shop for bike replacement products at any other store. Dick's carries quality product.
Date published: 2015-09-22
Rated 5 out of 5
by
Jon
from
They hold air.
They do as expected. I really like the valvestem. I have adaptors oddly same brand as Slime. Did not need them. My,pump can inflate them.I like the hold down nut that keep the valvestem in place with no air. It makes connecting so much easier. For a sports store Dicks has a tiny selection of bike tubes tires and such. Seems non sports stores have more to offer.
Date published: 2013-10-06
Rated 5 out of 5
by
Night Rider
from
End you headaches
I got sick of thorn flats and snake bite pinches so I picked up a 26x2.2 slime tube for my 2.5 tire cuz thats the widest thay go up to and it no problems filling the gap and I have had many flat free rides. I dont even care about the extra waight of the tube cuz I removed my tire changeing tools from my bike, Dont need them! i have to add one very important note! when you fill the tire DO NOT OVER FILL the tire! I did and guess what happend when I went to let some air out of the tube..... you got it! it sealed up in the valve. I had to remove the valve core to let some air out so that tells you the size of a hole the slime will plug up. A hole from a nail or thorn will not be a problem anymore but I am intrested to know how it will react in freezing weather. will it freeze up on the bottom of the tube and shake my bike apart on a smokeing fast down hill? ill let you know when I find out but get one anyway and save youself a headache.
Date published: 2013-10-09
Rated 1 out of 5
by
Tim
from
defective product
Terrible bike tube was very disappointed. I have purchased two of them for my sons mountain bike both of the tubes went flat overnight did not even get a chance to ride the next day. the tubes are defective the side walls are weak. That is why so many people are having trouble..
Date published: 2013-05-23
Rated 1 out of 5
by
tlb
from
Horrible tube.
I knew when I bought it that it wouldn't work as advertised....but I spent the extra money just in case. Whatever punctured the tube was so small I couldn't find it, although the box shows screws and nails sticking out of the tire as if they were no problem. DON'T BUY IT!!!
Date published: 2015-05-19
Rated 4 out of 5
by
Sniperscott007
from
Tube works great!
Tube was very easy to install. I've used slime brand items before to fix slow leaks on car tires before and they work great. Only slight negative is I didn't notice it was a presta valve. My pump didn't work well with that valve stem. Otherwise, amazing product.
Date published: 2017-07-16