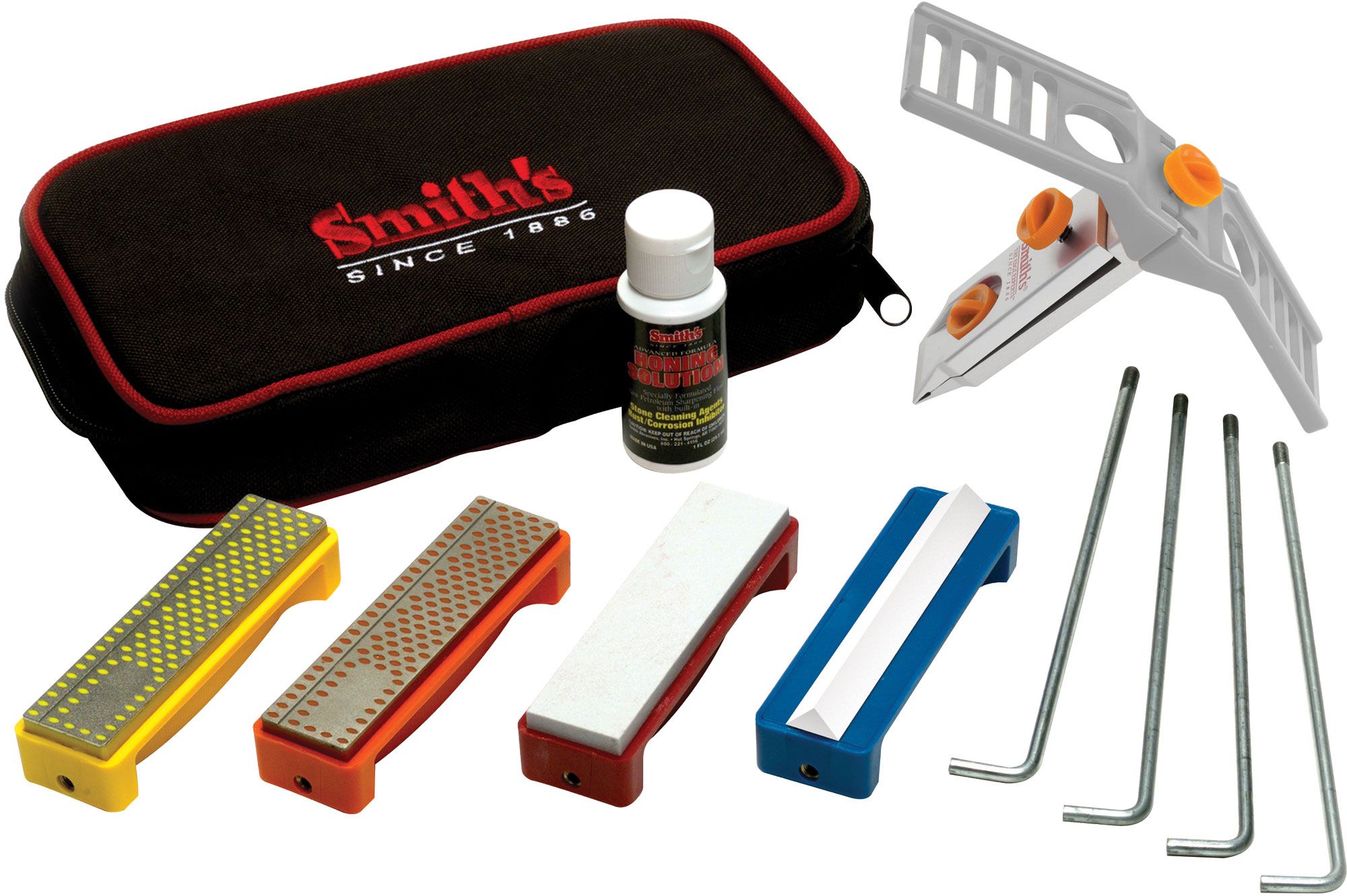 Out of Stock
Smith's Diamond Field Precision Knife Sharpening System
Smith's Diamond Field Precision Knife Sharpening System
is rated out of
5
by
15
.
Product Information:
For an easy way to sharpen knives, use the Smith's ® Diamond Field Precision Knife Sharpening System. With a fabric storage pouch it makes this kit portable and easy to store. The 1-inch wide stones make sharpening safe, fast, and easy. Maintain a knives sharpness with the Smith's ® Diamond Field Precision Knife Sharpening System.
FEATURES:
Premium honing solution cleans and protects the sharpening surface
Fabric pouch for storage
V-Lock vice holds knife at perfect angle during sharpening
Diamond retractable sharpener
Folding rod guides allow sharpening at multiple angles
Sharpens all types of knives including serrated
1" wide stones
Abrasives: Fine Diamond - 750 Grit, Coarse Diamond - 325 Grit, Fine Arkansas - 1,000 Grit, Medium Arkansas 600 Grit
Brand: Smith's
Country of Origin: Imported
Web ID: 15SMIUDMNDFLDPRCSCUT
Rated

4

out of

5
by
Anonymous
from
Real Good, but not perfect.
First, this system is good enough that I have one and have bought my brother and father each one, but it has its shortcomings. It does function quite well for EDC, Hunting, and kitchen knives with blade widths under 2"-2.5". The stones are of good quality and stay in their plastic "holder" unlike another system I had. I prefer the soft Arkansas stone in this system (compared to others w/ just a fine diamond) as it allows a blade to be honed an excellent edge. The carry case is decent, the oil is good, and the system makes it easy to maintain angle, the most pertinent detail of sharpening.Now, the downsides:1) very small (think smallest case knives) and large knives like my 10" chefs knife are difficult to impossible to keep locked into the system, and the angles can be all wrong (or not work at all on the smaller blades)2) I wish the folding rod guides were metal rather than plastic( they flex a bit, locked more securely in place, and offered an additional angle more shallow than the others. (I carefully added my own 3rd angle with a dremel)So overall, I think the system is worth the money, especially when you catch it on sale for $30, just don't expect it to work on all of your blades.
Date published: 2015-09-09
Rated

5

out of

5
by
Anonymous
from
Excellent Product
Don't understand why some dislike this product. If you understand the concept and know what your doing, this product will provide you with a shave. First of all don't expect a razor edge with a $3.00 knife. Spend the money and buy good steel. Read the manual if you haven't used one of these before and finally, take your time.
Date published: 2015-06-11
Rated

5

out of

5
by
Anonymous
from
Great for any knife, either shop or kitchen.
Sharpening made easy for all your knives. Works like a charm.
Date published: 2015-03-11
Rated

4

out of

5
by
Anonymous
from
good sharpener
Not to hard to use, gets an average edge easy .can use on all blades
Date published: 2014-11-19
Rated

5

out of

5
by
Anonymous
from
Very handy.
Easy to use. The carry all case is a must have. Quick sharpener, very nice addition.
Date published: 2014-11-19
Rated

2

out of

5
by
Anonymous
from
Too expensive for the quality.
It's a decent knife sharpening kit compared to the regular one stage kitchen knife sharpeners that cost around $5.However the price and the quality of the kit doesn't even match up. The extenders that screw into the sharpening stones go in crooked most of the time and they don't fit snug so it throws off the angle a bit. The plastic on the sharpening stones sometimes catch the edge of the blade. I wouldn't recommend buying this for $50. It's my guess that it is truly worth around $20 to $30 range.
Date published: 2014-11-04
Rated

3

out of

5
by
Anonymous
from
Spend a little extra, get the better one...
Smith's Diamond Field Precision Knife Sharpening System is one of the better systems to get your hands dirty sharpening knives with. If you're new to knife sharpening or just can not very steadily hold the right angle to your stone, this is not a bad buy. However, the angle guide pieces are not even on this one, as they are made of plastic and I'm sure some amount of warping has occurred. I'm not a big fan of anything made with plastic, especially something that advertises itself as "Precise"... The clamp on this piece will also scratch any coating off your blade if you're not careful and don't wrap the thing in tape. What they fail to tell you also is that if you're trying to sharpen a larger knife, or something with a little thickness to it, the clamp is pretty well useless. I'm not against Smith's sharpening systems by any means, I think this is a great piece for, say... a pocket knife, or something a little smaller than what I bought for (an ESEE 5). I do wish I had spent the extra money and got the higher end version of this product. If you've got 50 bucks to spend on a sharpening system, you obviously care about keeping your knives in good order. Spend the extra 20 or so dollars and get the better model of Smith's Sharpening System.
Date published: 2014-09-24
Rated

5

out of

5
by
Anonymous
from
Smith's Diamond Field Precision Knife Sharpening System
Very Easy to use, if you are not some expert knife sharpener this is perfect you cant mess up sharpening your knife with this kit, and very sharp edge!
Date published: 2013-11-26